Compact car; Built in Brazil, Germany, Mexico
2-door hatchback
4-door hatchback
4-door sedan
4-door wagon
transverse front-engine/front- or all-wheel drive
Good condition price range: $1,800 – $10,500*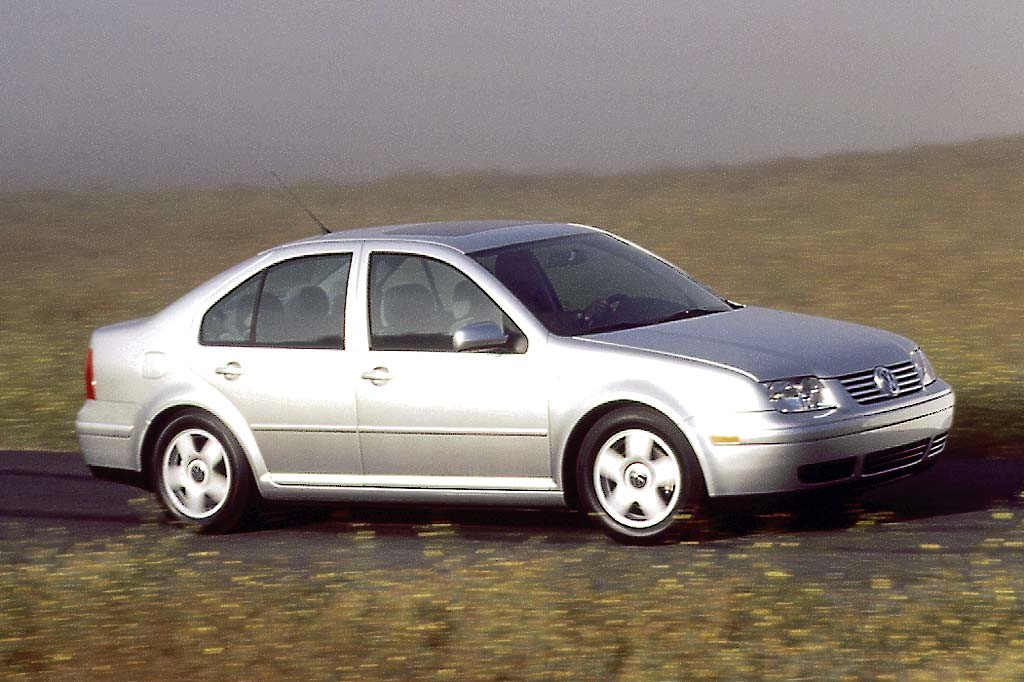 2000 Volkswagen Jetta GLS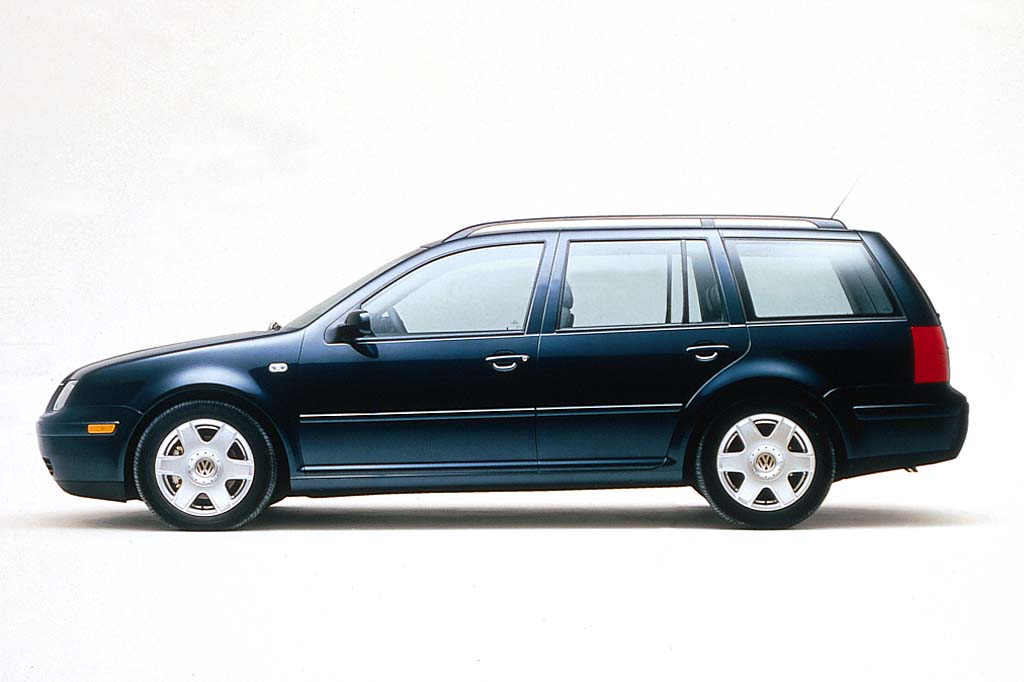 2001 Volkswagen Jetta Wagon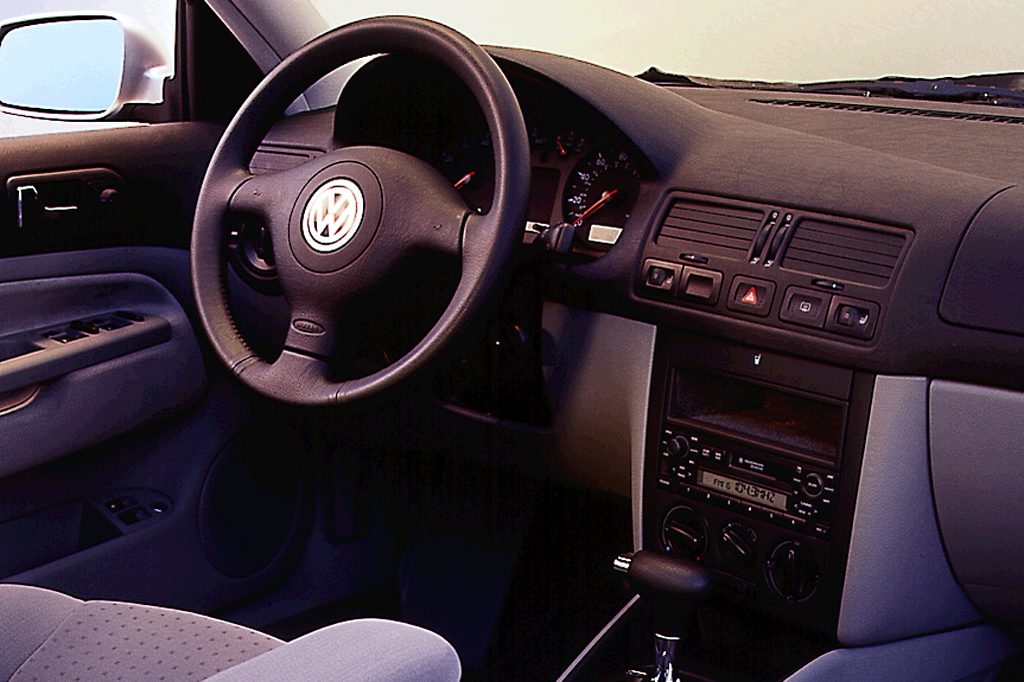 1999 Volkswagen Jetta interior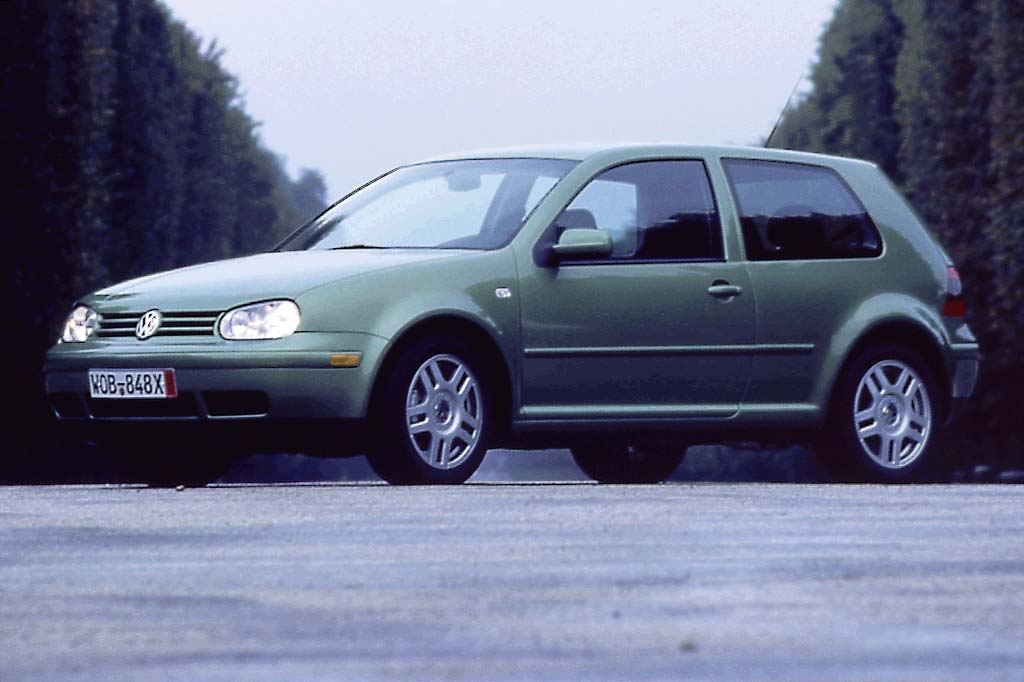 2000 Volkswagen Golf GTI-VR6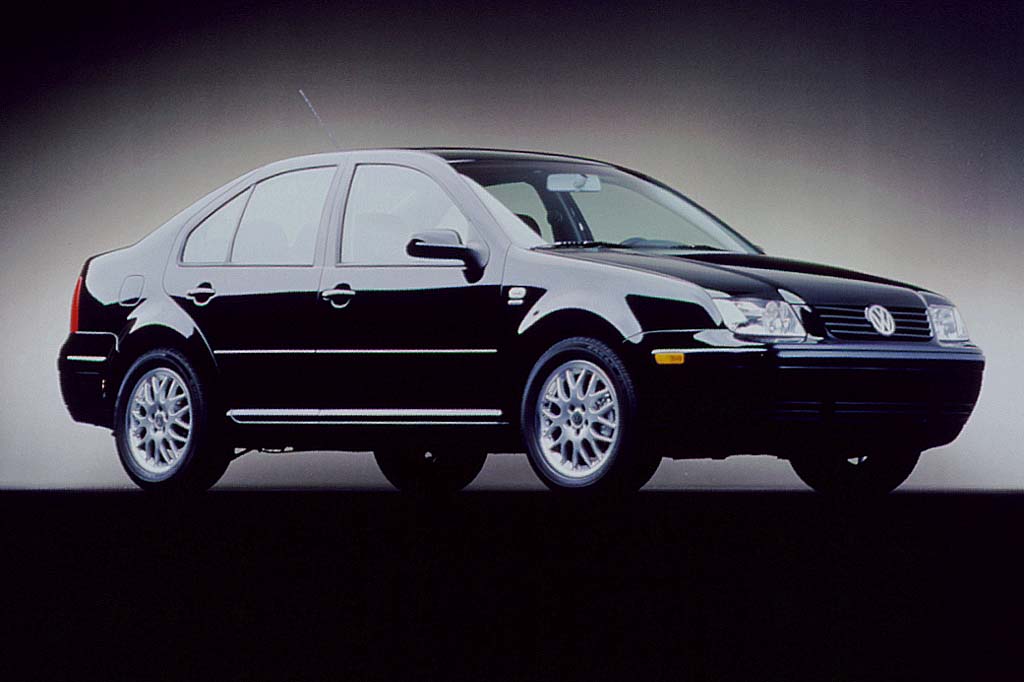 2001 Volkswagen Jetta GLX
Pros:

Acceleration (V6)
Build quality
Cargo room (Golf)
Fuel economy (4-cyl, TDI)
Interior materials
Quietness
Ride/handling
Visibility

Cons:

Acceleration (4-cyl w/automatic transmission)
Automatic-transmission performance
Audio and climate controls
Rear-seat entry/exit (Golf)
Though priced at the top of the small-car class when new, even base models had plenty of features as well as solid build quality. No competitor offers a V6, and few provide as much driving satisfaction. Lately we've been somewhat dissatisfied with the reliability of these cars and as a result don't recommend them to those on a tight budget.
Overview
As the 1999 model year opened, Volkswagen dealers continued to sell remaining Golf and Jetta models from the prior generation. Redesigned models emerged a couple of months later. As before, Golf models were hatchbacks while Jetta denoted the notchback design. Golf hatchbacks came in 4-door GL and GTI form, along with a 4-door GLS. Jetta 4-door sedans were offered in GL, GLS and GLX trim. Jettas consistently outsold their hatchback Golf counterparts.
GL and GLS models again got a 4-cylinder gasoline engine that produced 115 horsepower. A turbodiesel 4-cylinder went into GL TDI and GLS TDI versions. A 2.8-liter V6, rated at 174 horsepower, was available for the GTI and GLS, and standard in the Jetta GLX. Five-speed manual shift was standard, but all models except the Golf GTI GLX had the option of a four-speed automatic transmission.
Standard features included front side airbags, a tilt/telescopic steering column, 4-wheel disc antilock braking, and a remote central-locking/antitheft system.
Yearly Updates
2000 Golf/Jetta
All Golf and Jetta models gained an antitheft-coded ignition keys this year, and a dashboard light illuminated when brakes might need servicing. Newly standard on GLX models and optional on others was an 8-speaker Monsoon sound system. Dealers could now install an in-dash CD player.
2001 Golf/Jetta
Turbocharging was the big news for 2001. A new 1.8-liter turbo four, delivering 150 horsepower, became available for the GLS and was standard in the base GTI. Turbodiesel (TDI) engines were not sold in California or New York, due to their stringent emissions regulations. Volkswagen's V6 was standard in the Golf GTI VR6 (manual shift only) and Jetta GLX.
A Jetta station wagon joined the sedan at midseason. Curtain-type side airbags became available, too. A new Sport Luxury option group for the Jetta GLX 1.8T and VR6 included a sport suspension and 17-inch tires. A firmer sport suspension also was newly optional for the Golf GLS 1.8T.
Steering-wheel audio controls now were available in certain models. The GTI VR6 and Jetta GLX gained leather upholstery, and all cupholders were revamped.
2002 Golf/Jetta
The 1.8-liter turbo 4 cyl had 180 hp, vs. 150 last year. That engine was found in the new Golf GTI 337, a limited-edition model that arrived midyear with 18-inch wheels and special interior and exterior trim. Also at midyear, the 2.8-liter V6 got a boost to 200 hp, and a new Jetta GLI replaced the Jetta GLS VR6. A 6-speed manual transmission and 5-speed automatic with manual shift gate replaced the 5-speed manual and 4-speed automatic. An in-dash cassette/CD player became standard on all but GL models for '02. And VW's bumper-to-bumper warranty was now 4 years/50,000 mi. vs. 2/24,000. The powertrain warranty was 5/60,000 vs. 10/100,000.
2003 Golf/Jetta
Added midyear, the 20th Anniversary GTI had 18-inch wheels, sportier suspension tuning, and unique trim. Only 4000 were produced, all with manual transmission. Also added midyear were special-trim Wolfsburg Jettas. An antiskid system was now standard with the V6 engine, optional elsewhere. In other changes, GL models gained standard power windows, heated power mirrors, and cruise control; and GLS versions now included alloy wheels and a sunroof.
2004 Golf/Jetta
Added midyear is the high performance Golf R32, a 2-door hatchback with All-wheel drive, a 237-hp 3.2-liter V6 engine, 6-speed manual transmission, sport suspension, and unique trim. Other changes for the duo this year include minor exterior updates like new taillights and a restyled grille.
2005 Golf/Jetta
Volkswagen's best-selling line mostly marks time for 2005, as redesigned models began arriving in spring 2005. Dropped for '05 are Jetta's GLI VR6 sedan and the limited-edition all-wheel-drive V6 Golf R32. A redesigned Jetta with larger dimensions became available midyear. VW says Jetta-based Golf and GTI hatchbacks will go on sale by mid 2006.