Large pickup truck; Built in Mexico
ext. cab long bed
ext. cab short bed
reg. cab long bed
reg. cab short bed
longitudinal front-engine/rear- or 4-wheel drive
Good condition price range: $2,900 – $18,200*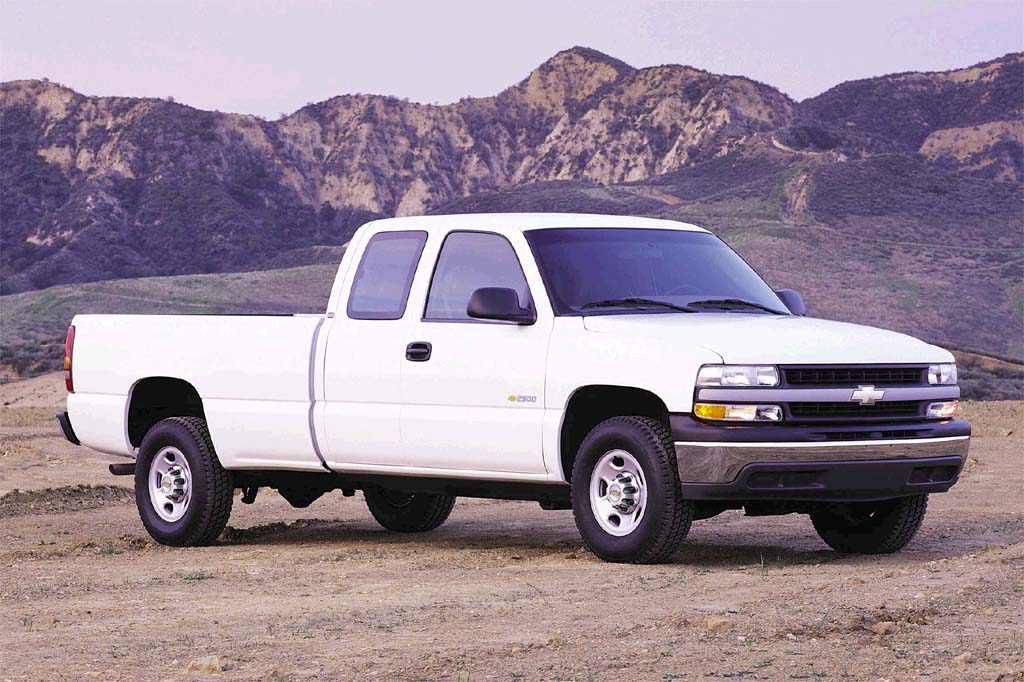 2001 Chevrolet Silverado 1500 extended cab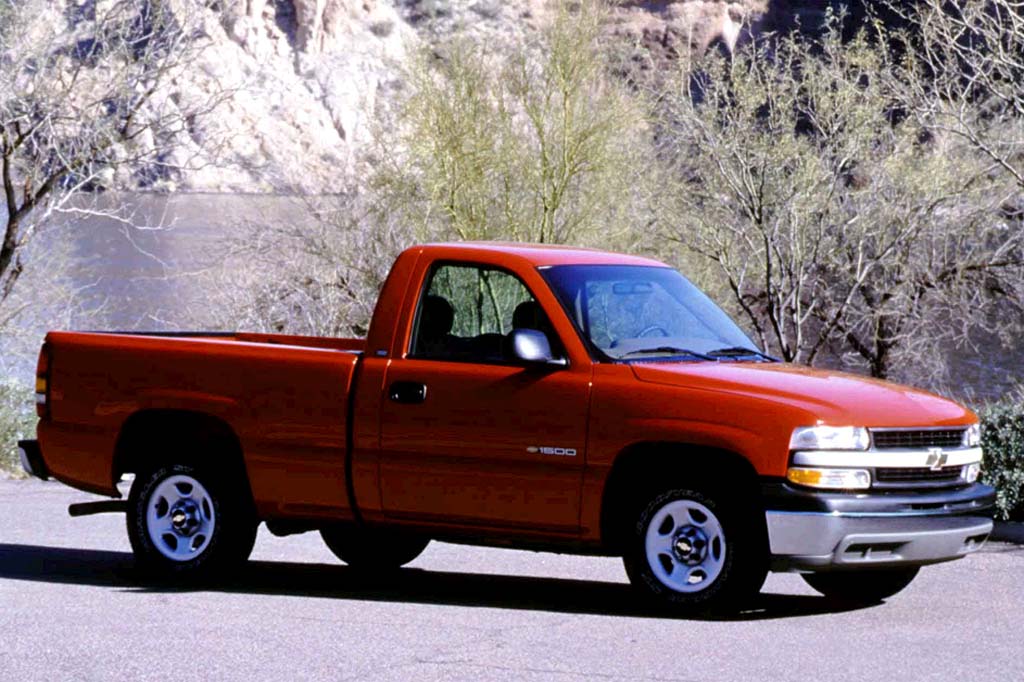 2000 Chevrolet Silverado 1500 regular cab short bed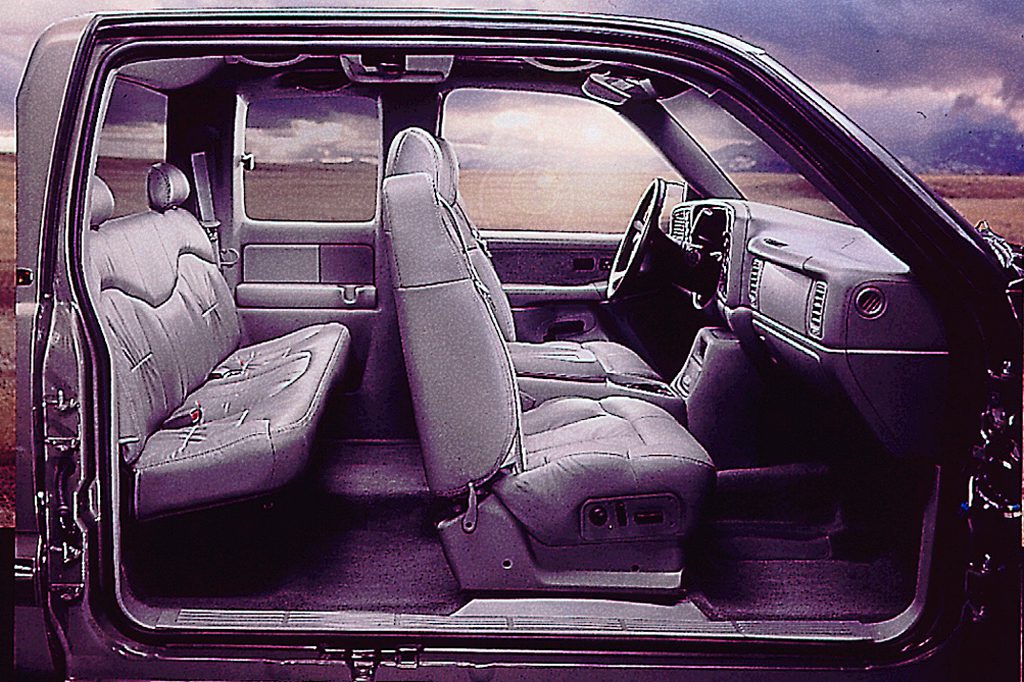 1999 Chevrolet Silverado interior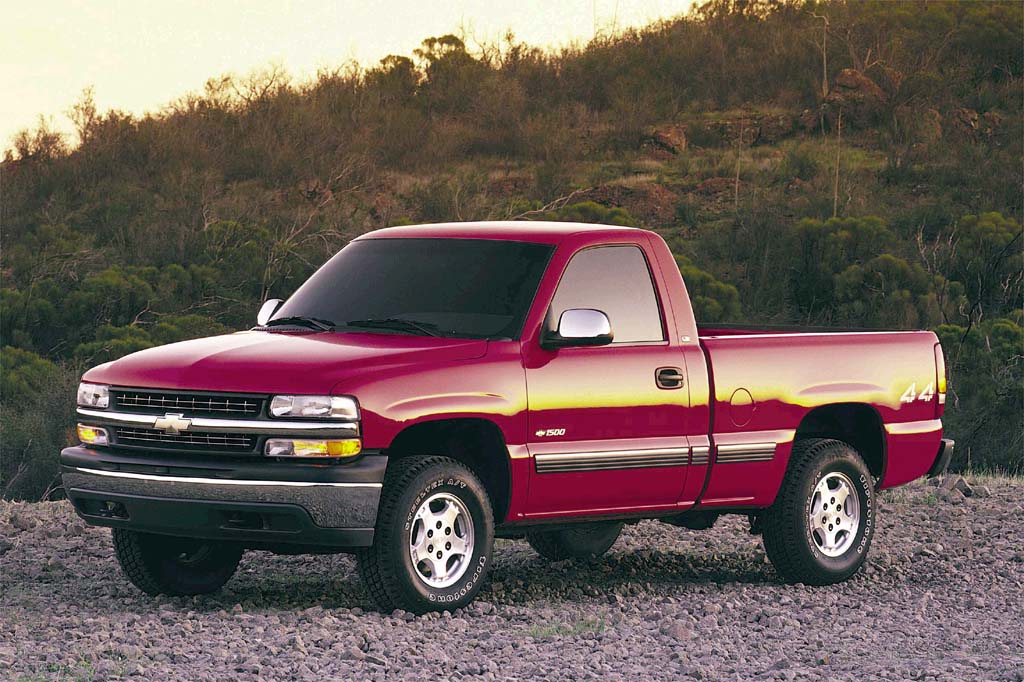 2001 Chevrolet Silverado 1500 regular cab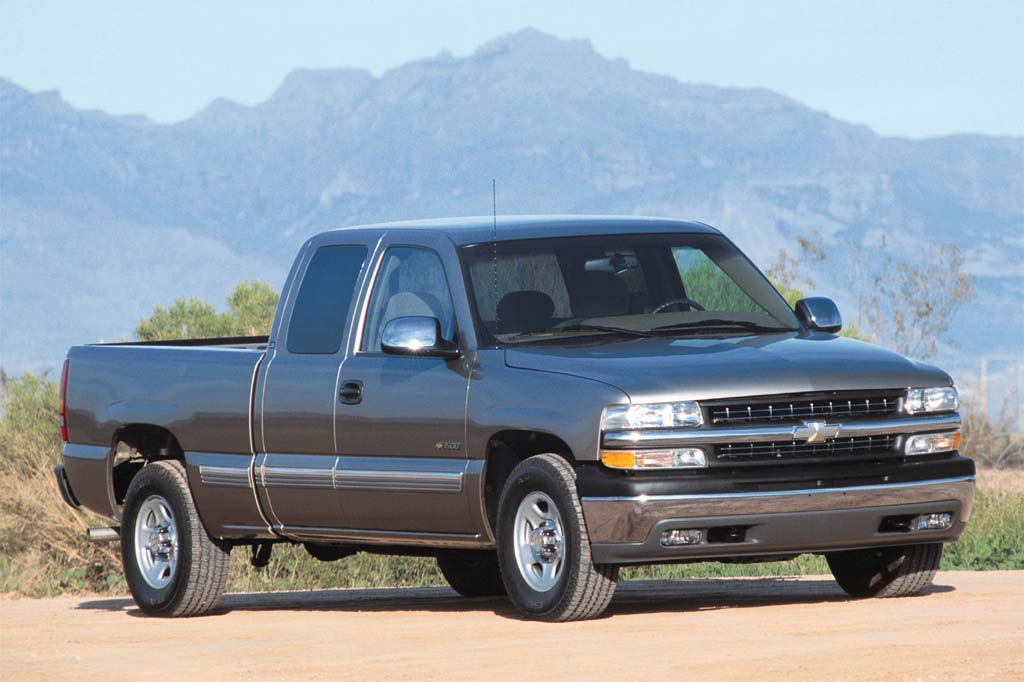 2000 Chevrolet Silverado 1500 LS extended cab short bed 2WD
Pros:

Acceleration (V8)
Instruments/controls

Cons:

Fuel economy
Rear-seat entry/exit (extended-cab)
Ride
GM earns credit for refining its big pickups while introducing a host of worthy improvements. No extended cabs are more comfortable. Though a step behind Ford in innovation, GM pickups deliver high value for performance, comfort, and design, and beat Ford in 4WD convenience.
Overview
Chevrolet's Silverado 1500 with half-ton capacity was closely related to the GMC Sierra 1500. Chevrolet and GMC offered parallel lineups, but had slightly different styling and features. Silverado styling remained familiar, but the pickups got new V8 engines and a few first-in-their segment features. Bodies were about 9 inches longer overall and wheelbase grew by 1.5 inches for regular-cab models, 2 inches on extended cabs. Two series were offered: half-ton 1500 (described here) and 3/4-ton 2500. A right-side third door now was standard instead of optional on extended cabs. Both body styles came with Fleetside or flare-fender Sportside cargo beds in 6-foot length, or with an 8.1-foot Fleetside bed.
Antilock braking again was standard, but these were the first full-size pickups to get standard four-wheel discs. Another "first" was adjustable ride control, which allowed the driver to switch between two levels of shock-absorber firmness. Base engine was again a 4.3-liter V6. Replacing the previous 5.0- and 5.7-liter V8s were new 4.8- and 5.3-liter V8 engines, generating 25 and 15 additional horsepower, respectively. All engines except the 5.3-liter came with manual or automatic transmissions. The automatic introduced a Tow/Haul mode that reduced shifting under heavy loads.
Optional Autotrac four-wheel drive was a "first" on any pickup. It could be left engaged on dry pavement, and locked in 4WD or allowed to automatically engage the front axle when rear-wheel slippage was detected.
Yearly Updates
2000 Silverado
A fourth door, on the driver's side, became available for extended-cab pickups, to supplement the standard right-side door.
Silverados came in base, LS, and LT trim, with rear- or 4-wheel drive and a regular or extended cab. Both cab styles could be fitted with a flush-fender Fleetside cargo bed. The 6.5-foot flare-fendered Sportside box was available on certain LT models.
Each of the two V8 engines gained 15 horsepower. A new self-dimming inside mirror went in LS and LT trucks. Power locks on those models could now be programmed to lock and unlock according to individual driver preferences. New options included wheel flares for 4x4s and a factory-installed cargo bed cover.
2001 Silverado
Traction control became optional for 2WD models with a V8 and automatic. A new plastic composite cargo box was optional for extended-cab 4×4 pickups with the Z71 offroad package. An automatic transmission now was standard in extended-cab trucks, which added three child-seat tethers to the back seat. GM's OnStar emergency/communications system became optional in LT editions.
GMC added a sporty C3 version this year, with a bigger V8 engine, but Chevrolet did not get an equivalent. Early in 2001, both Chevrolet and GMC began to offer a new Crew Cab body style with four front-opening side doors.
2002 Silverado
GM's Quadrasteer 4-wheel-steering system was offered on extended-cab 2WD and 4WD models this year. It was designed to provide a tighter turning radius by turning the rear wheels counter to the fronts at low speeds and to aid stability by turning the rear wheels in the same direction as the fronts at higher speeds.
2003 Silverado
Silverados got a revised grille among other cosmetic changes. Dual-zone climate control was newly standard. Crew Cabs added optional rear DVD entertainment, and XM satellite radio was newly available for most models. Top-line LT versions included OnStar assistance. Added midyear, the Silverado SS was a short-bed extended cab with a 345-hp 6.0 V8, all-wheel drive, 20-inch wheels, performance tires, and special trim.
2004 Silverado
Now standard on '04 base level Silverados include cruise control, power locks, and a CD player. Also new for '04 is a light-duty Crew Cab version, which will use the 5.3-liter V8, which is optional on Regulars and Extendeds.
2005 Silverado
A 310-hp 5.3 V8 is a new option for short-box extendeds above the normal 295-hp unit. All Silverados have antilock brakes, but drums now replace rear discs except for models equipped with the hybrid system or Quadrasteer 4-wheel steering. Seventeen-inch wheels are now standard on most other models.
2006 Silverado
No significant changes for '06 Silverados.