Premium sporty/performance car; Built in Germany
2-door convertible
2-door coupe
longitudinal rear-engine/rear- or all-wheel drive
Good condition price range: $14,500 – $180,000*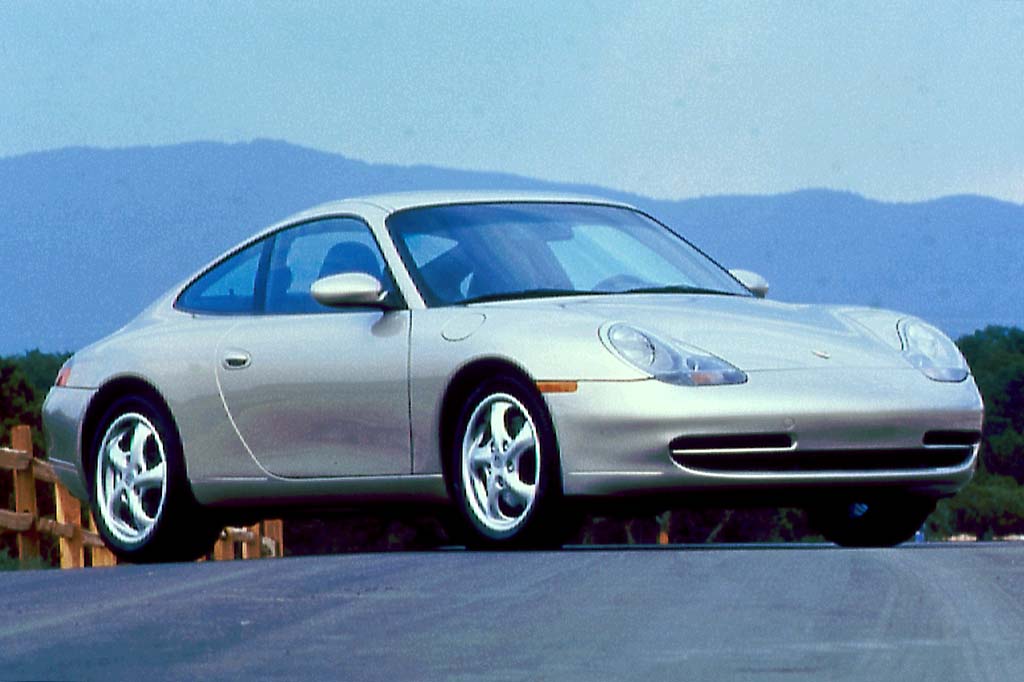 2001 Porsche 911 Carrera 2-door coupe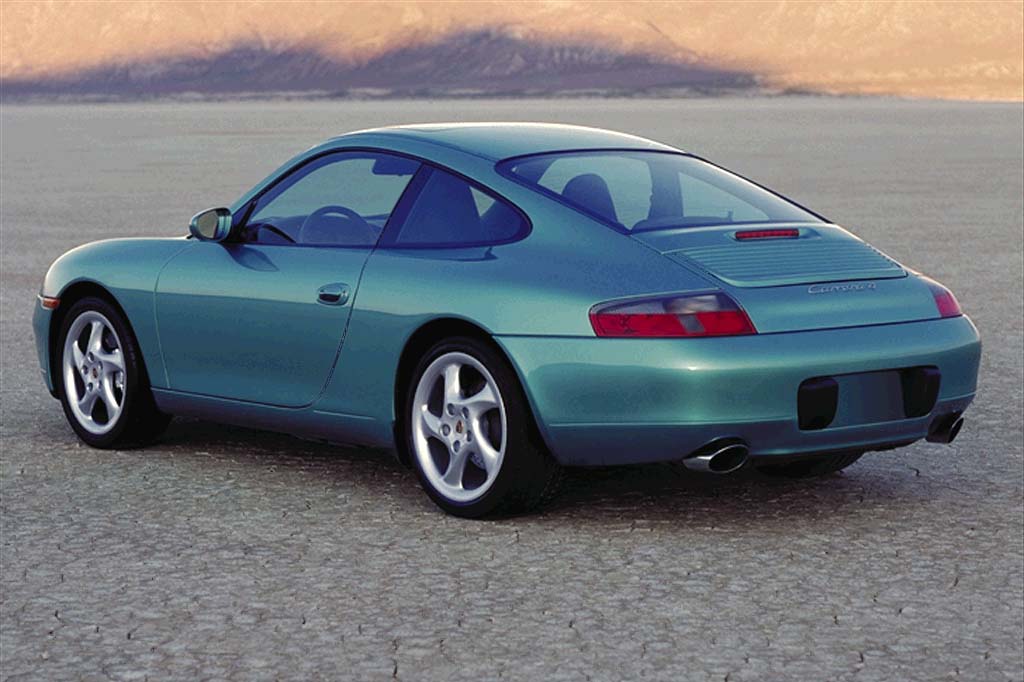 2000 Porsche 911 Carrera 4 2-door coupe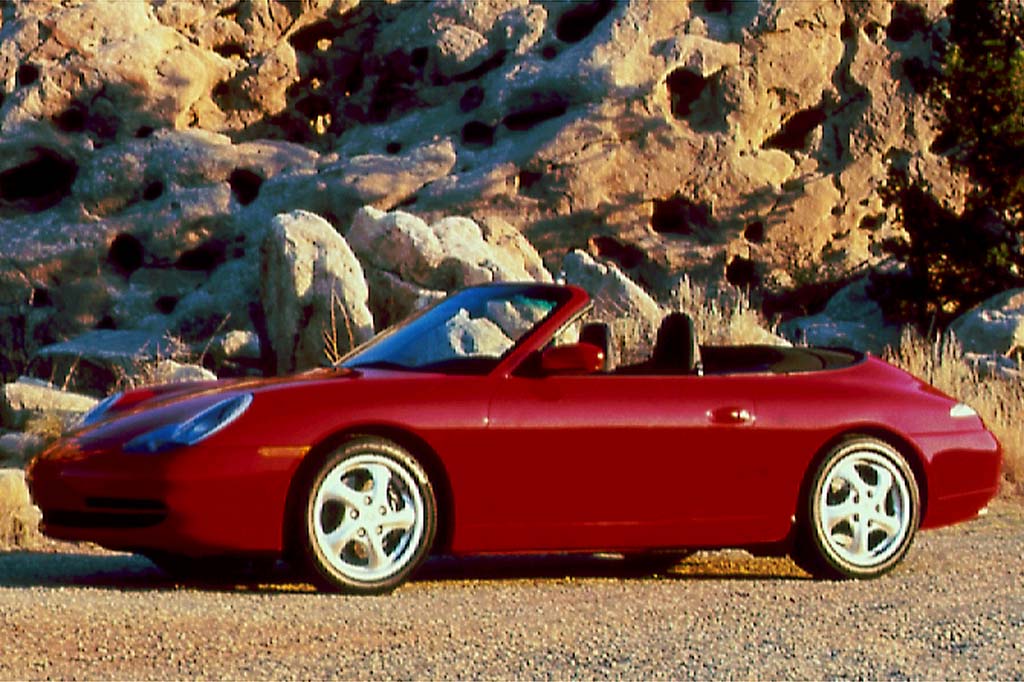 2001 Porsche 911 Carrera Cabriolet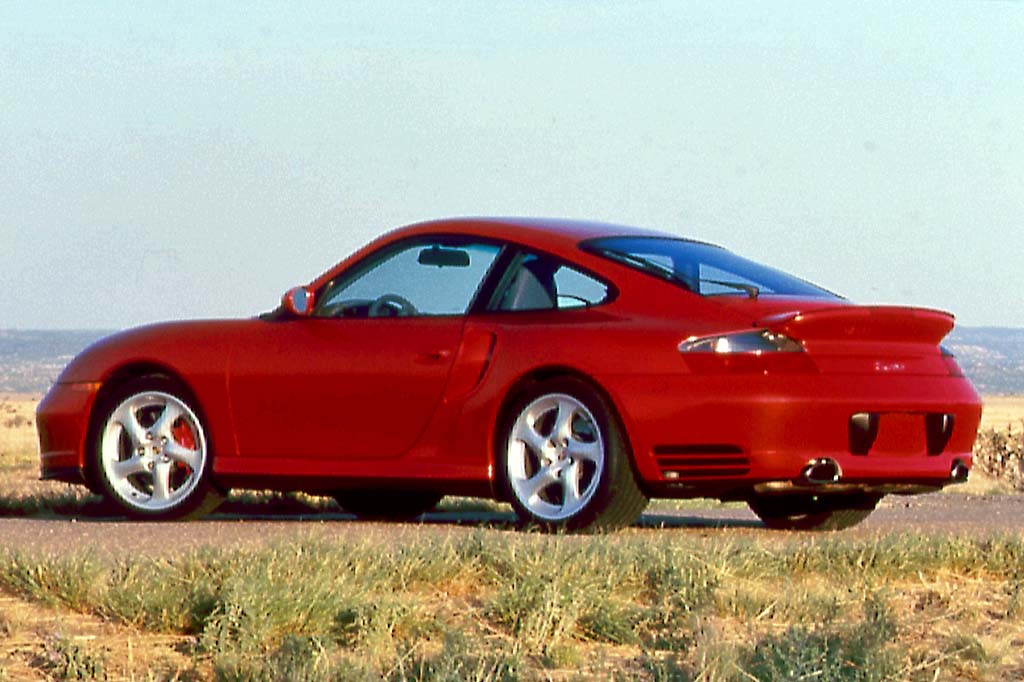 2001 Porsche 911 Turbo 2-door coupe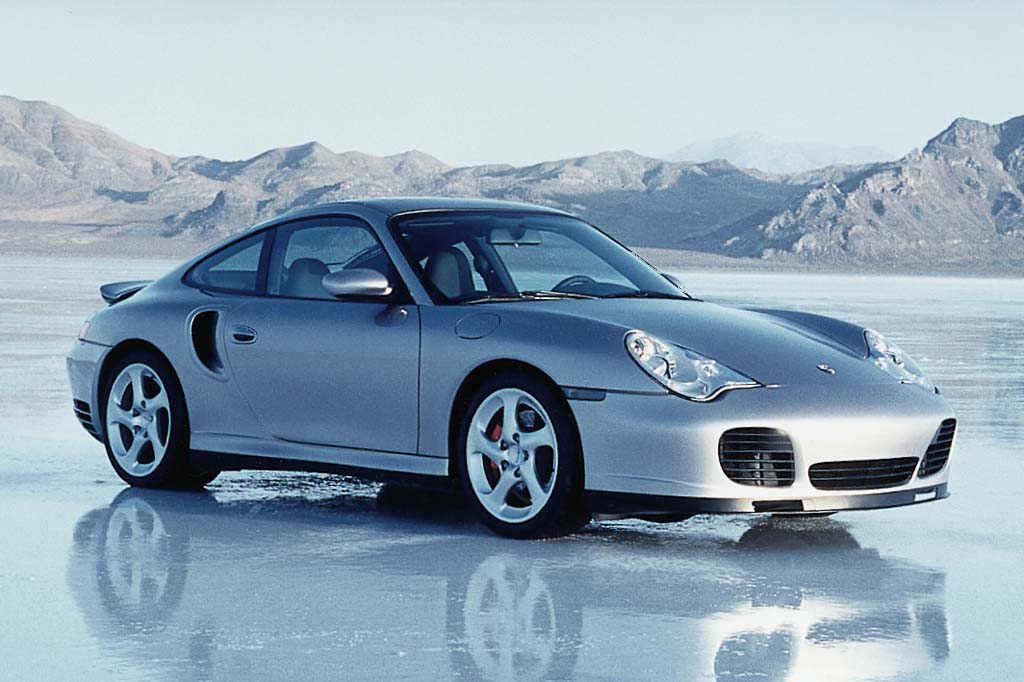 2001 Porsche 911 Turbo 2-door coupe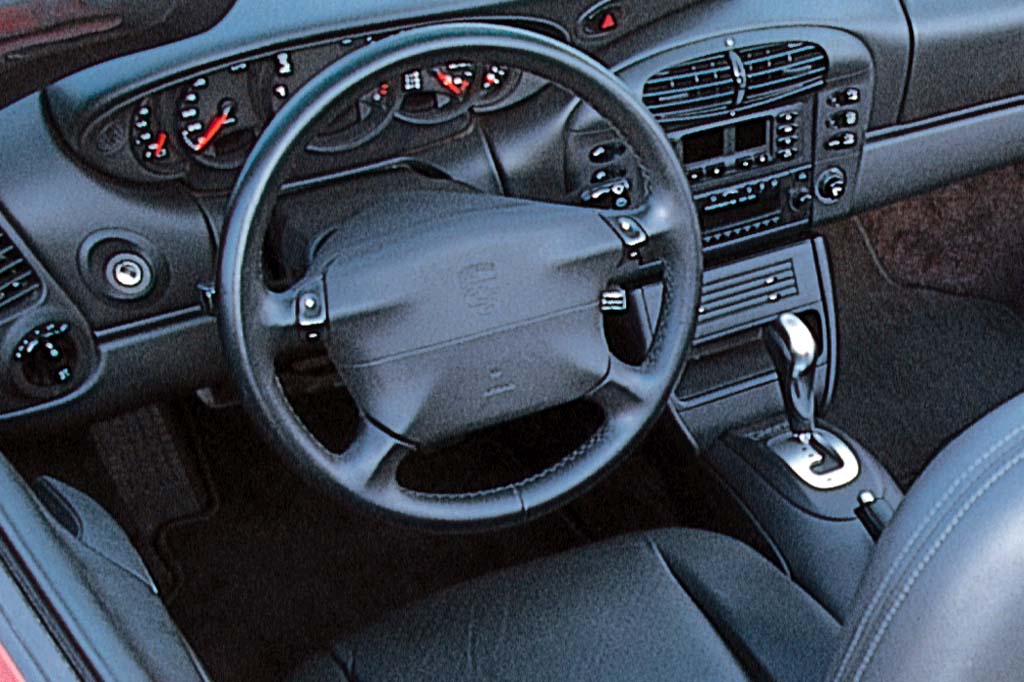 2001 Porsche 911 Carrera interior
Pros:

Acceleration
Build quality
Exterior finish
Steering/handling
Brake performance

Cons:

Cargo room
Control layout
Entry/exit
Noise
Rear-seat room/comfort
A 911 is relatively practical for a high-performance sports car, though BMW's Z3-based M roadster and coupe, and the Porsche Boxster, deliver similar thrills for fewer dollars. Not for everyone, the 911 produces a unique high-performance driving experience. Sure, you pay plenty for the privilege, but iconic status makes any 911 a virtual no-lose long-term investment. Because resale values are exceptionally high, prices are lofty on the used-car market.
Overview
After some 34 years of continuous improvements of its original design, Porsche's legendary rear-engine 911 was redesigned as an early 1999 model. About 7 inches longer than its predecessor, the new 911 was an inch wider, on a wheelbase 3 inches longer than before.
Continuing 911 tradition, the "flat" (horizontally opposed) six-cylinder engine was mounted in the rear, but it underwent considerable change. In addition to switching from air cooling to water cooling, the engine had dual-overhead cams rather than a single-cam configuration, with four valves per cylinder instead of two. Essentially, it was a 3.4-liter version of the engine used in the smaller Boxster, producing 296 horsepower–more than the prior 3.6-liter.
Considered the "classic" Porsche, the 911 Carrera first came in 2+2 coupe form with rear-wheel drive. Cabriolet convertibles and Carrera 4 models (with all-wheel drive) joined later.
A six-speed manual transmission was standard. Porsche's five-speed automatic transmission, which offered "Tiptronic S" operation using manual-shift buttons on the steering wheel, was an option.
Antilock four-wheel disc brakes were standard, as were side-impact airbags. As before, the coupe's back seat was a tiny, minimally useful feature.
To a large extent, the 911 was in a class of its own, but rivals included the Acura NSX, BMW Z3 series and more costly Z8, Chevrolet Corvette, and Mercedes-Benz SL-Class. A satellite-based navigation system was optional.
Yearly Updates
2000 911
The 911's six-cylinder engine gained 4 horsepower this year. Porsche's Stability Management antiskid system was standard on the all-wheel-drive Carrera 4, and newly available as an option for the rear-drive Carrera 2. The system was designed to apply individual brakes as needed, to counteract skids in turns.
2001 911
Porsche revived the Turbo coupe as an early 2001 model, with a twin-turbo 3.6-liter engine that produced 415 horsepower. For the first time, Turbos could be equipped with an automatic transmission.
Carreras kept the 3.4-liter engine. Turbo 911s featured bolder front/rear styling, standard 18-inch wheels (versus 17s on Carreras), and a "biplane" rear spoiler designed to enhance high-speed stability.
2002 911
Revised styling and more power arrived for 2002. Base models switched from a 3.4-liter engine to a 3.6-liter, rated at 320 horsepower rather than 300. Also new for 2002 was the GT2, essentially a rear-drive Turbo with a 456-hp engine, special suspension, and fewer standard luxuries–all aimed at lowering weight and increasing performance. The GT2 also introduced the industry's first Ceramic Composite brakes.
Interior materials were upgraded this year, front seatbelt pretensioners were installed, and convertibles switched from plastic to glass for the back window. All models except the GT2 got an optional navigation system and five-speed automatic transmission.
2003 911
Optional "Horsepower Kits" boosted the base engine to 345 hp and the turbo to 450 hp. Standard audio system exchanged its cassette player for a single-disc in-dash CD player. Arriving late in the year was the GT3, a $99,900 rear-drive model with a 380 hp nonturbo engine.
2004 911
Porsche's trademark sports car offered an expanded model lineup for 2004. New were the 40th Anniversary Carrera coupe, a Cabriolet version of the Turbo, and a new model called the GT3. The 40th Anniversary model has unique interior and exterior styling, upgraded suspension and 345 horsepower. The GT3 sports 380 horsepower, a lightened body, and special aerodynamics. The GT2 gained revised suspension tuning and 21 horsepower, now 477.
2005 911
The 911 lineup for 2005 blended redesigned rear-wheel-drive models with carryover all-wheel-drive models. All had a rear-mounted, horizontally opposed 6-cyl engine. The redesigned 2005 models were available as coupes and convertible Cabriolets. Compared to the carryover models, the redesigned coupe and convertible had subtly altered styling and dimensions and a revamped interior. The redesigned Carreras introduced additional side airbags that deployed from the windowsills for head protection.
2006 911
The midyear return of a turbocharged model made news for Porsche's flagship sports car lineup. Turbos were launched as 2007 models and were AWD coupes.
2007 911
Porsche's flagship car revived glass-roof Targa coupes for 2007. The new Targa 4 and 4S were AWD coupes with a 4.8-sq-ft power-sliding roof panel made of translucent glass.
2008 911
The 2008 Porsche 911 added a turbocharged convertible model to its roster but was otherwise unchanged.
2009 911
The 2009 Porsche 911 Carrera and Targa were substantially revised, with slightly freshened styling, more power, and a new automatic transmission. The 2009 Porsche 911 Turbo and GT2 models were largely unchanged. Carrera and Targa 4 versions used a 3.6-liter engine with 345 hp, an increase of 20 from 2008. Carrera S and Targa 4S versions used a 3.8 making 385 hp, an increase of 30 hp from 2008. All Carrera models offered a new 7-speed automatic transmission.
2010 911
The 2010 Porsche 911 lineup gained updated track-ready GT3 and GT3 RS as well as a new Turbo variant. The 911 Turbo got a new 500-horsepower 3.8-liter turbocharged motor.
2011 911
The 2011 Porsche 911 lineup added the Carrera GTS and Carrera Speedster convertible, both with rear-wheel drive and a 408-hp version of the 3.8-liter flat six.