Large SUV; Built in USA
longitudinal front-engine/rear- or 4-wheel drive
Good condition price range: $3,500 – $11,000*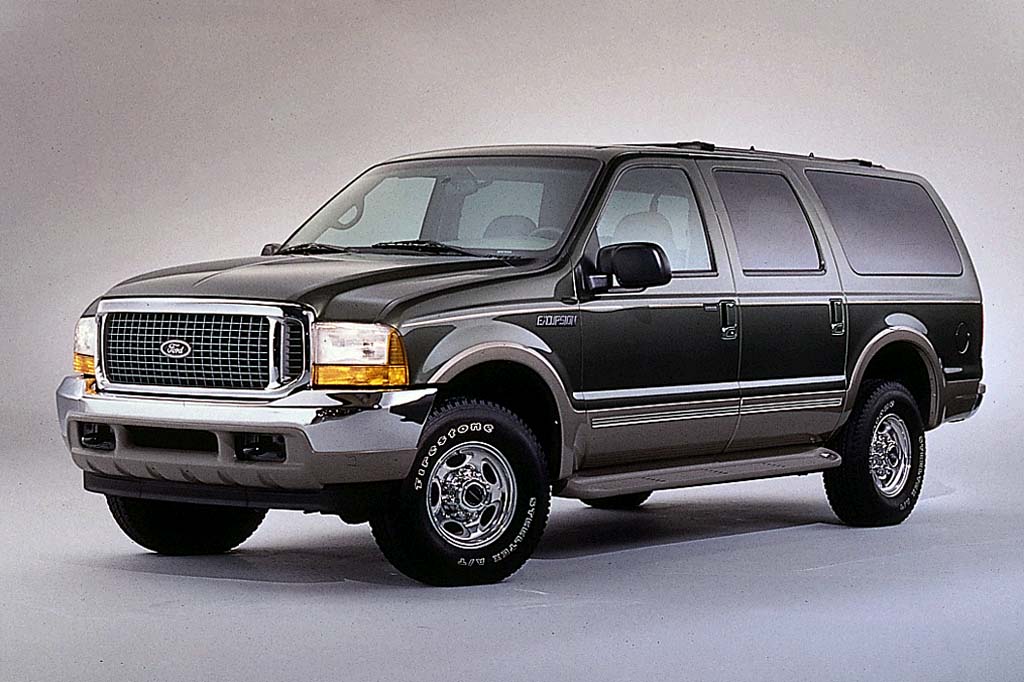 2000 Ford Excursion Limited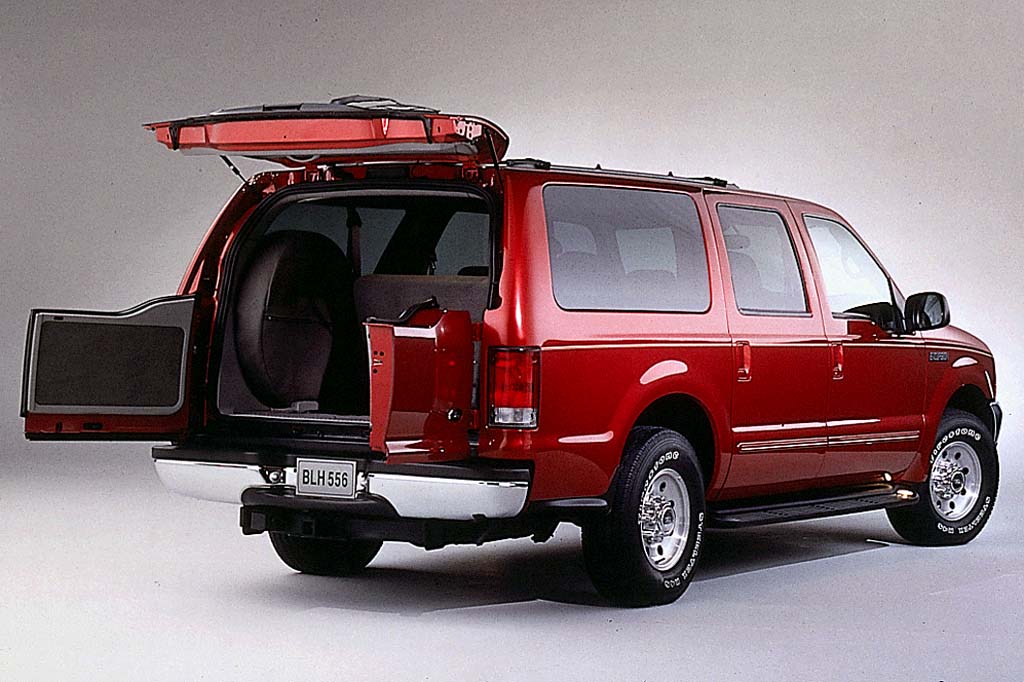 2000 Ford Excursion Limited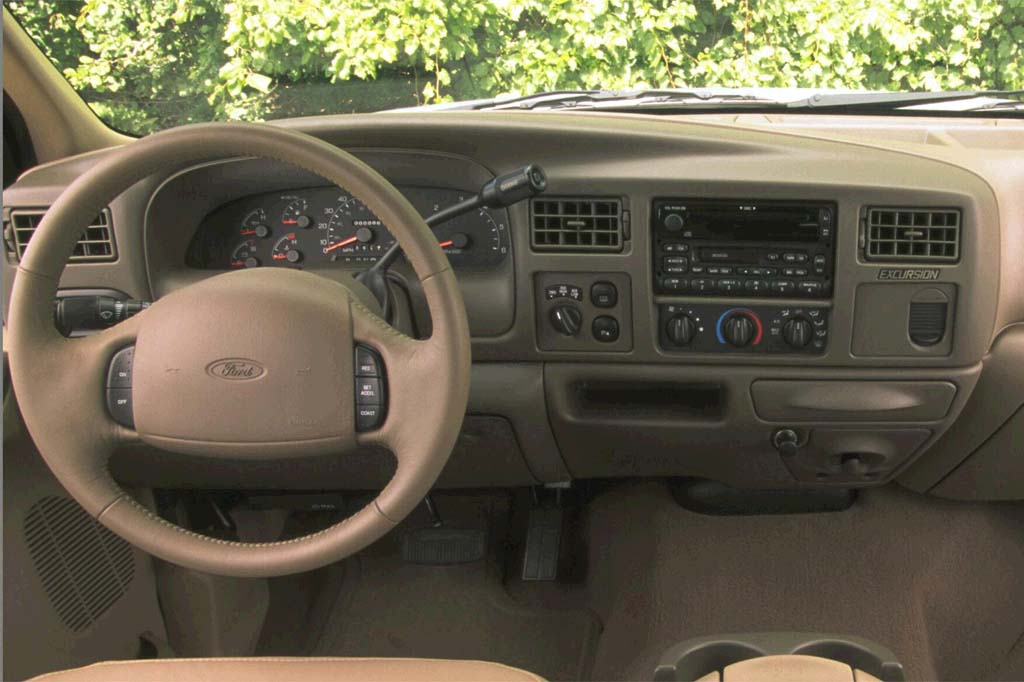 2001 Ford Excursion interior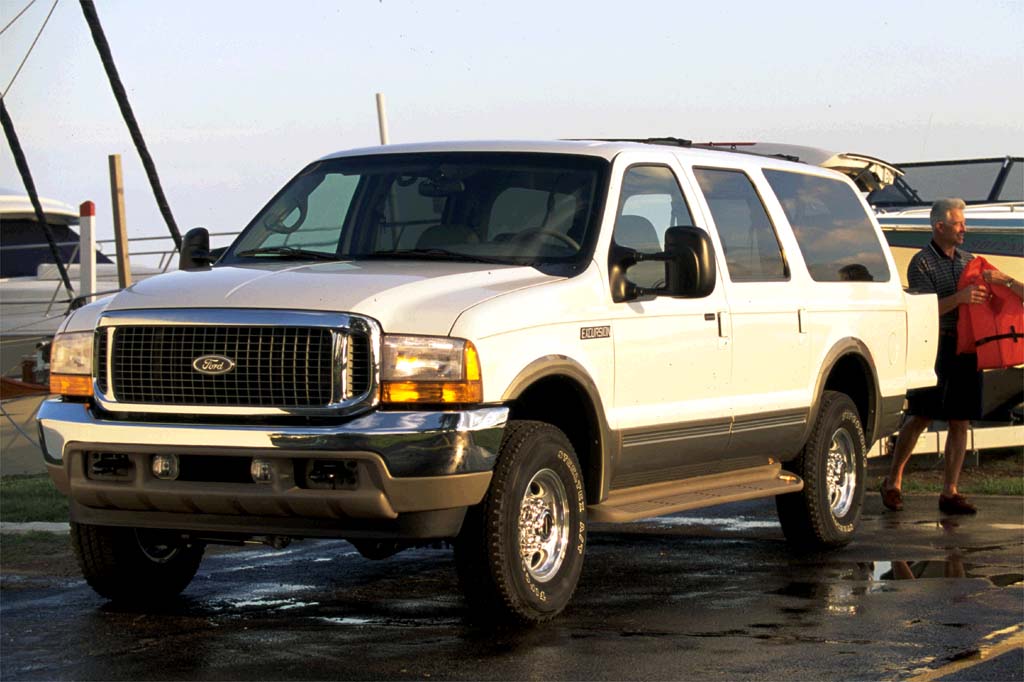 2001 Ford Excursion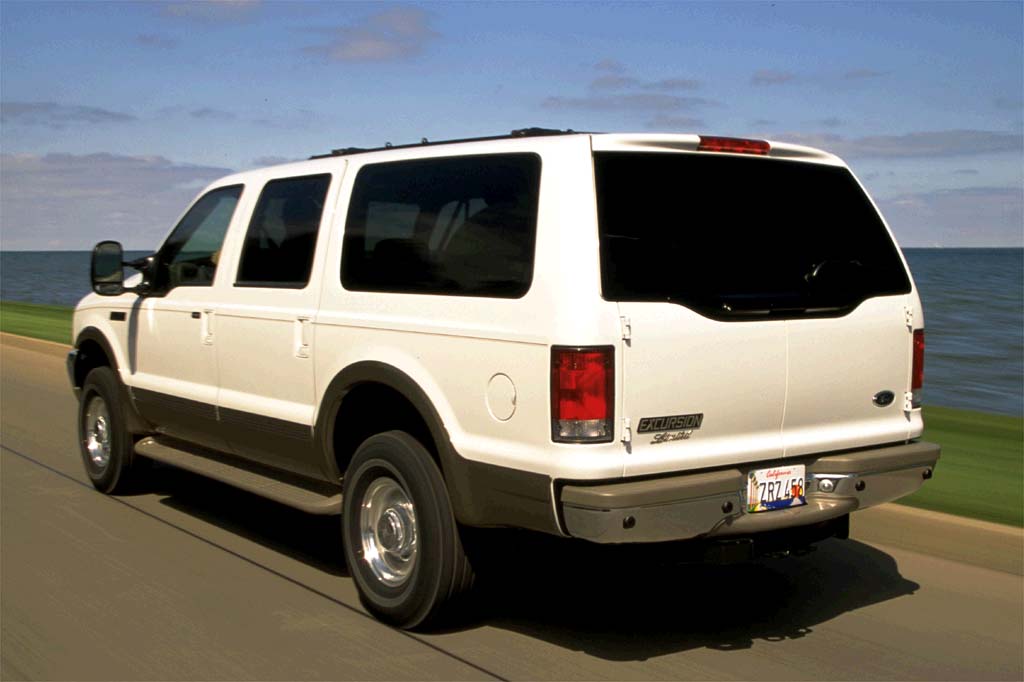 2001 Ford Excursion
Pros:

Passenger and cargo room
Seat comfort
Trailer-towing capability

Cons:

Fuel economy
Maneuverability
Rear visibility
Massive size and weight are serious drawbacks for anything intended to be used as a "suburban utility vehicle." The Excursion is simply too cumbersome for ordinary driving, suffering abysmal fuel economy as well as impaired mobility. Towing capacity and four-wheel drive are the positive points.
Overview
Somebody always has to be the biggest. In the case of full-size sport utility vehicles, Ford took that prize with the introduction of the Excursion. The world's largest and heaviest SUV, it was 7.4 inches longer than the Chevrolet Suburban, on a wheelbase 7 inches longer, and 6 inches taller. The Excursion also was some 1,900 pounds heavier, tipping the scales at more than 7,000 pounds.
Critics from the environmental and safety camps were quick to take aim at the Excursion as an example of wretched automotive excess and waste. Ford responded by noting that all three available engines ranked as LEV (low emission vehicle), and that the Excursion made extensive use of recycled materials. In addition, a new BlockerBeam was installed. This was a steel crossmember below the front bumper, designed to prevent a passenger car from sliding under the Excursion in a crash.
Based on Ford's 3/4-ton F-Series pickup trucks, the Excursion came in XLT and Limited trim, with either rear-wheel or four-wheel drive. The body had four side doors as well as center-opening rear half-doors below a one-piece, top-hinged tailgate window. Seating as many as nine occupants, the Excursion competed against the Chevrolet Tahoe and Suburban, and GMC's Yukon/Yukon XL/Denali–all of which had seemed quite large until Ford set a new dimensional peak.
Base engine was a 5.4-liter V8. A V10 was standard with four-wheel drive, and optional with two-wheel drive. Ford's turbodiesel V8 also was available. All engines drove a four-speed automatic transmission.
The four-wheel-drive system shifted between 2WD and 4-High or 4-Low via a dashboard switch, but was not intended for use on dry pavement. Ford's smaller but full-size Expeditions, and GM rivals, had 4WD systems that could function on dry surfaces. Antilock braking was standard, but side-impact airbags were not available. An optional reverse-sensing system warned of objects in the Excursion's path while backing up.
Front bucket seats were standard in the Limited, and available in the XLT to replace its three-place bench. Both versions had a fold-down second-row bench and a removable third-row bench. Leather upholstery was standard in the Limited, optional in the XLT.
Yearly Updates
2001 Excursion
For 2001, the turbodiesel engine gained 15 horsepower. Foglamps became standard on the Limited, along with mirrors that contained built-in turn signals.
2002 Excursion
Power-adjustable brake and throttle pedals were optional on XLT and XLT Premium Excursions, and standard on the Limited and Limited Ultimate. On the Ultimate, they came with a seat/pedal memory feature. An optional rear-seat video entertainment system included a VCR and wireless headphones, with a DVD system expected later in the model year. An in-dash six-CD changer also was optional. When properly equipped, Excursions could tow as much as 11,000 pounds.
2003 Excursion
At midyear Ford switched turbodiesel V8s, from the 7.3 liter with 250 hp and 525 lb-ft of torque to the 6.0 with 325 and 550. It mated to a 5-speed automatic transmission. A new Eddie Bauer sloted between the base XLT line and top-range Limited models. It was distinguished by front and rear body-color trim set off by beige accents
2004 Excursion
No significant changes were made for 2004.
2005 Excursion
The largest SUV sold in America got minor cosmetic changes for 2005.