Midsize car; Built in USA
2-door coupe
4-door sedan
transverse front-engine/front-wheel drive
Good condition price range: $2,100 – $6,500*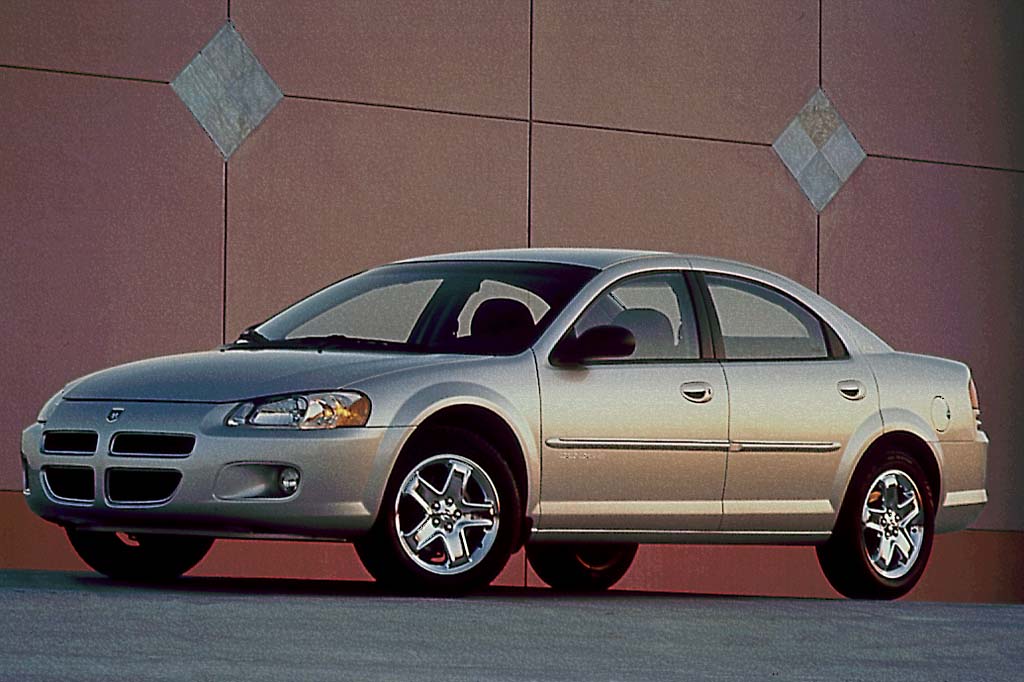 2001 Dodge Stratus ES 4-door sedan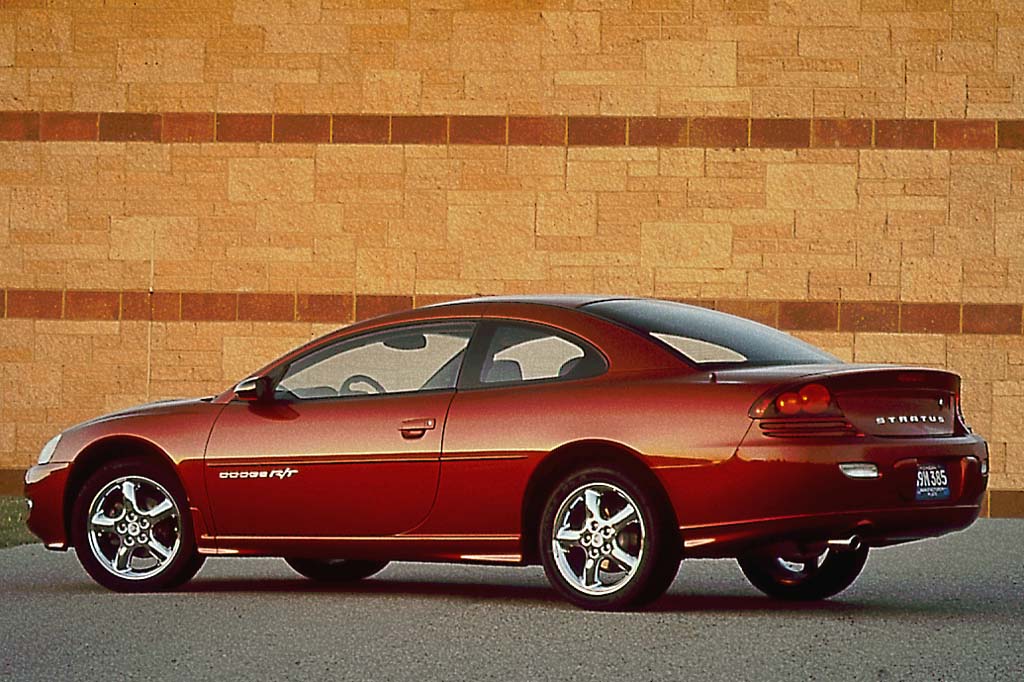 2001 Dodge Stratus R/T 2-door coupe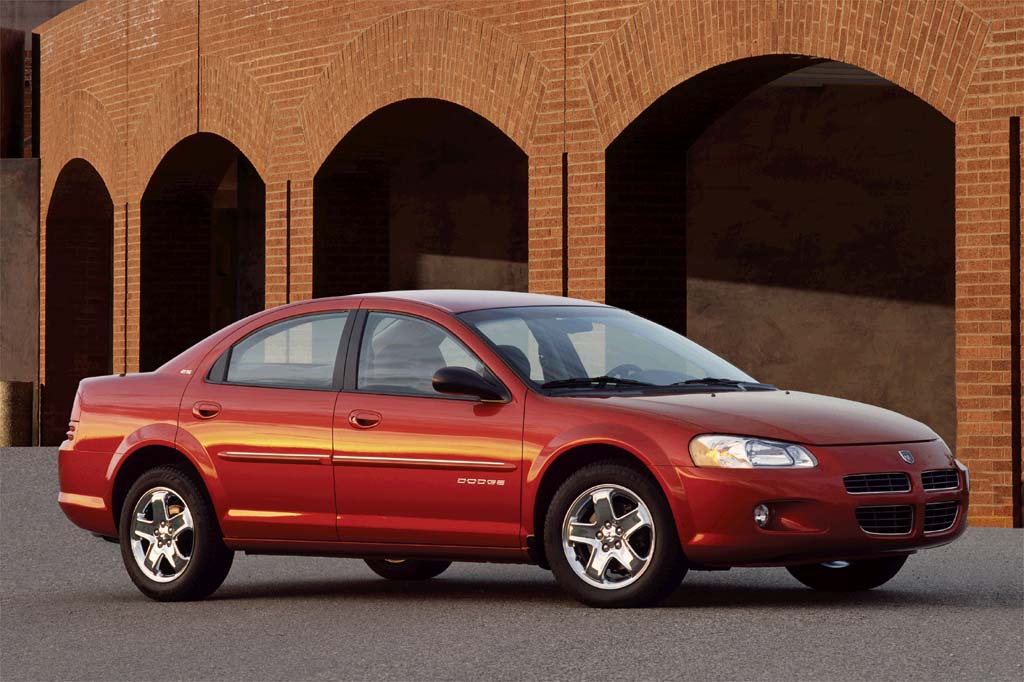 2002 Dodge Stratus ES 4-door sedan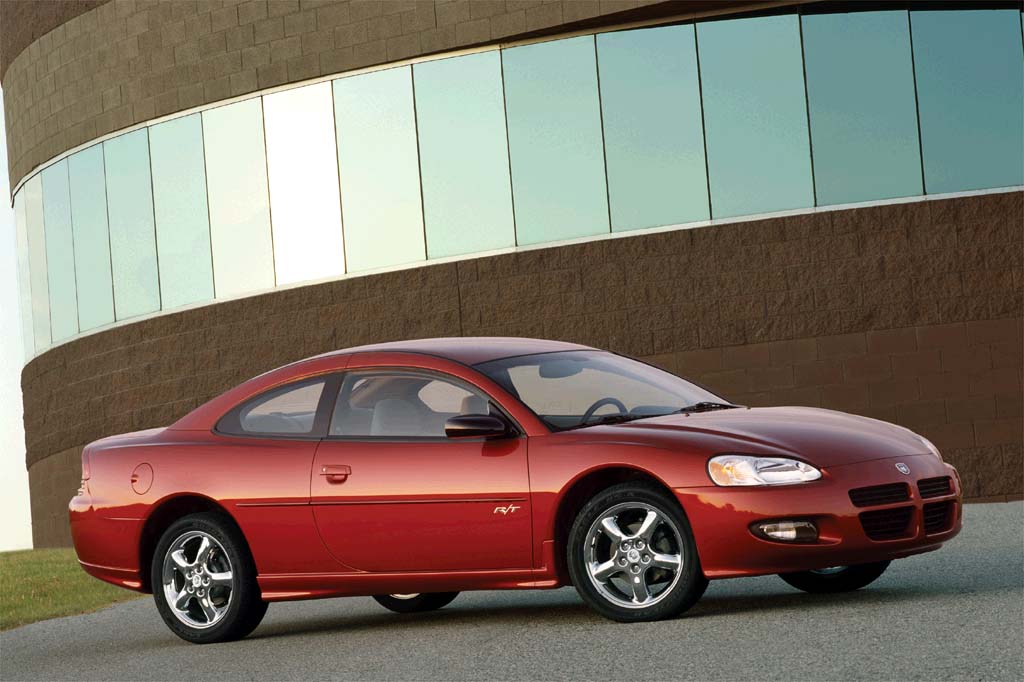 2002 Dodge Stratus R/T 2-door coupe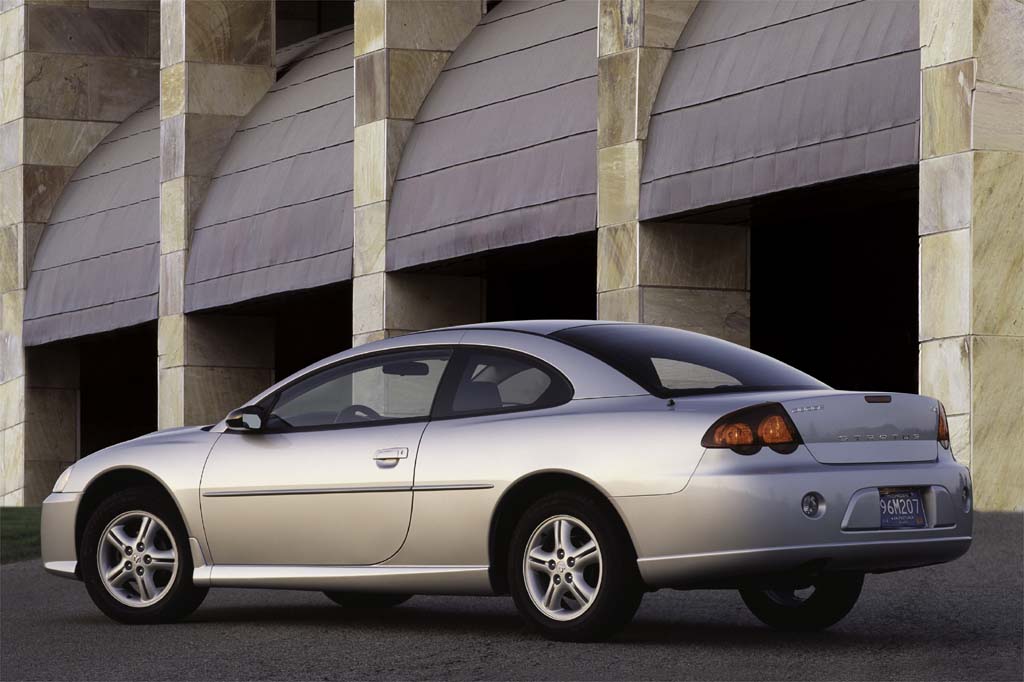 2003 Dodge Stratus 2-door coupe
Pros:
Cons:

Acceleration (4-cyl)
Rear-seat comfort (coupe)
Rear-seat entry/exit (coupe)
Despite improvements in driveline smoothness and overall refinement, the latest Stratus sedans and coupes lack the polished feel of some import-brand rivals. Still, both body styles offer competitive value and sedans rank as sporty-feeling family carriers. Each model fulfills its mission, and the R/T appeals for its performance image.
Overview
Dodge's midsize sedans and coupes were redesigned for 2001, with fresh styling, new V6 engines, and optional side-curtain airbags for sedans. Formerly known as the Dodge Avenger, the Stratus coupe shared its design with the similarly restyled Chrysler Sebring coupe. Both used powertrains and platforms derived from the Mitsubishi Eclipse and Galant.
Sedans again shared their Chrysler-bred design with the Chrysler Sebring sedan and convertible. No Stratus convertible was planned, however.
Despite all-new sheetmetal, styling was familiar. Exterior and interior dimensions changed little, though coupes were lighter by about 100 pounds and sedans heavier by a similar amount.
Sedans came in SE and ES trim. SE sedans retained a 2.4-liter four-cylinder engine. Optional on those models, and standard on the ES, was a 2.7-liter V6 borrowed from the Dodge Intrepid. Both engines came only with a four-speed automatic transmission. ES models used Dodge's AutoStick with a separate gate for manually-selected gear changes.
Stratus coupes came in SE and R/T models. A 2.4-liter four-cylinder was standard for SE coupes, with an optional 3.0-liter V6 that was new to the Stratus line. That engine also went into the performance-oriented R/T coupe. Both coupes used a five-speed manual or optional four-speed automatic. R/T automatics incorporated Autostick.
Sedan powertrains were built by Chrysler, but coupe powertrains hailed from Mitsubishi and were shared with that company's Eclipse and Galant.
Optional curtain-type airbags on sedans deploy from above the side windows and were designed to inflate in side collisions, protecting the upper body. No lower-body side airbags were offered. Antilock brakes were optional on all models except the SE coupe. Sedans had standard lower anchors for rear child seats, as well as an emergency release inside the trunk.
Wheel diameter on sedans increased by an inch. Chrysler said new headlamps on coupes and sedans were 25-percent brighter than before, adding that thicker front door glass improved sound insulation. Competitors included the Honda Accord, Nissan Altima, Toyota Camry/Solara, and Chevrolet Malibu.
Yearly Updates
2002 Stratus
Little changed for either the Stratus coupe or sedan in 2002, but a sporty new R/T sedan joined the R/T coupe during the model year. The R/T could get Chrysler's AutoStick automatic transmission, with a shift gate for manually selected gear changes.
2003 Stratus
Coupes earned revised styling this year, for both front and rear. Interior changes included a new dashboard and door panels, and front side airbags were available in coupes for the first time. For 2003, the ES sedan's alloy wheels switched to a chrome finish. Coupes came in SXT and sporty R/T trim levels, while sedans were offered in SE, SXT, S and R/T trim.
2004 Stratus
Stratus saw no major changes for 2005. Sedans got revised front styling that mimicked the changes to the coupes in 2003.
2005 Stratus
No changes were made this year. Note that coupe production is scheduled to end during the 2005 model year.
2006 Stratus
Dodge's midsize car drops its coupe body style for 2006.