Compact SUV; Built in USA
transverse front-engine/front- or all-wheel drive
Good condition price range: $2,700 – $19,000*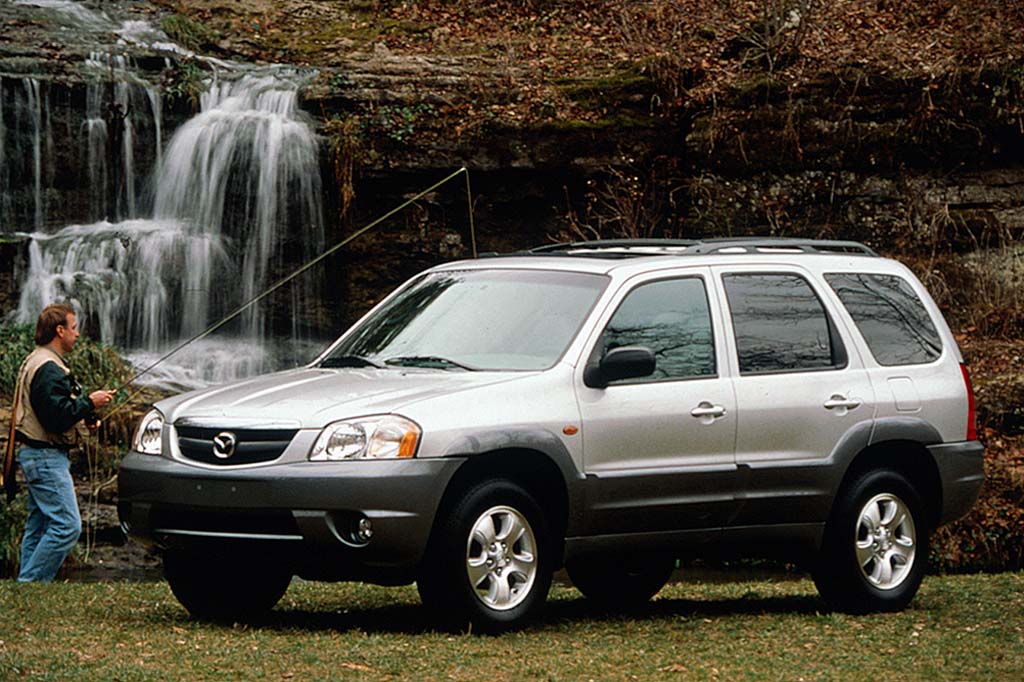 2001 Mazda Tribute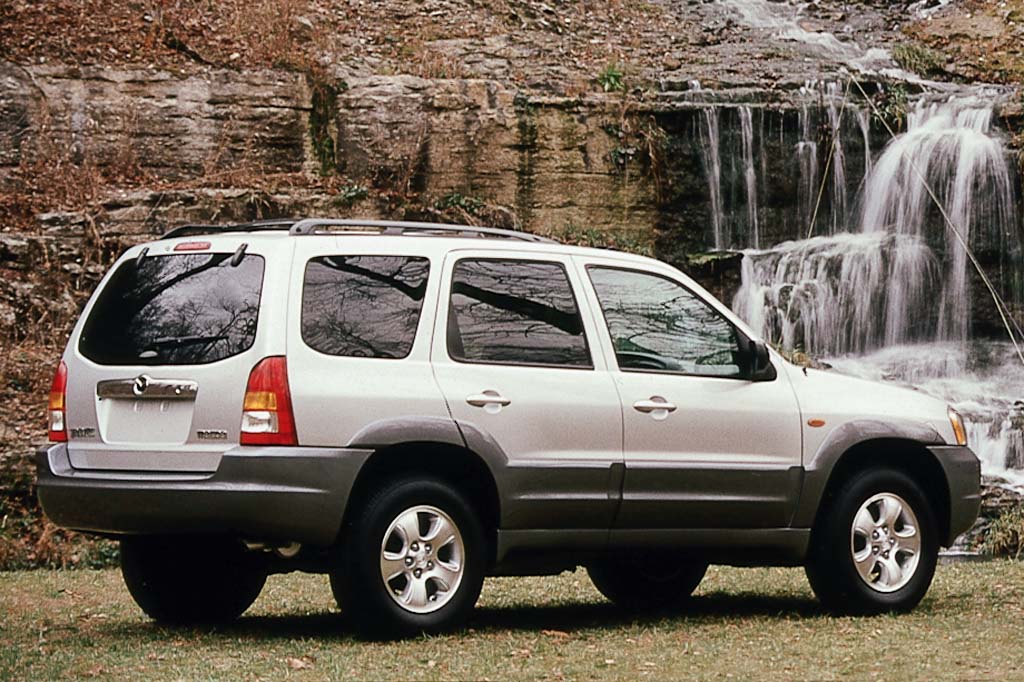 2001 Mazda Tribute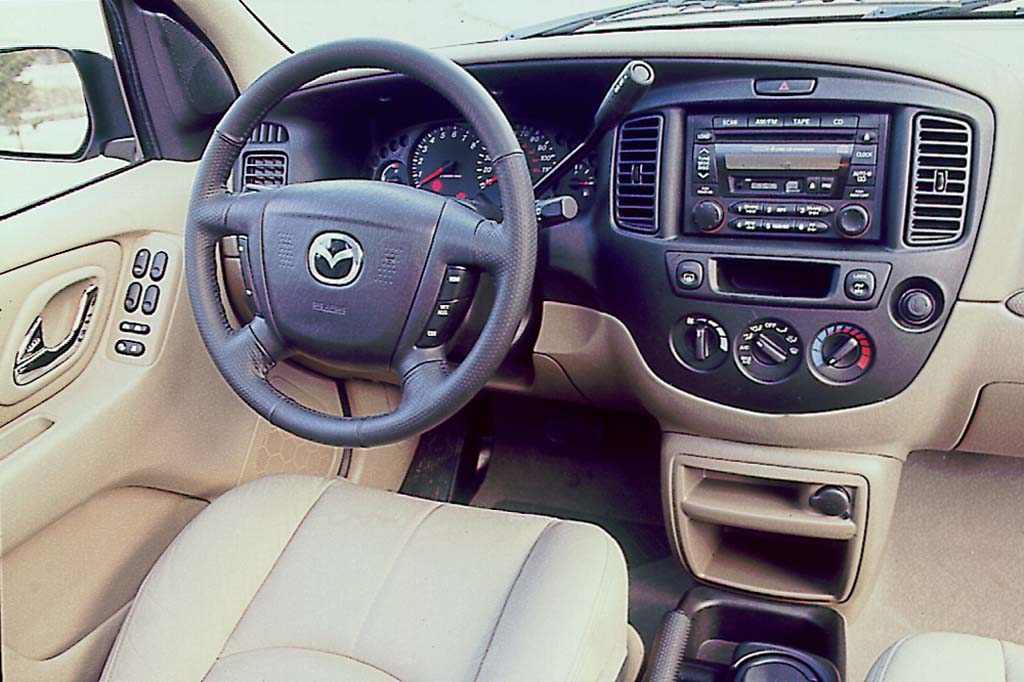 2001 Mazda Tribute interior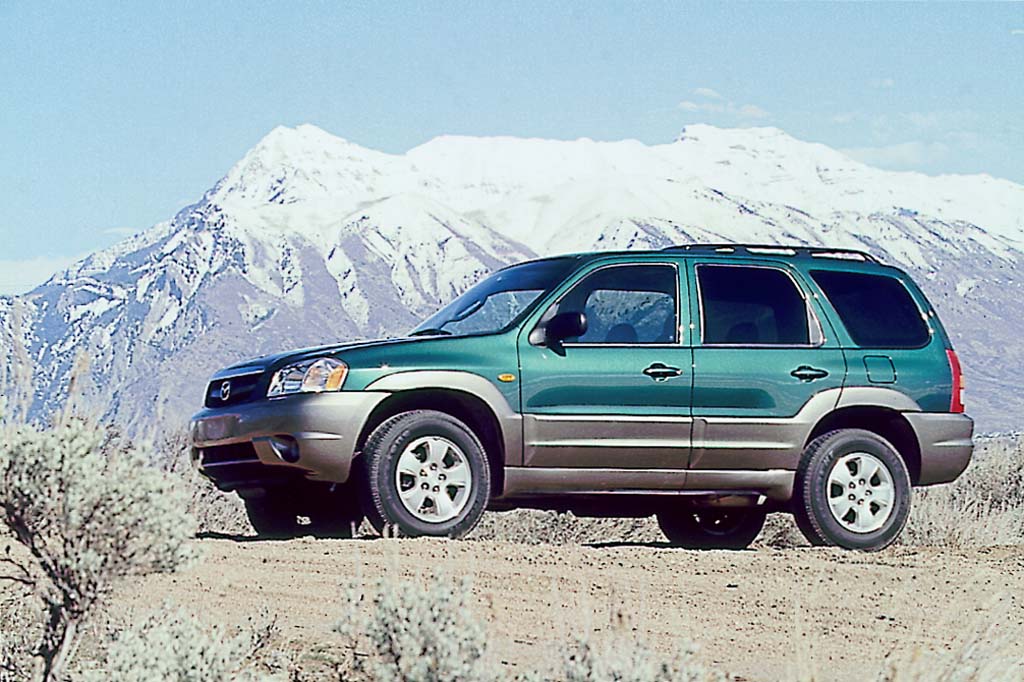 2002 Mazda Tribute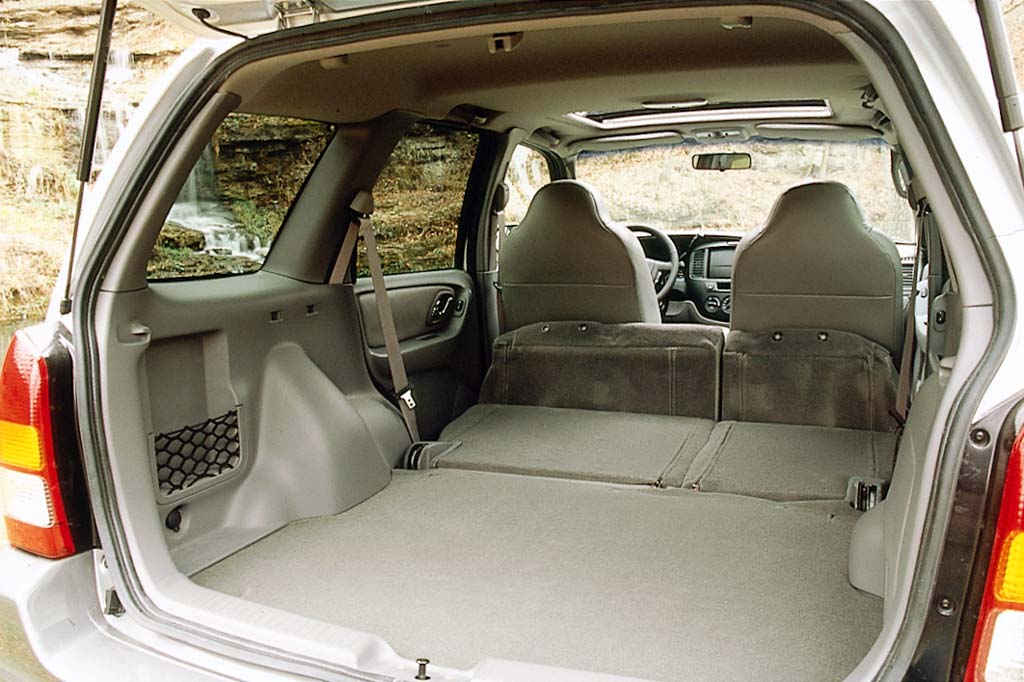 2002 Mazda Tribute interior
Pros:
Cons:

Control layout (2001-03)
Noise
Solid, substantial feeling, roomy, comfortable, and even fun to drive, the Tribute and its Escape cousin rank as compact SUV all-stars. They are also eminently sensible alternatives to any number of midsize SUVs, especially truck-based wagons, which are less efficient in their use of space and fuel. Stay away from troublesome 4-cylinder models.
Overview
Mazda's first sport-utility vehicle since the old Explorer-based Navajo was a slightly upscale version of the also-new Ford Escape. With an available V6 engine, it offered more power than a Honda CR-V, Toyota RAV4, Subaru Forester, or similar compact SUVs.
Both the Tribute and the Escape were manufactured at a Ford plant, on a new purpose-designed Mazda platform but using Ford-sourced powertrains. The two makes used different styling and suspension settings. Like the Honda CR-V and Toyota RAV4, Tribute had carlike unibody construction and a fully independent suspension.
The base DX four-cylinder edition came only with manual shift, using the same engine as Ford's Focus. Mazda borrowed the 3.0-liter V6 from the midsize Ford Taurus, making it optional for the DX and standard in the LX and ES. Only a four-speed automatic transmission was available with V6 power.
Tributes came with front-wheel drive or all-wheel drive, which lacked low-range gearing but had a dashboard switch that locked in a 50/50 front-rear torque split. All-wheel drive automatically directed up to 50 percent of power to the rear wheels, if front-wheel slippage occurred.
Standard wheels were 16-inch, and the rear liftgate had a separately-opening hatch window. LX and ES Tributes could have optional antilock braking and front side airbags, and came with 60/40 split-fold rear seatbacks. The ES also was fitted with leather upholstery.
Yearly Updates
2002 Tribute
Interior revisions keynoted 2002 changes for Mazda's compact SUV.
In addition to redesigned front seats, the interior modifications included reshaped steering-column transmission and wiper levers, intended to improve access to dashboard controls. LX and ES models also gained steering-wheel audio controls.
2003 Tribute
Antilock braking became standard on the top-of-the-line ES for 2003. Still optional for the LX, ABS was unavailable on the DX model. Otherwise, the only notable changes were minor interior cosmetic revisions.
2004 Tribute
No new changes were made to the Tribute this year.
2005 Tribute
Mazda's compact SUV gets more 4-cyl power and added safety features, including available curtain side airbags, for 2005. The engine grows to a 2.3-liter 153-hp 4-cyl. ABS, previously an option, is standard for '05. Newly optional for s models are head-protecting curtain side airbags that cover both seating rows.
2006 Tribute
There were no significant changes for the Tribute in 2006.
2007 Tribute
Tribute skipped the 2007 model year.
2008 Tribute
Tribute returned for 2008 with freshened styling. Added for sale in California was a gas/electric Hybrid model that came in Touring and Grand Touring trim. Hybrids paired a 133-hp 2.3-liter 4-cylinder engine with an electric motor and didn't require plug-in charging.
2009 Tribute
Tributes received a power boost for 2009. The i models got a 171-hp 2.5-liter 4-cylinder to replace a 153-hp 2.3-liter engine. The s models' 3.0-liter V6 gained 40 hp for 240 total. Hybrids, still sold only in California, got a 153-hp 2.5-liter four that replaced a 133-hp 2.3-liter version.
2010 Tribute
The 2010 Mazda Tribute saw no major changes.
2011 Tribute
The 2011 Mazda Tribute is largely unchanged.