Premium large SUV; Built in USA, Mexico
4-door wagon
4-door wagon
crew cab
longitudinal front-engine/rear- or all-wheel drive
Good condition price range: $9,000 – $20,000*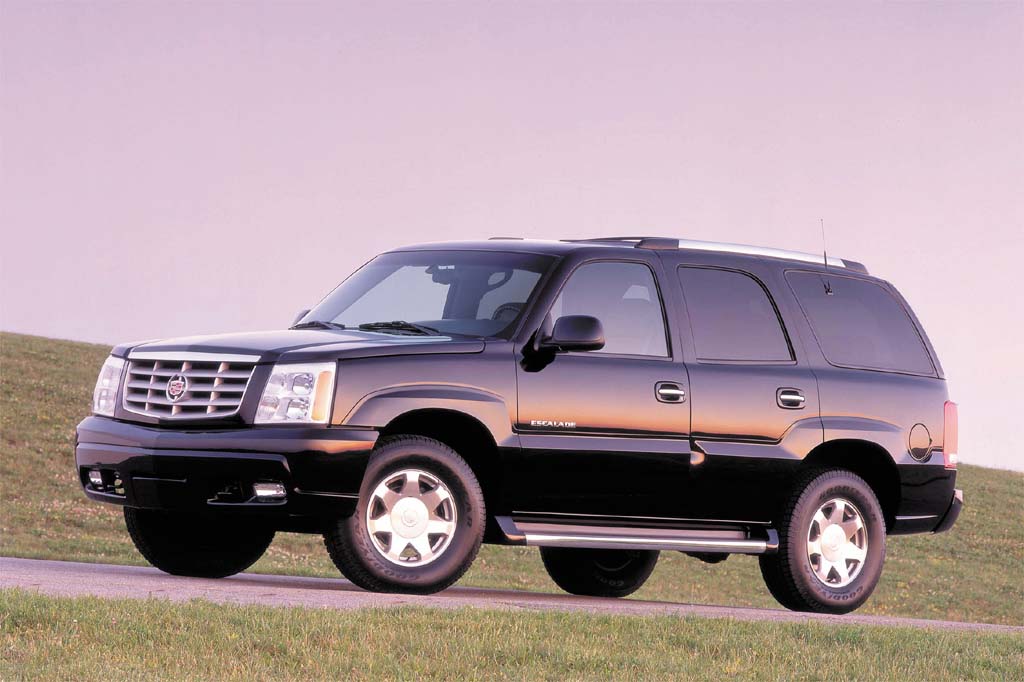 2002 Cadillac Escalade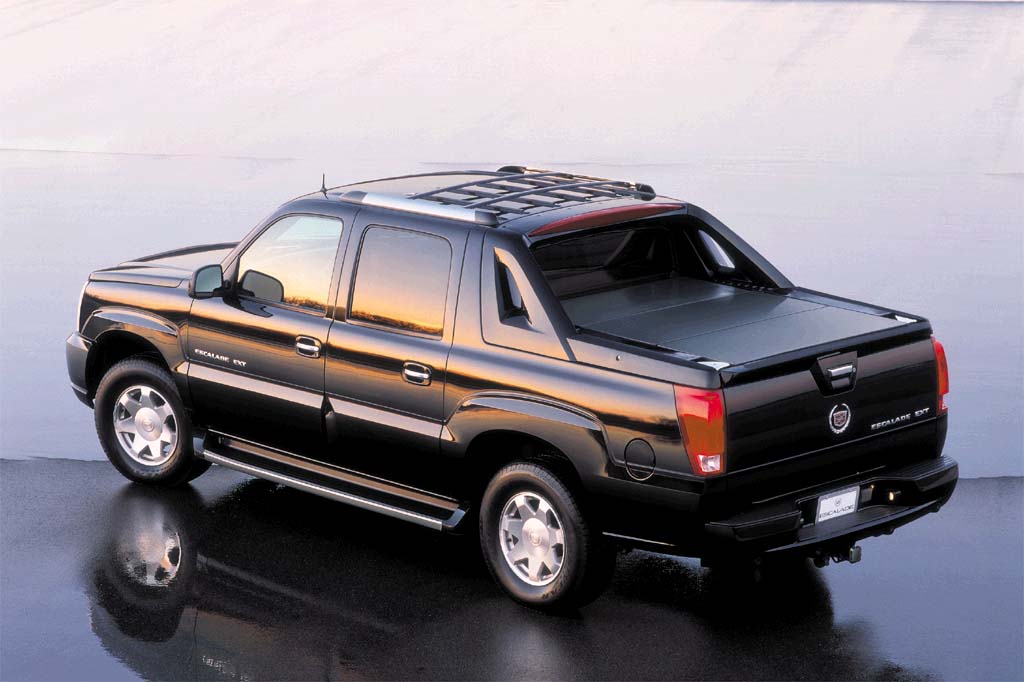 2002 Cadillac Escalade EXT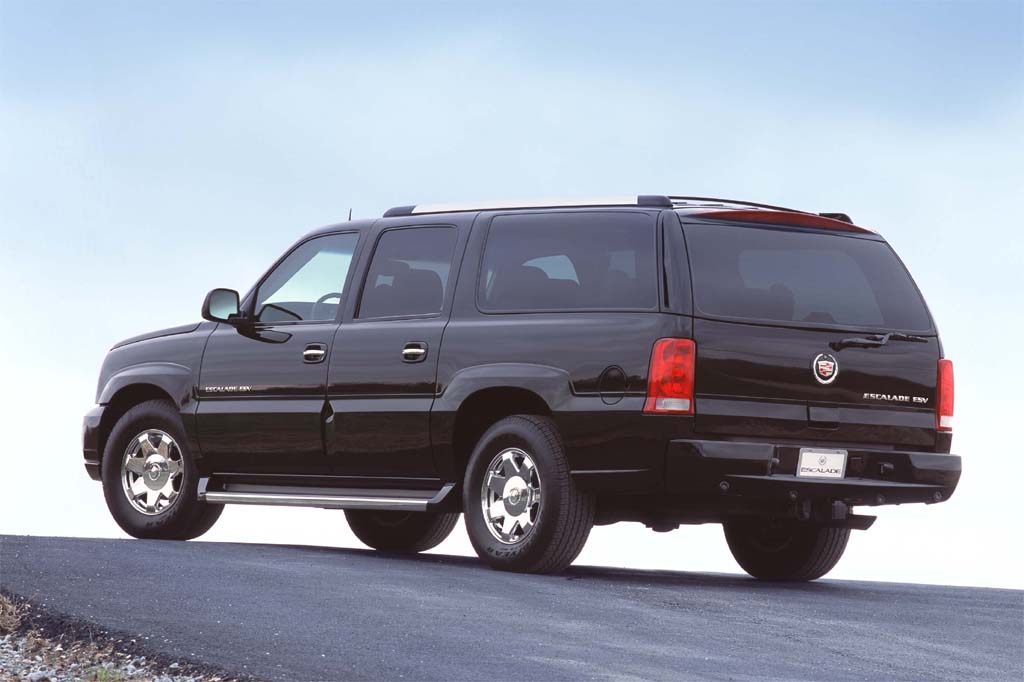 2003 Cadillac Escalade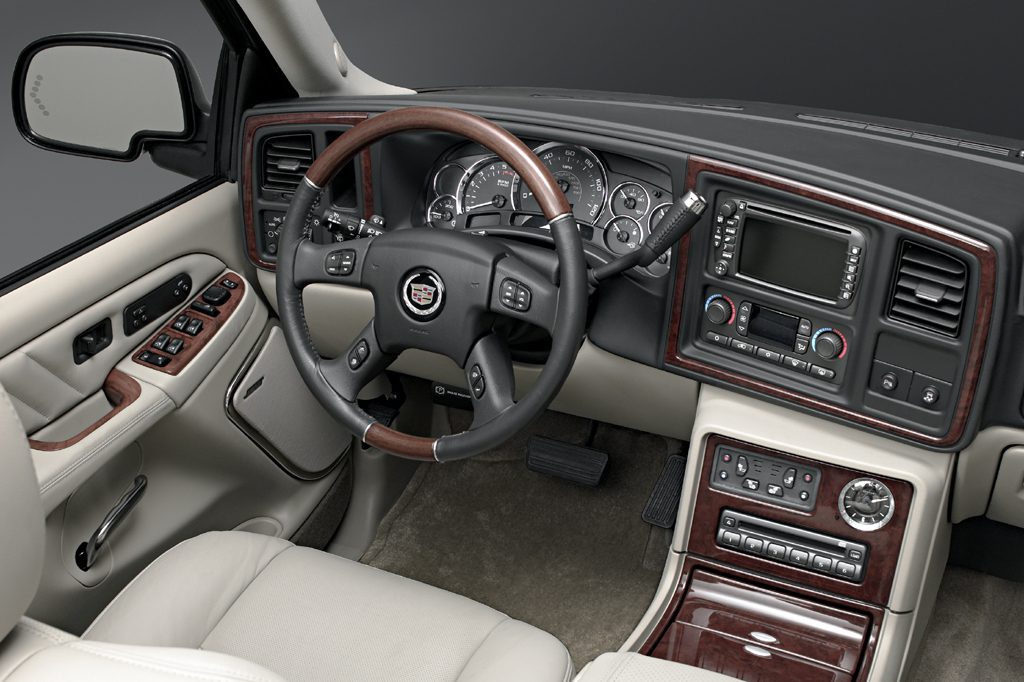 2004 Cadillac Escalade interior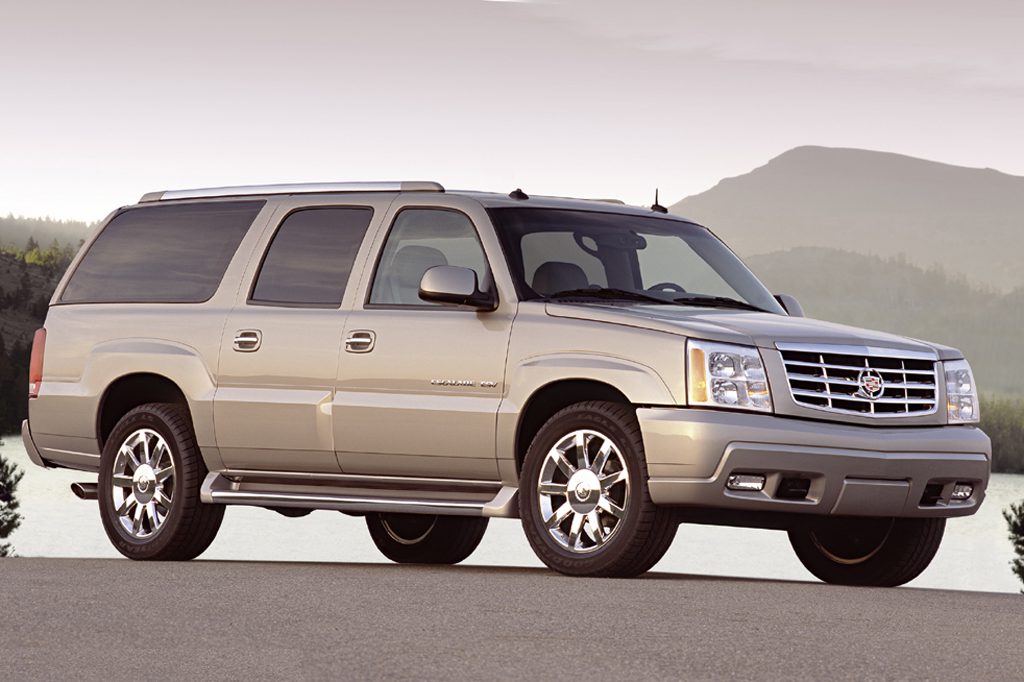 2004 Cadillac Escalade
Pros:

Acceleration
Cargo room
Passenger room
Quietness
Trailer-towing capability

Cons:

Entry/exit
Fuel economy
Steering feel
Interior detail execution and steering feel aren't up to the Escalade's price level, but both the regular model and the EXT have plenty of power and, if so equipped, no-fuss all-wheel drive. Styling exudes serious "attitude," which can be either a bonus or an obstacle, depending on your personal tastes. The EXT's midgate design can be versatile, but its advantages are available for less money in the Avalanche. An ESV provides more for the money, and feels more refined than Lincoln's comparably-sized Navigator.
Overview
Cadillac's Escalade came as a luxury full-size sport-utility vehicle and as a crossover SUV/pickup called the EXT. Escalade SUVs shared a platform with GM's other full-size SUVs–the GMC Yukon/Denali and Chevrolet Tahoe–but had more power and unique appointments. The EXT was essentially a similarly embellished version of the Chevrolet Avalanche pickup.
Each version had standard front side airbags, antilock four-wheel disc brakes, traction control, Cadillac's automatic-adjusting road-sensing suspension. All models rode on 17-inch alloy wheels, and featured rear-obstacle-warning and OnStar assistance systems.
The basic Escalade SUV seated up to eight and could have rear-wheel drive or all-wheel drive (without low-range gearing). AWD Escalades used a 6.0-liter V8 and could tow up to 8500 pounds. Rear-drive models held a 5.3-liter V8 and could haul 7700 pounds.
The EXT was a four-door crew cab with a "midgate" separating the cab from the cargo bed. The rear window removed and the midgate folded along with the rear seat, to extend the bed from 5.3 feet to 8.1 feet. The EXT seated five with its midgate upright, but just two with the midgate folded. The EXT came only with AWD and the 6.0 V8: towing capacity was 8000 pounds.
AWD versions of all Escalades had antiskid control. Competitors included the Lexus LX 470, Toyota Land Cruiser, and Lincoln Navigator.
Yearly Updates
2003 Cadillac Escalade
Cadillac's luxury SUV wagon gained an extended-length companion for 2003. Essentially the size of a Chevrolet Suburban, the Escalade ESV joined the regular, Chevrolet Tahoe-length Escalade in early 2003. Both were stablemates of the Escalade EXT crossover SUV/pickup truck. New for all three this year were standard power-adjustable gas and brake pedals, and (for wagons) optional second-row bucket seats.
The new ESV added 22 inches to the overall length of the regular Escalade, primarily as cargo space behind the third-row seat.
Both SUVs seated eight, or seven with the newly available second-row buckets in place of the standard three-person bench.
Regular-length Escalades came with rear-wheel drive or all-wheel drive (without low-range gearing). The ESV came only with all-wheel drive.
New power-adjustable pedals were tied to the standard seat-memory system. A new option for all models was XM satellite radio, which offered local programming plus 100 exclusive channels for a monthly fee.
2004 Cadillac Escalade
Satellite radio, a tire-pressure monitor and a trailering package became standard on 2004 models. A new Platinum Edition of the ESV features a navigation system, 20-inch chrome alloy wheels and special appearance touches. Other models rode on 17-inch alloy wheels.
2005 Cadillac Escalade
Changes for '05 include a restyled gauge cluster, new interior trim, upgraded cooling system, and standard chrome exhaust tips. Also, the available navigation system replaces a joystick control with a touch screen.
2006 Cadillac Escalade
No significant changes for the 2006 Escalade.