Compact car; Built in Japan
4-door sedan
4-door wagon
transverse front-engine/all-wheel drive
Good condition price range: $3,200 – $21,000*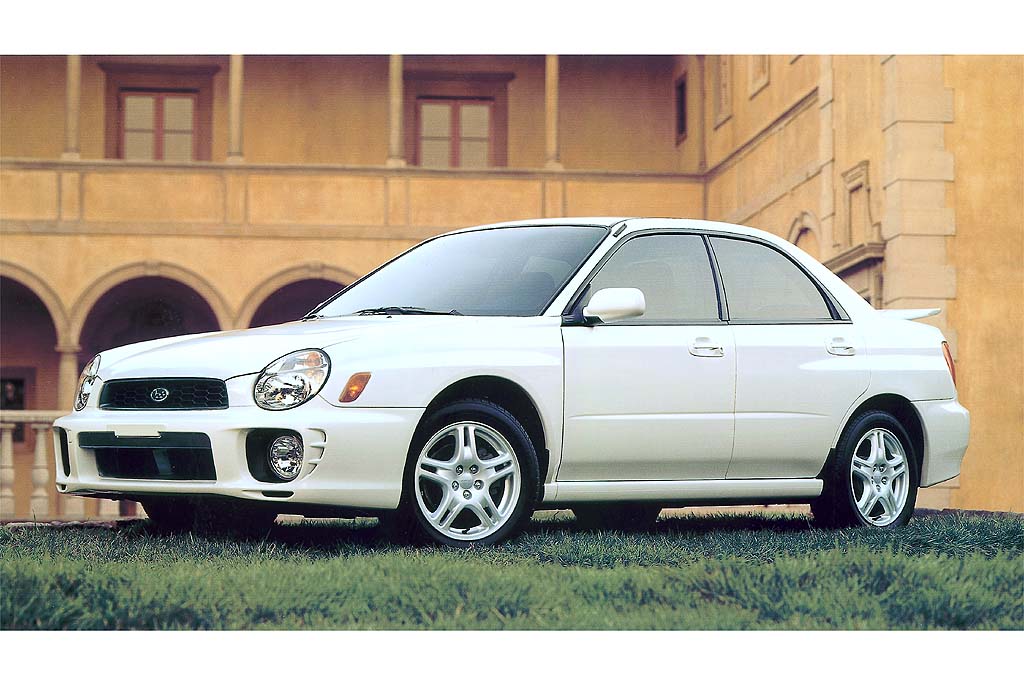 2002 Subaru impreza 2.5 RS 4-door sedan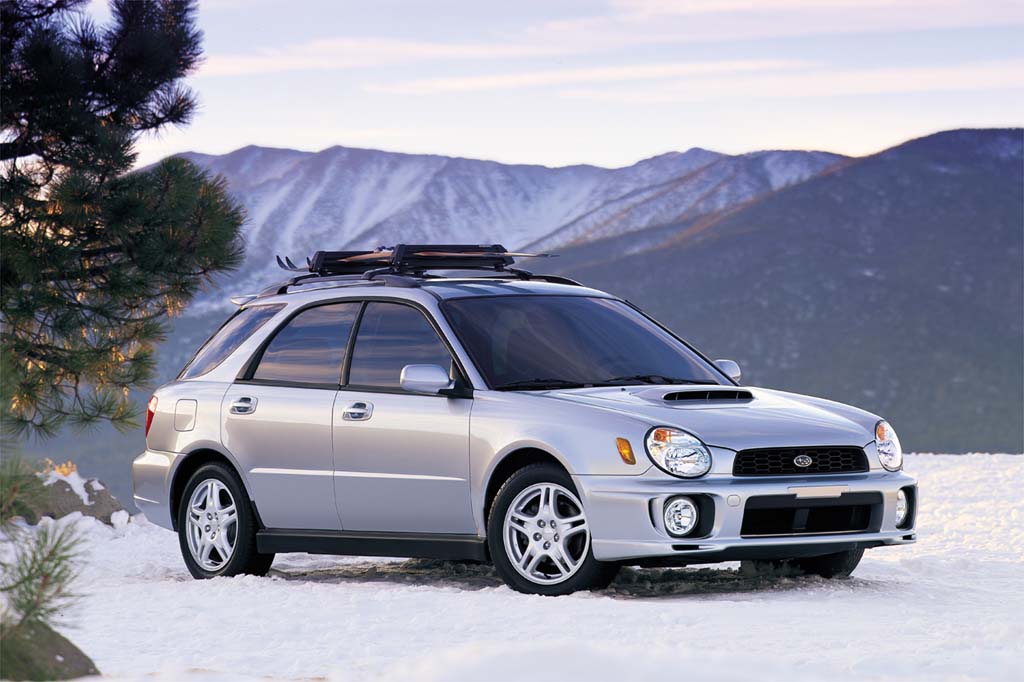 2002 Subaru Impreza Sport 4-door wagon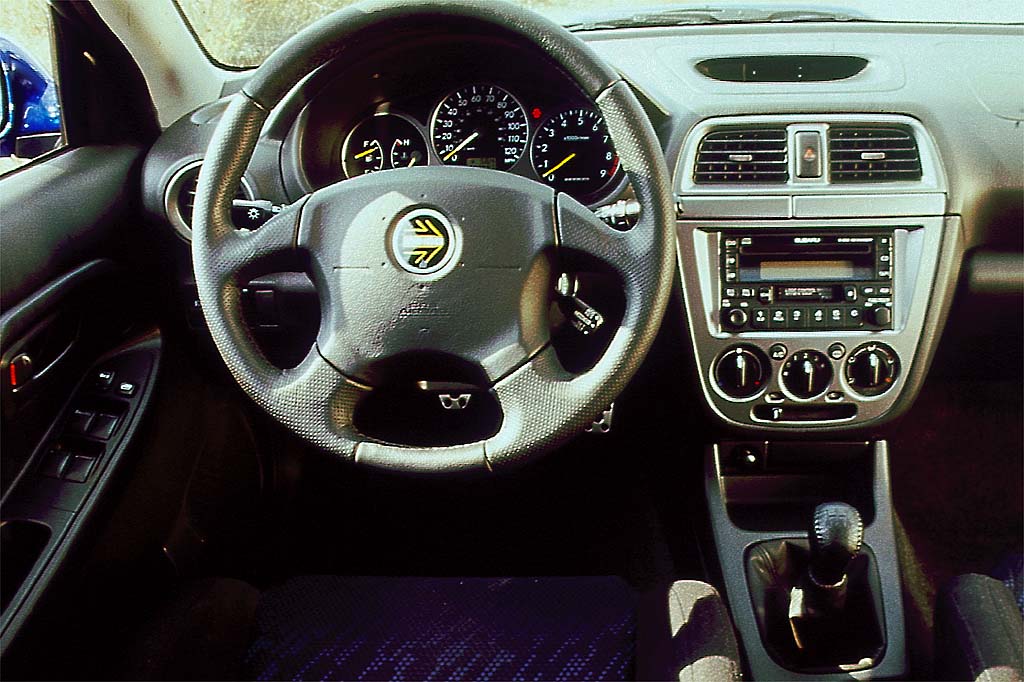 2003 Subaru Impreza WRX interior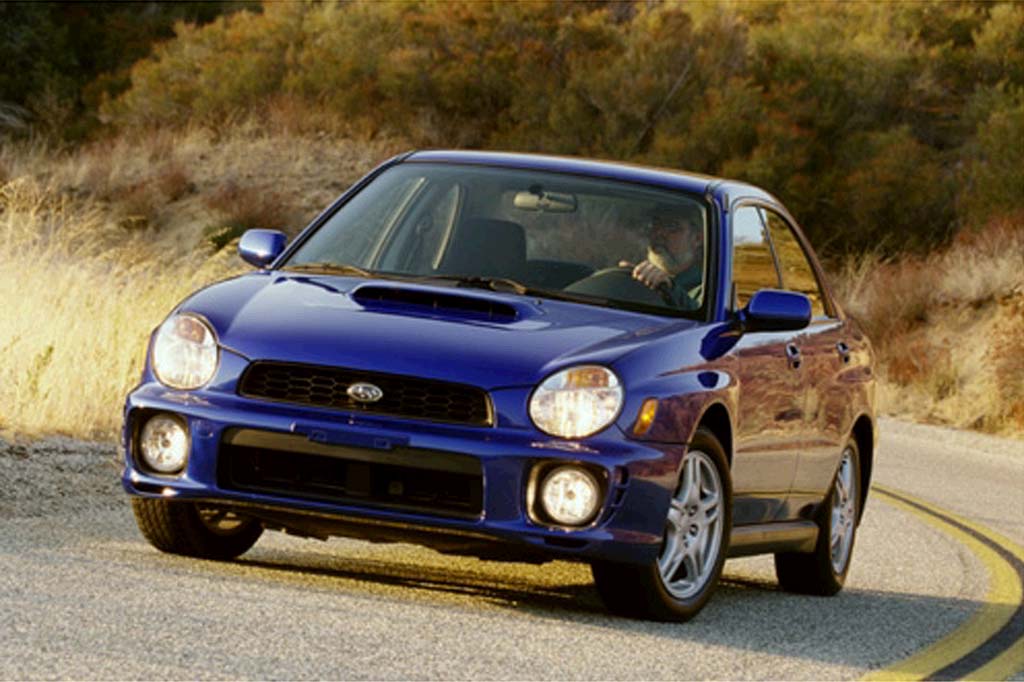 2003 Subaru Impreza WRX 4-door sedan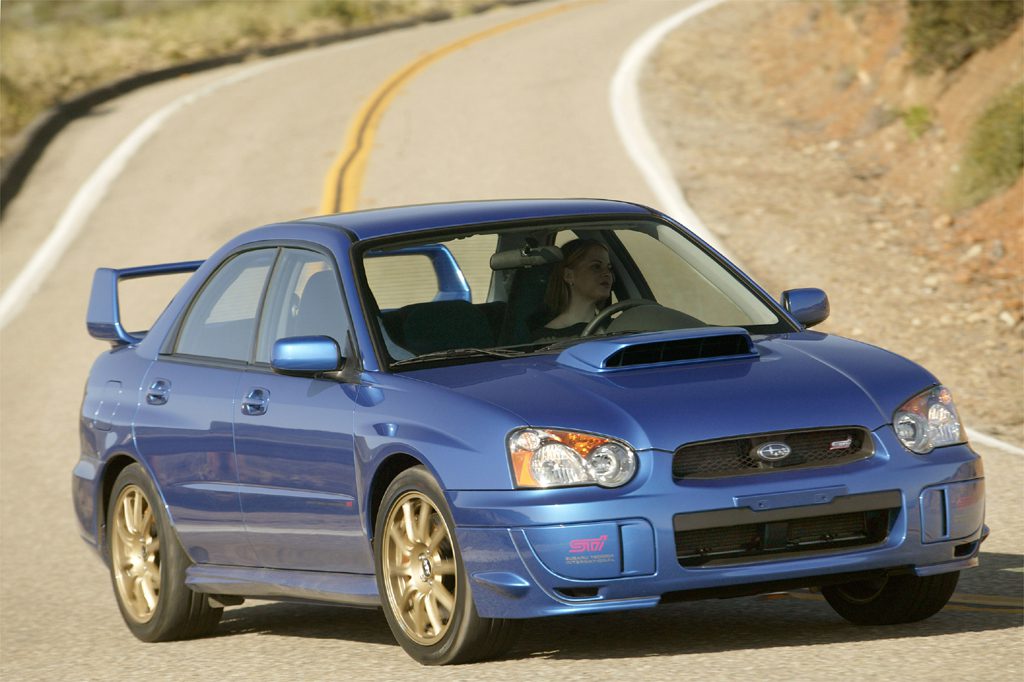 2004 Subaur Impreza WRX STi 4-door sedan
Pros:

Acceleration (WRX, STi)
All-wheel drive
Control layout
Steering/handling
Brake performance

Cons:

Rear-seat entry/exit
Rear-seat room
Ride
With the 2002 redesign, Impreza sticker prices moved above the Honda Civic to Volkswagen Jetta level. But workmanship and refinement belie Subaru's "premium small car" billing. Still, all-wheel drive is an asset for any model. Then too, WRXs and STis are fast fun, if rather rowdy for some tastes.
Overview
Subaru redesigned its smaller series for 2002, repositioning the Impreza from an entry-level car to a "premium" subcompact. Coupe models were dropped.
Sedans now came in 165-horsepower 2.5 RS and 227-horsepower turbo WRX versions. Wagons reflected that choice with 2.5 TS and WRX models, augmented by an SUV-flavored Outback with the 2.5-liter engine.
All models had new styling, four-cylinder engines with horizontally-opposed cylinders, and manual or optional automatic transmissions. WRX Imprezas were patterned after Subaru's World Rally competition cars. All Imprezas had all-wheel drive, antilock braking, a CD player, and power windows/locks.
Sedans had slightly wider front bodywork than wagons. WRX sedans and wagons included a sport suspension, an aluminum hood with functional scoop, and special interior trim and seats. Rivals included the Ford Focus, Honda Civic, Toyota Corolla, and Volkswagen Golf/Jetta.
Yearly Updates
2003 Impreza
Only detail updates were evident for 2003. The 2.5 RS sedan, 2.5 TS wagon, and SUV-flavored Outback Sport wagon used a 165-horsepower 2.5-liter engine. Counterpart WRX models had a 227-horsepower, turbocharged 2.0-liter.
All Imprezas had cruise control, a CD player, and power windows/locks. For 2003, the 2.5 RS and the Outback Sport added standard remote keyless entry. All models gained dual visor vanity mirrors and a lighted ignition switch.
2004 Impreza
A super-performance WRX STi sedan joined the lineup for 2004, packing a 300-horsepower turbocharged engine. The STi was developed by Subaru's performance division: Subaru Technica International. Equipped with 17-inch wheels, the STi featured a taller hood scoop, larger "biplane" rear spoiler, and unique cabin trim. Audio equipment was an option on the STi, which aimed at enthusiasts.
All Imprezas were facelifted for 2004, featuring larger headlamps in a reshaped nose. Also this year, WRX models gained revised front seats and gauge cluster. Heated front seats and a sunroof were newly optional.
2005 Impreza
Interior revisions and two new appearance-enhanced models highlight 2005 for the smallest Subarus. For '05, Imprezas get upgraded interior materials, a new center console and door panels, and exchange a 4-spoke steering wheel for a 3-spoke design. WRX and STi gain automatic climate control and, along with the 2.5 RS Sport, an in-dash CD changer. New for '05 is the 2.5 RS Sport sedan with WRX-style lower body trim, seats, steering wheel, and audio system. Also new is the Outback Sport Special Edition with rear spoiler, interior upgrades, and CD changer.
2006 Impreza
Impreza expands its sporty WRX roster for 2006, and all versions of Subaru's smallest cars get freshened styling and more standard safety features. For '06, base-level sedans and wagons are renamed 2.5i from 2.5 RS. Like the Outback, they have 173 hp, a gain of 10. WRX models gain a base WRX TR sedan and a top-line Limited sedan and wagon. These retain turbo power, but replace a 217-hp 2.0-liter engine with a 230-hp 2.5. WRXs exchange 16-inch wheels for standard 17s for '06; the STI retains 17s. Front side airbags providing head and torso protection are standard on all Imprezas for '06 vs. just WRX and STI previously. All get a revised nose and taillamps.
2007 Impreza
Impreza carries over unchanged.