Compact car; Built in USA
transverse front-engine/front-wheel drive
Good condition price range: $2,500 – $8,500*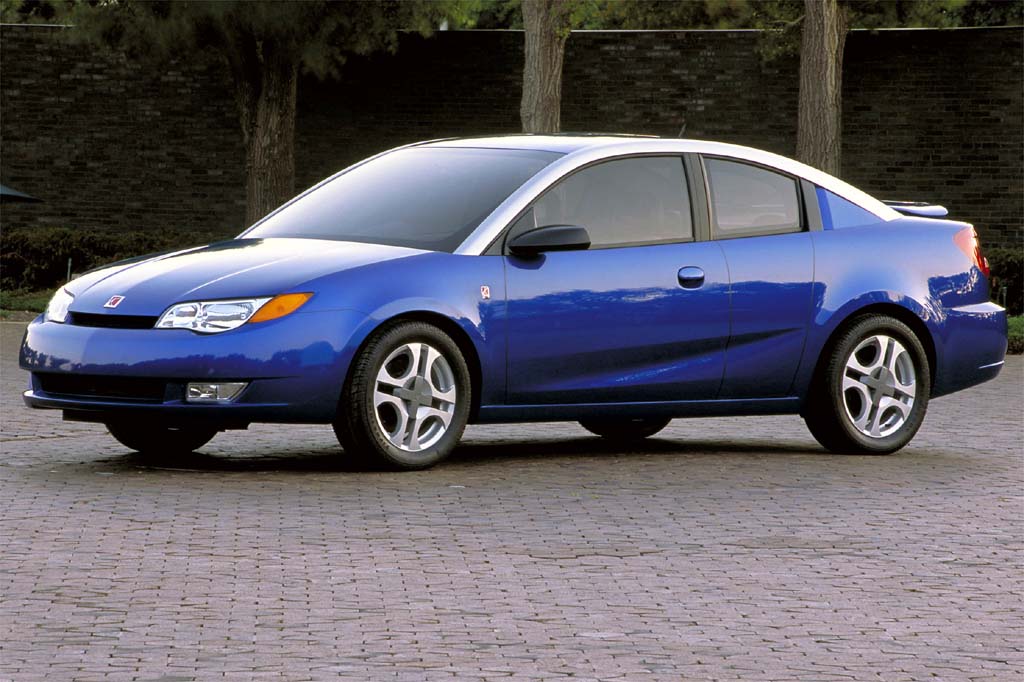 2003 Saturn Ion 3-door coupe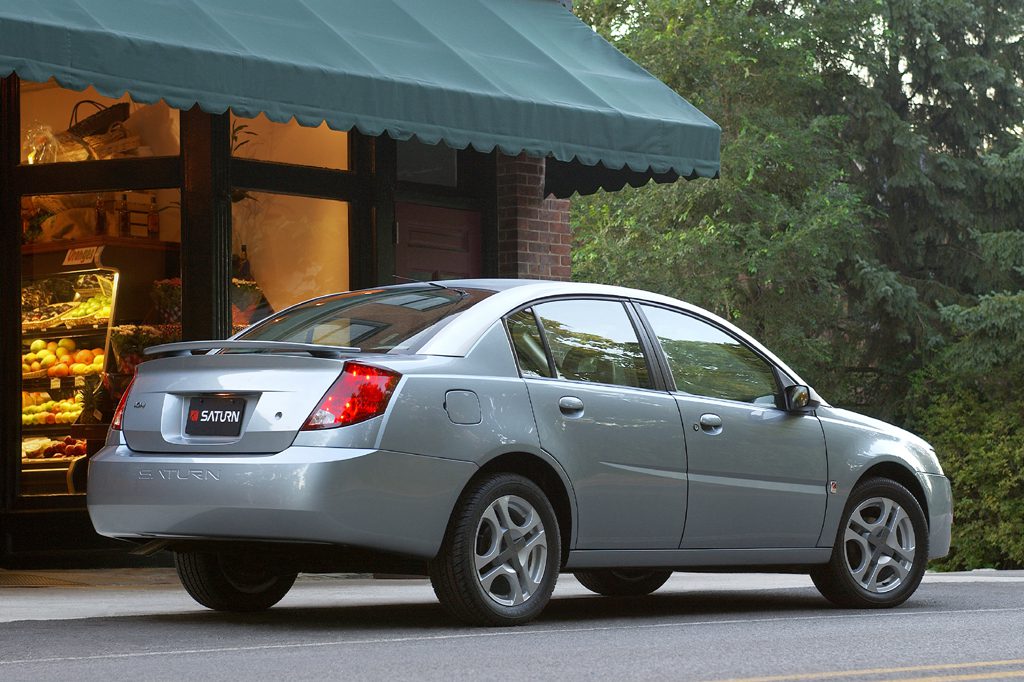 2004 Saturn Ion 4-door sedan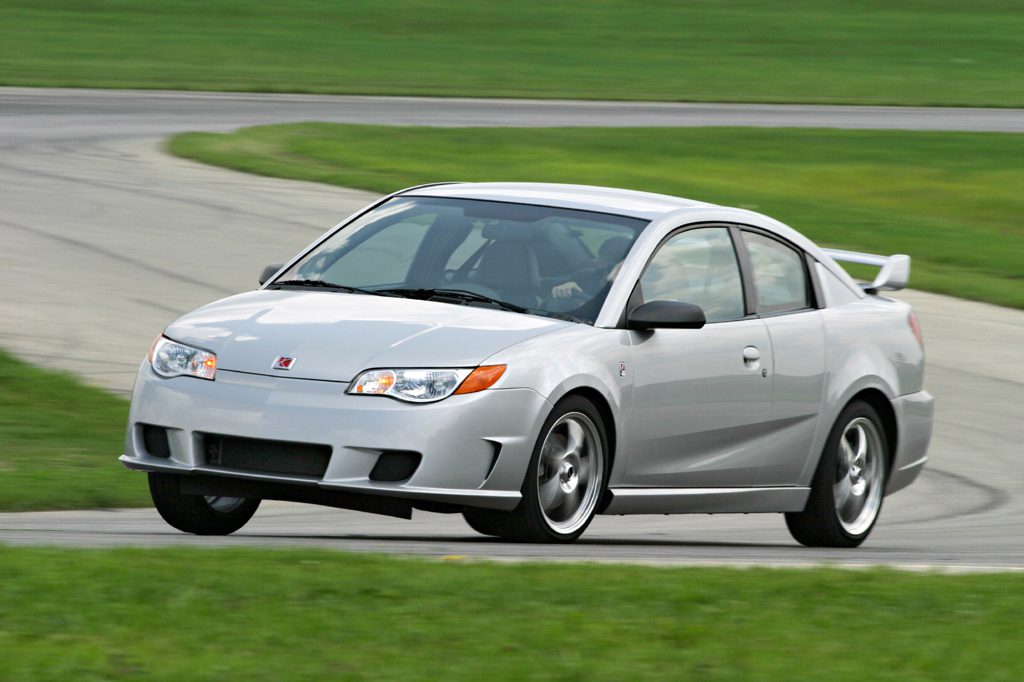 2005 Saturn Ion 3-door coupe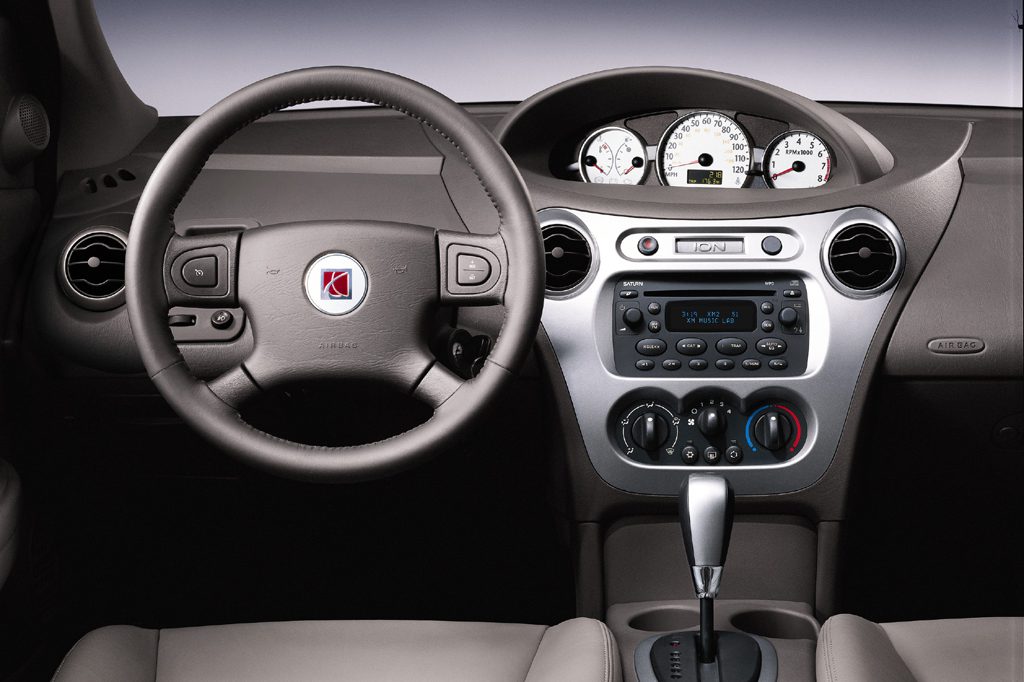 Saturn Ion interior
Despite disappointing interior decor, Ion matches most like-priced competitors for comfort and performance, though Saturn trails in mechanical refinement. The Quad Coupe has more storage flexibility and easier rear-seat entry/exit than other subcompact coupes. No rival offers Saturn's dent-resistant, rustproof body panels. Ion resale values are lower than those of the Civic and Corolla, which could benefit used-car buyers.
Overview
Saturn replaced its entry-level S-Series models for 2003 with larger, more powerful subcompact Ion sedans and a unique four-door coupe. Sedans and coupes retained the brand's trademark dent-resistant plastic bodyside panels.
Both body styles were nearly the same length, and shared a wheelbase about an inch longer than that of the S-Series. Compared to their S-Series predecessors, the Ion sedan was longer overall by 4.5 inches, and the coupe by 6.4 inches. Both were taller by more than 2 inches. Saturn called the coupe the Ion Quad Coupe, for its unique configuration of two rear-opening half-doors behind the front doors. The rear doors would not open or close independently of the fronts.
A new four-cylinder produced 140 horsepower. A five-speed manual transmission was standard. Two automatic transmissions were available: a continuously variable unit (CVT) on coupes, and a conventional five-speed on sedans. The CVT featured near-infinite ratios.
Head-protecting curtain side airbags were optional. Torso side airbags were not available. An ABS/traction-control system also was optional. All Ions had front-disc/rear-drum brakes.
Primary instruments sat in the center of the dashboard, rather than directly in front of the driver. Split folding rear seatbacks were standard, and the coupe's front passenger seat could fold forward to create a continuous 10-foot-long storage channel.
Sedans ascended through Ion 1, 2, and 3 trim levels. Coupes came in 1 and 2 form, equivalent in equipment to the 2- and 3-level sedans. Air conditioning was standard, except for the 1 sedan. Leather upholstery was optional on 3 sedans and 2 Quad Coupes. Wheel sizes were 14-inch for the 1 sedan, 15-inch on the 2 sedan and 1 coupe, and 16-inch alloys for the 3 sedan and 2 Coupe.
Both the coupe and sedan could be fitted with interchangeable strips of body trim, tracing the arc of the roof. Available through Saturn dealers, these contrasting-color "roof rails" could be matched to interchangeable interior trim pieces. Saturn's Ion competed against the Ford Focus, Honda Civic, Hyundai Elantra, Toyota Corolla, and Volkswagen Jetta/Golf.
Yearly Updates
2004 Ion
Fresh interior materials went into Ions for 2004, with new "soft touch" surfaces. Midseason brought a new supercharged Red Line model. A new black-only Special Edition Ion sedan also debuted at midyear, with bright-alloy wheels, additional exterior brightwork, and unique interior trim. Red Line models had 17-inch wheels, a sport suspension, a supercharged four-cylinder engine and antilocking all-disc brakes. A newly available MP3 option could upgrade the CD player to read discs recorded in MP3 format.
2005 Ion
Saturn dropped the continuously variable transmission option for 2005, as well as the five-speed automatic, replacing them with a conventional four-speed automatic unit. All Ions got revised steering and suspensions this year, and styling was freshened a bit. New front and rear seats went into Ion 2 and 3 models.
2006 Ion
A new engine option and standard OnStar assistance lead changes for Saturn's 2006 compact cars. The price-leader Ion 1 sedan is dropped for '06. A 170-hp 4-cyl engine is newly optional for Ion 3s.
2007 Ion
Ion stands pat for 2007, which Saturn says is the car's final model year. A replacement is due for 2008.