Sporty/performance car; Built in South Korea
transverse front-engine/front-wheel drive
Good condition price range: $3,200 – $12,000*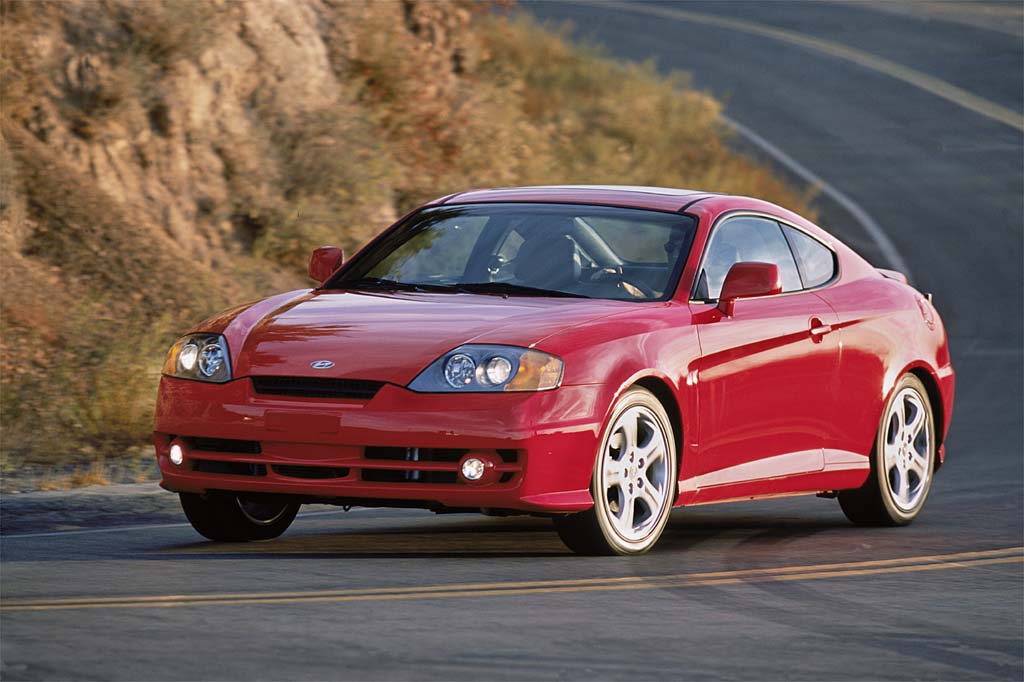 2003 Hyundai Tiburon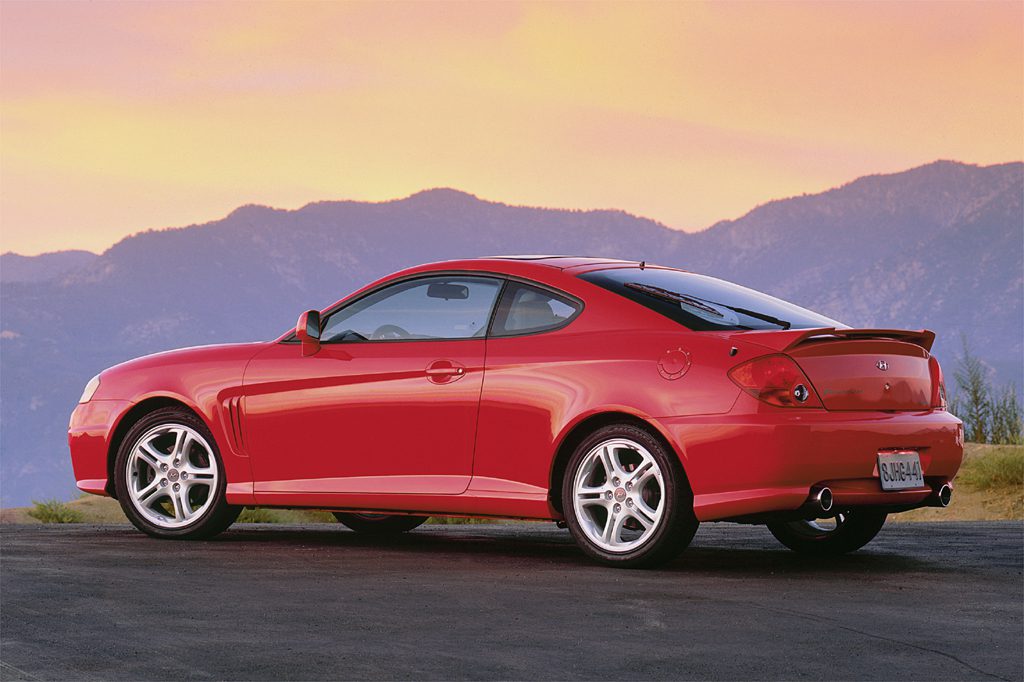 2004 Hyundai Tiburon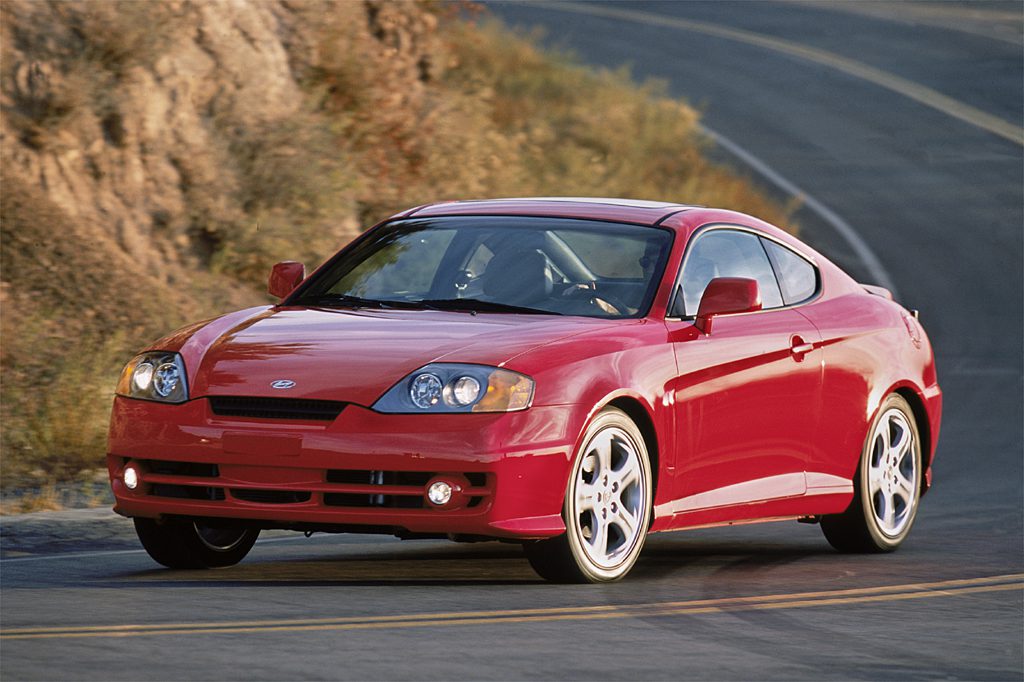 2005 Hyundai Tiburon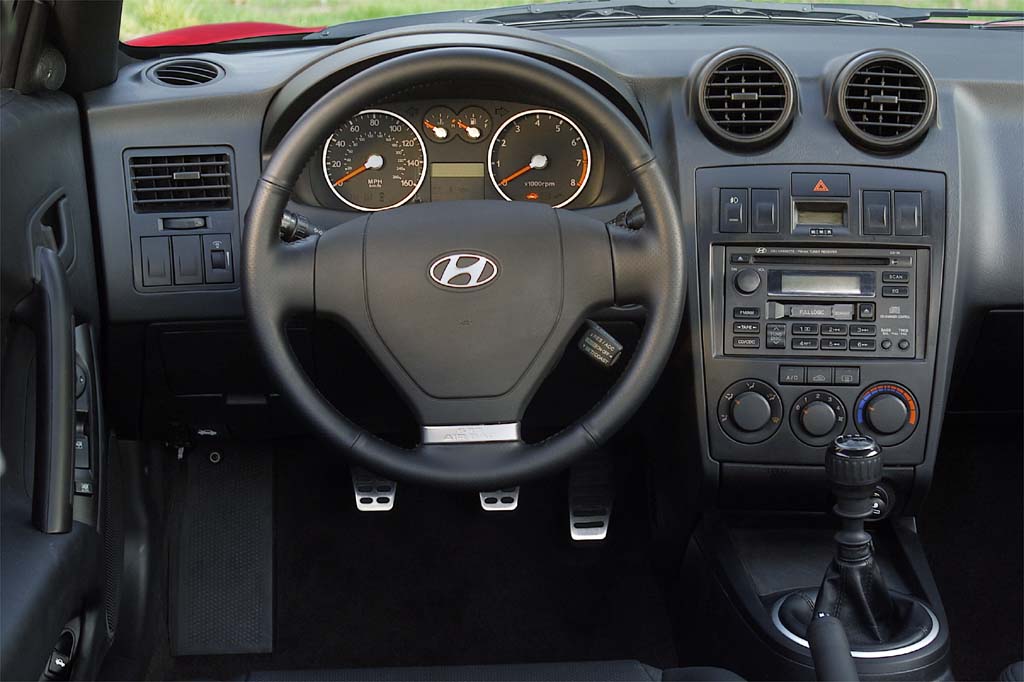 Hyundai Tiburon interior
Pros:
Cons:

Entry/exit
Rear-seat room
It's not that quick, refined, or practical, but the Tiburon is a credible effort that's fun to drive. Depreciation tends to be steep, which keeps used-car prices down. Backed by a long warranty, a fully-equipped V6 could be a tempting choice for the budget-conscious sporty-compact crowd.
Overview
Hyundai, a fast-growing South Korean automaker, redesigned its sporty front-drive hatchback coupe for 2003, giving it larger dimensions, new styling, and a V6 engine. Tiburon's wheelbase and overall length grew slightly compared to the previous version, and curb weight increased by about 200 pounds. The previous-generation Tiburon expired after 2001, and there was no 2002 version.
Base and GT V6 models were offered, both with standard front side airbags and optional antilock braking. Base Tiburons retained a 2.0-liter four-cylinder engine. GT V6 coupes got the 2.7-liter V6 that was used in Hyundai's Santa Fe SUV and Sonata sedan. A five-speed manual transmission was standard, and a four-speed automatic was optional. The automatic unit had a manual shift gate. Also optional on the GT V6 was a six-speed manual gearbox.
Base models rode on 16-inch tires, versus 17-inch for the GT V6. Both had standard four-wheel disc brakes. Traction control was not available, but a sunroof was optional. Leather upholstery was standard in the GT V6, which could also have a rear spoiler and aluminum pedals.
Hyundai had one of the industry's longest new-car warranties. Rivals included the Acura RSX, Toyota Celica, and Mini Cooper.
Yearly Updates
2004 Tiburon
No significant changes were evident for 2004.
2005 Tiburon
Tiburons got a minor facelift for 2005, along with a reshuffled model lineup that included GS, GT, and SE models. Hyundai's four-cylinder engine went into the GS, while the other two held the 2.7-liter V6. A five-speed manual transmission was standard. A four-speed automatic with a manual shift was optional for GS and GT models, but the SE had exclusive use of a six-speed manual gearbox. Antilock braking was standard on the SE and optional for the GT coupe, which could be equipped with leather upholstery. GS coupes rode on 16-inch wheels, versus 17-inch for other models. All-disc brakes and front side airbags were standard. A new competitor this year was the Scion tC coupe.
2006 Tiburon
Antilock brakes are standard on all Tiburons for 2006.
2007 Tiburon
Styling changes lead 2007 news for Hyundai's sporty hatchback coupes. Tiburon got a revised hood, front fenders, bumpers and taillights. Also new for '07, the SE came only with a 6-speed manual transmission, got standard traction/antiskid control, specially tuned sport suspension, and larger brakes.
2008 Tiburon
The 2008 Hyundai Tiburon is largely unchanged.