Premium sporty/performance car; Built in Germany
2-door convertible
2-door convertible
2-door coupe
longitudinal front-engine/rear-wheel drive
Good condition price range: $9,200 – $40,000*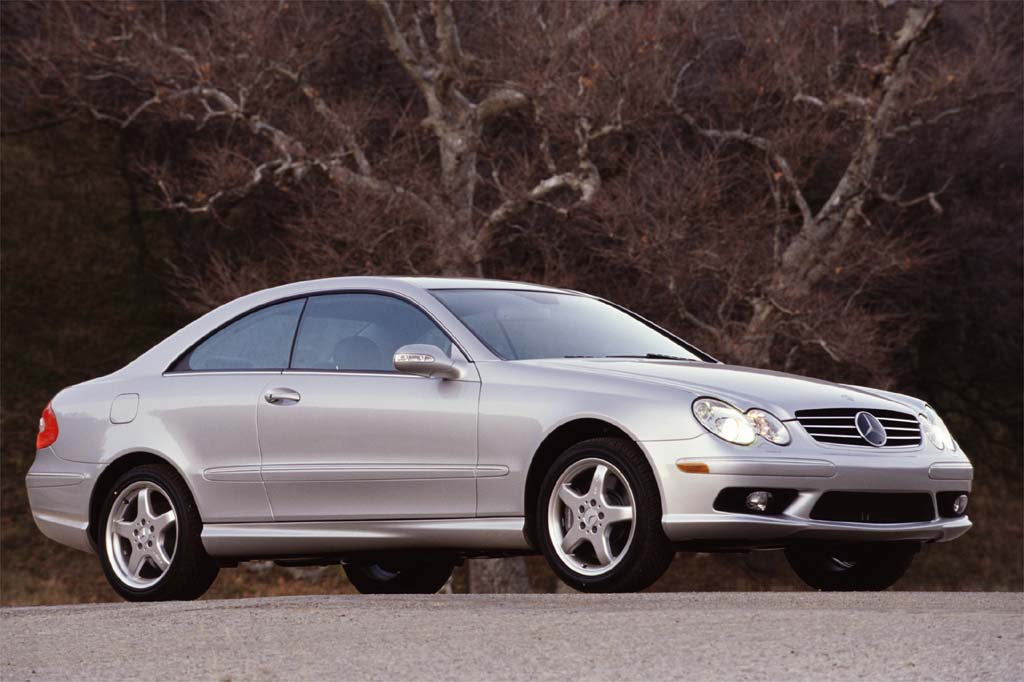 2003 Mercedes-Benz CLK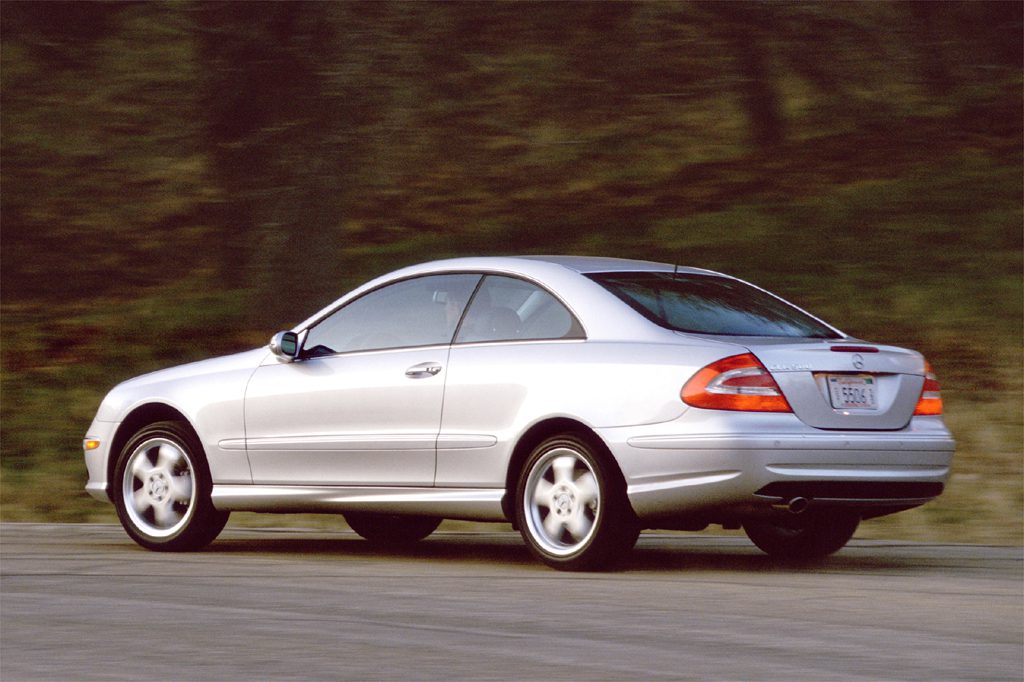 2004 Mercedes-Benz CLK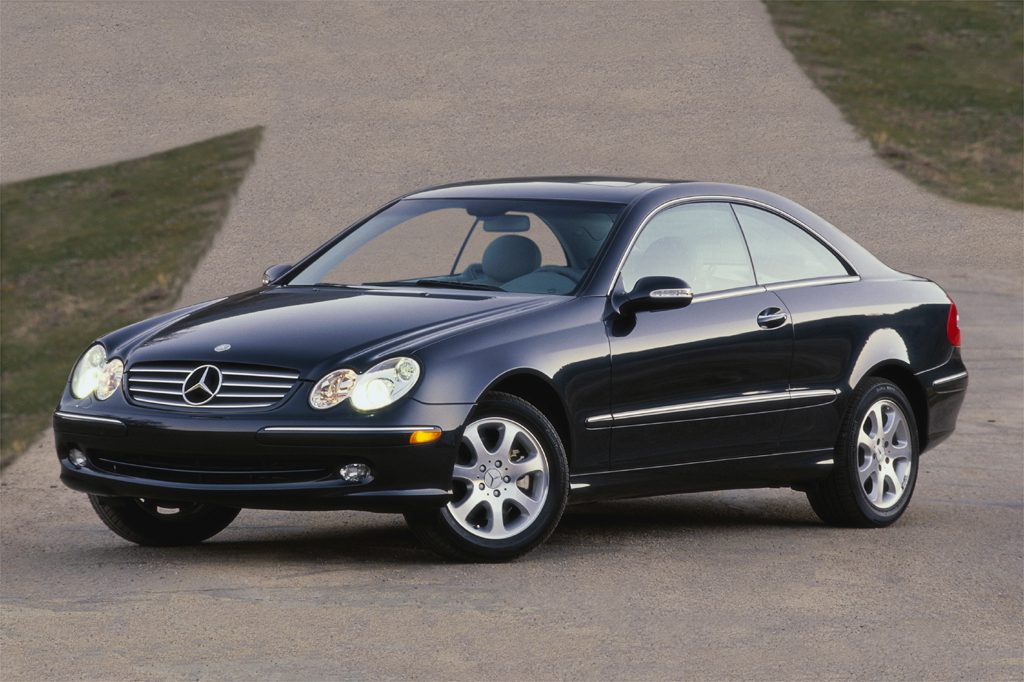 2005 Mercedes-Benz CLK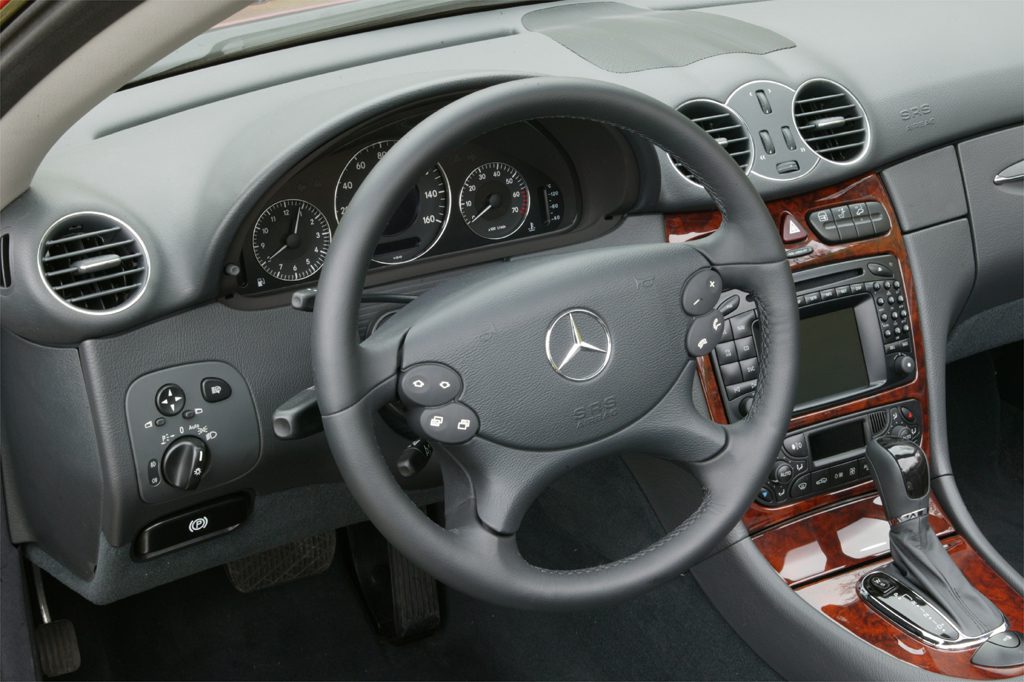 Mercedes-Benz CLK interior
Pros:

Acceleration (V8 models)
Steering/handling

Cons:

Control layout (navigation system)
Rear-seat entry/exit
Rear-seat room
Stylish, solid, and sporty, CLKs aim at folks who value fashion over utility. They make sense for well-heeled buyers whose lifestyle can accommodate a four-seat two-door automobile. Balancing their costly impracticality are a long list of safety features, performance that stretches from outstanding to outrageous, and strong resale values–which keep used-car prices high.
Overview
Mercedes-Benz redesigned its midsize luxury coupe for 2003, with new two-door styling that eliminated the middle roof posts. Based on Mercedes' latest C-Class sedan, the CLK coupe again came in V6 and V8 form. The CLK320 model reprised a 3.2-liter V6, while the new CLK500 held a 5.0-liter V8, replacing the 4.3-liter V8 of the prior generation.
CLK convertibles continued into another season in 320 and 430 form, using the 1998-vintage design.
All models included a five-speed automatic transmission with manual shift feature, antilock four-wheel disc brakes, antiskid/traction-control system, front side airbags, and Mercedes' TeleAid assistance system. Coupes got standard rear side airbags and full-length curtain side airbags.
Styling details differed between the two coupe models, but they shared the new hardtop design, which was slightly longer, wider, and taller than the car it replaced. The new models weighed about 250 pounds more, but interior dimensions changed little.
Tires were wider at the rear than the front. The CLK320 rode on 16-inch wheels, with 17s available in an Appearance Package that also included aluminum interior trim. The CLK500 had standard 17s and offered aluminum cabin accents in an available two-tone leather package.
Optional for all CLKs was Mercedes' COMAND video-screen control for audio and available navigation and phone functions. Also newly available for CLK coupes were rear-obstacle detection, a power rear sunshade, and radar-based cruise control to automatically maintain a preset following distance. Another first-time coupe option was Mercedes' Keyless Go system, which used a credit-card-sized transmitter that allowed unlocking and starting the vehicle simply by touch.
CLK competitors included the Acura CL, Audi A4 Cabriolet, BMW 3-Series coupe and convertible, and Infiniti G35 coupe.
Yearly Updates
2004 CLK
By the time the 2004 model year began, CLK cabriolets (convertibles) had adopted the styling that began with the redesigned true-hardtop coupes. Convertibles had a fully automatic power fabric top and a heated glass rear window. Roll bars in the rear headrests were designed to pop up if sensors detected an impending rollover.

Both body styles came in three trim levels. CLK320s had a V6 engine, CLK500s held a 302-horsepower V8, and CLK55 models, developed by Mercedes' AMG performance arm, used a 362-horsepower V8. All models used a five-speed automatic transmission with manual shift feature. The CLK55 added manual-shift steering-wheel buttons. Antilock braking, antiskid/traction control, and front and rear side airbags were standard. The convertible's front side airbag covered the occupant's head and torso. Coupes also had head-protecting curtain side airbags. All V8 models had 17-inch wheels, which were optional on CLK320s, in place of 16s. CLK55 models had a sport suspension. CLK500 convertibles had exclusive AMG-designed trim. Mercedes' TeleAid assistance was standard. Rear-obstacle detection and Distronic cruise control were optional. For 2004, CLKs were factory-prewired to accept a newly optional dealer-installed satellite radio.
2005 CLK
A seven-speed automatic transmission replaced the five-speed in the CLK500 series. For 2005, the CLK55 adopted 18-inch wheels. All models were mildly facelifted and gained a new center console.
2006 CLK
2006 brought no changes for the CLK.
2007 CLK
New V8 engines trigger model-name changes for these four-passenger coupes and convertibles. Three 2007 models are offered. The CLK350 returns with a 268-hp V6. The CLK550 has a 382-hp V8 and replaces the 302-hp CLK500. The high-performance CLK63 has a 475-hp V8 and replaces the 362-hp CLK55.
2008 CLK
The 2008 Mercedes-Benz CLK63 AMG Black Series made its debut as an ultra-high-performance addition to this premium sporty car's roster. It used the 6.2-liter V8 tuned to 500 horsepower.
2009 CLK
CLK's high-performance AMG models, the CLK63 AMG and CLK63 AMG Black Series, were discontinued. Heated seats and a 6-disc CD changer were standard on all CLK-Class models for 2009.