Premium midsize car; Built in Germany
4-door sedan
4-door wagon
longitudinal front-engine/rear- or all-wheel drive
Good condition price range: $9,300 – $47,000*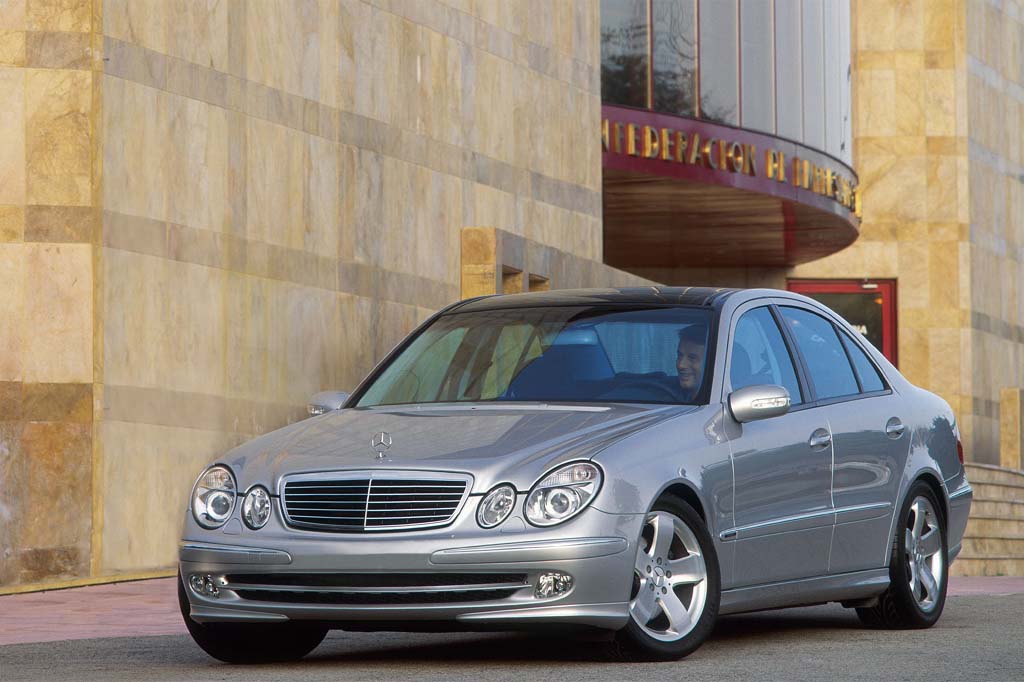 2003 Mercedes-Benz E-Class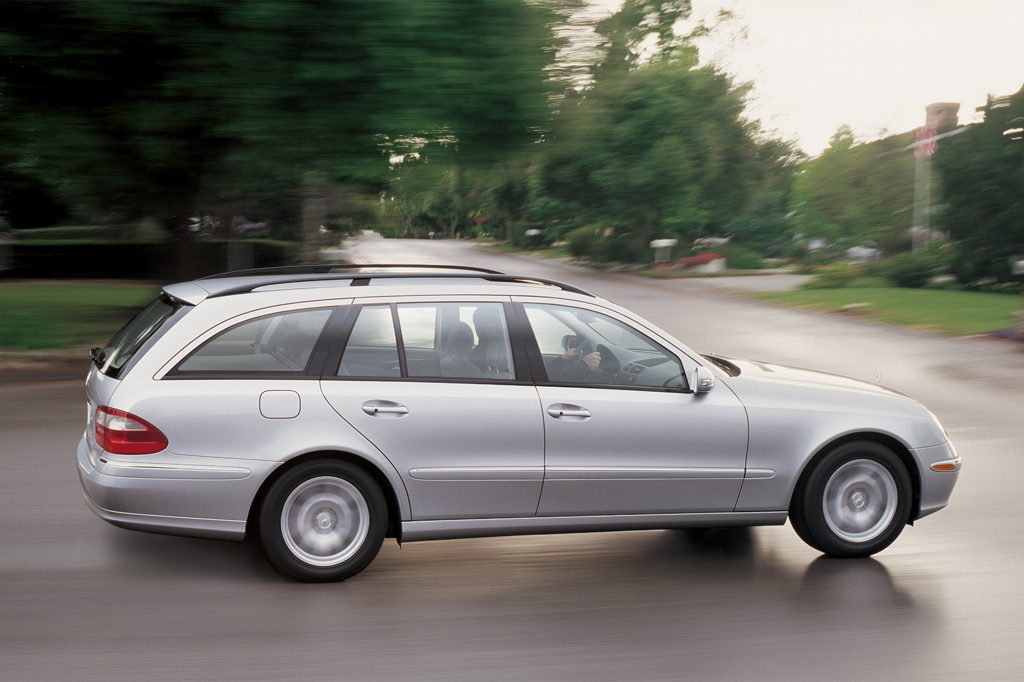 2004 Mercedes-Benz E-Class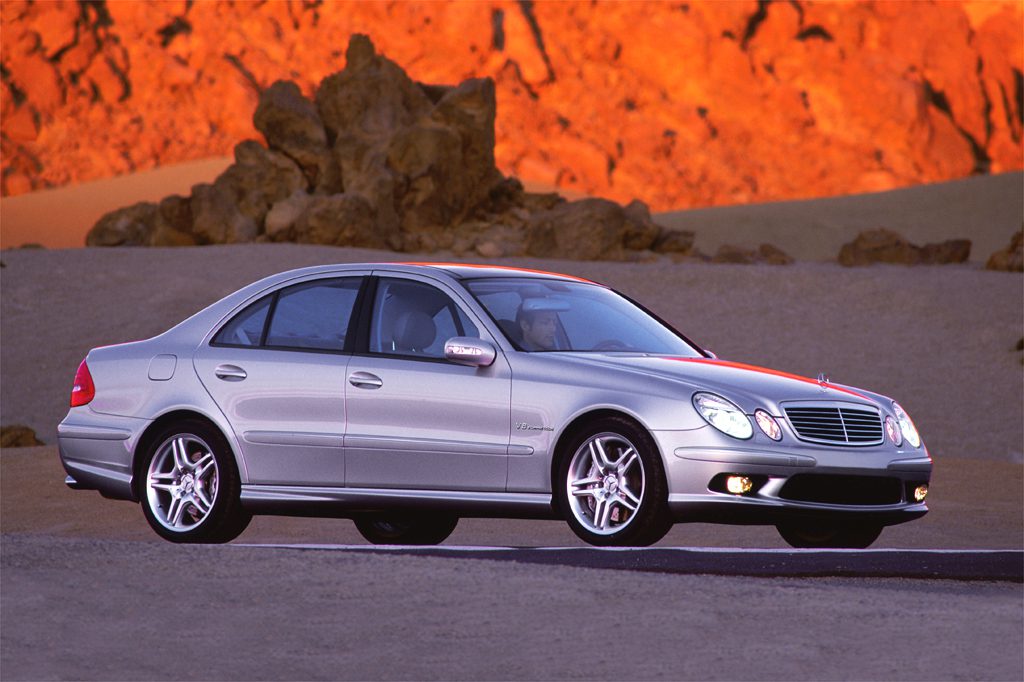 2005 Mercedes-Benz E-Class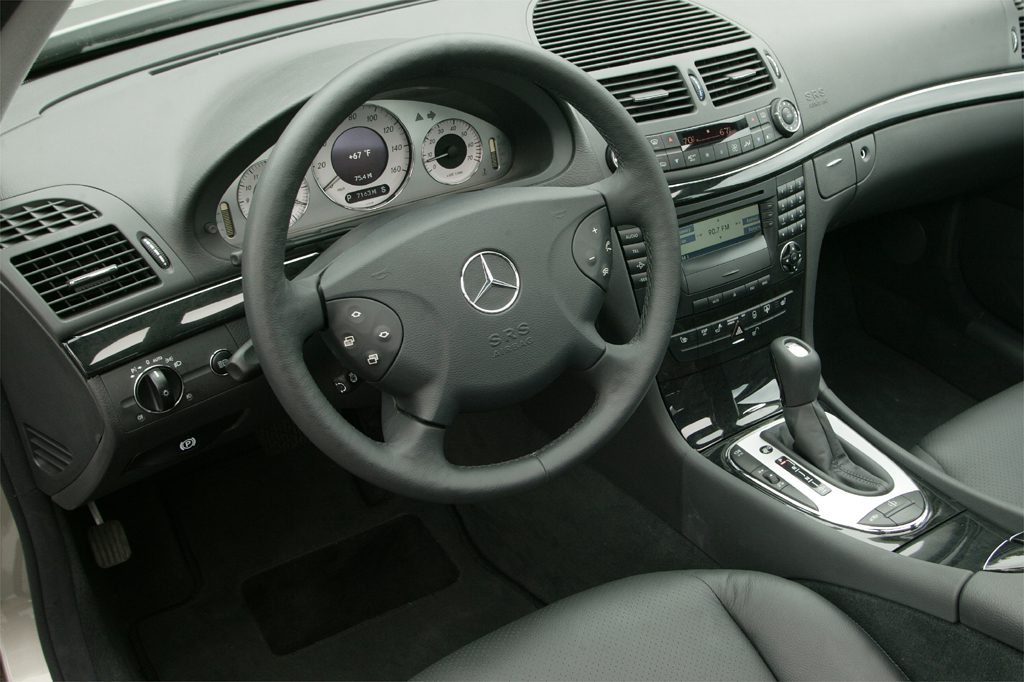 Mercedes-Benz E-Class interior
Pros:

Acceleration
Build quality
Steering/handling

Cons:

Automatic-transmission performance
Control layout (audio controls)
Control layout (navigation system operation)
Fuel economy (E55)
Contemporary and sophisticated, rock-solid and confidence-inspiring on the road, the E-Class brims with worthwhile features and Mercedes' cachet. New-car prices have been steep, and secondhand valuations aren't exactly bargains. The air suspension and nonlinear drive-by-wire throttle-control system can be annoying. Overall, though, these sedans and wagons are appealing luxury-car Best Buys.
Overview
Mercedes-Benz began revamping its top-selling model line with redesigned 2003 luxury sedans. E-Class wagons continued unchanged for the time being.
Sharing a general look and some features with Mercedes' big S-Class sedans, the E-Class continued in V6 and V8 form. Against previous E-Class sedans, the new models were nearly an inch longer in wheelbase and overall, half an inch wider, fractionally taller, but no heavier.
The E320 used an unchanged V6 engine, while an E500 with a 5.0-liter V8 replaced the 4.3-liter V8 in the prior E430. Both had rear-wheel drive. Every 2003 model included a five-speed automatic transmission with manual shift gate, antiskid/traction control, and antilock four-wheel disc brakes. Front and rear side airbags, and curtain side airbags, were also standard. So was Mercedes' TeleAid assistance system.
Sedans featured Mercedes' new "by-wire" brakes, with electronically controlled valves that modulated pressure to individual wheels, to match driving needs. A conventional hydraulic brake booster served as a back-up.
The E500 came with an air suspension–a first for this line. Also available for the E320 sedan, it offered three driver-selectable levels of firmness. The E500 rode on 17-inch wheels, versus 16s for the E320. A sedan Sport Package included aero lower-body cladding and special interior trim; and for the E320, 17-inch wheels. Linewide options included a rear-obstacle warning, and voice-activated cell phone and navigation systems.
All E-Class models could be equipped with heated/ventilated front seats. Exclusive to sedans as first-time E-Class options, massaging "Dynamic Drive" seats had air bladders that selectively inflated to counter cornering forces. "Smart" cruise control, designed to automatically maintain a set following distance, was another sedan option. So was a twin-sunroof setup, consisting of a conventional sunroof over the front seats, a fixed-glass panel over the rear seat, and power sunshades for both. A solar-cell version ran an interior cooling fan.
High- and low-beam xenon headlamps were newly available. So was Mercedes' Keyless Go system, which used a credit-card-sized transmitter that allowed unlocking and starting the car simply by touch.
Rivals included the Audi A6/allroad quattro, BMW 5-Series, and Lexus GS 300/430. A new high-performance AMG-tuned sedan debuted late in the 2003 model year.
Yearly Updates
2004 E-Class
All-wheel drive, a wagon body style, and a seven-speed automatic transmission were newly available for 2004 on Mercedes' best-selling line. Sedans and wagons both came as E320 models with a 221-hp V6, and as E500s with a 302-hp V8. Introduced during the 2003 model year, the E55 AMG sedan held a 469-horsepower supercharged V8 and rode on 18-inch tires. E320s and the E55 continued with a five-speed automatic, but E500s substituted an industry-first seven-speed transmission. Mercedes said the new automatic could skip gears during upshifts and downshifts, for increased efficiency. Both automatics had a manual shift gate, but the E55 added steering-wheel buttons. The E55 had exclusive trim, exhaust and seats, with a sport suspension. Mercedes' 4Matic all-wheel drive was standard on the E500 wagon and optional for other E-Class models. Distronic cruise control, designed to maintain a preset following distance, was optional. Optional bi-xenon headlamps were now steering-linked.

Wagons could seat seven on three rows, and were available with the sedan's Sport Package option. All models were factory pre-wired to accept newly optional dealer-installed satellite radio.
2005 E-Class
A turbocharged diesel six-cylinder sedan called the E320CDI went on sale as an early 2005 model. During 2005, a 3.5-liter V6 replaced the 3.2-liter in the E320, turning it into an E350 for the 2006 season.
2006 E-Class
A new V6 engine signals the arrival of the E350 model for 2006. E350s have a 268-hp 3.5-liter V6 and replace E320 models, which had a 221-hp 3.2 V6.
2007 E-Class
Revised styling, new engines, and additional safety equipment highlighted 2007 for Mercedes' midsize sedans and wagons. The E550 had a 382-hp V8 and replaced the 302-hp E500. The E320 Bluetec had a 208-hp V6 turbodiesel and replaced the 201-hp E320 CDI. The high-performance E63 had a 507-hp V8 and replaced the 469-hp E55. New for '07 was Mercedes' Pre-Safe system, which automatically tightens seatbelts and readies full braking power when sensors detect an imminent collision. All '07 E-Class models got revised front and rear styling.
2008 E-Class
The E-Class received no major changes for 2008.
2009 E-Class
A newly available audio unit with voice control combined a wireless cell-phone link and 6-disc CD/DVD changer. The new audio unit had optional features such as a navigation system with real-time traffic updates, HD radio, MP3 connectivity, and a hard drive capable of storing 4 gigabytes of digital music files.