Sporty/performance car; Built in Japan
2-door convertible
2-door hatchback
longitudinal front-engine/rear-wheel drive
Good condition price range: $7,200 – $20,000*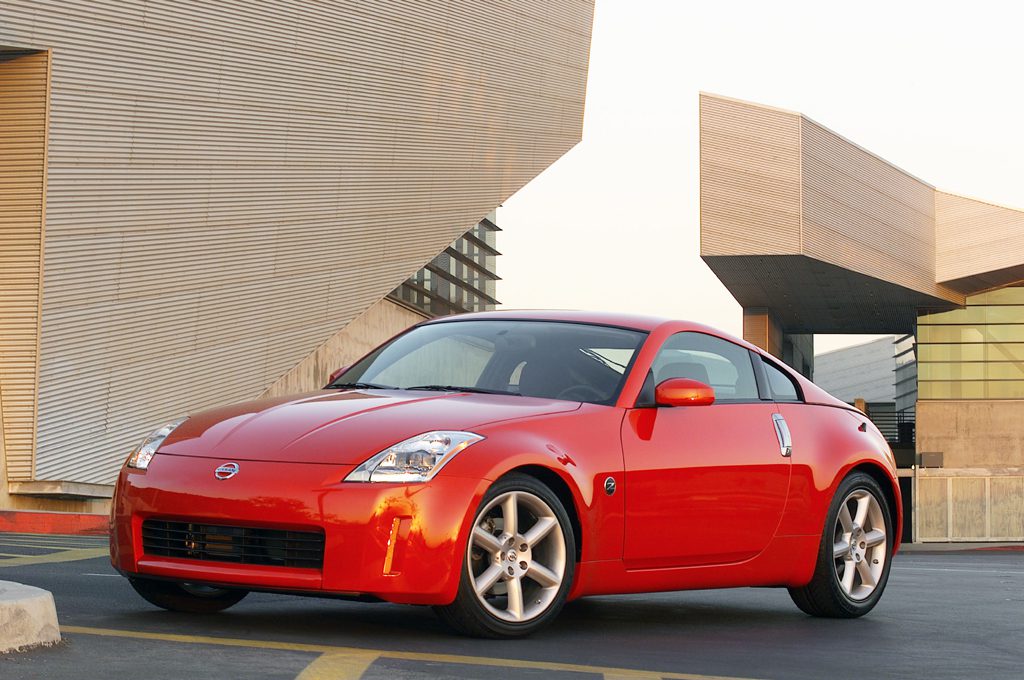 2005 Nissan 350Z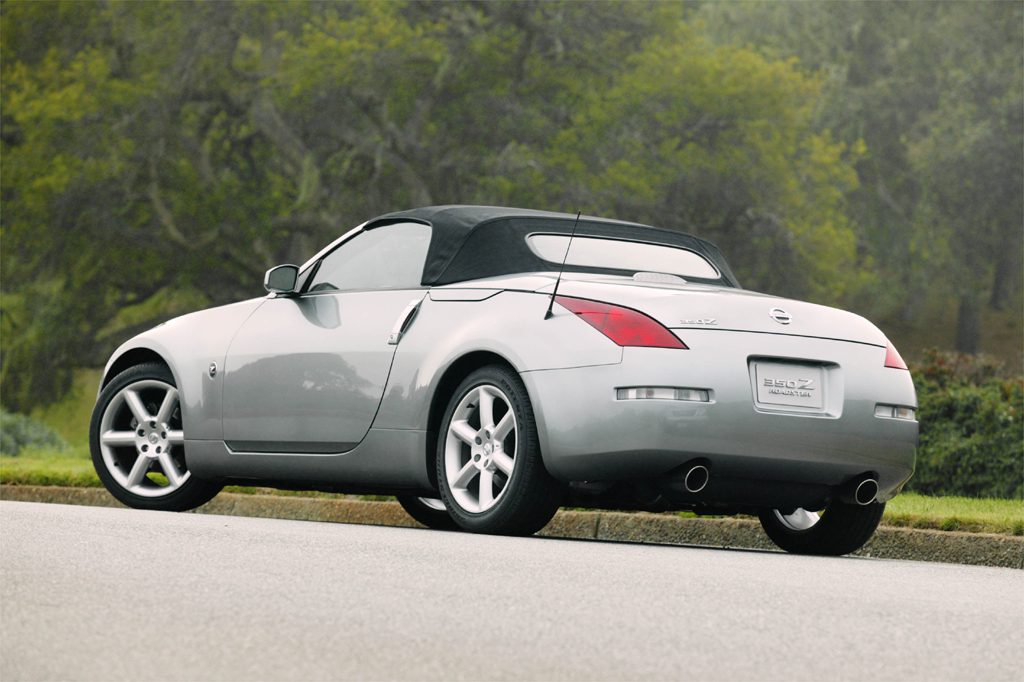 2004 Nissan 350Z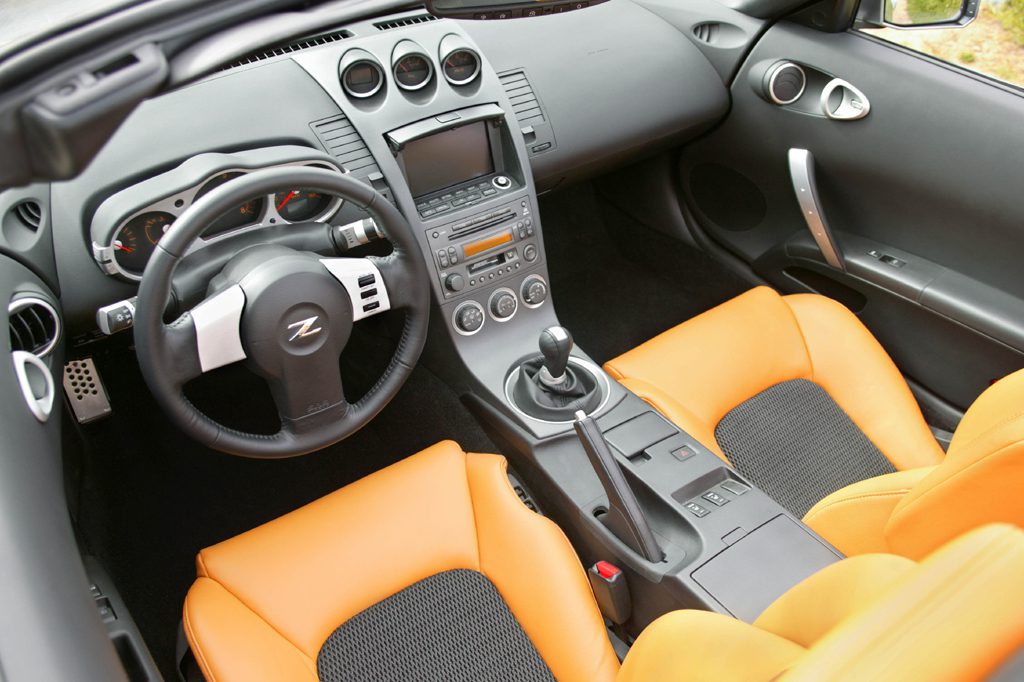 2004 Nissan 350Z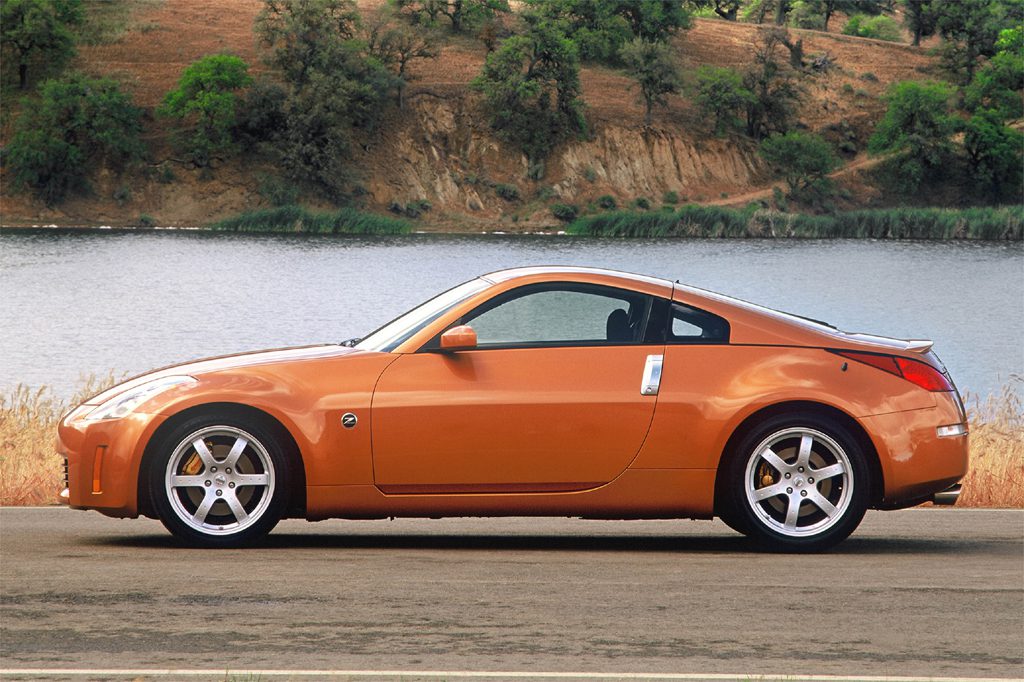 2004 Nissan 350Z
Pros:

Acceleration
Roadholding
Steering/handling
Brake-pedal feel

Cons:

Rear visibility
Ride
Road noise
Nissan's Z revival holds true to tradition: serious performance and high style at a bargain price, though relatively good resale value of some models may keep secondhand prices higher. Five distinct models allowed new-Z buyers to tailor the car to their needs, though used-car lots won't have every version. Overall, the 350Z blends performance and livability as well as anything in the class. High noise levels and a rough ride are tradeoffs for outstanding acceleration and smooth-road handling. Convertibles add some open-air fun to the mix.
Overview
Nissan revived its storied Z-car for 2003 as a new, performance-focused rear-drive sports car with V6 power. The 350Z went on sale in late summer of 2002 as a two-door, two-passenger hatchback coupe.
Lighter and less expensive than the last Z sold in America–the 1996 300ZX–the new Z rode a wheelbase equal to that of the Chevrolet Corvette, but with a body 10 inches shorter. Based on the platform of the G35 near-luxury sedan from Nissan's Infiniti division, it also borrowed the G35's 3.5-liter V6, retuned to make 287 horsepower. A six-speed manual transmission was standard, and a five-speed automatic with manual shift gate was available (depending on model).
Five models were offered: base, Enthusiast, Performance, Touring, and Track. Base, Performance, and Track versions came only with manual transmissions. Traction control was unavailable on the base model, but standard on the others. An antiskid system was exclusive to Performance, Touring, and Track editions. All 350Zs came with antilock four-wheel disc brakes and the same suspension settings. Track models got special Brembo-brand brakes and a rear spoiler.
Optional on all were torso side airbags and curtain side airbags in a package. A DVD navigation system was available on Performance, Touring, and Track models. Rivals included the BMW Z4, Chevrolet Corvette, and Honda S2000, as well as the Mini Cooper and Pontiac GTO.
Yearly Updates
2004 350Z
A two-passenger Roadster (convertible) joined the 350Z coupe for 2004. Offered only in Enthusiast and Touring trim, the convertible had a power cloth top with a heated glass rear window. A rigid tonneau cover and a wind deflector were included. Optional ventilated-net seat inserts were exclusive to the Touring convertible. All 350Zs shared identical suspension settings. Torso side airbags were standard on the Touring convertible, and optional on all other Zs. Satellite radio was a new Touring option. At midyear, a 35th Anniversary Edition debuted with a 300-horsepower engine and unique wheels.
2005 350Z
Little changed this year, except for a newly standard tire-pressure monitor. All Zs now had heated mirrors and manual driver-seat height adjustment.
2006 350Z
Appearance and features were revised for 2006, and a Grand Touring model debuted in both coupe and convertible form. All manual-transmission models now held a 300-horsepower engine. Gauges and climate controls were restyled, and LED taillamps installed. All models gained standard bi-xenon headlights and speed-sensitive power steering. Base, Enthusiast, and Touring models rode on 18-inch wheels, but 19-inch tires were now standard on Track and Grand Touring coupe. The Performance model was dropped. Torso front side airbags were standard for Touring and Grand Touring models, and optional otherwise. A navigation system and satellite radio were optional only on Touring/Grand Touring Zs.
2007 350Z
This sporty car gets more power and subtle exterior styling changes for 2007. All models have a 306-hp 3.5-liter V6 engine. It replaces a pair of 3.5-liter V6 engines of 287 and 300 hp. All models have revised front-end appearance.
2008 350Z
The 2008 Nissan 350Z lineup gained a new sport-themed, NISMO model. The NISMO coupe featured unique exterior styling, specific suspension tuning, Brembo-brand brakes, forged-alloy wheels, and specific exhaust tuning.
2009 350Z
The 350Z convertible continued virtually unchanged for 2009, while the coupe was redesigned and carried the 370Z moniker.