Premium sporty/performance car; Built in Germany
longitudinal front-engine/rear-wheel drive
Good condition price range: $18,000 – $141,000*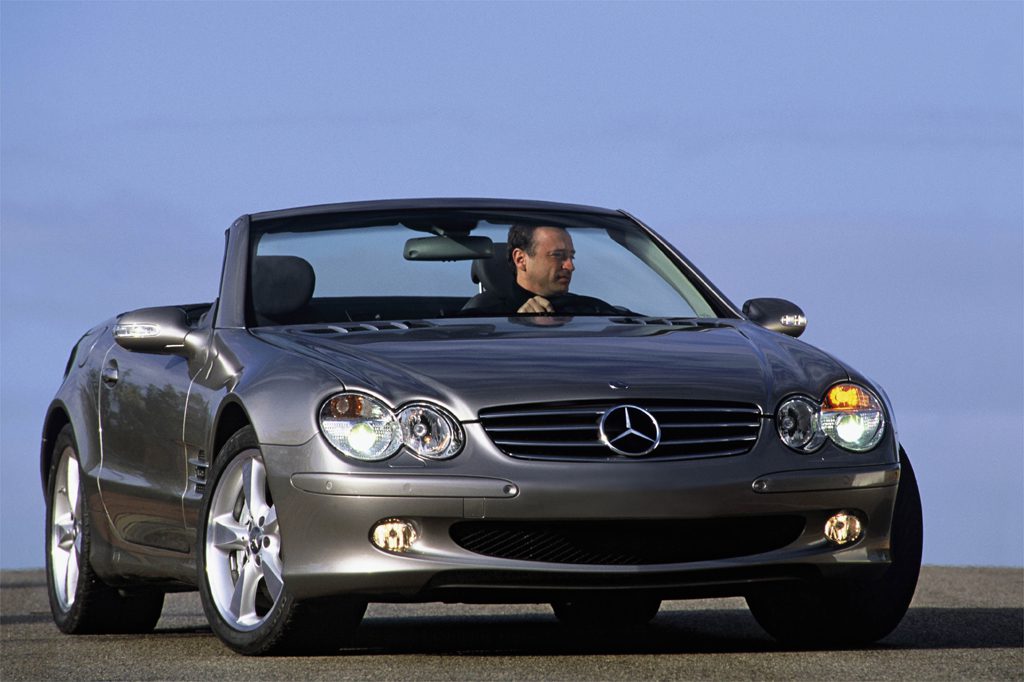 2004 Mercedes-Benz SL-Class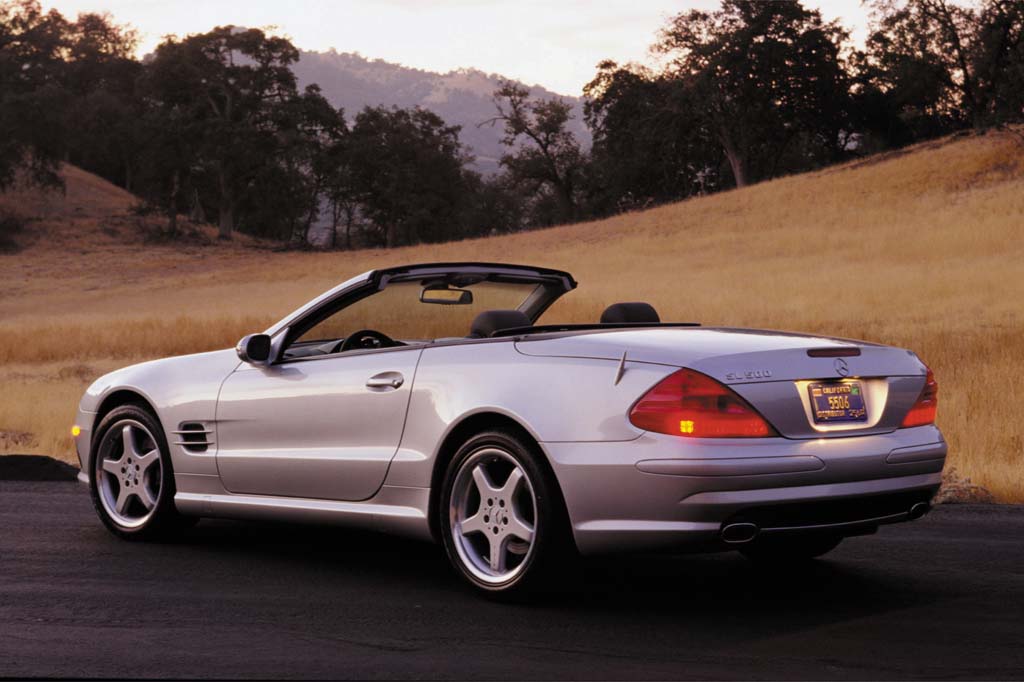 2003 Mercedes-Benz SL-Class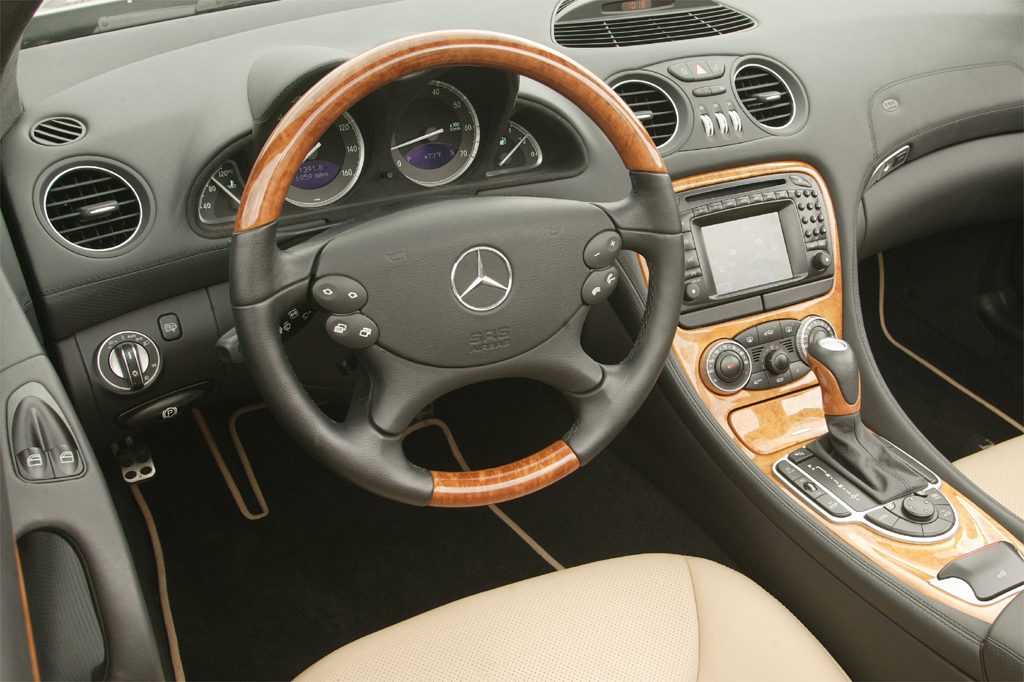 2004 Mercedes-Benz SL-Class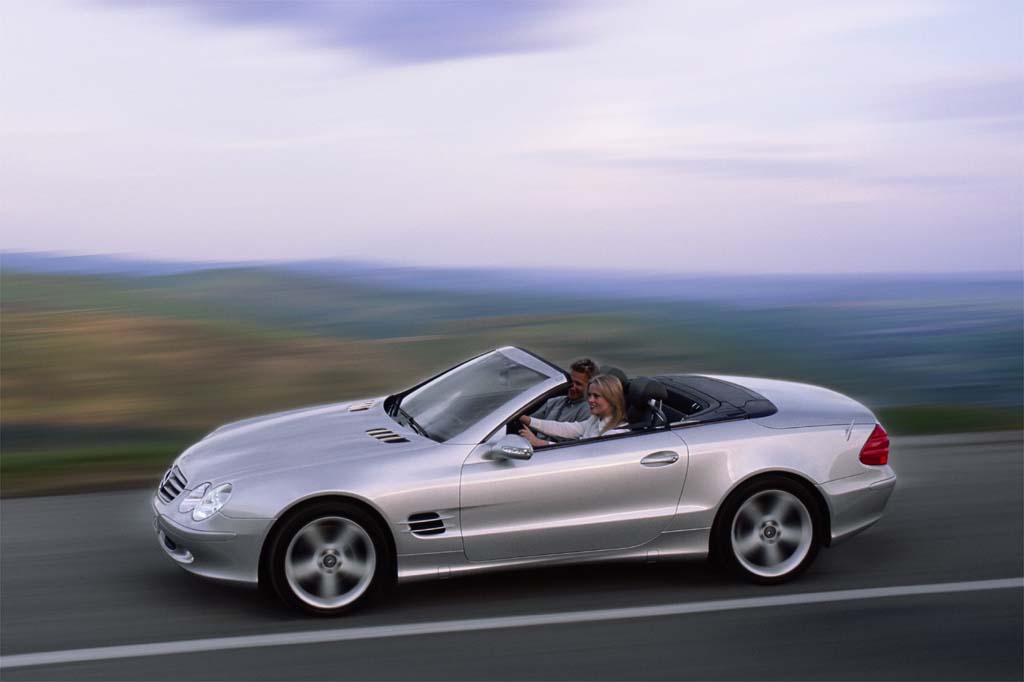 2003 Mercedes-Benz SL-Class
Pros:

Acceleration
Build quality
Seat comfort
Steering/handling

Cons:

Instruments/controls
Brake-pedal feel
Intriguingly engineered, the current SLs are solidly built, impeccably finished, and a pleasure to drive. Their style and cachet should stay fresh for years, boosting long-term resale values and taking some sting out of the startling new-car sticker prices. Of course, that's not good news for used-car shoppers, who can expect to plenty for a secondhand SL.
Overview
A redesigned SL500 bowed as an early 2003 model. Soon, it was followed by an SL55 AMG version with styling, chassis, and powertrain modifications by Mercedes' in-house performance team. These two-seat rear-drive convertibles were slightly longer, lower, and wider than the 1990-2002 models. Yet, they were some 125 pounds lighter. A retractable metal hardtop replaced the prior cloth folding top.
The SL500 retained a 5.0-liter V8, but the SL55's 5.4-liter V8 was newly supercharged for an extra 104 horsepower over the previous engine. Both SLs had a five-speed automatic transmission with manual shift feature. The SL55 used a special "SpeedShift" unit with performance programming and steering-wheel shift buttons.
Both models came with an traction/antiskid control and Mercedes' ABC active suspension, designed to reduce cornering lean. A shared industry-first was antilock four-wheel disc brakes with "brake-by-wire" technology that modulated hydraulic pressure to each wheel by computer signals. Both SLs also came with head/torso side airbags, a driver knee airbag, and a rollover bar that popped up if sensors detected an impending tip. Additional standard equipment included navigation and assistance systems, and a second battery mounted in the trunk to run power accessories.
The SL55 had 18-inch wheels instead of 17s, plus higher-speed low-profile tires that were wider at the rear than at the front. Options for both SLs included a tire-pressure monitor; high/low-beam xenon headlamps; radar cruise control designed to maintain a set following distance; and ventilated/massaging seats. Mercedes' available Keyless Go system used a credit-card-sized transmitter for unlocking and starting the car simply by touch. Voice control for audio, phone, and other functions was available through dealers. Two-passenger competitors included the Cadillac XLR and Lexus SC 430.
Yearly Updates
2004 SL-Class
A 12-cylinder SL600 flagship model debuted for 2004, along with a seven-speed automatic transmission. Installed only in the SL500, the seven-speed was an industry first. During up and down shifts, it could skip gears for increased efficiency. Other models retained Mercedes' five-speed automatic. All models were now pre-wired for optional dealer-installed satellite radio. The Keyless Go option now took its signal from a keyboard instead of a pass card.
2005 SL-Class
For 2005, the navigation system and center console were revised. A new limited-production SL65 AMG model was launched, with a 604-horsepower, twin-turbo V-12 engine. In addition to specific styling touches, the SL65 AMG got bigger brakes and 19-inch wheels. The revamped console included an updated version of Mercedes' COMAND video control for navigation, audio, and climate functions.
2006 SL-Class
Keyless Go, a keyless-entry and starting system, became standard on SL600 and SL65 models, but remained optional for the SL500 and SL55. Run-flat tires now were available for SL500/600 models. Satellite radio joined the options list. The high-performance SL55 AMG could be equipped with a $14,000 AMG Performance Package that included exclusive interior trim and a 186-mph top-speed governor (others were limited to 155 mph).
2007 SL-Class
New for 2007 was the SL550. It replaced the SL500 and had a 382-hp V8 vs. 302 hp.
2008 SL-Class
The 2008 Mercedes-Benz SL-Class received no major changes.
2009 SL-Class
The 2009 Mercedes-Benz SL-Class got freshened styling, a revised interior, and a new performance model. Added for 2009 was the SL63 with a 518-hp 6.2-liter V8. The redesigned interior included a standard navigation system and wireless cell-phone link.
2010 SL-Class
The 2010 Mercedes-Benz SL-Class was largely unchanged.
2011 SL-Class
The 2011 Mercedes-Benz SL-Class lineup saw a few changes, including the addition of a limited-production Night Edition and the deletion of the V12-powered SL600.
2012 SL-Class
The performance-oriented SL65 AMG was dropped from the 2012 Mercedes-Benz SL-Class lineup for 2012, but there were no other changes of note.