Premium compact car; Built in Austria, Sweden
2-door convertible
2-door convertible
4-door sedan
4-door wagon
transverse front-engine/front- or all-wheel drive
Good condition price range: $4,100 – $28,000*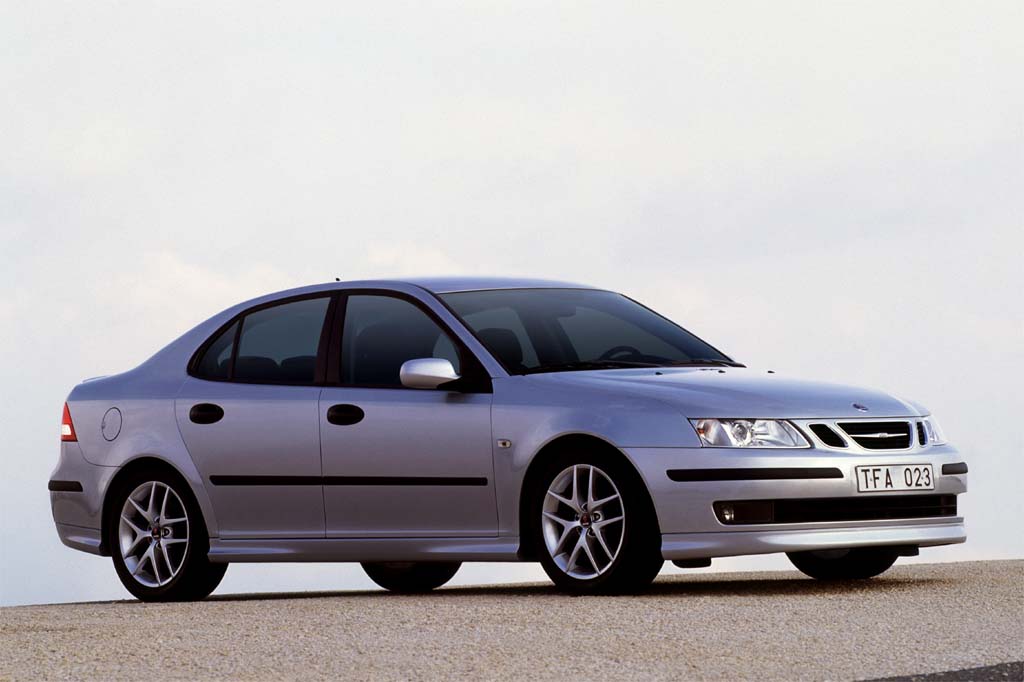 2003 Saab 9-3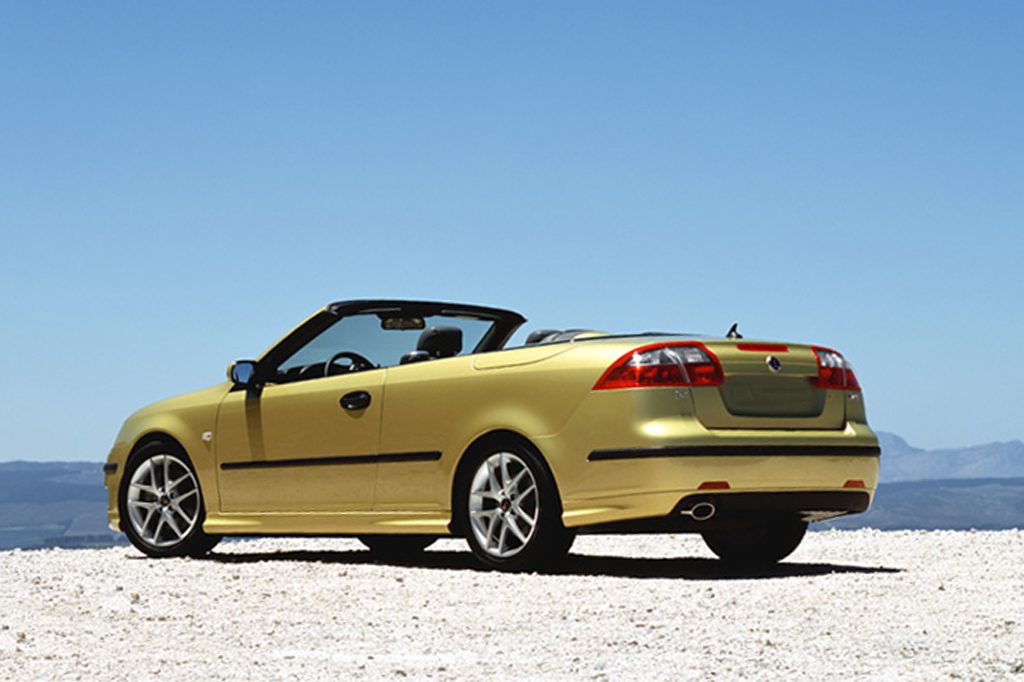 2004 Saab 9-3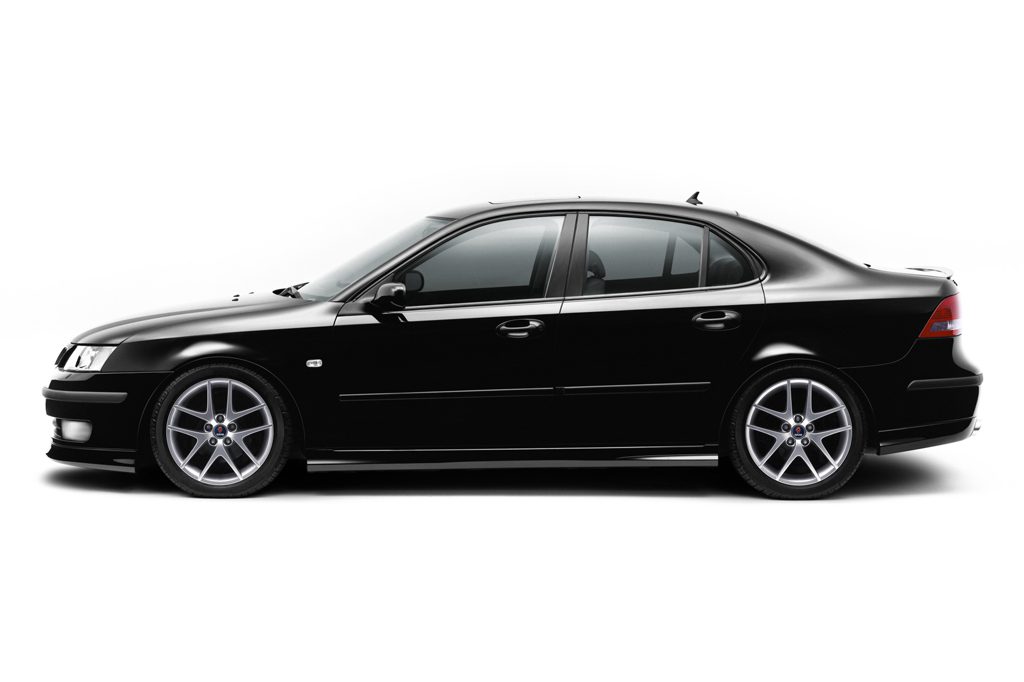 2005 Saab 9-3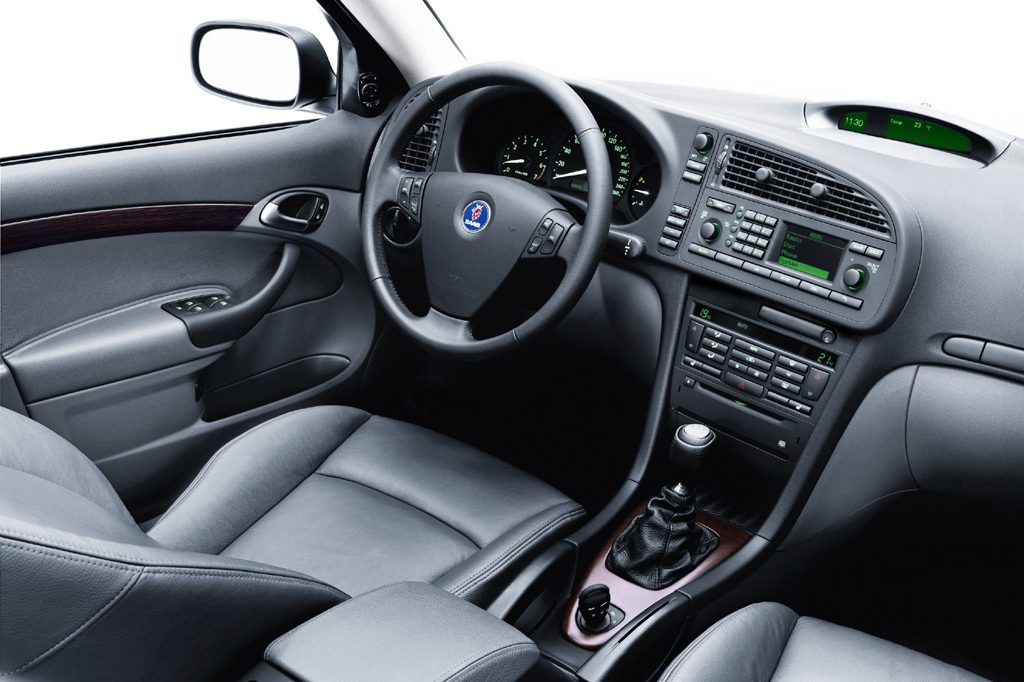 Saab 9-3 interior
Pros:

Acceleration (210-hp)
Build quality (solid convertible construction)
Handling/roadholding

Cons:
Its front-wheel-drive layout prevents the 9-3 from competing with the best-in-class for ultimate handling prowess. Then again, front-drive has been a Saab hallmark for decades. Key rivals offer all-wheel drive for better handling all-weather security. Still, this is a dynamically capable, fun-to-drive automobile–especially the solidly-built convertible. Though it trails rivals for overall value, the 9-3 is a non-conformist alternative to Acura, Audi, BMW, and other near-luxury brands.
Overview
Saab redesigned its entry-level near-luxury car for 2003, retaining front-wheel drive and hallmark turbocharged four-cylinder engines, but dropping its traditional hatchback body style in favor of a conventional sedan. The new 9-3 was the same length overall as the outgoing version, but had new styling and greater width, built on a wheelbase almost 3 inches longer.
A four-door sedan replaced two- and four-door hatchbacks, though the previous-generation two-door convertible carried over temporarily, pending a redesign for 2004. General Motors owns the Swedish automaker, and the 2003 9-3 introduced GM's Epsilon platform, which would soon host a redesigned Chevrolet Malibu.
Saab's base version, introduced first, was called Linear. Luxury-oriented Arc and sporty Vector models followed in spring of 2003. All had 2.0-liter turbocharged four-cylinder engines. The Linear's engine produced 175 horsepower, with a choice of a five-speed manual or a new five-speed automatic. Arc and Vector models used a 210-hp version, with the automatic or a new six-speed manual gearbox. Automatics had a separate gate for manual shifting. Vectors included redundant steering-wheel-mounted manual-shift paddles.
Antilock four-wheel disc brakes were standard, along with traction control and front side airbags. Saab's first curtain side airbags protected front- and rear-seat passengers. Alloy 16-inch wheels were standard on the Arc and optional for the Linear, to replace 15s. Vector sedans had 17-inch rubber. All had a 60/40 split folding rear seatback, with a ski pass-through and leather upholstery (leather-cloth in the Linear). The Arc added wood interior trim.
GM's OnStar assistance system was standard. Rivals included the Acura TL, Audi A4, and BMW 3-Series.
The carryover convertible had a power top with heated glass rear window. It retained a 205-horspower engine and SE trim, but a new option package mimicked the appearance of the previous year's high-performance Viggen version.
Yearly Updates
2004 9-3
Saab's best-selling line added a convertible for 2004. This year's 9-3 sedan came in three versions: Linear, luxury Arc and sporty Aero. Convertibles came in Arc and Aero form, including a "one-touch" power top with heated glass rear window. A rollover bar popped up if sensors detected an impending tip. Aeros with an automatic transmission included manual-shift paddles on the steering wheel. Aeros had a sport suspension and 17-inch wheels, which were optional on Linear and Arc models in place of 15s or 16s, and included a tire-pressure monitor. Sedans had front side airbags and head-protecting curtain side airbags. Convertibles replaced those units with head-and-thorax side airbags. All 9-3s had leather upholstery; the Linear got cloth inserts. Convertibles had a lockable pass-through to the trunk. OnStar assistance system was standard in the Aero, and optional elsewhere.
2005 9-3
A base-trim Linear convertible joined the 9-3 group for 2005, and a navigation system was newly available for Arc and Aero models. Linear models moved up to 16-inch tires. Wood interior trim moved from standard equipment to the option list on Arc models. OnStar and a tire-pressure monitor could no longer be installed.
2006 9-3
9-3 got a wagon bodystyle, called the SportCombi, for 2006. Also new was a turbocharged V6 made available on Aero models.
2007 9-3
All 9-3s got revisions to the instrument panel and interior trim for 2007.
2008 9-3
The 2008 Saab 9-3 got freshened styling and for the first time was available with all-wheel drive. AWD came packaged with a 280-hp 2.8-liter turbocharged V6, and the combination was standard in the new Turbo X sedan and wagon and optional in the Aero sedan and wagon.
2009 9-3
The Turbo X model was dropped, but AWD was newly available on the 2.0T sedan and wagon. All Aero models except the convertible now came standard with AWD and the 280-hp 2.8-liter turbocharged V6; the Aero convertible used the same engine but came only with front-wheel drive.
2010 9-3
The 2010 Saab 9-3 lineup saw a number of mid-year changes, including revised powertrain and all-wheel drive availability. The Aero's turbocharged V6 was discontinued and all-wheel drive was no longer offered on the regular SportCombi wagon; instead, it was standard on the new 9-3X, a raised-suspension version of the wagon.
2011 9-3
The 2011 Saab 9-3 was largely unchanged.
2012 9-3
All-wheel-drive versions of the SportCombi wagon returned to the 2012 Saab 9-3 lineup to replace the raised-suspension 9-3X wagon, which was dropped. The convertible added a top-line Independence trim level.