Compact car; Built in Japan
transverse front-engine/front-wheel drive
Good condition price range: $5,200 – $8,500*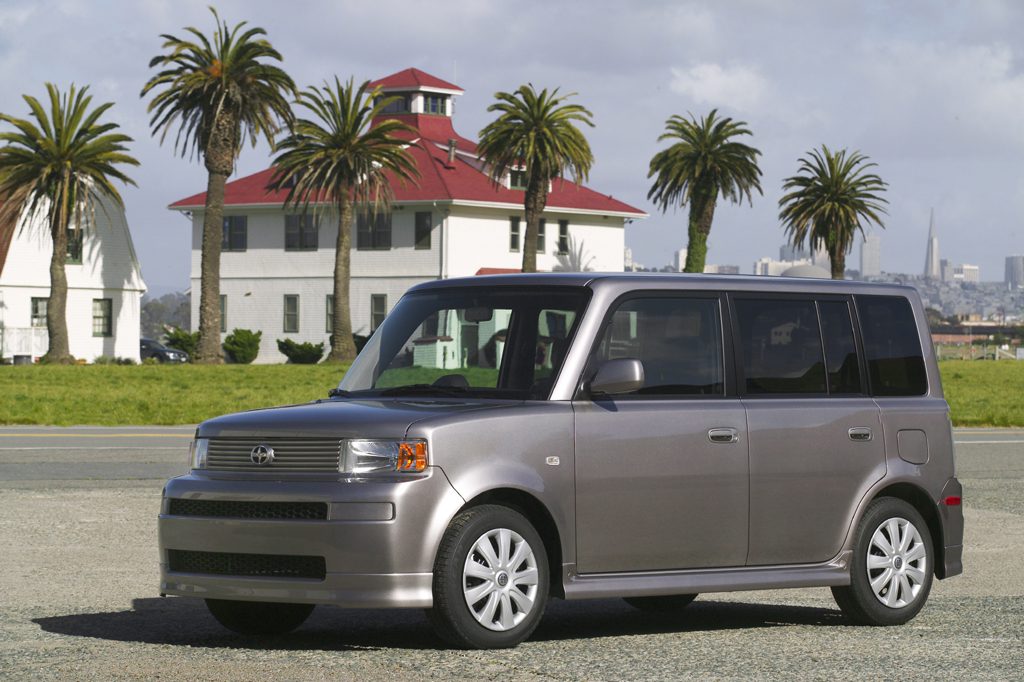 2004 Scion xB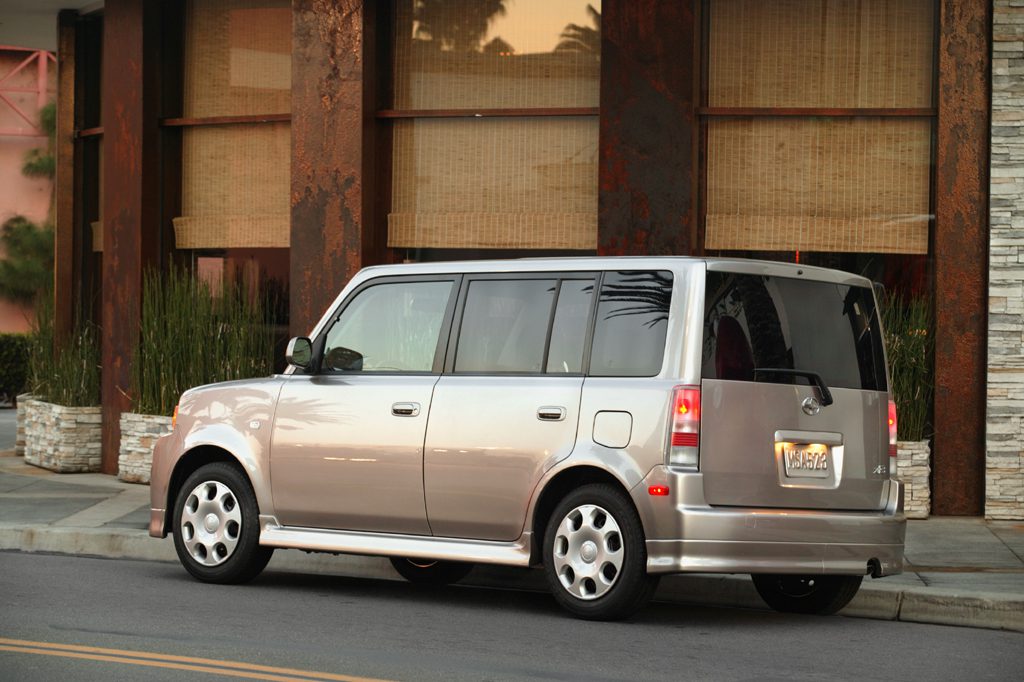 2004 Scion xB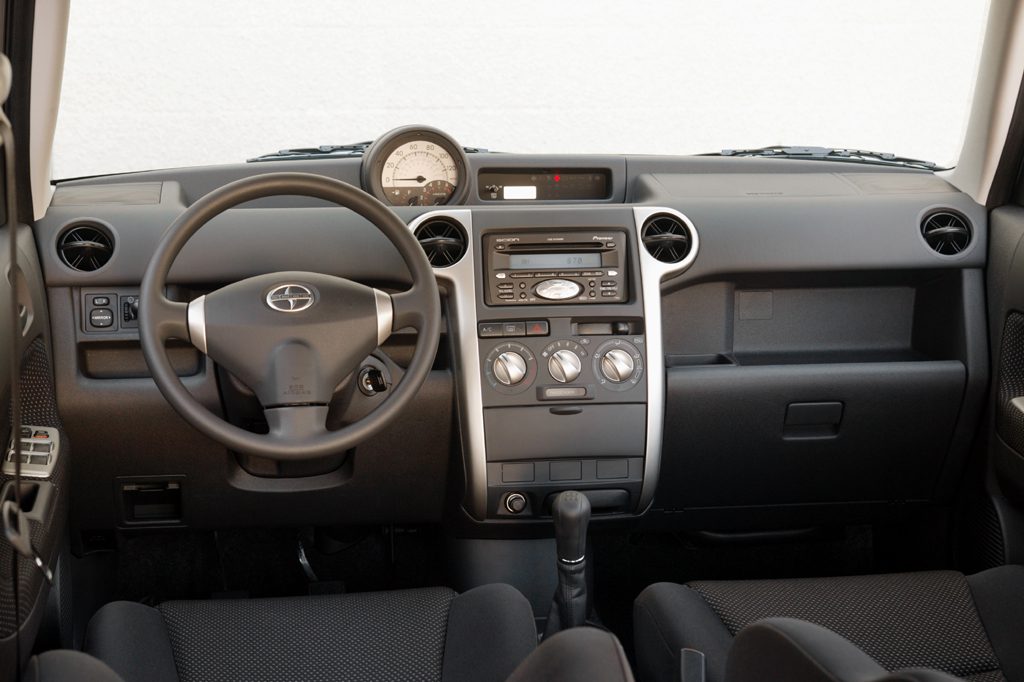 2005 Scion xB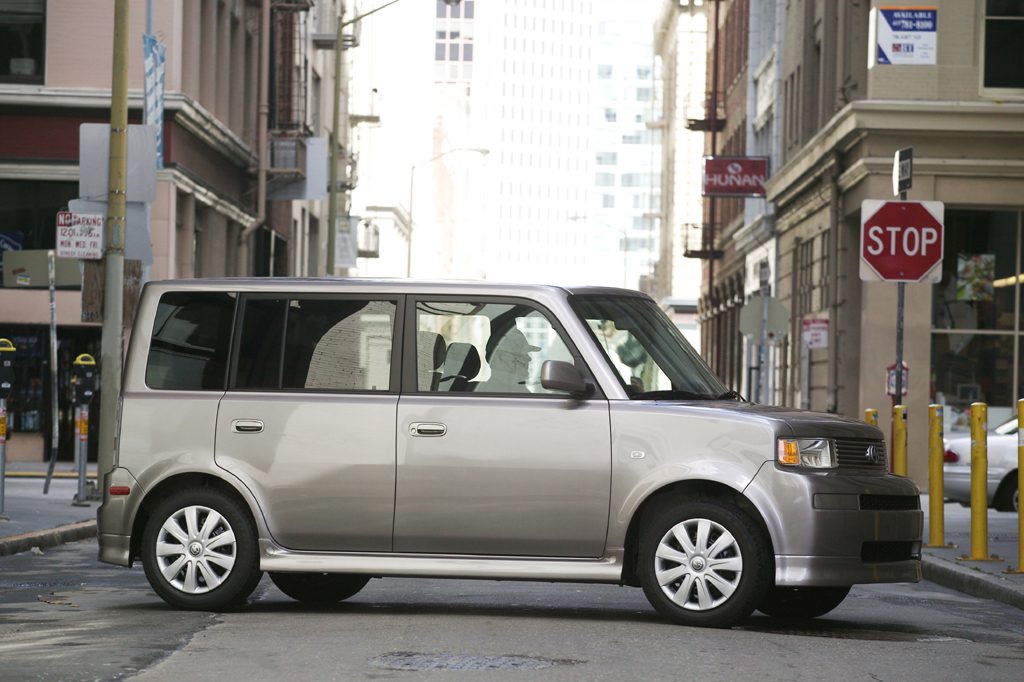 2004 Scion xB
Pros:

Fuel economy
Passenger room

Cons:
The xB melds hip-hop style with box-on-wheels practicality in a solid, pleasant little wagon with the bonus of Toyota's reputation for reliability, durability and quality workmanship. As such, this Scion appeals as much to older folks as to the young trendsetters it was designed for, an irony that also applies to the Honda Element and other similarly calculated "lifestyle" wagons.
Overview
This square-lined 5-door wagon launched Toyota's youth-oriented Scion brand for model-year 2004 together with the xA 4-door hatchback. Both were five-passenger compacts sharing a basic platform, a 108-hp 1.5-liter 4-cyl engine, 5-speed manual transmission and optional 4-speed automatic. The main differences were external. Where the xA had conventional small-car styling, the xB was a literal "two box" design standing longer and taller on a 5-inch longer wheelbase.
With its unusual appearance and wagon versatility, the xB symbolized Scion's mission of drawing younger, "active lifestyle" buyers to Toyota dealers with "cool" vehicles that would presumably keep these customers coming back to Toyota. Marketers decided this group wanted affordable compacts they could easily personalize, so Toyota/Scion dealers stocked a wide range of performance and dressup accessories, which only added to dealer profits. Even so, the xB was no "stripper," arriving at around $14,000 with two major safety features: antilock brakes and traction/antiskid control. Unlike the xA, though, it was not available with front torso side airbags or curtain side airbags. Other xB standards included air conditioning, power windows/mirrors/door locks, tilt steering wheel, split folding rear seat, rear liftgate wiper, dark-tint rear privacy glass, and a good-sounding single-disc CD audio system with MP3 playback. Regular" factory options included satellite radio, fog lights, rear spoiler, alloy wheels to replace the standard 15-inch steel rims, and upgraded sound systems from various brands well known to the youth market.
Helped by its funky image and wide press attention, the xB promptly outsold the xA by some 2 to 1 in Scion's first two seasons. Still, not many used Scions of any kind are yet on the market. It's worth noting that Toyota's slightly larger Echo sedan was a kissin' cousin of the inaugural Scions, using identical powertrains and the same basic platform. Echo, however, was one of Toyota's rare sales duds, and was dropped after model-year 2005.
Yearly Updates
2005 xB
Virtually unchanged from 2004.
2006 xB
The base audio system gained a plug-in for listening to digital music players through the vehicle's speakers, and a new optional system added dashboard control and program display for Apple iPod players. A dual-screen DVD entertainment system joined the options list. Due to a change in rating method, horsepower was restated to 103, torque to 101 lb-ft, though the engine itself was unchanged.