Midsize SUV; Built in Canada
4-door wagon
4-door wagon
transverse front-engine/front- or all-wheel drive
Good condition price range: $5,200 – $16,000*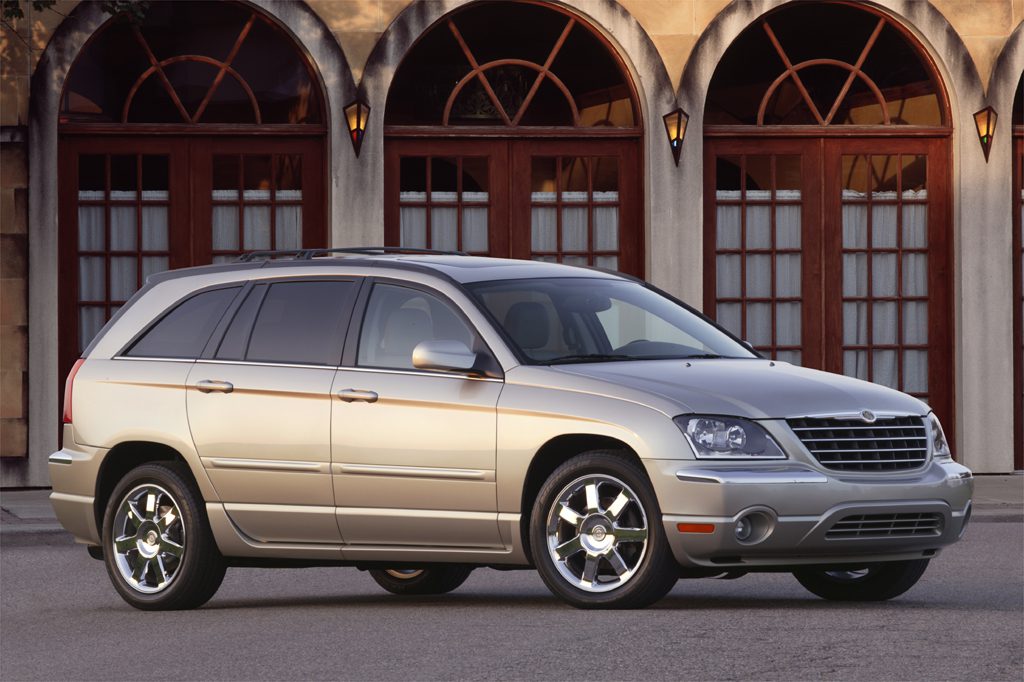 2005 Chrysler Pacifica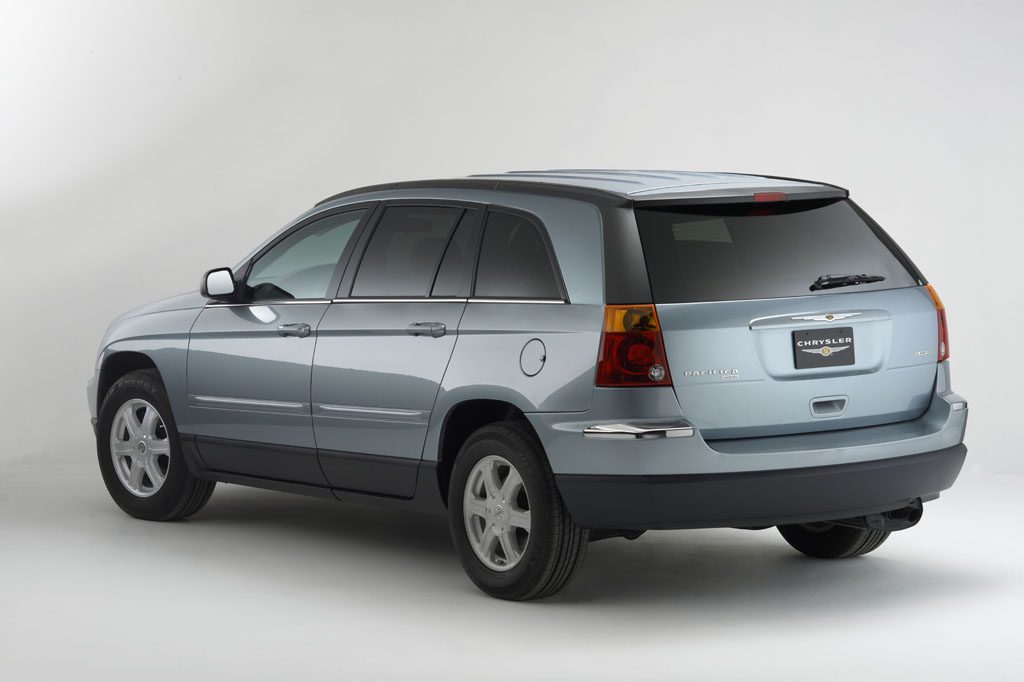 2005 Chrysler Pacifica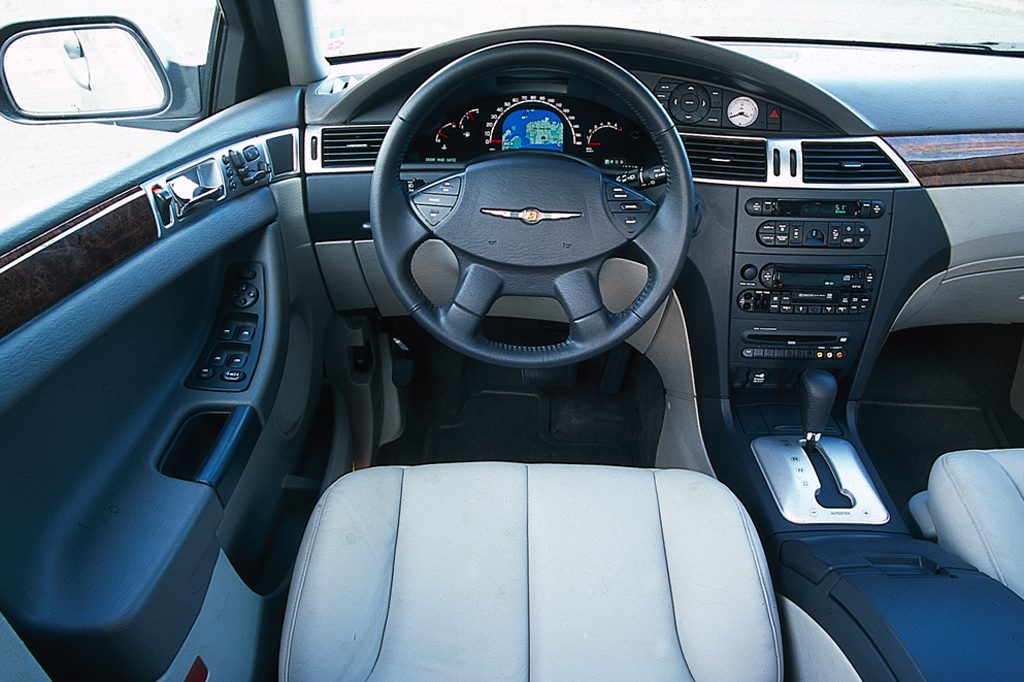 2004 Chrysler Pacifica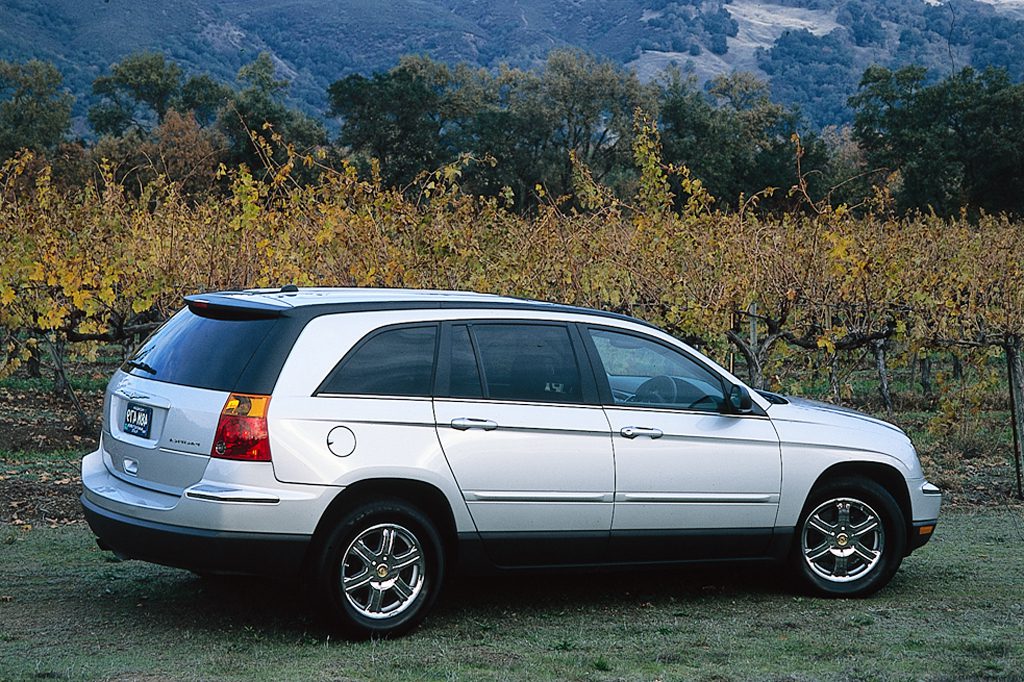 2004 Chrysler Pacifica
Pros:

Cargo room
Passenger room

Cons:
Pacificas aren't as roomy inside as their generous exterior dimensions suggest. Acceleration is unexceptional, and they move like a heavy minivan. Still, a Pacifica is more rational than most any SUV and more stylish than a minivan, exuding some upscale appeal. Sales have been slower than expected, so secondhand prices might be appealing.
Overview
Midsize in dimensions, Pacifica was among the new breed of crossover four-door wagons that aimed to blend traits of cars, sport-utility vehicles, and minivans. To that end, it offered three rows of seats for six-passenger capacity, a suspension designed to provide carlike road manners, and either front-drive or available all-wheel drive. Rivals include the Ford Freestyle, Honda Pilot, and Toyota Highlander.
Taller than a car, Pacifica stood lower than most SUVs. Built with an exceptionally wide body, it was nearly as long as Chrysler's Town & Country minivan. The sole powertrain was a 250-horsepower 3.5-liter V6, driving a four-speed automatic transmission that incorporated a manual shift gate. Pacificas could have front-wheel drive with optional traction control, or all-wheel drive that lacked low-range gearing.
Antilock four-wheel disc brakes, 17-inch wheels, and a load-leveling rear suspension were standard. Seating consisted of buckets in the first and second rows, and a third row split bench. Second- and third-row seats folded but did not remove.
A driver's knee airbag was standard. Head-protecting side curtain airbags that covered all three rows, power-adjustable pedals, and a tire-pressure monitor were standard on AWD models, and optional with front-drive. Additional options included leather upholstery, heated first- and second-row seats, a sunroof, power liftgate, navigation and DVD entertainment systems, and satellite radio.
Yearly Updates
2005 Pacifica
Rather than the single version of 2004, Chrysler adopted a three-model lineup for 2005, adding a lower-priced Pacifica and an upscale luxury edition. This year's Touring model, introduced as an early 2005, was essentially carryover of the original standard-trim Pacifica. Chrysler then added a base model and an AWD-only Limited edition. The base Pacifica contained a second-row bench for five-passenger capacity. Touring and Limited models held two second-row buckets plus a third-row two-place bench, for six-passenger seating. Such features as leather upholstery and a power liftgate were not offered for the base model. A 215-horsepower 3.8-liter V6 powered the new base front-drive model, but others retained the 250-hp 3.5-liter V6. Base and Touring Pacificas rode on 17-inch wheels, but the Limited got 19s. Side-curtain airbags were standard in the Limited and optional for others.
2006 Pacifica
For 2006, Chrysler dropped the 3.8-liter engine for base front-drive models, giving all Pacificas the same 250-hp 3.5-liter V6.
2007 Pacifica
Pacifica got a minor facelift and a powertrain revamp for 2007. For 2007, the front-drive base model got a 200-hp 3.8-liter V6 and a 4-speed automatic transmission. Other Pacificas had a 255-hp 4.0-liter V6 with a 6-speed automatic. All 2006 models had a 250-hp 3.5-liter V6 and a 4-speed automatic. Also for '07, traction control moved from optional to standard, and antiskid control, formerly unavailable, became standard.
2008 Pacifica
The 2008 Chrysler Pacifica carried over with no major changes for what Chrysler says is this slow-selling wagon's final model year.