Compact car; Built in Japan
transverse front-engine/front-wheel drive
Good condition price range: $6,700 – $16,700*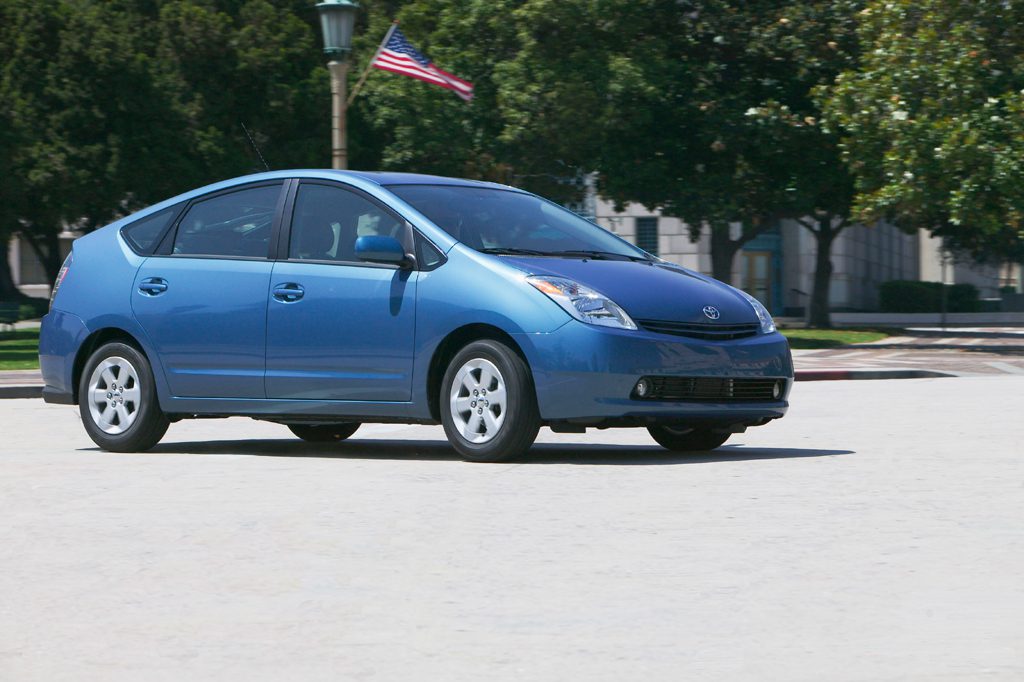 2005 Toyota Prius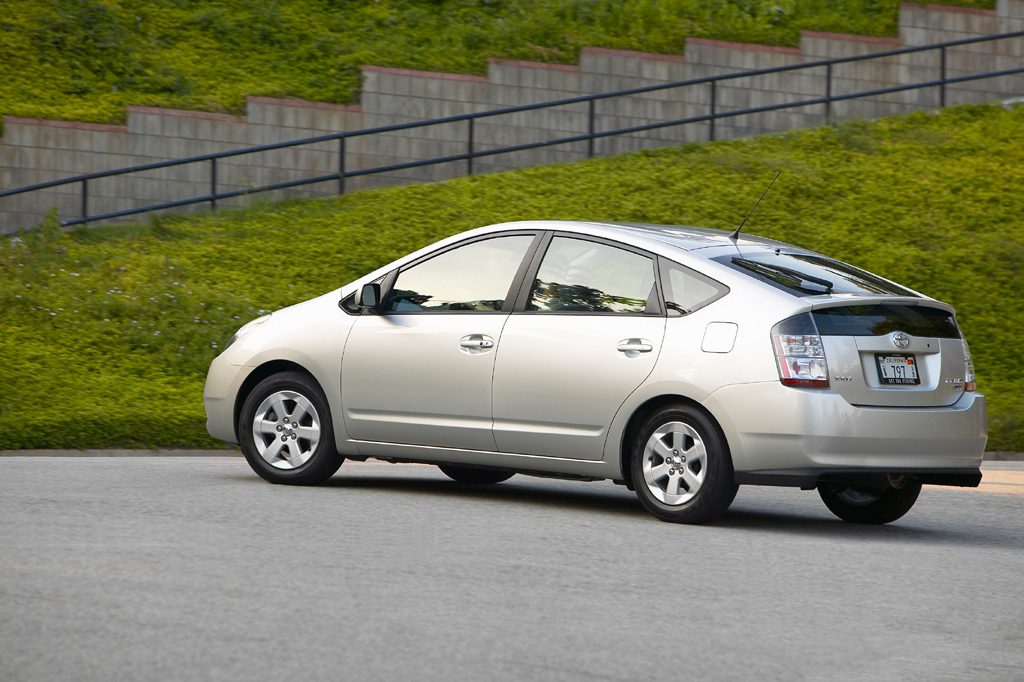 2005 Toyota Prius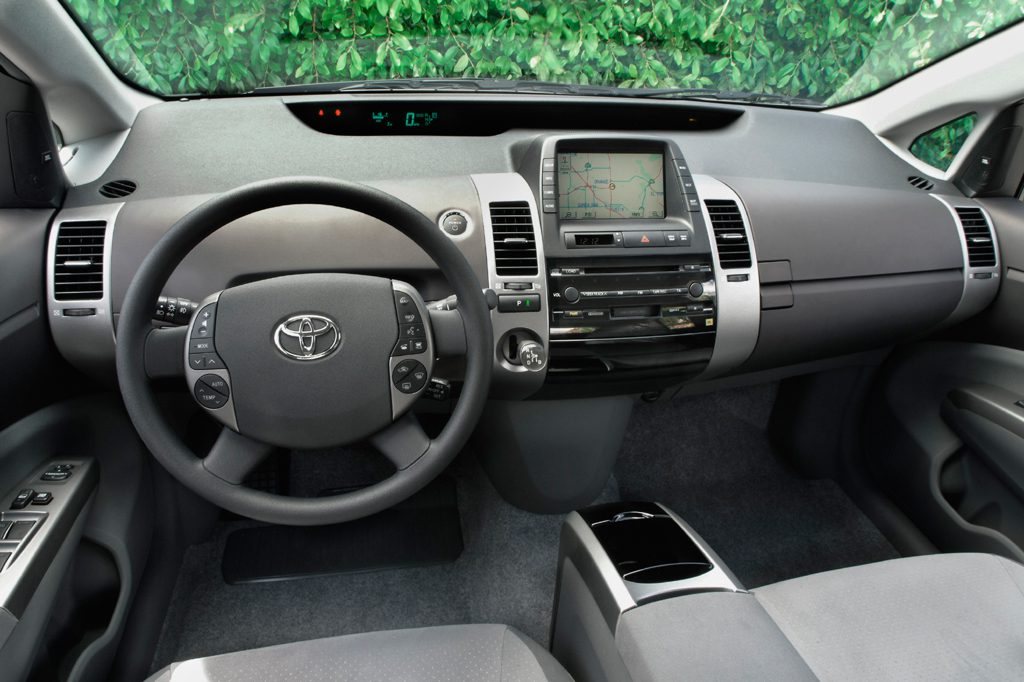 2005 Toyota Prius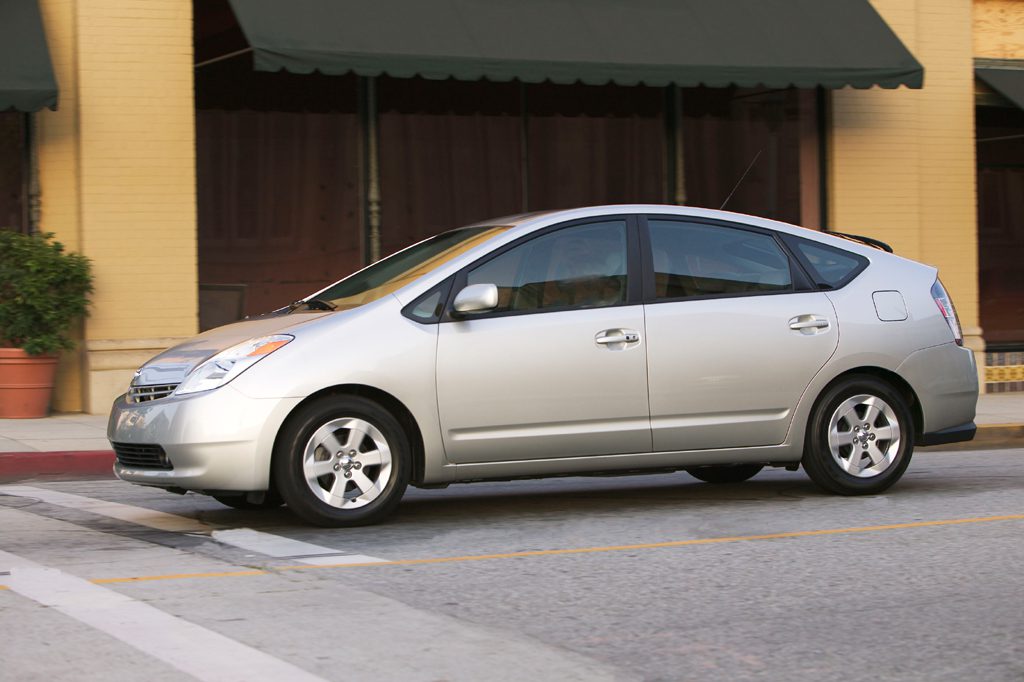 2005 Toyota Prius
Pros:

Fuel economy
Maneuverability

Cons:
The Prius proves there's more to "economy" than purchase price and miles per gallon. With the heated global-warming debate and record gas prices unlikely to ease, this hybrid should be as much in demand as a used car as it's been on the new-car market. But its low emissions and high mpg may cost you more vs. conventional economy cars, especially given Toyota's reputation for workmanship and reliability. Note, too, that this is a technically sophisticated machine that could cost a bundle to fix if something major goes wrong. And make no mistake: Electronics still can go wrong. With those caveats, the second-generation Prius is a pleasant and practical compact that lets you drive "green" with extra greenbacks in your pocket. You may never save enough in gas to offset its price premium and service costs, but you'll love it every time you fill up.
Overview
The second gasoline/electric hybrid car on the U.S. market (after Honda's Insight) was redesigned for 2004, growing in size, power and features, but not base price. Toyota morphed Prius from a 4-dr sedan to a sloped-roof 4-dr hatchback that added 6.9 inches in wheelbase, 6.3 in overall length, 1.2 inches in height and nearly 2 inches in width. Curb weight rose by some 125 lb. Though still classed as a compact, this larger new Prius rivaled Toyota's midsize Camry sedan for passenger and cargo room, yet boasted some of the industry's highest EPA fuel-economy ratings with estimates of no less than 60 mpg city, 55 highway.
As in the 2001-03 Prius, a 1.5-liter 4-cyl gasoline engine paired with a battery-driven electric motor to drive the front wheels through a continuously variable automatic transmission, or CVT. Depending on driving needs, the car used one or both power sources as directed by a powertrain computer, though it always moved off on electric power, with the gas engine cutting in around 20 mph or so. The system allowed the motor to act as generator for charging the battery pack, so no plugging-in was required. Like other CVTs, the Prius transmission dispensed with fixed gears to furnish a near-infinite number of drive ratios, again determined by the powertrain computer. New "by-wire" electronics replaced mechanical linkages for the accelerator and shift lever. Also aiding efficiency were a power-steering pump and air-conditioning compressor driven by electric motors instead of power-sapping engine-driven belts. Another new powertrain feature was a "hill acceleration control" designed to maintain a steady speed up and down steep slopes. The result of all this was a combined 133 peak horsepower.
Antilock brakes remained standard, joined by traction control and a newly optional antiskid system. Front side airbags and front/rear curtain side airbags were also available for the first time. Other new options included xenon headlamps and a "smart" keyless entry/engine-starting system with pocket transmitter. The optional navigation system added voice-command capability. As before, it operated from a central dashboard touch-screen that also governed various audio and climate controls. Continued were real-time screen displays for "power flow" and instant and average fuel economy.
For all the changes, Toyota held the Prius price line for 2004, claiming it could do so because it was finally making money on its hybrid car. (Many suspected Toyota had subsidized earlier models.) That plus the fresh design produced strong buyer demand, helped by Prius-owning Hollywood notables and other grandees who gave this hybrid high social status. Not surprisingly, Prius was soon in short supply, with long waiting lists and hefty dealer markups the rule. The situation continued into 2005, spurred by a midyear spike in gas prices and despite more cars being available for the U.S. market. Though several larger gas/electric cars were available by 2006-including a first-ever hybrid Camry sedan-Prius remained a hot seller as gas prices hit a record $3-plus, with $4 a gallon seemingly inevitable and imminent.
As before, Prius' only competition as a compact hybrid car came from Honda: the two-seat Insight coupe and the larger, more-conventional Civic Hybrid sedan. Insight was dropped after 2006 due to waning sales, but the Civic loomed a stronger challenger that season, thanks to a redesign of its own. Yet for all the hype and hullabaloo, hybrid vehicles still account for only a small percentage of new-vehicle sales, and few have reached the secondhand market at this point. Hybrids do seem here to stay, but their ultimate impact is anything but clear.
Yearly Updates
2005 Prius
The only change was making a rear-window wiper/washer standard instead of optional equipment.
2006 Prius
Peak horsepower was restated as 110 total with adoption of a new industry rating method; the powertrain itself was unchanged. A few styling details were changed, and a rearview camera became available in several option packages. The camera was not tied to navigation option, but did use the same dashboard screen to display a view behind the vehicle when backing up.
2007 Prius
This gas/electric hybrid car added a sport-themed Touring model and more standard safety features for 2007. Newly standard were front side airbags and curtain side airbags; they had been optional.
2008 Prius
The 2008 Toyota Prius added a new lower-priced Standard model but was otherwise unchanged.
2009 Prius
The 2009 Toyota Prius was largely unchanged.