Premium midsize car; Built in Germany
longitudinal front-engine/rear-wheel drive
Good condition price range: $9,500 – $55,500*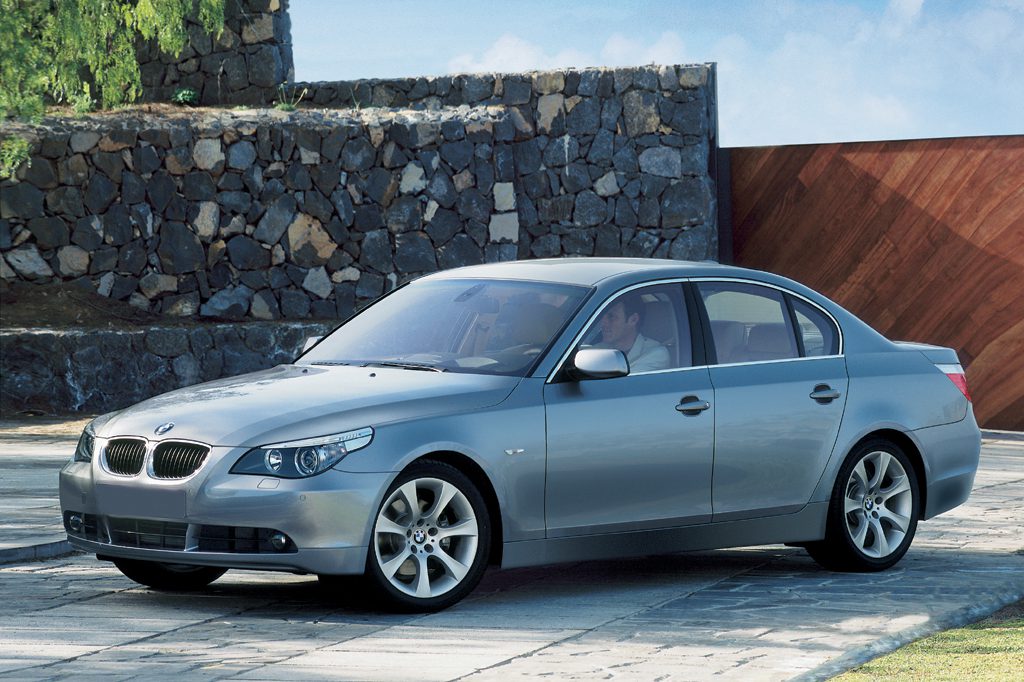 2004 BMW 5-Series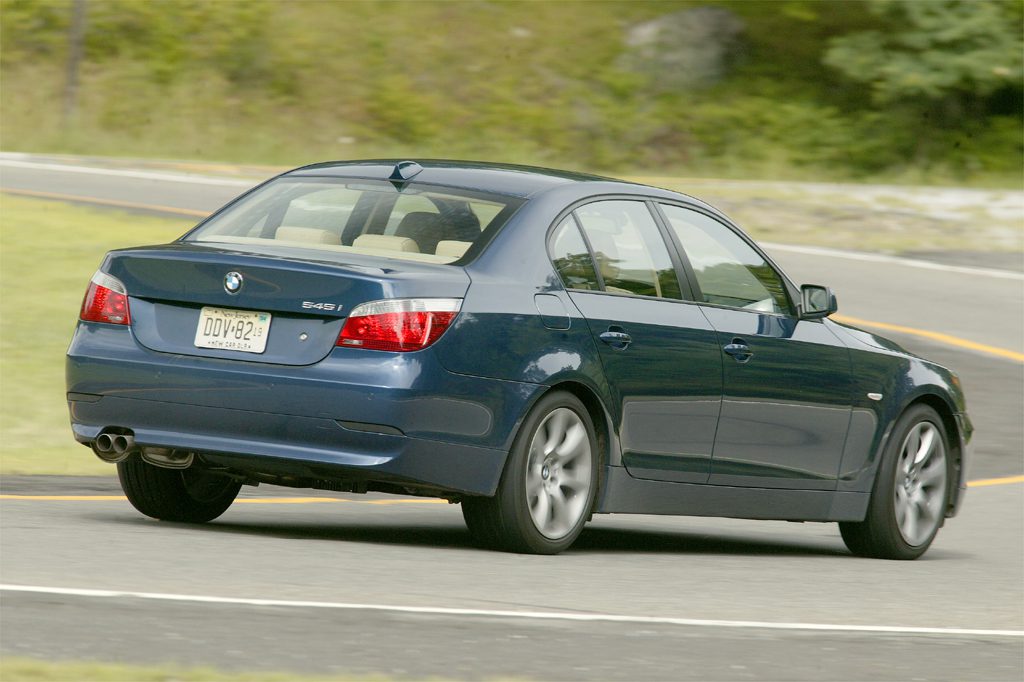 2004 BMW 5-Series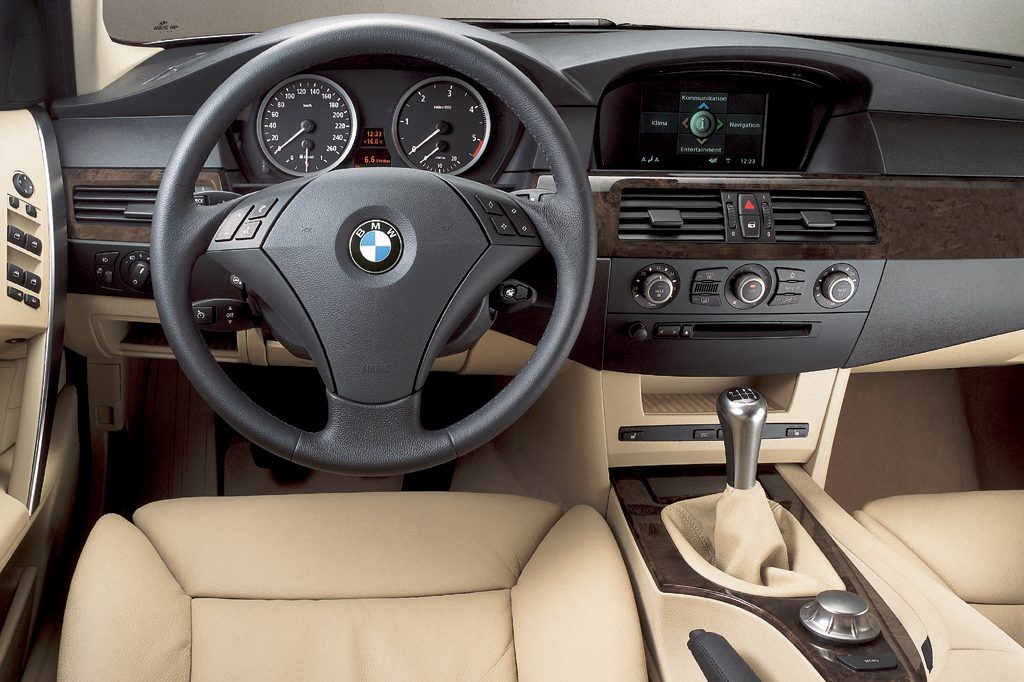 2004 BMW 5-Series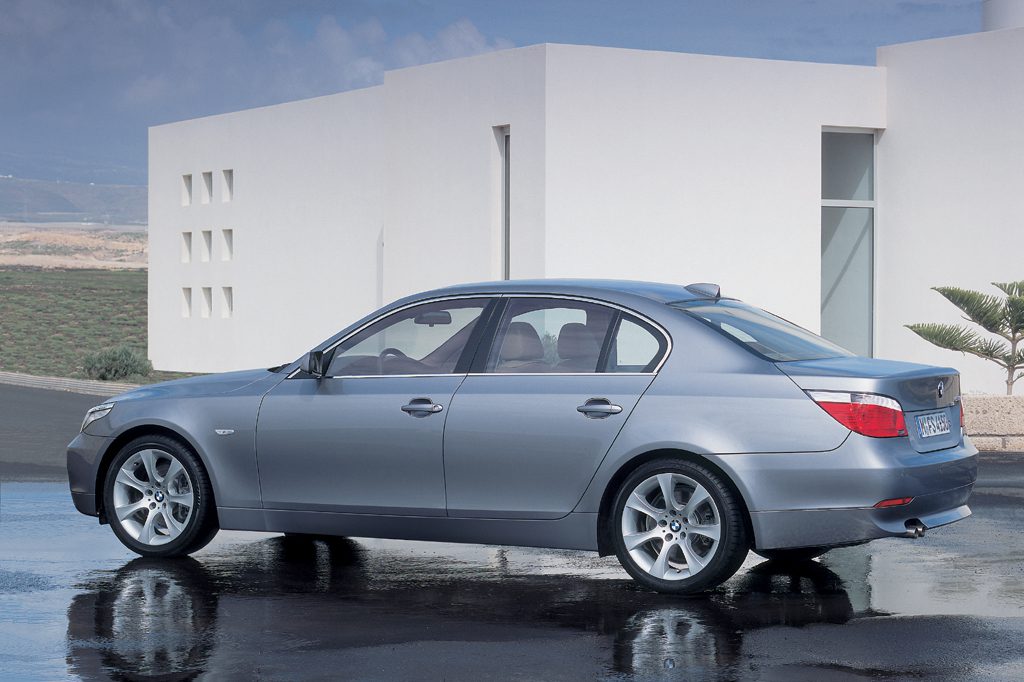 2004 BMW 5-Series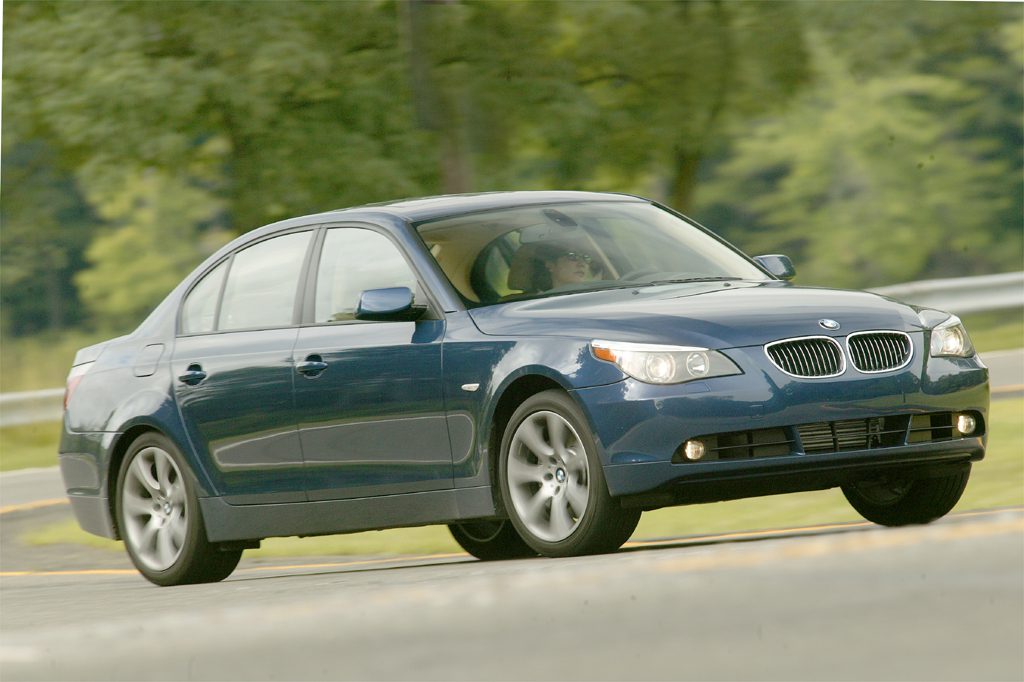 2004 BMW 5-Series
Pros:

Build quality
Interior materials
Ride
Steering/handling

Cons:

Control layout
Fuel economy
Overall, the 5-Series delivers a formidable blend of luxury, sport, and engineering. Prices were steep when new, iDrive confounds, and six-cylinder engines feel underpowered–outperformed by those of several rivals. Still, with the addition of available Active Steering and Active Roll Stabilization, BMW improved upon the 5-Series' world-class handling–without compromising its admirable ride quality. Each 5-Series bristles with technology, but not all of it is beneficial. Active Steering, for instance, is a love/hate item. High resale values keep secondhand prices on the hefty side.
Overview
New styling and features, plus more V8 power, highlighted BMW's redesigned 5-Series for 2004. Gone was the wagon body style, leaving sedans that were slightly larger than the 1997-2003 models. BMW competed against the Audi A6, Lexus LS 430, and Mercedes-Benz E-Class sedans, along with the Acura TL/RL and Infiniti M.
Four models were offered: 525i, 530i, 545i, and 545i 6-Speed. The 525i retained a 184-horsepower 2.5-liter inline six-cylinder engine; the 530i carried over a 225-horsepower 3.0-liter inline six. Both 545i models used a 4.4-liter V8 that produced 325 horsepower, up from 290 in the 2003 540i. The 525i, 530i, and 545i 6-Speed came with a six-speed manual transmission. Standard on the 545i and optional for the 525i and 530i was a six-speed automatic with manual shift gate.
All 5s had BMW's iDrive, which used a console "joystick" to control entertainment, navigation, communication, and climate functions. Antilock braking, BMW Assist emergency and concierge service, a tire-pressure monitor, and traction/antiskid control were standard. Front side airbags and front/rear head-protecting tubular side airbags also were standard. Rear torso side airbags were optional.
The 545i 6-Speed had a sport suspension, run-flat tires, and BMW's Active Steering that electronically varied both steering ratio and assist. BMW's Active Roll Stabilization was designed to counteract body lean. With the optional sport suspension, the 525i, 530i, and 545i added Active Roll Stabilization, run-flat tires, and Active Steering.
Options included DVD entertainment, a navigation system, front and rear park assist, heated front and rear seats, and adaptive cruise control designed to maintain a set following distance. Later in the model year came an optional head-up instrument display and satellite radio, plus, for all but the 545i, a Sequential Manual Transmission (SMT). Essentially a clutchless manual operated via a console lever or steering-wheel paddles, the sequential manual could also be set to shift like an automatic.
Yearly Updates
2005 5-Series
Minor equipment shuffling highlighted the 2005 model year. The 545i joined other models with a standard six-speed manual transmission. Six-speed automatic was optional for all, and the 530i and 545i could have BMW's Sequential Manual Transmission. All 5-Series models except the 525i had 17-inch tires.
2006 5-series
Wagons rejoined the 5-Series lineup. All-wheel drive became available this year, on the 530xi sedan and wagon and the 525xi sedan. BMW's rear-wheel-drive sedan lineup included the 525i, 530i, and 550i. Engines gained power. The 525i exchanged its former 184-hp 2.5-liter engine for a 215-horsepower 3.0-liter. In 530i models, the 3.0-liter engine gained 30 horsepower (now 255). A new 360-horsepower 4.8-liter V8 for top models prompted a name change from 545i to 550i. BMW also revived the high-performance M5 sedan, with a seven-speed SMT, unique sport suspension tuning, 19-inch tires, and a 500-horsepower V10 engine.
2007 5-Series
5-Series carried over unchanged.
2008 5-Series
Freshened styling and new 6-cylinder engines marked the 2008 BMW 5-Series. The lineup started with 528i and all-wheel-drive 528xi sedans, which replaced the 525i and 525xi. One step up were the 535i sedan and AWD 535xi sedans and wagons, which replaced the 530i and 530xi. The 528 and 535 got a new 3.0-liter 6-cylinder engine; it made 230 horsepower in 528s, 300 in the turbocharged 535s .
2009 5-Series
The 2009 BMW 5-Series was largely unchanged following its freshening for the 2008 model year.
2010 5-Series
The 2010 BMW 5-Series saw no major changes pending a redesign due in calendar 2010 as a 2011 model.