Midsize car; Built in Japan
4-door sedan
4-door wagon
longitudinal front-engine/all-wheel drive
Good condition price range: $6,500 – $21,000*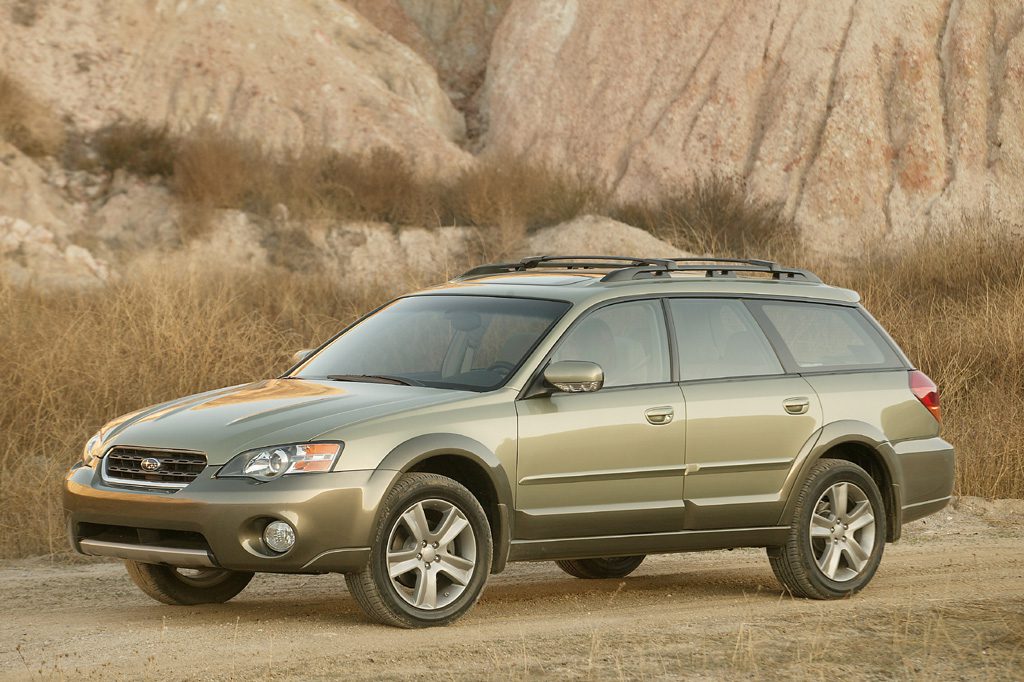 2006 Subaru Legacy and Outback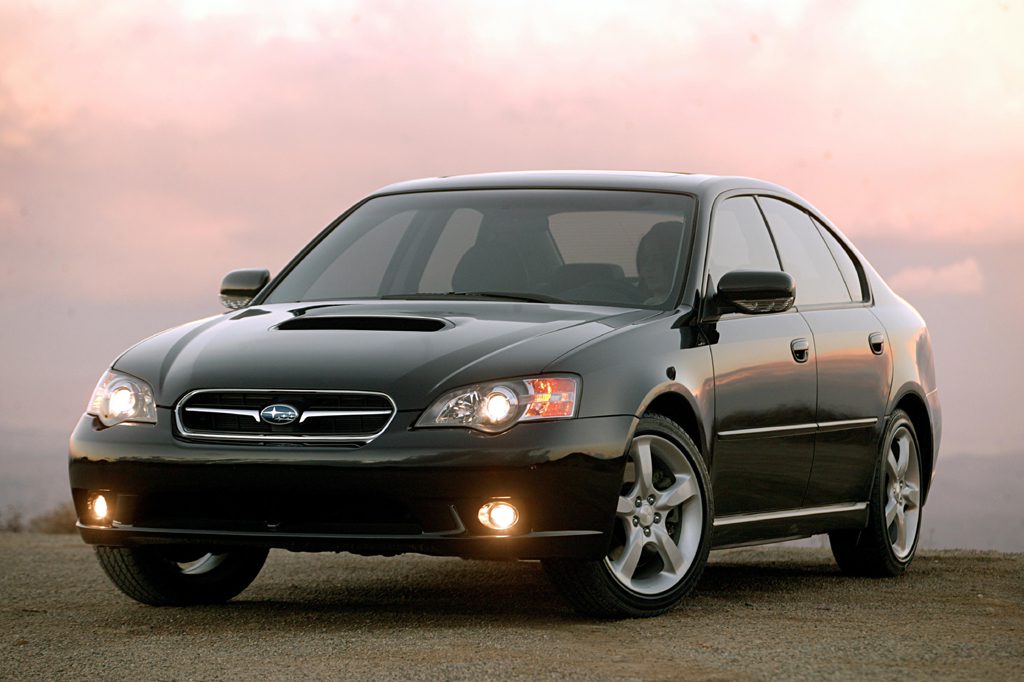 2005 Subaru Legacy and Outback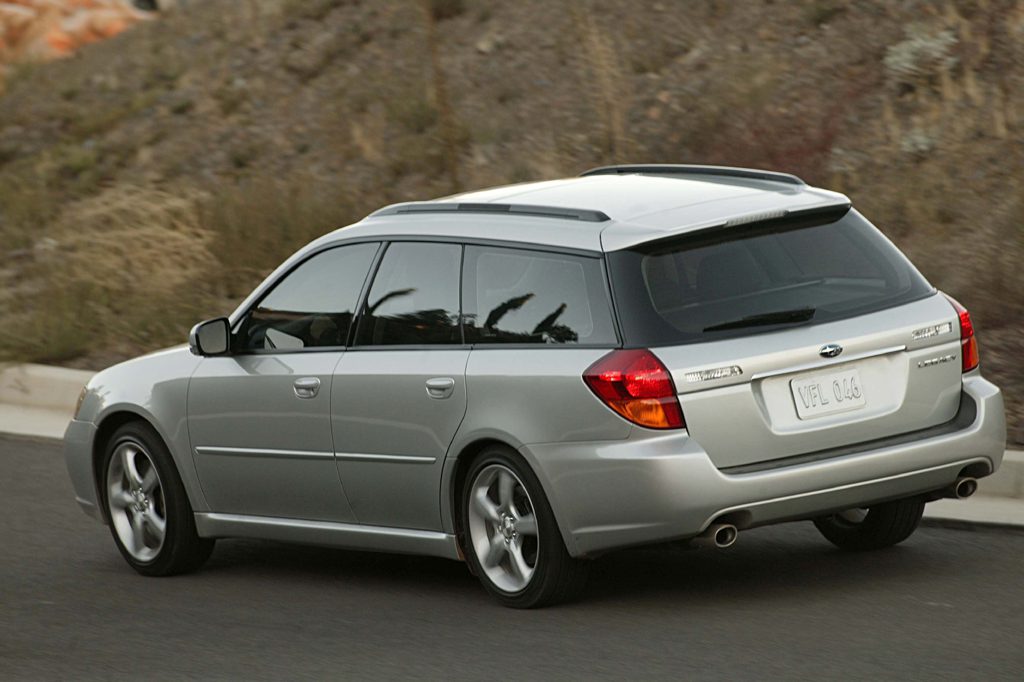 2005 Subaru Legacy and Outback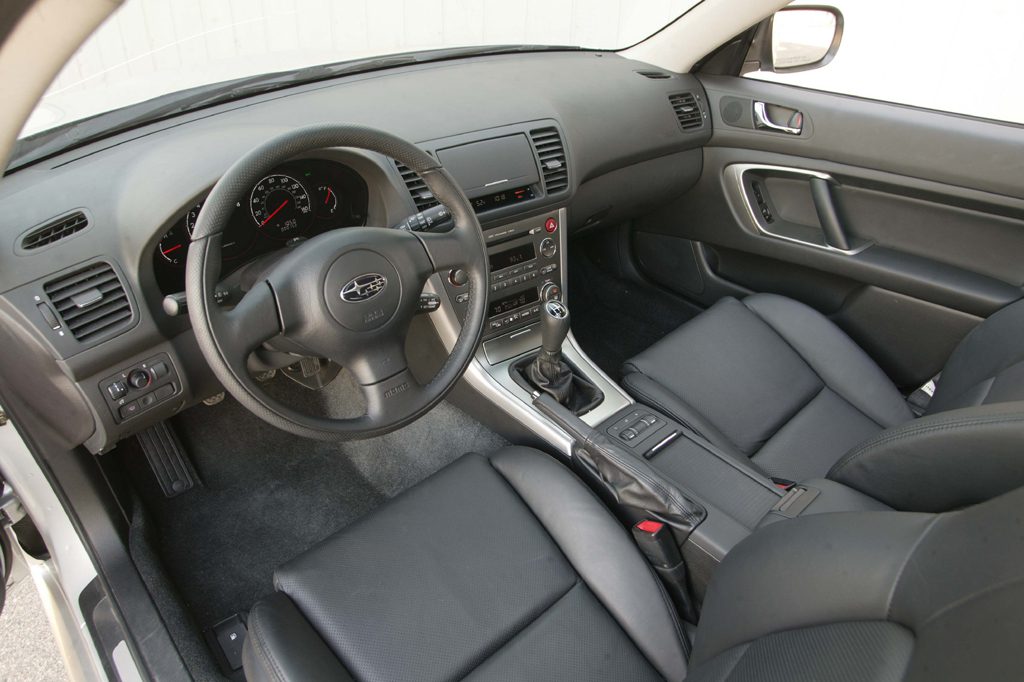 2005 Subaru Legacy and Outback
Pros:

All-wheel drive
Instruments/controls
Steering/handling

Cons:

Engine response (turbo models)
Shift action (manual transmission)
Legacy's all-wheel drive one-ups the mostly front-wheel-drive competition, performance is good with the turbo 4-cyl engine, and all the required safety features are on hand. Otherwise, there's little reason to prefer Legacy over a comparable Honda Accord or Toyota Camry, though it is different, and the wagon body style is a plus for some buyers. Outback wagons, however, earn our Recommended ribbon for combining most "real SUV' attributes with carlike ride, handling and fuel economy. Don't bother with the 6-cyl Outbacks, though. They're no quicker or quieter than the turbo 4-cyl versions, and they cost more, even secondhand. Besides, they're the least popular models in this bunch, so used examples will be scarce anyway.
Overview
Subaru redesigned its midsize cars for 2005 with fresh styling, slightly larger dimensions, additional features, and more power. As before, the Legacy and SUV-flavored Outback offered sedans and wagons on a shared platform. Legacy again targeted mainstream passenger-car buyers, while Outback kept its focus as a car-based SUV substitute with an elevated suspension and "off-road" styling elements.
All-wheel drive remained standard across the board. So did engines with horizontally opposed cylinders. Legacy and Outback 2.5i models used a 168-hp 4-cyl with manual transmission or optional 4-speed automatic. A new 250-hp turbocharged version of that engine powered Legacy 2.5 GT/GT Limited and Outback 2.5 XT models, which offered manual transmission or an available 5-speed automatic. Again topping the line were the Outback 3.0 R sedan, L.L. Bean Edition wagon, and VDC Limited wagon. They came only with the 5-speed automatic and a 3.0-liter 6-cyl engine uprated to 212 hp to 250. Both automatic transmissions included a manual-shift feature.
All these Subarus came with antilock brakes, front side airbags, and curtain side airbags. An antiskid system was standard on the Outback 3.0 R VDC wagon, but was otherwise unavailable. Optional features, depending on model, included leather upholstery, heated front seats, woodgrain interior trim, automatic climate control, and heated windshield wipers.
Yearly Updates
2006 Legacy
Legacy added a sporty version of the GT Limited sedan called "spec.B;" included were sport suspension, 18-inch wheels, unique trim, and a navigation system that was optional on other Legacys except the base 2.5i.
2006 Outback
A navigation system was newly standard on the 3.0 R VDC wagon and newly optional on other Outbacks except the base 2.5i wagon.
2007 Legacy
Legacys got a 60/40 split folding rear seatback for '07; it replaced a center pass-through. Remote engine start was a new option for automatic-transmission versions.
2007 Outback
Remote engine start was a new option for automatic-transmission versions.
2008 Legacy
The 2008 Subaru Legacy got freshened styling, a revised dashboard, and a new model with a 6-cylinder engine. Note that a wagon body style was no longer offered. New for '08 was the 3.0 R Limited with a 245-hp 6-cylinder. Automatic-transmission Legacys included steering wheel shift paddles for '08.
2008 Outback
The 2008 Subaru Outback got freshened exterior and interior styling.
2009 Legacy
Legacy added a 3.0 R model that joined the 3.0 R Limited in having a 245-hp 6-cylinder engine.
2009 Outback
L.L. Bean models were replaced by Limiteds for 2009, the resulting model roster consisting of 2.5i, 2.5i Limited, 2.5XT Limited, and 3.0 R Limited.