Exotic car; Built in Italy
longitudinal front-engine/rear-wheel drive
Good condition price range: $NA – $NA*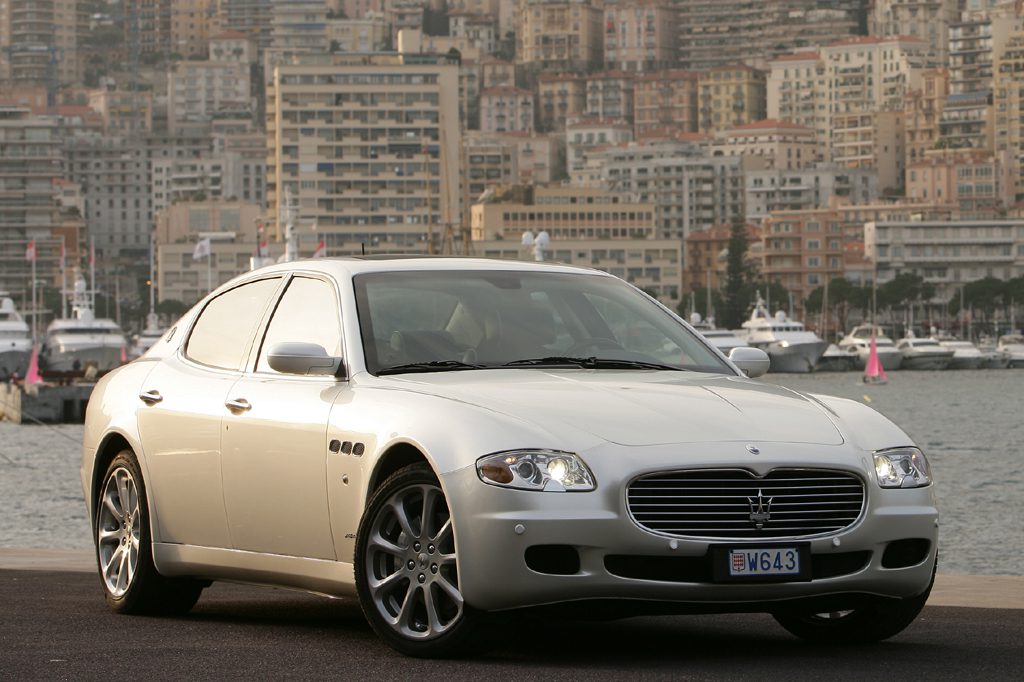 2008 Maserati Quattroporte Front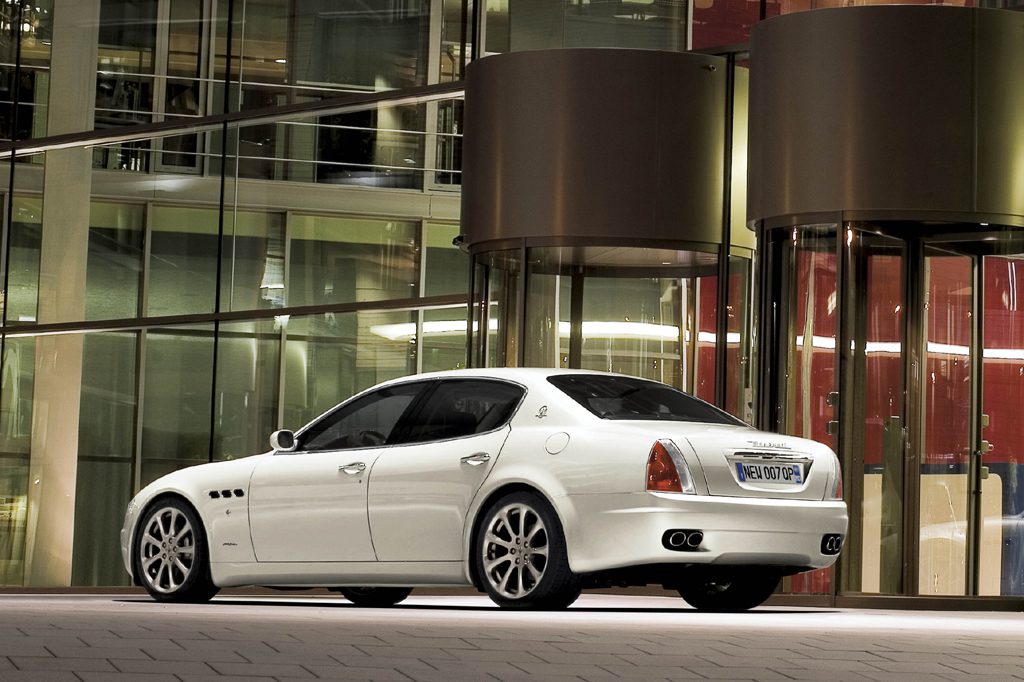 2008 Maserati Quattroporte Rear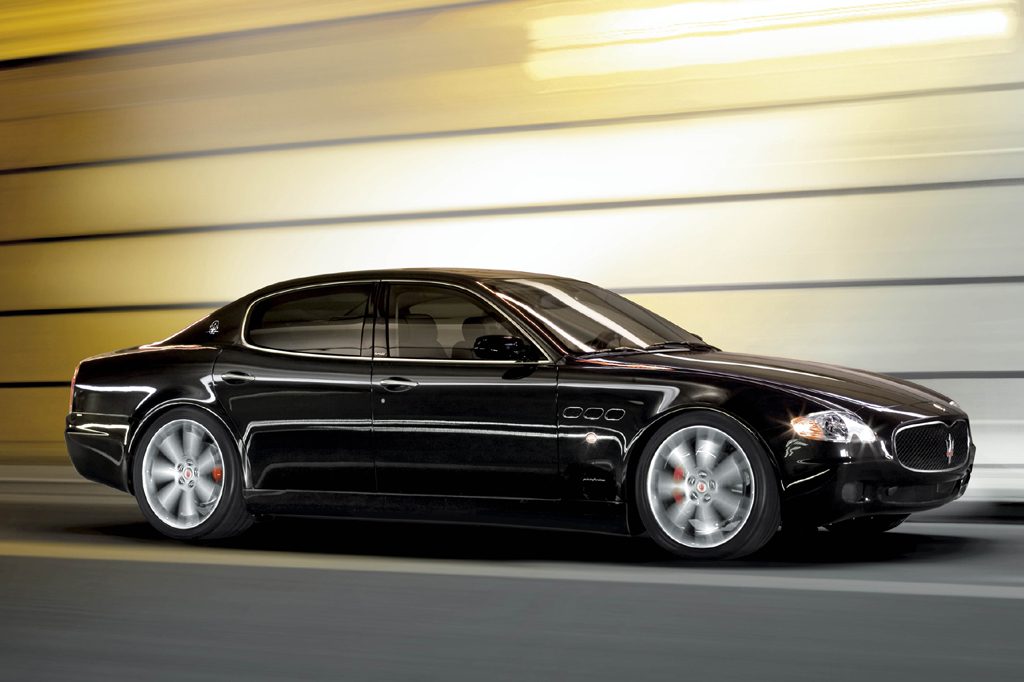 2008 Maserati Quattroporte Profile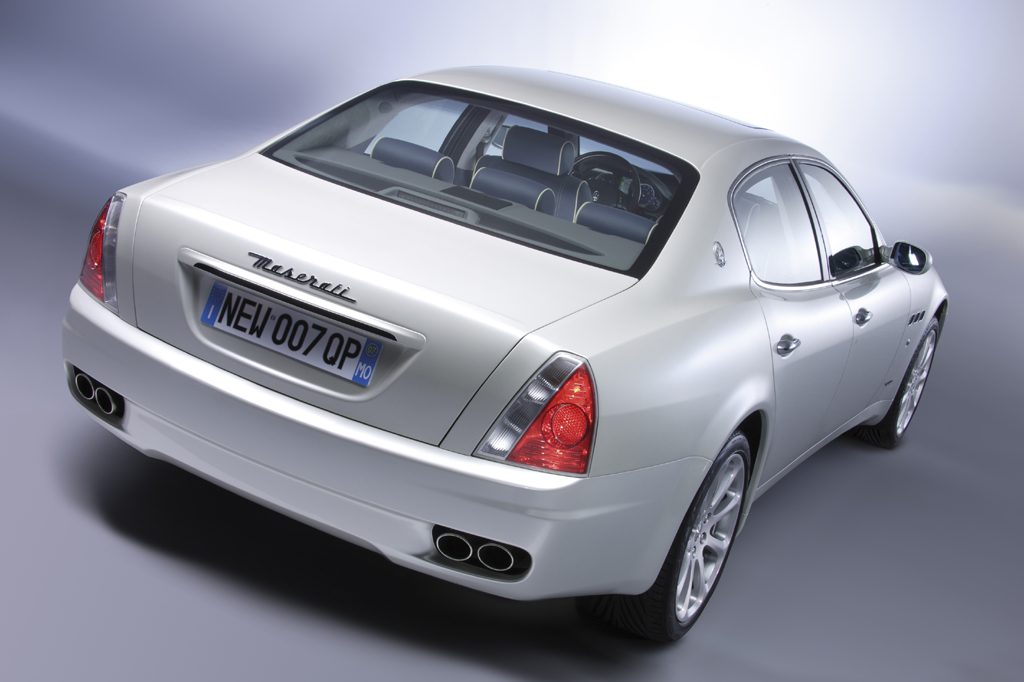 2008 Maserati Quattroporte Rear-2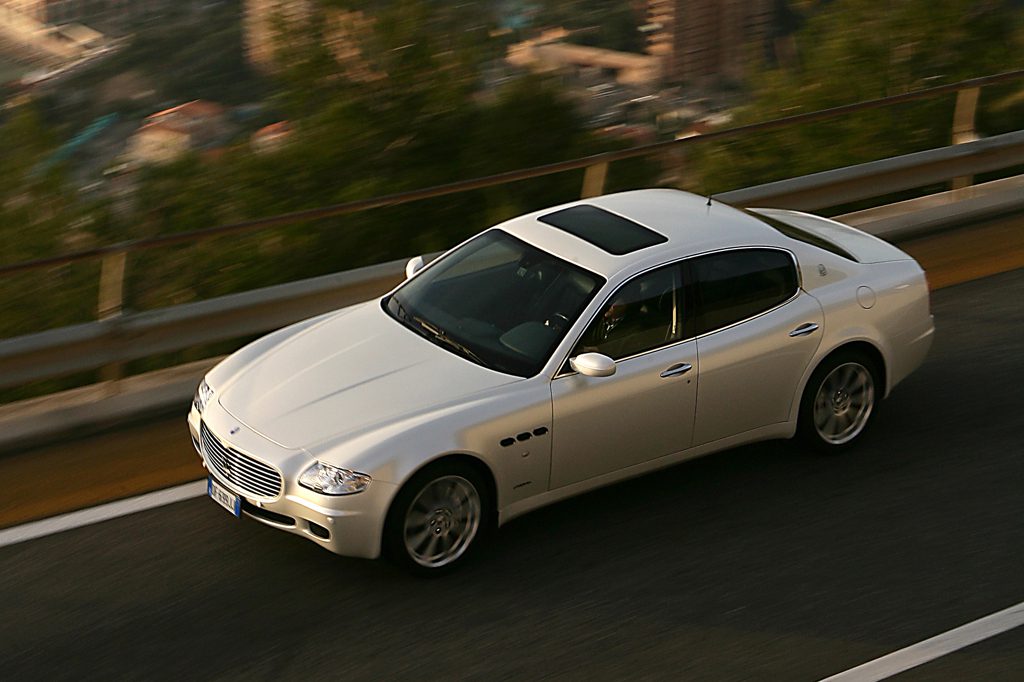 2008 Maserati Quattroporte Front-2
Pros:

Acceleration
Engine noise
Handling

Cons:

Trunk space
Fuel economy
Rear-seat room
In terms of space and road isolation, this curvaceous sedan badly trails the likes of Mercedes's vaunted S-Class sedans. Shoppers with a lust for the road may find the Quattroporte more to their liking, however, as this Maserati aptly blends automotive passion with surprising refinement. For spirited driving, lush interior appointments, and hypnotic engine music, Quattroporte is a must-see.
Overview
Introduced for 2005, Quattroporte was the Italian automaker's sedan–a five-passenger companion to the company's smaller coupes and convertibles. "Quattroporte" meant, simply, "four doors. Maserati described the new sedan as "contemporary Italian art" with a "sporty temperament." Styling details included a long hood, prominent grille, steeply raked windshield, and low-slung front fenders that contained "portholes" (reminiscent of those in late 1940s-1950s Buicks). Interiors could be finished in standard Rosewood; or in mahogany, briarwood, or titanium-style. A button in the center rear armrest could be use to push the front passenger forward, for increased rear legroom.
All early Quattroportes came with a 400-horsepower, 4.2-liter V8 engine, mounted behind the front axle. A six-speed "DuoSelect" automated-manual was the sole transmission offering, mounted at the rear for increased rear weight bias. Maserati claimed that placement improved handling. Lacking a clutch pedal, the DuoSelect transmission could be set to shift like an automatic, or gearchanging could be accomplished using shift paddles mounted at the steering column. A Skyhook automatic-damping suspension was standard, as were Brembo disc brakes. Alloy wheels held 18-inch tires. Weight distribution was 43/57 (front/rear). Maserati claimed 0-60 mph acceleration in as little as 5.1 seconds, and each car was road-tested in Italy. Standard safety features included antilock braking, traction control, front side airbags, and curtain side airbags. An optional front-seat Comfort package included heating, ventilating, and massaging, plus an automatic system that adjusted seat padding according to the occupant's movements.
Quattroporte competitors included the Audi A8, BMW 7-Series, and Mercedes-Benz S-Class. Maserati had been out of the U.S. market since 1991. Then, in 2002, the Italian automaker introduced a new Spider convertible, followed by a GT coupe. The Quattroporte made its debut at the Frankfurt Motor Show, in fall 2003, as the first Maserati designed by Pininfarina in half a century.
Yearly Updates
2006 Quattroporte
The 2006 Maserati Quattroporte was available in three trim levels: base, Executive GT, and Sport GT. Base price was $105,000, but the Executive GT sedan commanded $117,250. The Sport GT included aluminum pedals, carbon fiber trim on the steering wheel, and a Sport button that cut transmission shift times by a claimed 35 percent. An Executive GT sedan had chrome front and side griles,19-inch wheels, and a Comfort Pack that included heated/ventilated/massaging front seats, retractable wood tables, retractable privacy screens, and Alcantara suede roof headlining.
2007 Quattroporte
Presumably responding to complaints about lurching and jerking from the original Ferrari-engineered DuoSelect automated-manual transmission when in automatic mode, a conventional six-speed automatic transmission was introduced for the 2007 Maserati Quattroporte. The DuoSelect unit remained available, at least temporarily.
2008 Quattroporte
No significant changes were announced for the 2008 Maserati Quattroporte. All models had an antiskid system, 14-way adjustable front seats with driver-seat memory, dual-zone climate control, a navigation system, rear obstacle detection, and bi-xenon headlights. Available features included power ventilated, massaging front and rear seats, rear climate control, rear privacy screens, and carbon-fiber interior trim.
2009 Quattroporte
Three V8 engines were available in the 2009 Maserati Quattroporte: a 400-horsepower 4.2 liter in the base mode, 425-horsepower 4.7-liter in the S sedan; and a 433-hp 4.7-liter in the Sport GT S. All Quattroportes had a six-speed automatic transmission, with steering-column-mounted paddles for manual gear selection optional on the S model (standard on Sport GT S).
2010 Quattroporte
Few changes were evident for the 2010 Maserati Quattroporte. Maserati rated the 4.7-liter V8 at 430 and 440 horsepower this year. Sport GT S models, with the most potent V8, had a lowered, stiffer sport suspension.
2011 Quattroporte
Little change was evident for the 2011 Maserati Quattroporte. S models had an adjustable suspension with Normal and Sport settings, which was optional for the base Quattroporte. A models had heated power-adjustable front seats with driver's memory, dual-zone climate control, rear-obstacle detection, and a hard drive for storing digital-music files. The standard navigation system got revised controls for 2011.
2012 Quattroporte
No significant changes were announced for the 2012 Maserati Quattroporte S and Sport GT S, but the base model was gone. A redesigned Quattroporte debuted at Detroit's North American International Auto Show in January 2013.