Premium sporty/performance car; Built in Germany, Finland
2-door convertible
2-door hatchback
longitudinal mid-engine/rear-wheel drive
Good condition price range: $16,500 – $62,500*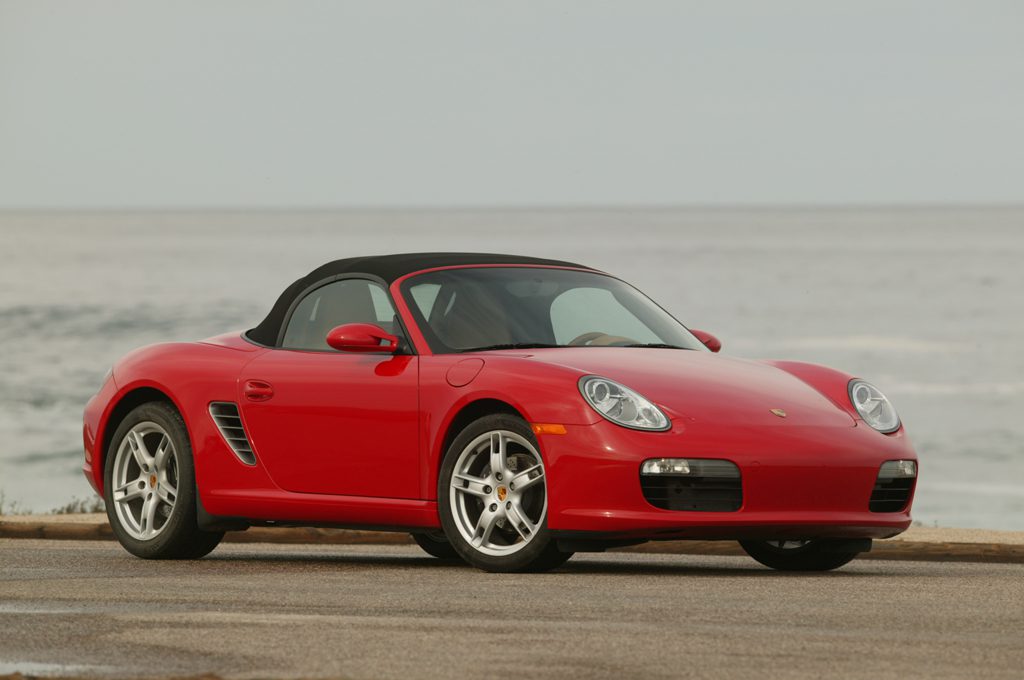 2005 Porsche Boxster and Cayman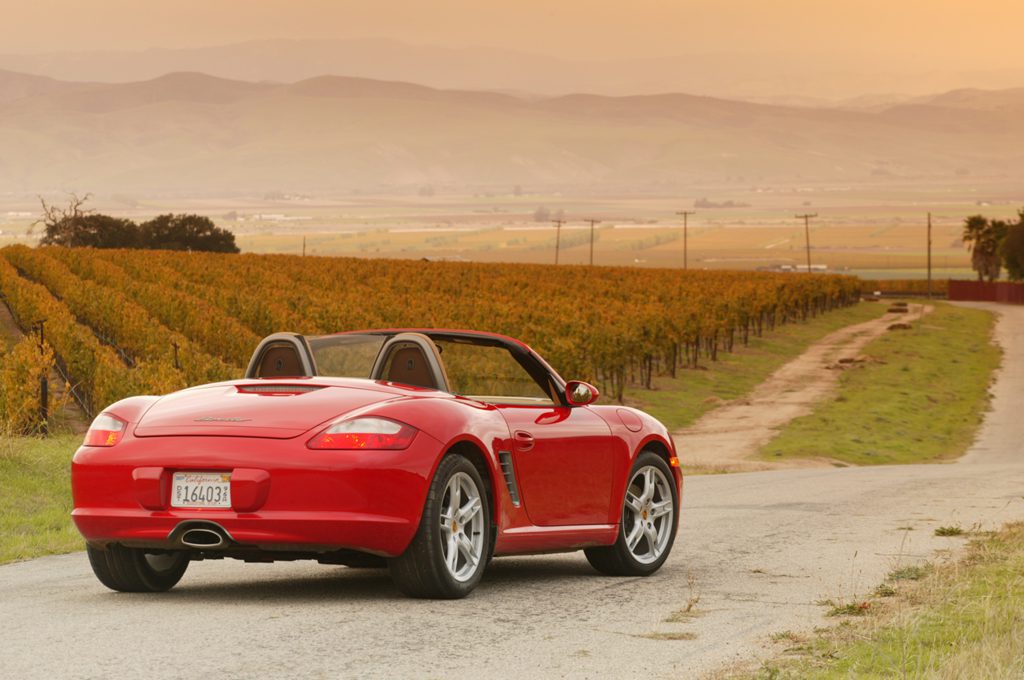 2005 Porsche Boxster and Cayman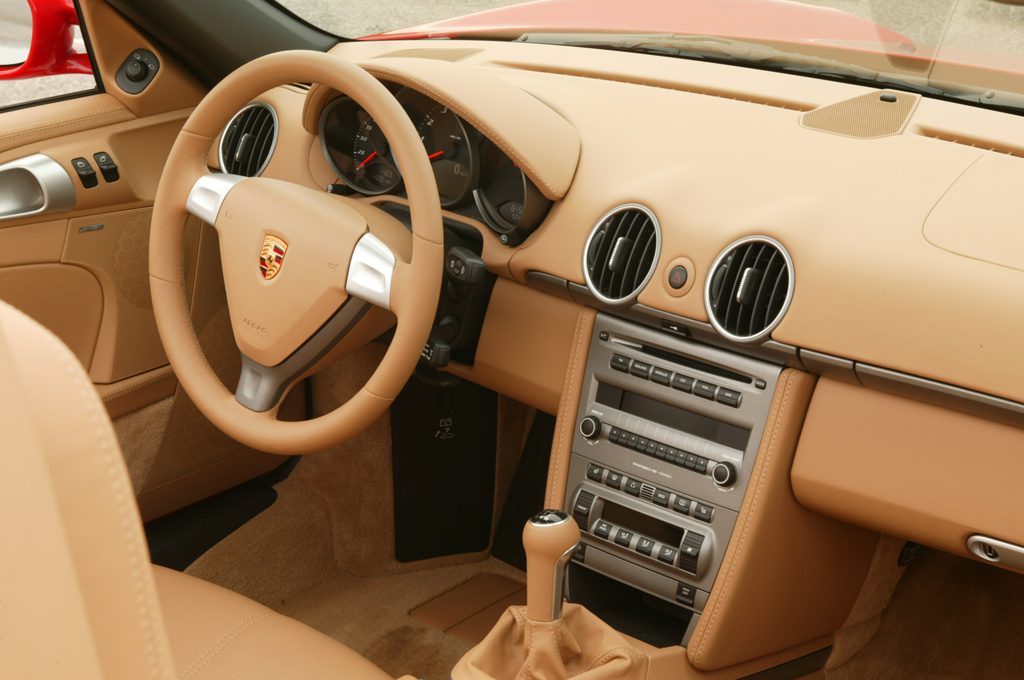 2005 Porsche Boxster and Cayman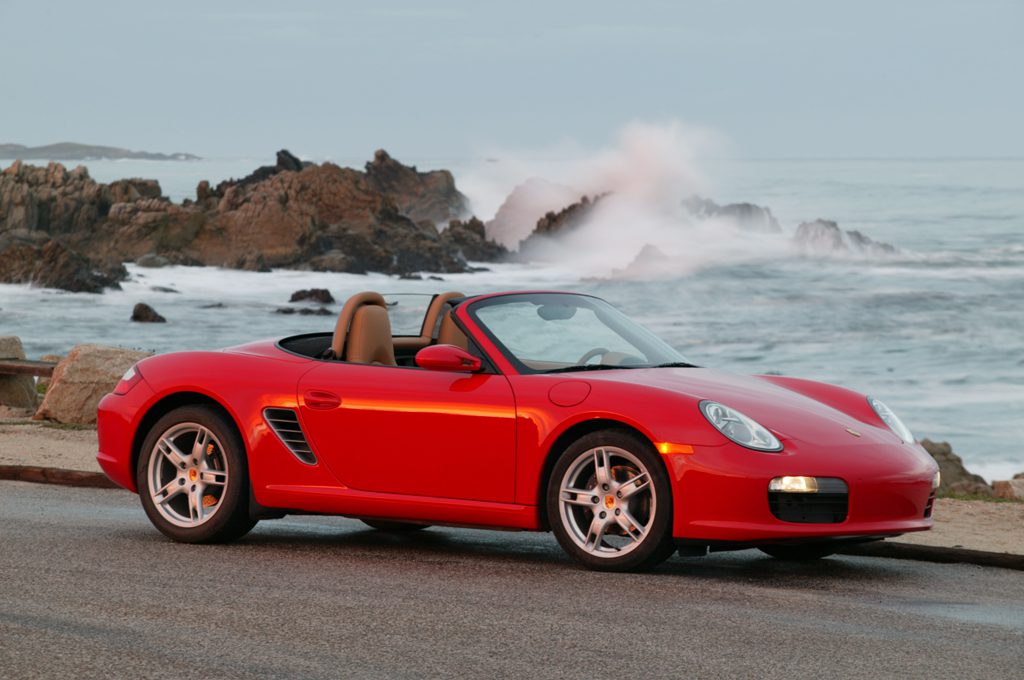 2005 Porsche Boxster and Cayman
Pros:

Acceleration
Steering/handling
Brake performance

Cons:

Cargo room
Entry/exit
Ride (w/ 19-inch tires)
Some less-expensive sports cars challenge Boxster on a fun-per-dollar basis, and some like-priced competitors deliver more outright power. But few match its range of strengths: road manners, mechanical sophistication to satisfy the most discriminating driver, a good dose of everyday usability, and the cachet of the Porsche name.
Overview
Porsche redesigned its least-expensive car for 2005, giving it more power, a new interior, and revised styling. Size and weight changed only fractionally from the 1997-2004 version, and Boxster remained a 2-seat convertible with a mid-mounted, horizontally opposed 6-cyl engine. It returned in base and S models, both with a power soft top and heated glass rear window. The base retained a 2.7-liter engine, but with 240 hp vs. 228. The S reprised a 3.2-liter, but with 280 hp vs. 258. A 5-speed manual transmission was standard on the base model. A 6-speed manual was standard on the S, optional on the base. A 5-speed automatic with manual-shift capability via steering-wheel buttons was optional on both. ABS was standard, as was the previously optional traction/antiskid control. Base models traded standard 16-inch wheels for 17s and are available with the 18s standard on the S; 19s were optional on both. Front torso side airbags were included, as were side airbags that deployed from the doors. Options included leather upholstery and a navigation system. An available Sport Chrono Package included a dashboard stopwatch and controls that modified throttle, traction, and suspension systems to suit racetrack-type driving. Also optional was Porsche's Active Suspension Management with normal and sport settings. The S was available with ceramic composite brakes.
Yearly Updates
2006 Boxster and Cayman
Porsche expanded its line of two-seat midengine sports cars for 2006, adding a hatchback coupe version to the carryover convertibles. The coupe was called Cayman, and it shared its basic design and powertrains with the Boxster.
2007 Boxster and Cayman
A slight horsepower bump for the Boxster marked 2007 for Porsche's line of two-seat midengine sports cars. For '07, the base Boxster gained 5 hp, matching the base Cayman at 245. Boxster S gained 15 hp, matching Cayman S at 295.
2008 Boxster and Cayman
The 2008 Porsche Boxster and Cayman were largely unchanged.
2009 Boxster and Cayman
The 2009 Porsche Boxster received slightly freshened styling and more power. The Base model received a 265-hp 2.9-liter that replaced a 245-hp 2.7. The S reprised its 3.4-liter engine, but it now made 320 hp vs. 295. A new 7-speed automatic became optional, replacing a 5-speed automatic.
2010 Boxster and Cayman
The 2008 Porsche Boxster and Cayman saw no major changes.
2011 Boxster and Cayman
The 2011 Porsche Boxster lineup expanded to include a new lightweight, high-performance model, the Boxster Spyder, which had a 320-horsepower version of the S model's 3.4-liter engine.
2012 Boxster and Cayman
For 2012, the Porsche Boxster added an S Black Edition trim level that shared the powertrain of the Spyder model. Meanwhile, the Cayman lineup gained the Cayman R, which was a bit lighter and more powerful than the Cayman S.