Sporty/performance car; Built in USA
2-door convertible
2-door coupe
longitudinal front-engine/rear-wheel drive
Good condition price range: $2,600 – $21,600*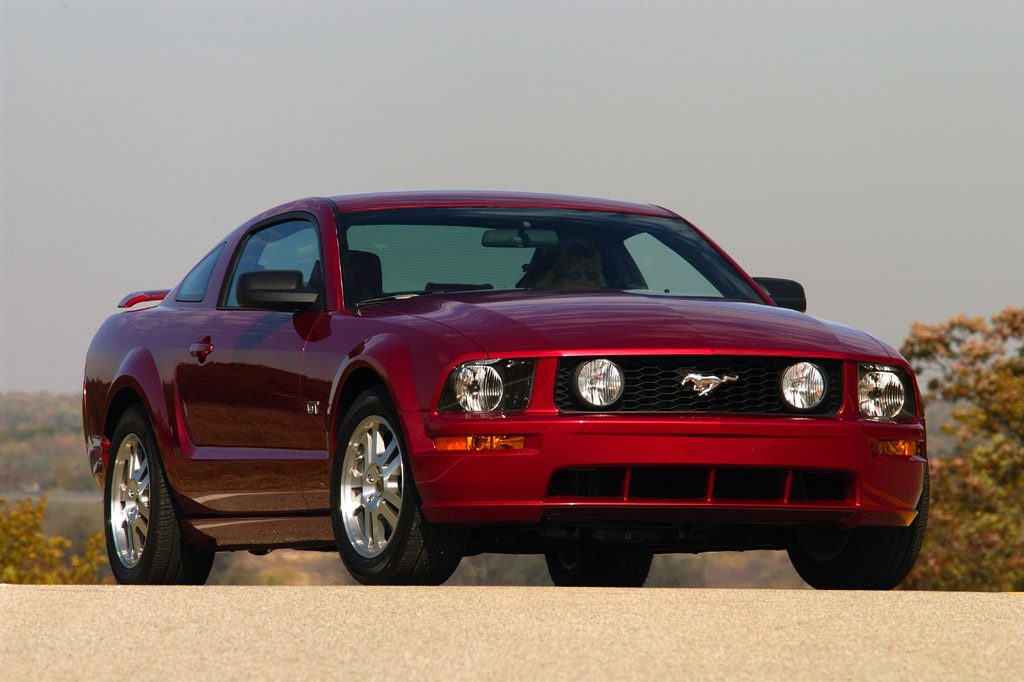 2005 Ford Mustang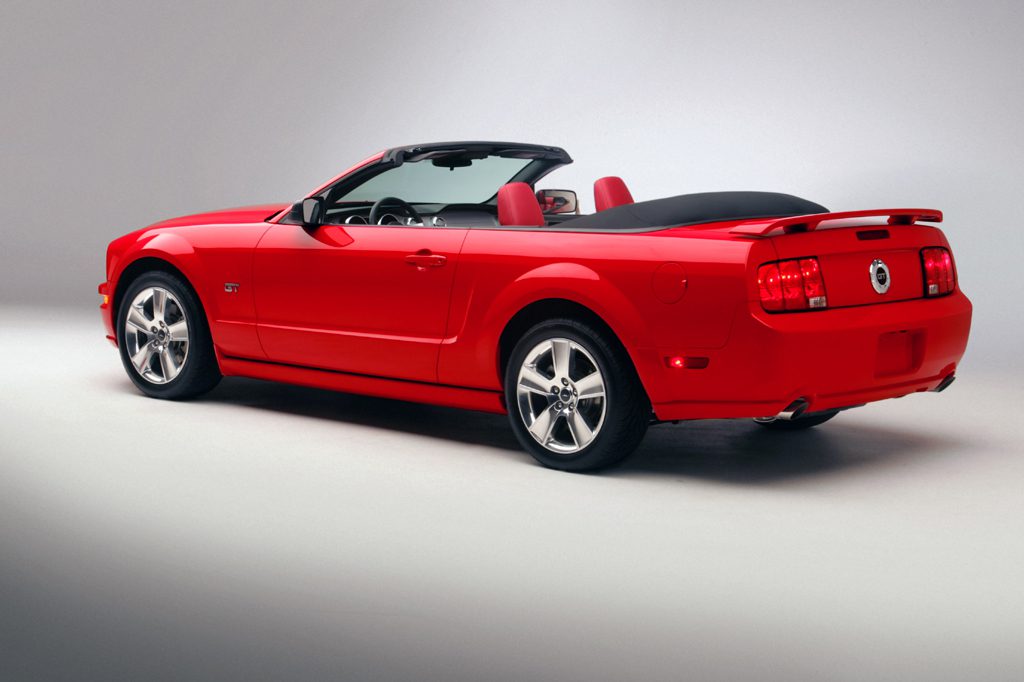 2005 Ford Mustang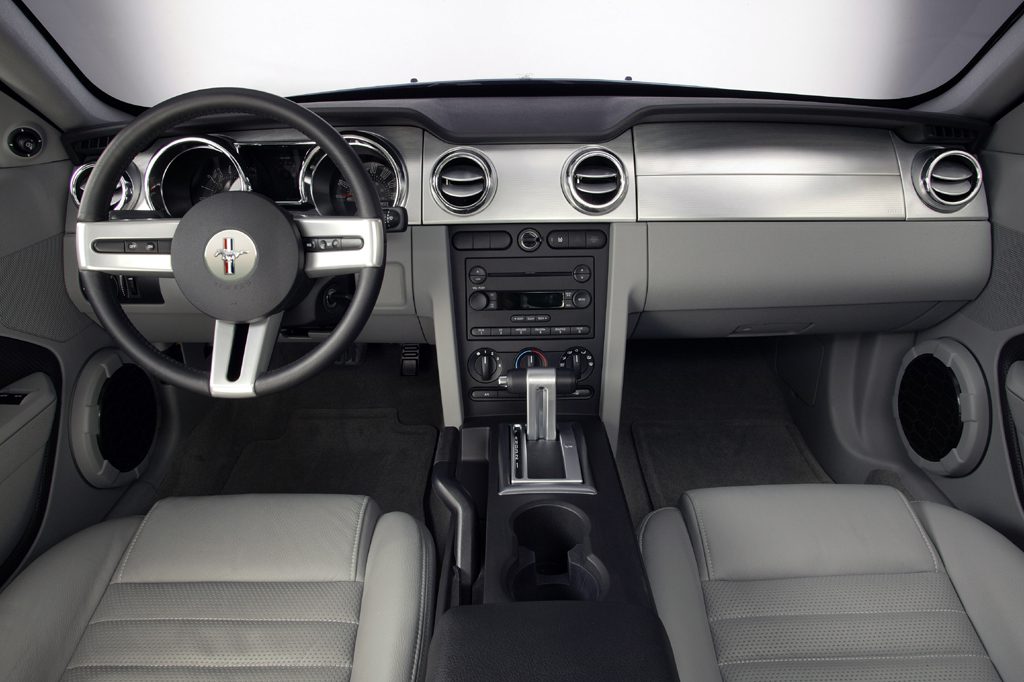 2005 Ford Mustang
Pros:

Acceleration (V8s)
Handling/roadholding (V8s)

Cons:

Automatic-transmission performance (V6)
Interior materials
Rear-seat entry/exit
Rear-seat room
We prefer the GT versions, but any Mustang has all-American bang-for-the-buck appeal. The main letdowns are low-rent cabin appointments and occasional workmanship lapses. V6 versions are close to many sporty imports on price, but not in agility, refinement, or overall quality. V8 models deliver usable high performance at relative bargain prices. And no other brand matches Mustang's convertibles for their blend of price, performance, and nominal 4-passenger capacity.
Overview
Ford's Mustang was redesigned for 2005, getting more power, new features, and styling inspired by its 1960s ancestors. Coupe and convertible models were offered. They gained some 6 inches in wheelbase and overall length vs. the 1999-2004 generation. Weights rose about 100 lb on coupes and 275 lb on convertibles. A new underbody structure replaced one that dated from 1979, but the'05 Mustang retained a solid rear axle rather than adopting independent rear suspension.
Both body styles came in base V6 and GT V8 versions, and in Deluxe and Premium trim. The V6 was a 210-hp 4.0-liter in place of the previous 193-hp 3.8. GTs reprised a 4.6-liter V8, but with 300 hp vs. 260. A 5-speed manual remained the standard transmission. The optional automatic had five speeds vs. the previous four. All '05 Mustangs had 4-wheel disc brakes. ABS and traction control were standard on GTs and optional on base models. No antiskid system was available until 2010. Base versions had 16-inch wheels and GTs had 17s.
Among options new to Mustang were front side airbags that covered torso and head, and an Interior Upgrade Package that included instrument lighting with 125 color choices. All Mustangs came with air conditioning and a CD player. Coupes had 50/50 split folding rear seatbacks. Convertibles included a power fabric top with heated glass rear window. Leather upholstery was standard on GT Premiums and available for other models. GTs included grille-mounted fog lamps and a rear spoiler.
Yearly Updates
2006 Mustang
For 2006, base Premium Mustangs got an optional Pony Package that included GT-style grille-mounted fog lamps, 17-inch wheels, and a rear spoiler. Base models also added a Standard trim level that came with wheel covers instead of the Deluxe's alloy wheels.
2007 Mustang
High-performance Shelby GT and Shelby GT500 variants joined base and GT models in the Mustang stable for 2007. New for '07 was a California Special Package for GT Premiums that includes unique trim and 18-inch wheels. Heated front seats were newly available options on base and GT models. A digital audio jack was also newly standard.
2008 Mustang
Ford brought back the Bullitt version of the Mustang that paid homage to the car Steve McQueen drove in the movie of the same name. The Bullitt had a 315-hp 4.6-liter V8 and 5-speed manual transmission. Also new was the 2008 Shelby GT500KR. It entered the Mustang stable as Ford's most powerful pony car ever. It was a limited-edition coupe only available through select Ford dealers. It packed a 540-hp 5.4-liter supercharged V8 engine paired with a 6-speed manual transmission. The rest of the 2008 Ford Mustang lineup continued with few changes.
2009 Mustang
The Mustang received only minor changes for 2009.
2010 Mustang
The 2010 Ford Mustang was revamped with new styling, an upgraded interior, and 15 more horsepower for the GT's V8 engine. The supercharged GT500 gained 40 horsepower, now 540. Newly standard was a capless fuel filler. Other new-for-2010 available features included an antiskid system, ambient interior lighting, and a rearview camera. Ford's Sync, which offers voice control for cell phones and MP3 players, was also available. The available navigation system included real-time traffic updates for 2010. Newly optional for manual-transmission GT Premium coupes was a "Trackpack", which includes a limited-slip differential, uprated brakes, sport suspension, 19-inch wheels, and a special antiskid system.
2011 Mustang
The 2011 Ford Mustang got more power, suspension and steering upgrades, and new front and rear fascias following its model-year 2010 freshening. The Base model now carried a 305-horsepower 3.7-liter V6, the GT got a 412-hp 5.0-liter V8, and the GT500 added 10 horsepower for 550 total.
2012 Mustang
A Boss 302 model was added to the Ford Mustang stable for 2012, boasting a 444-horsepower version of the GT's 412-hp 5.0-liter V8.
2013 Mustang
Mustang received numerous updates for 2013, including revised front and rear styling, more powerful engines for the GT and Shelby GT500, and several new wheel-design choices. A new standard feature on most Mustangs was a 4.2-inch LCD screen in the instrument cluster with "Track Apps," a software system that allowed the driver to monitor performance data such as acceleration times, braking time and distance, and g-forces. Mustangs with the manual transmission gained Hill Start Assist. It helped keep the car from rolling backward when the brake pedal was released, making it easier to pull away from a stop on a hill or other incline. Boss 302s wore new graphics inspired by the classic 1970 Boss 302.
2014 Mustang
After receiving numerous updates the previous year, Mustang was little changed for 2014. Mustang was redesigned for 2015.