Large pickup truck; Built in USA
crew cab long bed
crew cab short bed
reg. cab long bed
reg. cab short bed
reg. cab short bed
longitudinal front-engine/rear- or 4-wheel drive
Good condition price range: $7,000 – $20,500*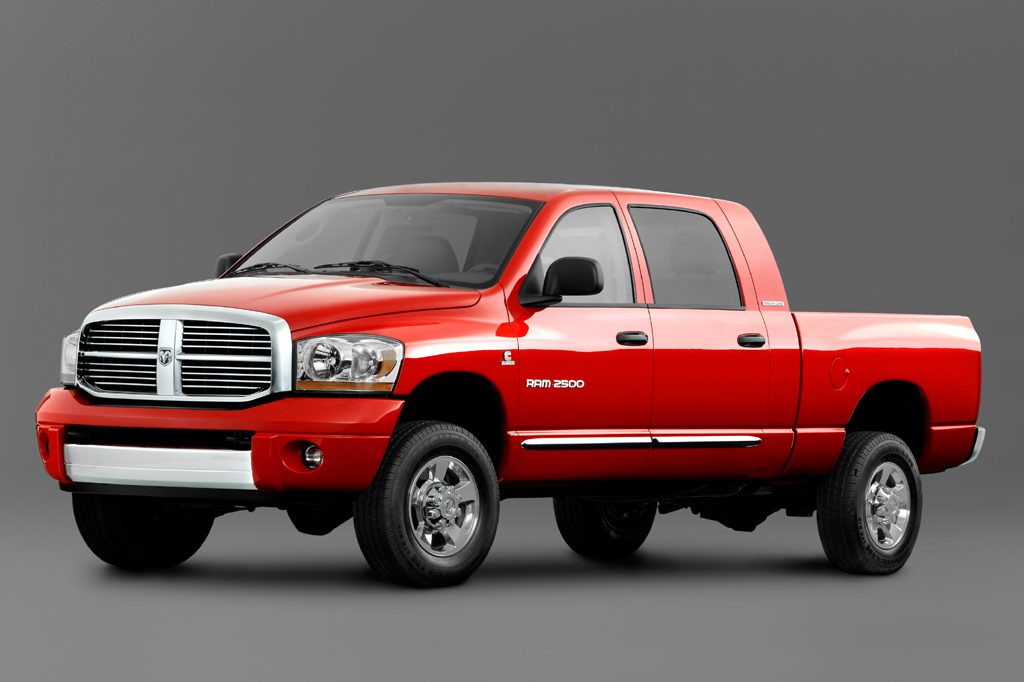 2006 Dodge Ram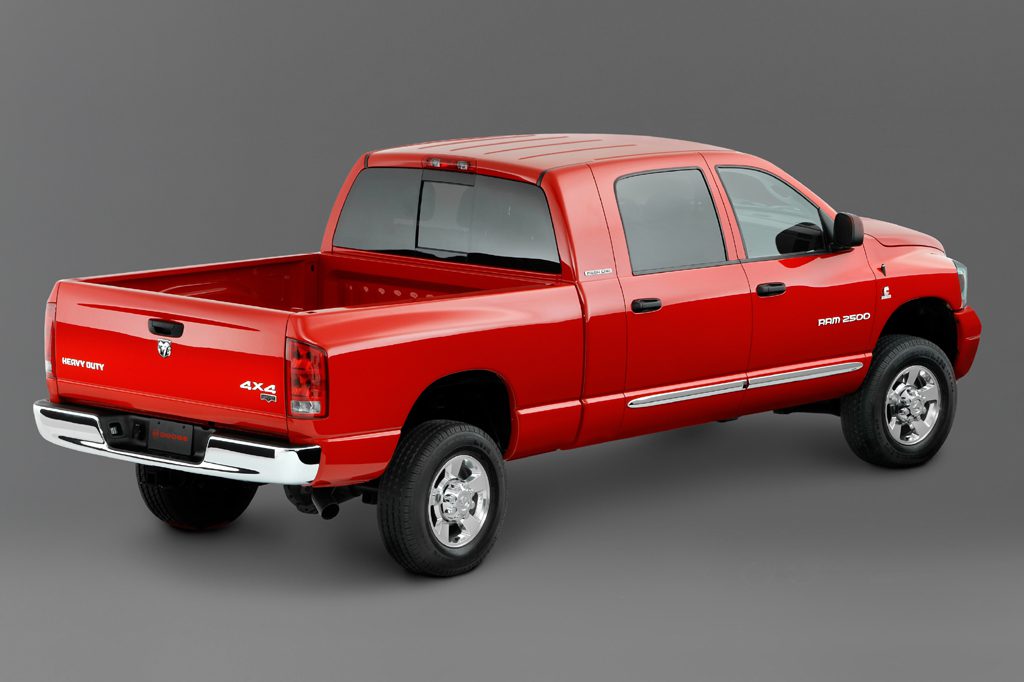 2006 Dodge Ram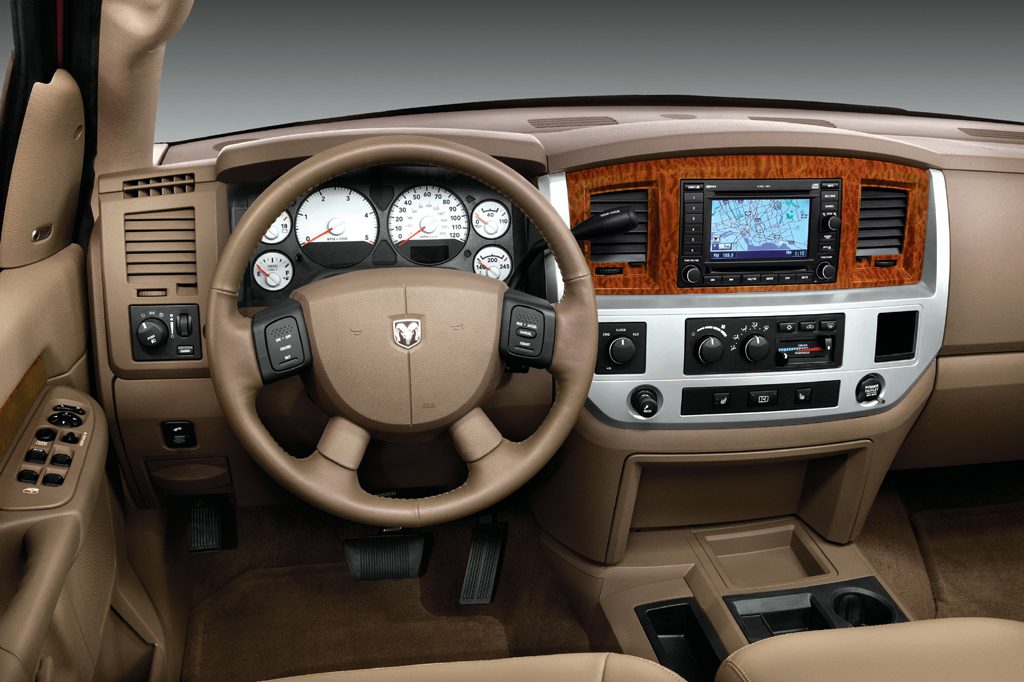 2006 Dodge Ram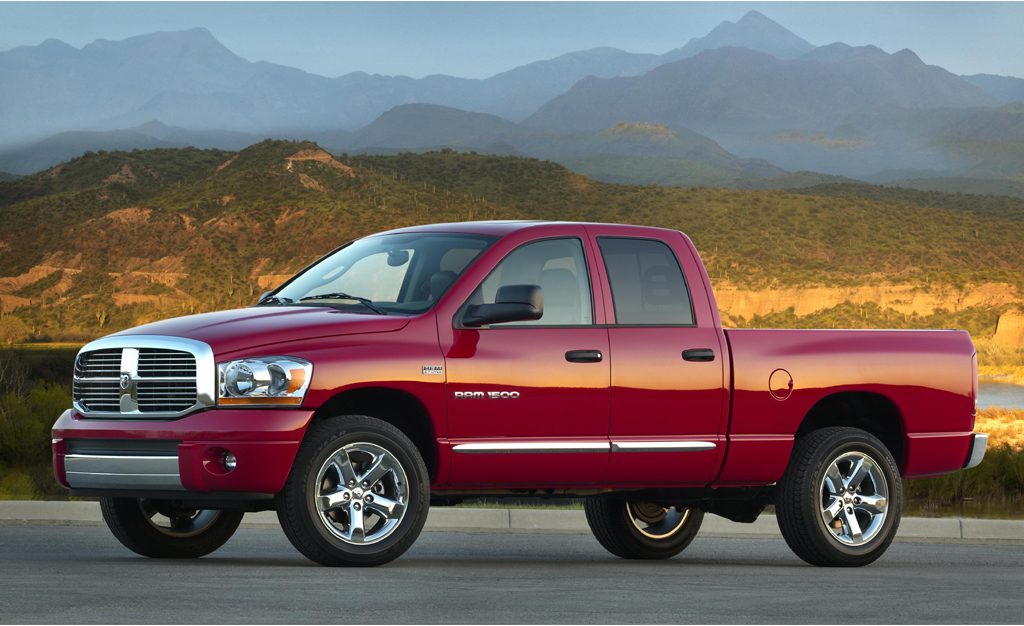 2006 Dodge Ram
Pros:

Acceleration (SRT10)
Rear-seat room and comfort (Mega Cab)
Front-seat room and comfort

Cons:

Cargo room (regular cab)
Fuel economy
Ride (Mega Cab)
Steering/handling
Ram's "big-rig" styling shouts for attention, but its performance, comfort, and solidity are what made it a Recommended choice when this generation went on sale. Dodge offers body styles and equipment to meet most every need, plus the praiseworthy availability of head-protecting curtain side airbags and available all-wheel drive, as well as an antiskid system offered for 2007 models. Though it didn't last long, SRT10 was the hot-rod pickup performance leader, but it's not a prudent choice for ordinary hauling.
Overview
A larger crew-cab model, available cylinder deactivation, and an optional DVD-entertainment system topped the list of 2006 changes to Dodge's big pickup truck. Additional 2006 changes included restyled headlights, a revised dashboard, and modifications to the frame and suspension. Competing against the Chevrolet Silverado 1500, Ford F-150, and GMC Sierra 1500, Rams could have rear-wheel, four-wheel, or all-wheel drive.
Ram 1500 models came in three body styles: two-door regular cab, four-door crew-cab (Quad Cab), and the new four-door Mega Cab, which added 20 inches of length to the Quad Cab's passenger compartment. Regular and Quad Cab models offered 6.3- and 8-foot long cargo beds; Mega Cabs came only with the 6.3-foot bed. Regular-cab trucks seated up to three passengers, Quad and Mega Cabs held up to six.
Dodge's base engine was a 3.7-liter V6, with V8s of 4.7- and 5.7-liter displacements available, the latter branded the Hemi. For 2006, in all models except Mega Cab, the Hemi featured Chrysler's Multi-Displacement System, which deactivated four cylinders under cruise conditions to save fuel. It came only with a five-speed automatic transmission.
The V6 and 4.7 V8 came with a standard six-speed manual transmission; optional were a four-speed automatic for the V6, and a five-speed for the V8. Automatics included a tow/haul mode that altered shift points with heavy loads.
Rams were available with rear-wheel drive or with four-wheel drive that should not be left engaged on dry pavement. Optional all-wheel drive, like Ram's 4WD system, included low-range gearing. Four-wheel disc brakes with rear antilock was standard; four-wheel ABS was available, as were head-protecting curtain side airbags. Standard wheels were 17-inch size; with 20s optional.
Other options included power-adjustable pedals, heated front seats, a sunroof, and a navigation radio, which provided directions via audio prompts and incorporated a map screen as part of the radio faceplate. Also available was Chrysler's UConnect, which used the audio system as a hands-free wireless cell phone link. Newly optional were satellite radio, and power sliding rear window, and rear DVD entertainment.
High-performance SRT10 models featured the Dodge Viper's V10 engine, rear-wheel drive, a sport suspension, 22-inch wheels, and special trim. The regular-cab version came only with a six-speed manual transmission, and the Quad Cab only with a four-speed automatic. Both had a 6.3-foot bed and specially bolstered sport seats.
Yearly Updates
2007 Ram 1500
An antiskid system, including a remote engine-start feature, became available this year. The super-performance SRT10 pickup was dropped.
2008 Ram 1500
The 2008 Dodge Ram 1500 got a more powerful V8 engine. A 310-hp V8 replaced a 235-hp 4.7 this year.