Sporty/performance car; Built in USA
2-door convertible
2-door coupe
longitudinal front-engine/rear-wheel drive
Good condition price range: $9,000 – $18,500*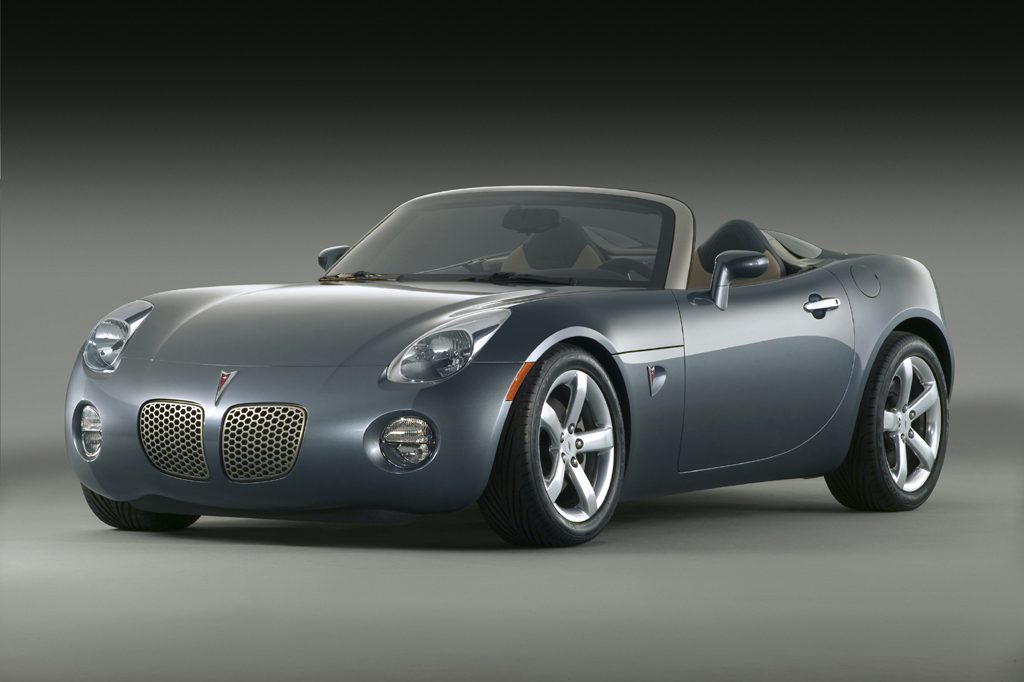 2006 Pontiac Solstice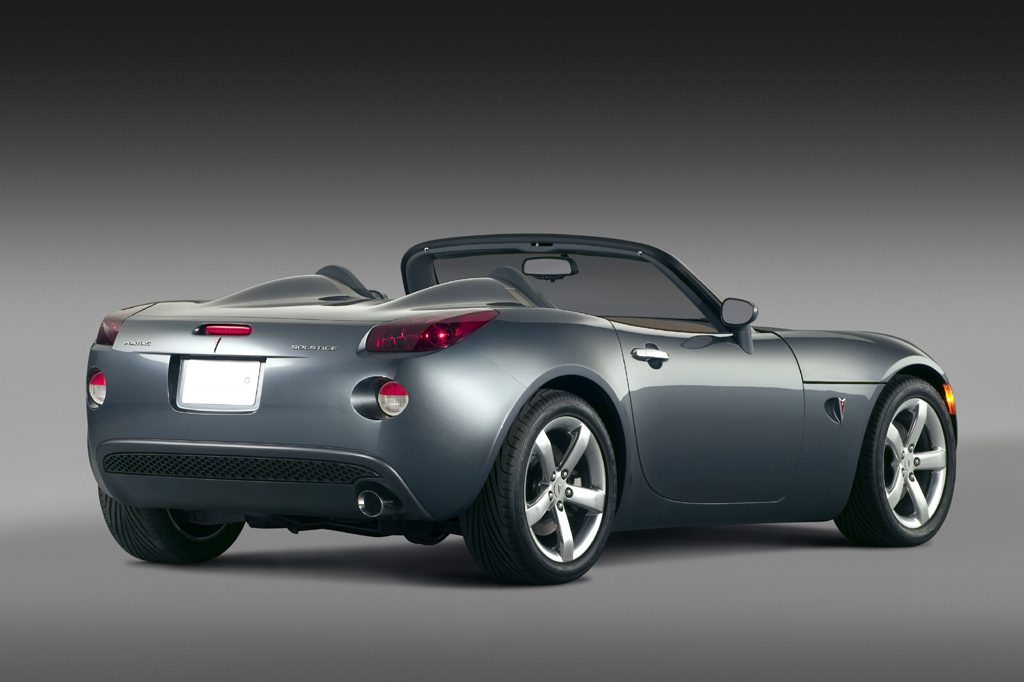 2006 Pontiac Solstice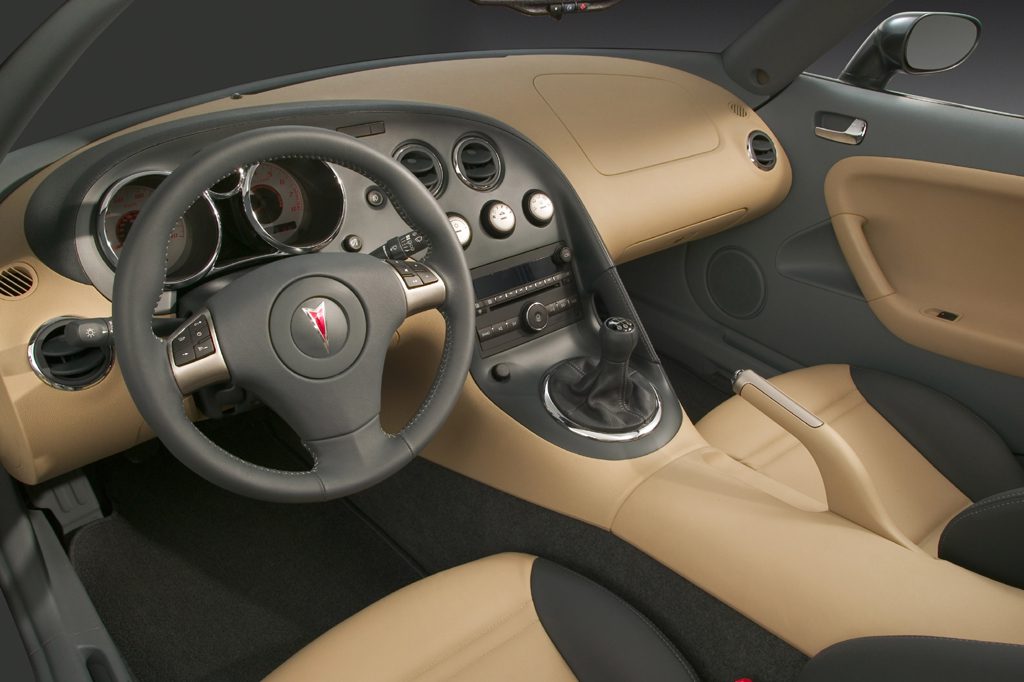 2006 Pontiac Solstice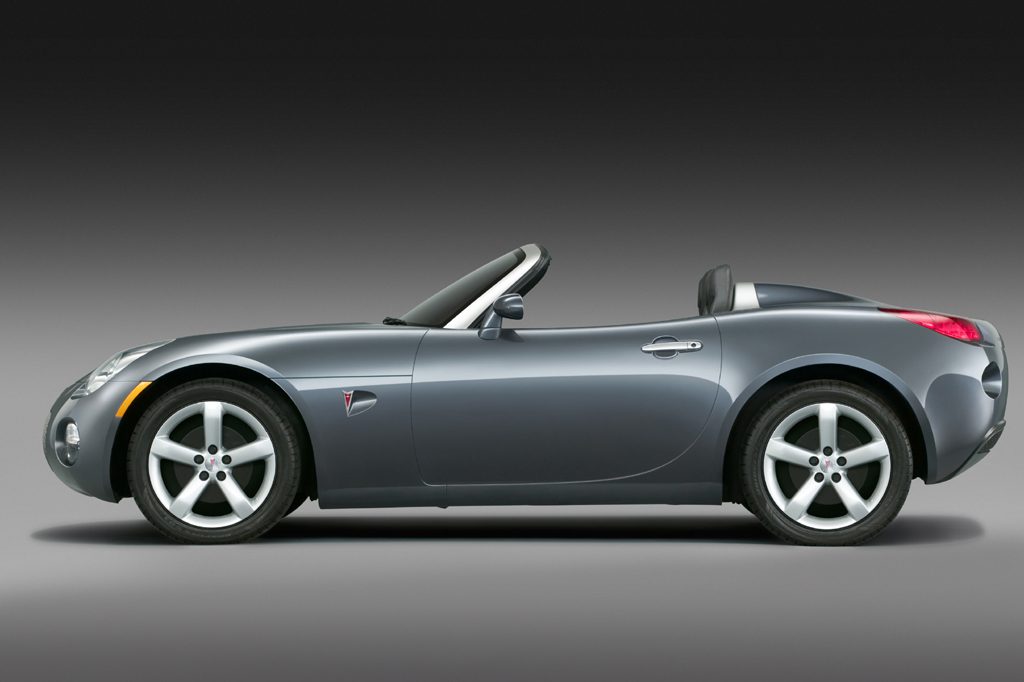 2006 Pontiac Solstice
Pros:

Acceleration (GXP)
Ride (base model)
Steering/handling

Cons:

Turbo lag
Cargo room
Control layout
Engine noise
Driver and passenger seats
Dynamically capable and emotionally evocative, Solstice entered the market as a worthy competitor for the Mazda MX-5. Overall, it matches Mazda's roadster for performance, handling, and style–though not for practicality or powertrain punch. Of course, its uninspired engine performance, budget-grade interior materials, lack of refinement, and compromised ergonomics won't matter much to buyers who love the idea of an affordable, fun-to-drive American sports car. The turbo GXP is notably faster, but otherwise suffers the same drawbacks as the base Solstice.
Overview
Pontiac introduced its first true sports car for 2006: a four-cylinder, two-seat competitor to Mazda's MX-5 (Miata). The Solstice roadster shared its new rear-wheel-drive architecture with the Saturn Sky, which arrived later–for the 2007 model year. Solstice had first been seen as a concept car at 2002 auto shows.
Solstice roadsters had a manual-folding soft top with a heated glass rear window. Sole engine was a 177-horsepower 2.4-liter four-cylinder, shared with several General Motors compact cars. A close-ratio five-speed manual transmission with "short throws" was standard. A five-speed automatic arrived as an option later in the model year.
Weight distribution was close to 50/50, front/rear. Motorcycle-inspired gauges and race-inspired sport bucket seats greeted the Solstice driver, who faced a rake-adjustable steering wheel.
Four-wheel disc brakes and 18-inch alloy wheels were standard. Antilock braking, power windows and door locks, cruise control, and air conditioning were optional. Other options included a limited-slip differential, leather upholstery, satellite radio, and GM's OnStar communications system. Side airbags and an antiskid system were unavailable.
Additional Solstice competitors included the Mini Cooper convertible, and even the more costly Honda S2000.
Yearly Updates
2007 Solstice
A high-performance GXP edition joined the 2007 lineup. Equivalent to the Red Line version of the new-for-2007 Saturn Sky, the GXP used a 260-horsepower turbocharged engine. Antilock braking, power windows and locks, leather upholstery, and cruise control were standard on the GXP and optional for the base Solstice. An antiskid system was standard on the GXP, but unavailable for the base model. The GXP featured specific suspension tuning. Side airbags remained unavailable on any Solstice model.
2008 Solstice
Newly standard on all Solstices were OnStar assistance and a "premium acoustic headliner" designed to reduce engine and road noise in the cabin.
2009 Solstice
A 2-passenger coupe with removable roof panel joined the lineup for 2009. A midyear addition was the Street Edition with the base engine along with leather upholstery, sport suspension, and polished alloy wheels. A wireless cell-phone link was newly available.