Compact car; Built in Germany
2-door hatchback
4-door hatchback
transverse front-engine/front-wheel drive
Good condition price range: $6,700 – $19,500*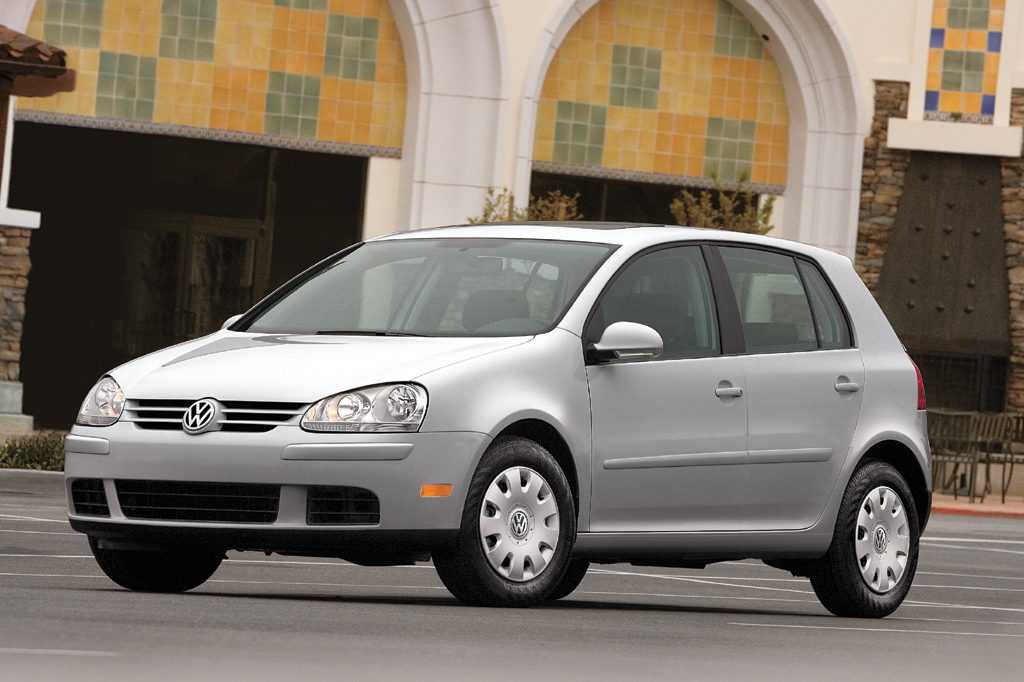 2006 Volkswagen GTI/Rabbit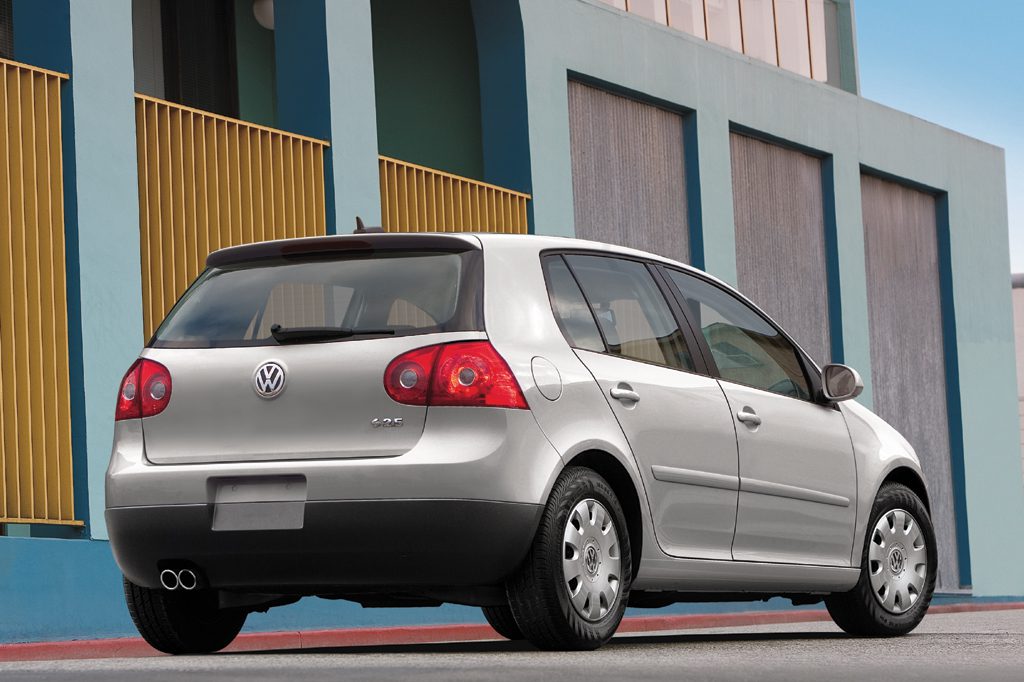 2006 Volkswagen GTI/Rabbit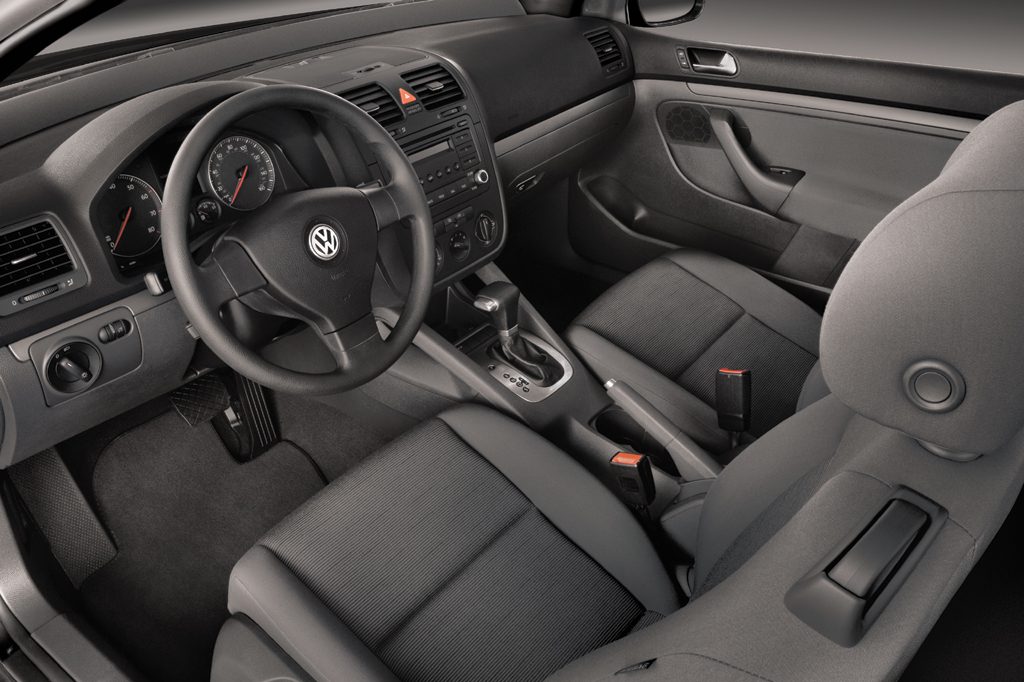 2006 Volkswagen GTI/Rabbit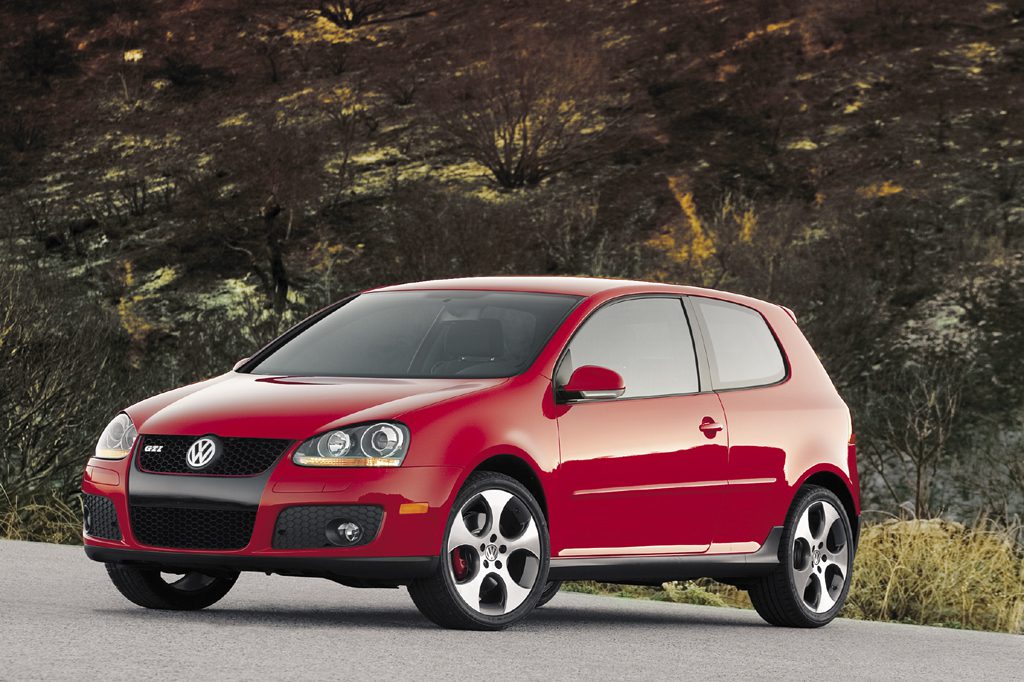 2006 Volkswagen GTI/Rabbit
Pros:

Acceleration (GTI)
Cargo room
Fuel economy (SMT)
Front-seat comfort
Ride (Rabbit)
Steering/handling
Brake performance

Cons:

Passing power (Rabbit w/auto.)
Engine noise (Rabbit)
Rear-seat comfort
Rabbit and GTI offer many laudable standard safety features, and some uncommonly upscale conveniences, but options could lift their new-car sticker prices to the top of the class. High resale values, especially for the Rabbit, keep those prices high for secondhand-car buyers. Furthermore, Volkswagen scores subpar customer-satisfaction ratings for reliability and dealer service. Still, these are practical hatchbacks with near-premium compact build quality, and the lively GTI offers serious driving-enthusiast appeal.
Overview
Midway through the 2006 model year, Volkswagen updated its sporty compact GTI coupe, which had long been a performance-tuned offshoot of the front-drive two-door Golf hatchback. Back in 1983, the first GTI had helped spark the "hot hatch" segment. This time, Volkswagen claimed to use the original GTI as its benchmark for the 2006 model.
Golf and GTI both began the 2006 model year as holdovers from the 1999-05 design, but the redesigned GTI debuted as a limited run of 2006.5 models. A reworking of the Golf was expected to follow. During the 2006 season, then, Volkswagen dealers sold both the new GTI and the carryover Golf/GTI models.
Identical 2007 GTIs were due later in calendar 2006, to be accompanied by more basic two- and four-door Golf versions. Before the 2007 model year began, though, Volkswagen decided to rename the Golf, calling it the Rabbit–another name taken from the company's heritage.
Both models were based on the Jetta sedan that was redesigned for 2005. Compared to the 1999-2006 two-door hatchbacks that it replaced, the new GTI was 3 inches longer in wheelbase, and nearly an inch longer and wider overall. A turbocharged four-cylinder returned as the sole engine. But it was a 200-horsepower 2.0-liter, versus the previous 180-hp 1.8-liter.
A six-speed manual transmission replaced the prior five-speed as standard. Replacing the available conventional five-speed automatic transmission was Volkswagen's six-speed Sequential Manual Transmission (SMT). Named the Direct Shift Gearbox, it was essentially a manual transmission without a clutch pedal. Shifting took place via steering-wheel paddles or a floor shifter; it could also be set to shift like an automatic.
Antilock four-wheel disc brakes and traction control/antiskid were standard. So were front side airbags and head-protecting curtain side airbags. Plaid upholstery was standard. Up front, red striping surrounded the black honeycomb grille, and bi-xenon headlamps included washers. Standard wheels were 17-inch; 18-inch BBS wheels were optional. Also available: a sunroof, satellite radio, navigation system, and leather upholstery.
Aiming at young buyers, the sporty GTI competed against the Honda Civic Si and Mazda's Mazda 3. Rivals to the Rabbit included the Chevrolet Cobalt, Ford Focus, and regular Honda Civic.
Yearly Updates
2007 GTI/Rabbit
A four-door version of the sporty GTI joined the two-door for 2007. GTIs included an antiskid system that was optional for Rabbits. They also had a sport suspension, with slightly lower ride height for 2007. A new GTI Fahrenheit two-door joined the lineup, with even sportier suspension tuning, specific trim, and leather upholstery with heated front seats. Four-doors could get optional rear side airbags.
2008 GTI
The 2008 Volkswagen R32 marked the return of a super-high-performance hatchback to this automaker's lineup. The R32 had all-wheel drive, a 250-hp 3.2-liter V6, and 6-speed automatic transmission. R32s had sportier suspension tuning and unique trim. The 2008 GTI also added a new Autobahn Package that included leather upholstery, heated front seats, and a sunroof.
2008 Rabbit
The Rabbit 's 2.5-liter 5-cylinder gained 20 hp to 170.
2009 GTI
The all-wheel-drive R32 was dropped for 2009. Heated front seats are newly standard on the 2009 GTI.
2009 Rabbit
The Rabbit was unchanged for 2009.