Large car; Built in Canada
longitudinal front-engine/rear- or all-wheel drive
Good condition price range: $8,800 – $31,500*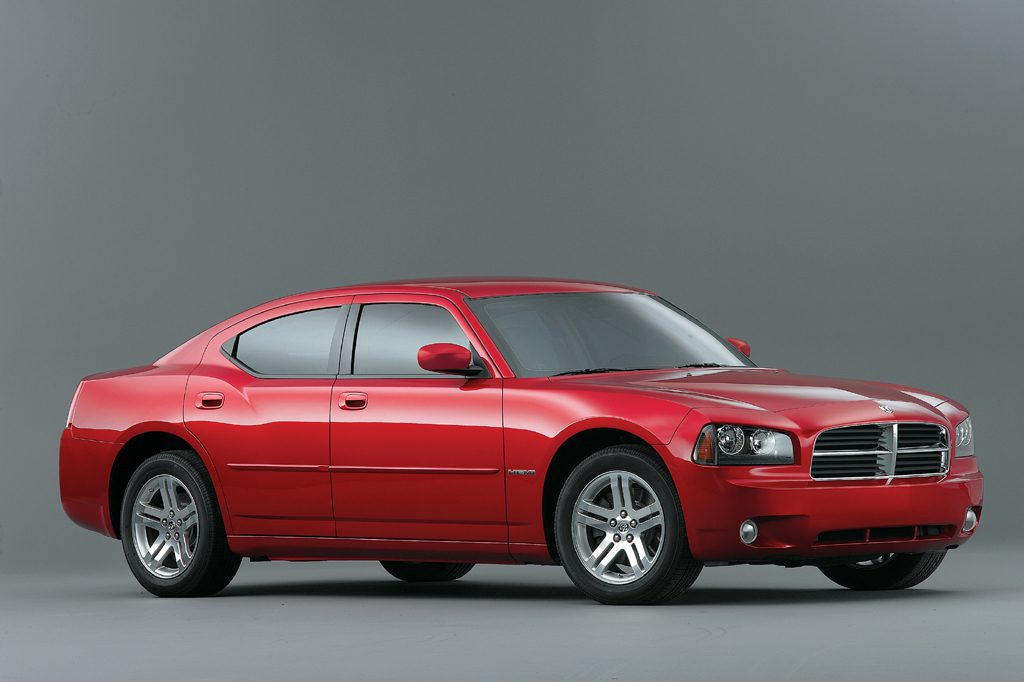 2006 Dodge Charger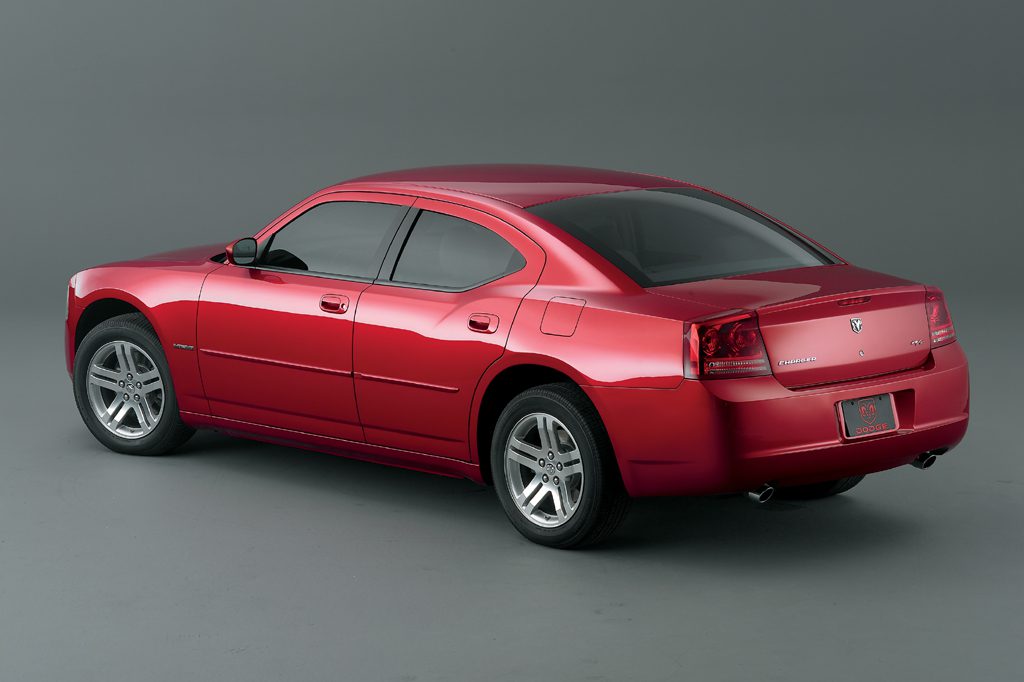 2006 Dodge Charger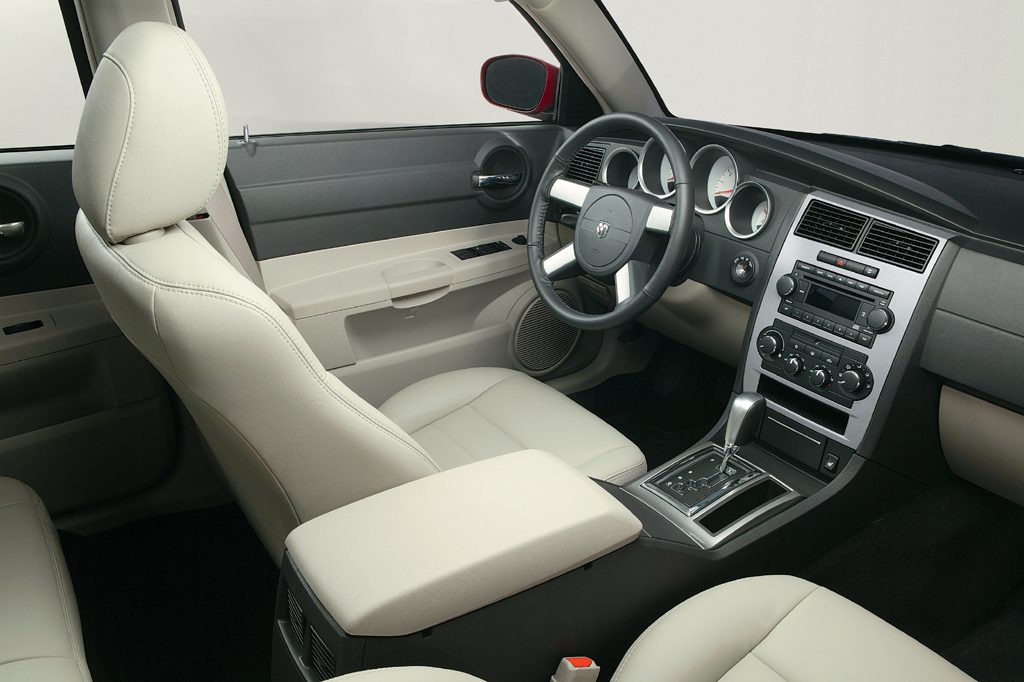 2006 Dodge Charger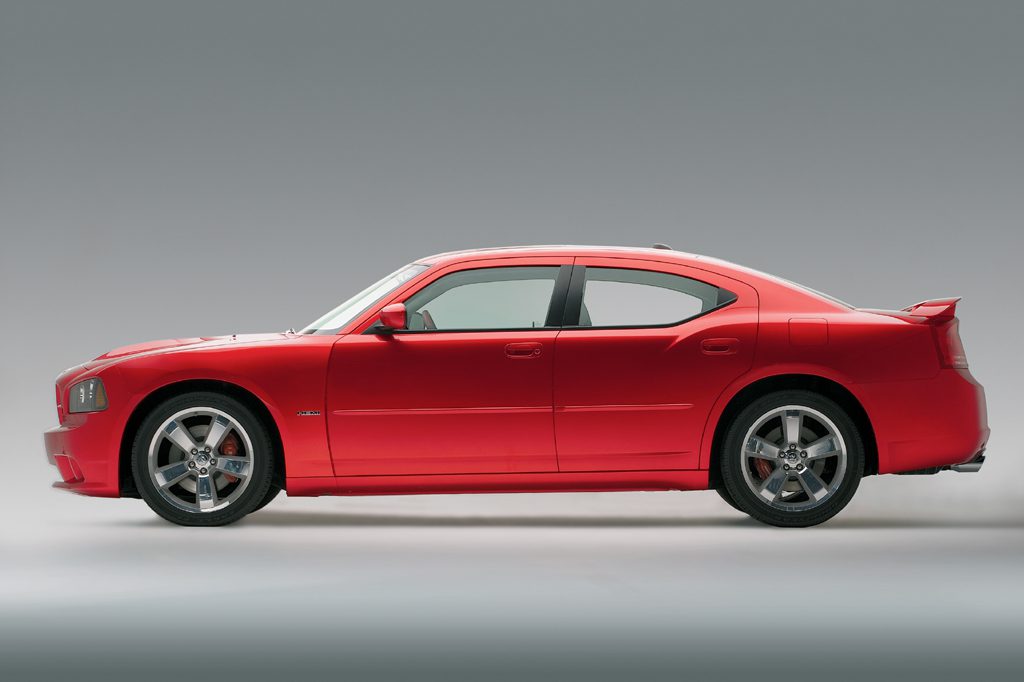 2006 Dodge Charger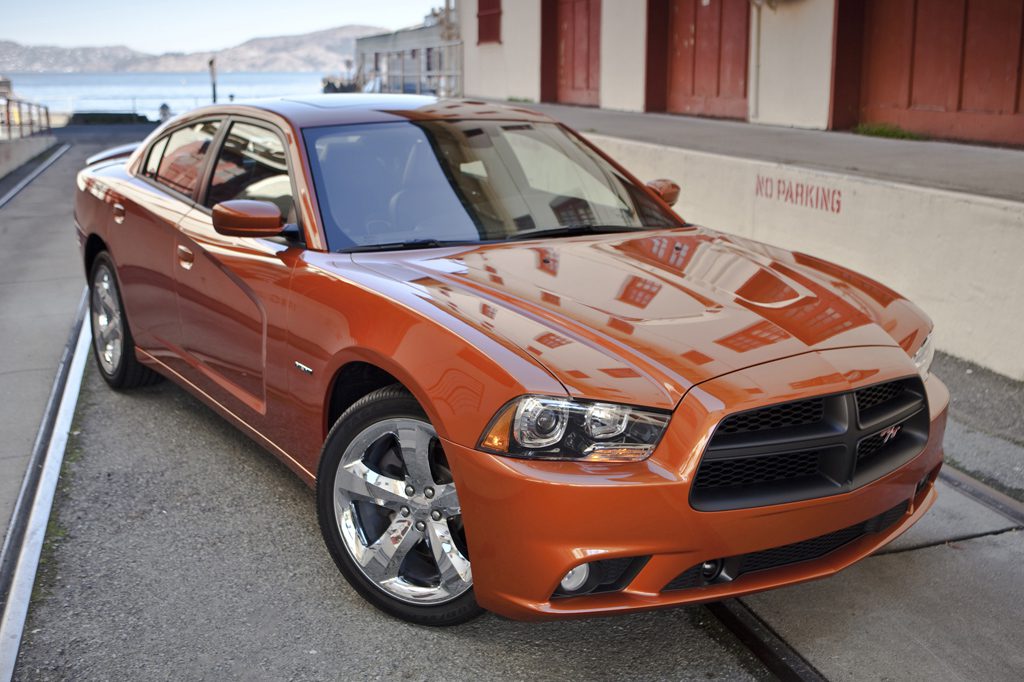 2011 Dodge Charger Front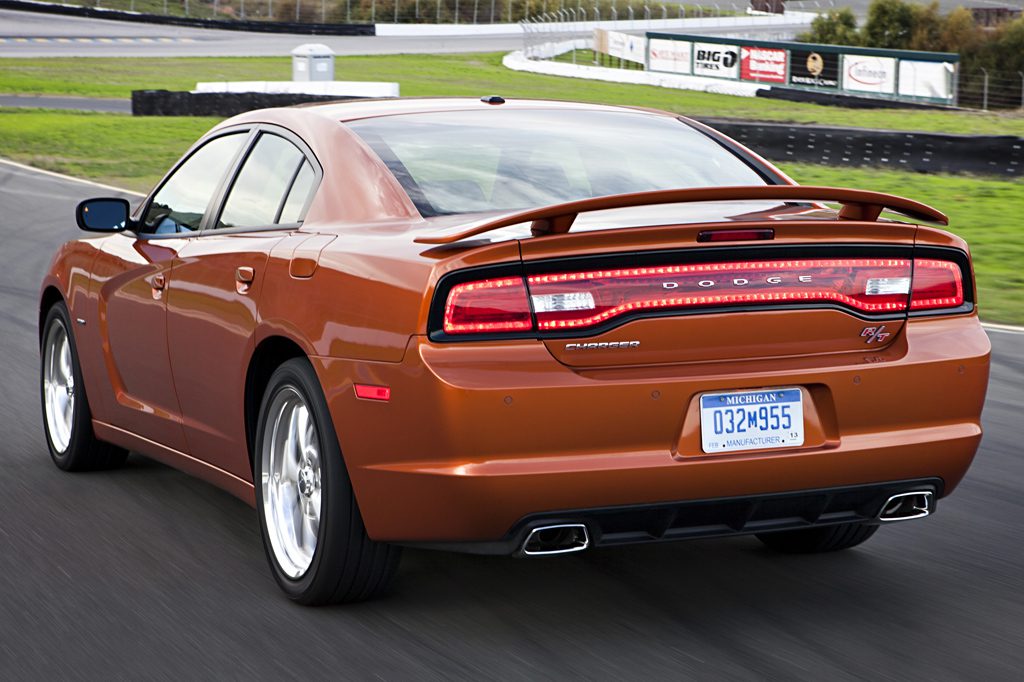 2011 Dodge Charger Rear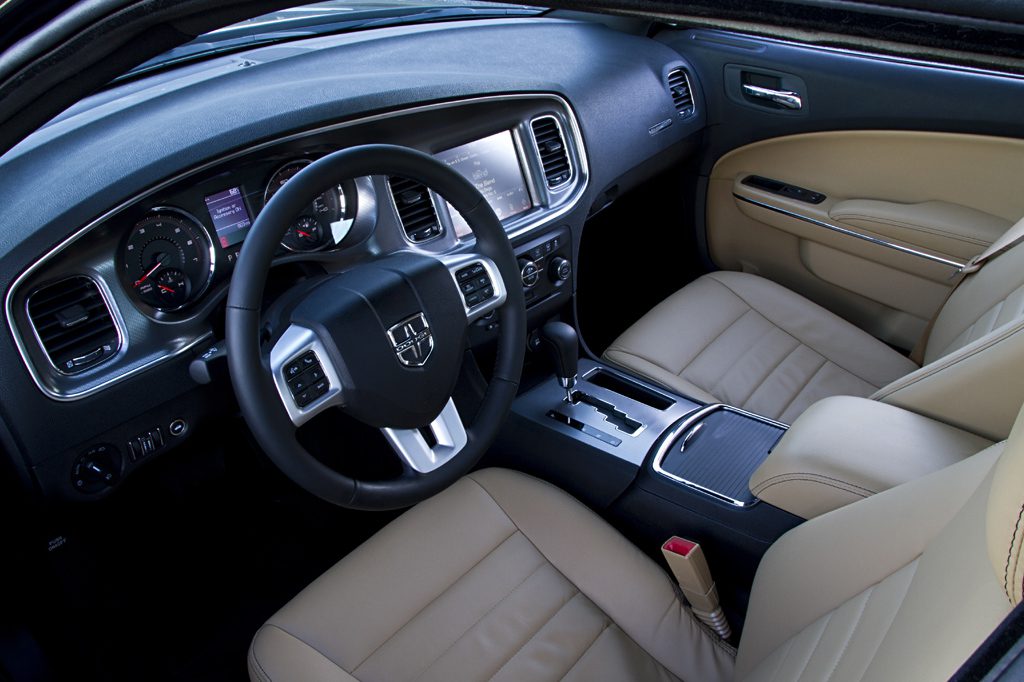 2011 Dodge Charger Interior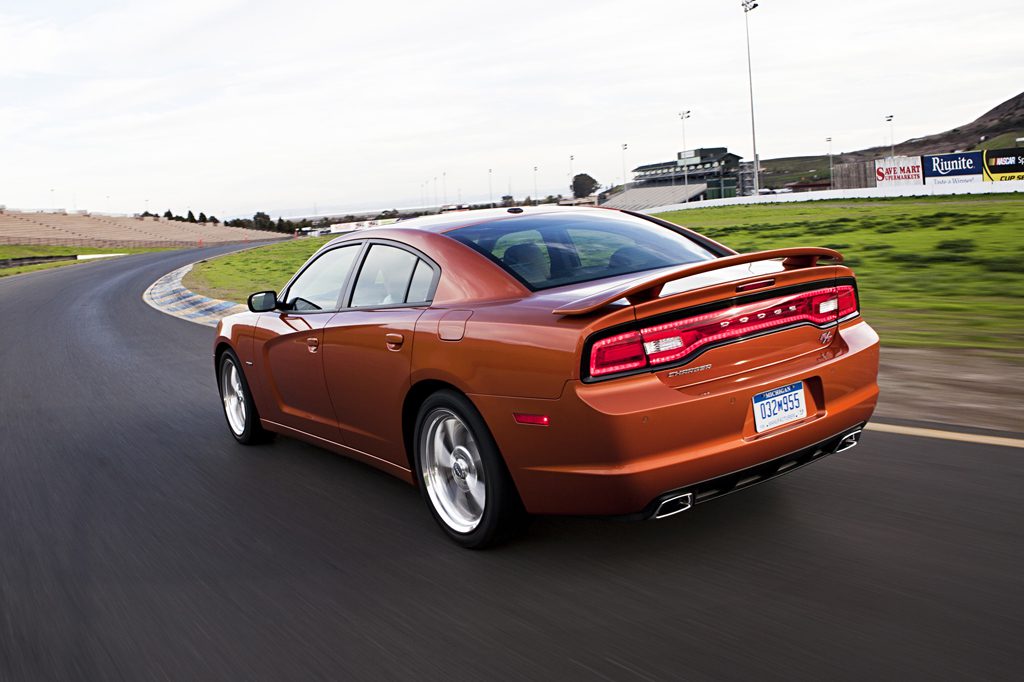 2011 Dodge Charger Rear-2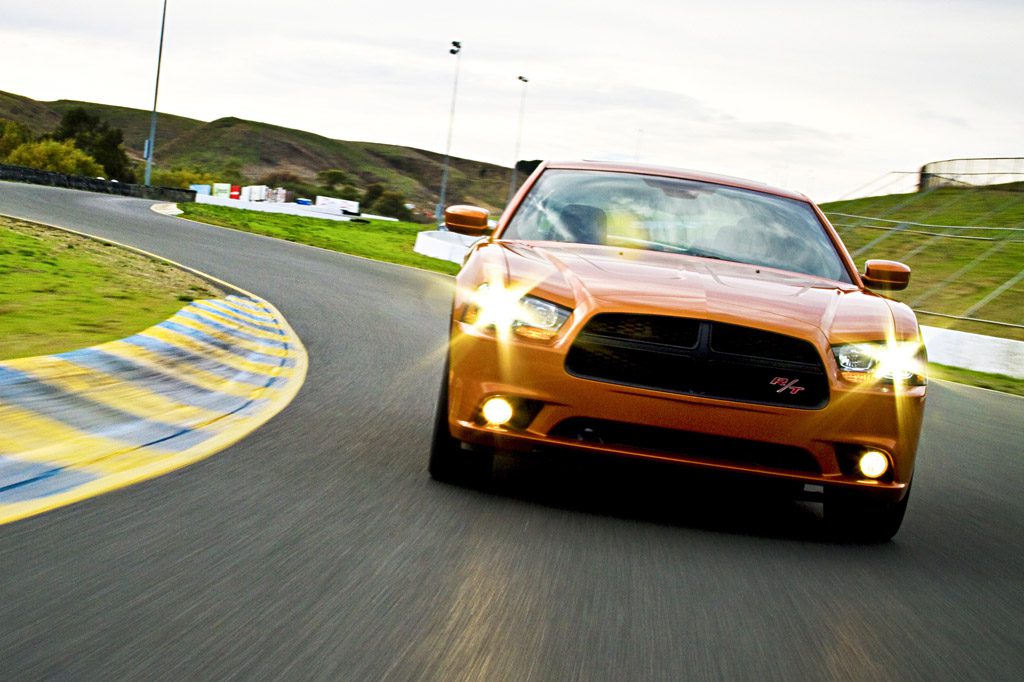 2011 Dodge Charger Front-2
Pros:

Control layout/materials
Front-seat passenger room and comfort
Ride
Steering/handling

Cons:

Fuel economy (R/T, SRT8)
Ride (SRT8, Road/Tract Performance Group)
Trunk opening
Dodge's 2.7-liter V6 cannot move a car of this size with enough verve, but the 3.5 V6 is an acceptable performer, providing more than adequate power. Ditto the R/T's Hemi V8, while the SRT8 is a true "muscle car." Passenger space, available AWD, and solid construction inside and out make nearly any Charger an outstanding value. Charger trades the Magnum's wagon functionality and rear-seat space for a sedan body and rakish roofline, but the two share basic Best Buy virtues.
Overview
Dodge revived a name from the past for a sedan companion to its Magnum wagon, which had debuted as a 2005 model. At the same time, for 2006, the company added high-performance versions of both cars.
Both models shared their underskin design with the Chrysler 300 sedan, but Charger was available only with rear-wheel drive versus Magnum's choice of rear-drive or all-wheel drive. Like the Magnum, the Charger seated five and could have either V6 or V8 power.
Chargers came in three models: SE with a 250-horsepower 3.5-liter V6; R/T with Chrysler's 340-horsepower 5.7-liter Hemi V8; and high-performance SRT8, with a 425-hp 6.1-liter version of the Hemi V8. The 5.7 V8 had Chrysler's Multi-Displacement System, which deactivated four cylinders under light throttle conditions to save fuel. All Chargers had an automatic transmission: a four-speed with the V6 and a five-speed on other versions. Magnums also were available with a 2.7-liter V6, but that engine did not go into Chargers.
Antilocking four-wheel disc brakes were standard, along with antiskid/traction control. Available but not standard on all were front side airbags and front/rear head-protecting curtain side airbags. SE models had 17-inch wheels; 18-inchers were optional on the SE and standard on every other model except the SRT8s, which rode on 20-inch rubber.
Charger R/T and SRT8 models added firmer suspension tuning. SRT8s also had Brembo-brand brakes, plus special seats and trim.
Split folding rear seatbacks were standard on all except Charger SEs. Leather upholstery was standard on R/T and SRT8 models, optional on SE. Available were adjustable pedals, satellite radio, and Chrysler's UConnect hands-free wireless cell phone link. Available for Charger R/T was the Road/Track Performance Group with special suspension tuning and a 350-hp version of the 5.7 V8. A Daytona R/T Package, with the same engine, added throatier exhaust tuning and unique trim.
Dodge's Charger competed against the Chrysler 300, Ford Five Hundred, and Ford Freestyle.
Yearly Updates
2007 Charger
All-wheel-drive models joined the Charger lineup for 2007, in SXT and R/T trim. Dodge now offered a 2.7-liter V6 engine with four-speed automatic, in the Charger SE sedan. Meanwhile, the 3.5-liter V6 switched from a four-speed automatic to a five-speed transmission. ABS and traction/antiskid control were optional for the SE, standard on others. Curtain airbags were available for all models. AWD SXT, R/T, and SRT8 models had firmer suspension tuning.
2008 Charger
The 2008 Dodge Charger sedan got a mildly freshened interior with a subtly redesigned dashboard and revised interior trim.
2009 Charger
Charger 's 5.7-liter Hemi V8 gained 40 hp to 370, and newly optional was Chrysler's uconnect multimedia suite, which could include a wireless cell-phone link, 30-gigabyte hard drive for storing digital music and picture files, and a navigation system with real-time traffic information. Charger's station-wagon sibling, the Magnum , was dropped for '09.
2010 Charger
The 2010 Dodge Charger saw no major changes.