Compact car; Built in Canada, USA, Japan
2-door coupe
4-door sedan
transverse front-engine/front-wheel drive
Good condition price range: $6,700 – $19,300*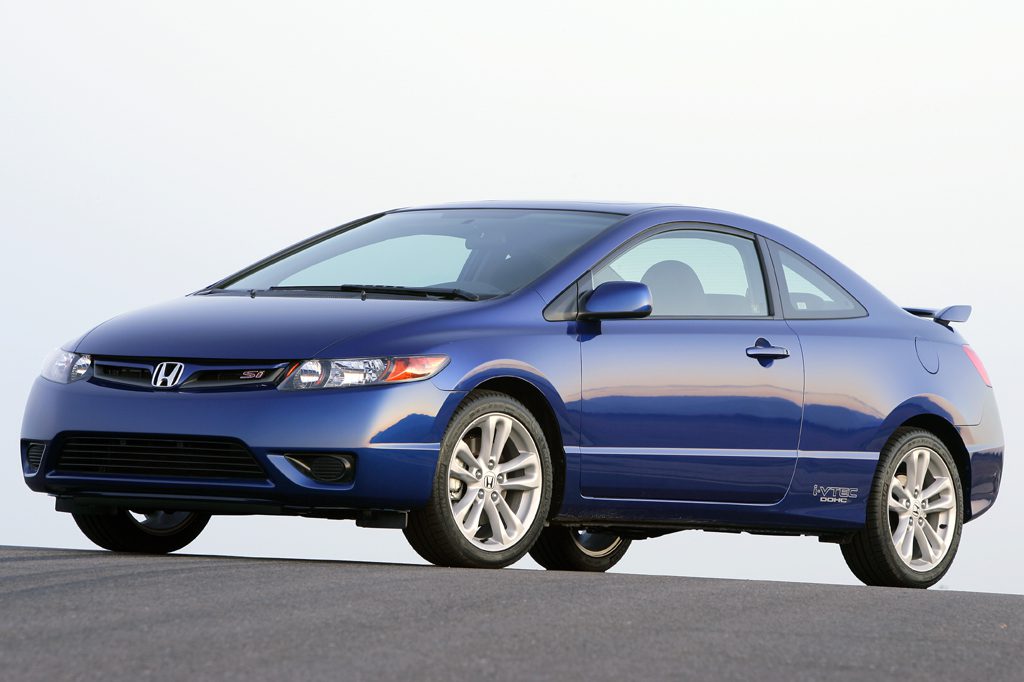 2006 Honda Civic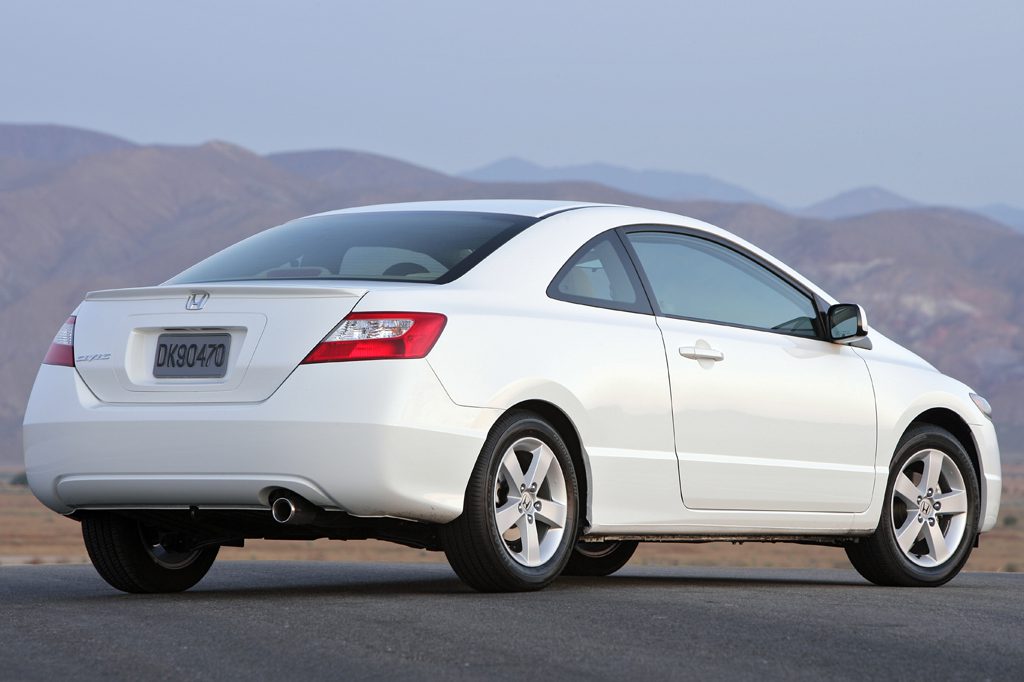 2006 Honda Civic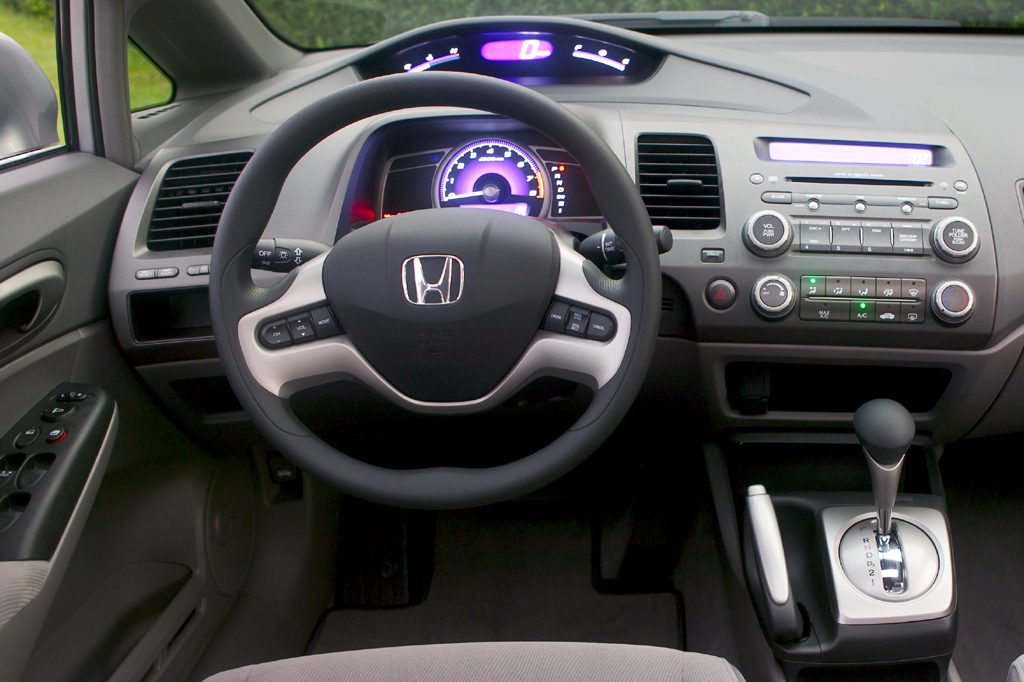 2006 Honda Civic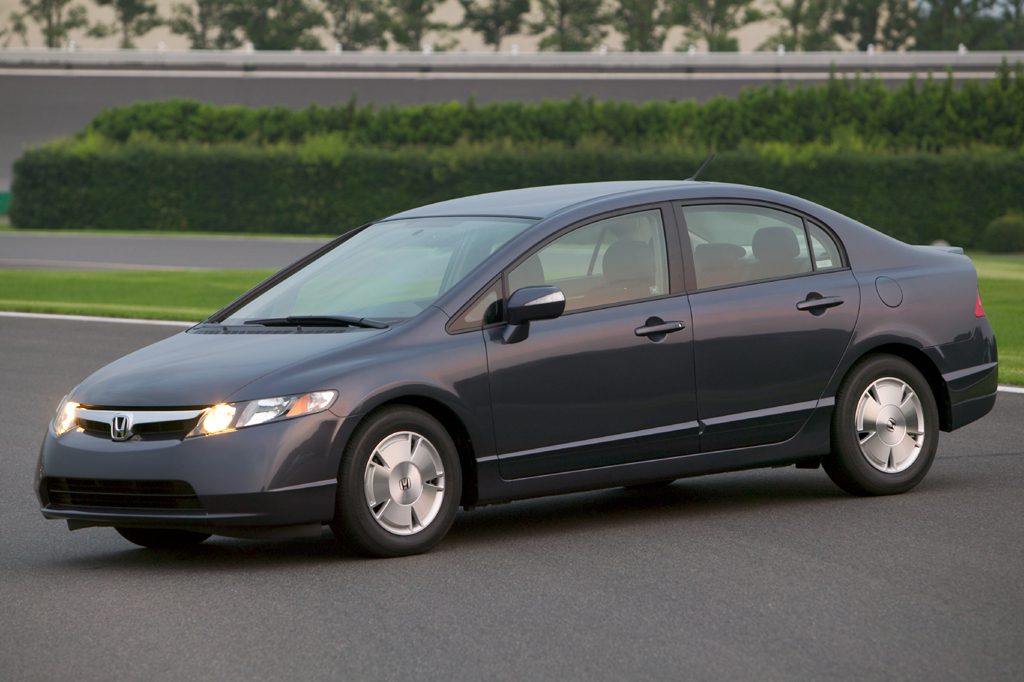 2006 Honda Civic
Pros:

Control layout/materials
Fuel economy
Quietness (sedan)
Steering/handling (Si)

Cons:

Acceleration (hybrid)
Cargo room
Noise
Rear-seat comfort (coupe)
Dynamically, Civic matches the class-leading Volkswagen Jetta and Mazda 3. That's high praise, even if the Honda isn't quite as substantial feeling as the Jetta; or, except for the Si, quite as athletic as the Mazda. Civics are more comfortable than most rivals, despite being only as big inside as they absolutely need to be. With its two-tiered instrument layout and some futuristic shapes, the interior is innovative–even entertaining–without sacrificing functionality. What no competitor matches is the particular fusion of reliability, engineering, style, and value that Honda brings to this market segment. Civic continues as a compact-car Best Buy. DX models depreciate the fastest, and could be sensible used-car choices. Other Civics tend to be expensive secondhand.
Overview
America's best-selling compact car was redesigned for 2006 with new styling, new safety equipment, and more power. Civic returned in four-door sedan and two-door coupe body styles, plus a gasoline/electric Hybrid model. A sporty Si coupe replaced an Si hatchback. The Hybrid came only as a sedan.
Compared to the 2001-2005 generation, the front-wheel-drive sedan was larger outside, but smaller in some dimensions inside. Coupes were slightly smaller, inside and out.
Head-protecting curtain side airbags were new to Civic, and standard on all 2006 models. Antilock braking also was newly standard on all.
Sedans and coupes came in DX, LX, and top-line EX trim. DX, LX, and EX models had a 140-horsepower four-cylinder engine, which replaced four-cylinders of 115 and 127 horsepower. The Si held a 197-horsepower four-cylinder engine (up from 160).
The Hybrid sedan combined a four-cylinder gas engine with an electric motor, for 110 horsepower; the previous Civic Hybrid made 93 horsepower. Sensors determined whether the Hybrid ran on the gas engine, the electric motor, or both. The system recharged itself; no plug-in charging was necessary.
DX, LX, and EX models used a five-speed manual transmission or a five-speed automatic.
The Hybrid had a continuously variable automatic transmission (CVT) that provided near-infinite drive ratios. The Si came only with a six-speed manual gearbox.
Antilock braking was standard on all models, but the EX, Si, and Hybrid had four-wheel discs rather than a front-disc/rear-drum setup. The Si had a limited-slip differential designed to direct more power to the outside front wheel in a turn to aid handling. Hybrid and DX models had 15-inch wheels, LX and EX rode on 16s, while the Si had 17-inch rubber, plus a sport suspension and uprated brakes. An 18-inch wheel/tire package was a dealer-installed option for any model.
Front torso side airbags and head-protecting curtain side airbags that covered both seating rows were standard. A navigation system with voice activation was available on EX, Hybrid, and Si models, and included satellite radio.
New interior features included a two-tier instrument panel with an analog tachometer ahead of the driver, and a separately-housed digital speedometer directly above. Compared to the previous Civic sedan, the 2006 model was 3.2 inches longer in wheelbase and about 1.5 inches longer and wider overall. Rear legroom shrunk by 1.4 inches; front head space by nearly a half-inch. The coupe's wheelbase was 2 inches shorter than the sedan's, but 1.2 inches longer than the preceding coupe's. Coupes lost an inch of front headroom and 2.5 inches of rear legroom. Sedans gained about 180 pounds over 2005 models; coupes, about 145 pounds.
With the Civic, Honda competed mainly against the Ford Focus, Mazda 3, and Toyota Corolla.
Yearly Updates
2007 Civic
A sedan version of the sporty Si model joined the 2007 Civic lineup. Otherwise, changes were few for 2007.
2008 Civic
New to the 2008 Honda Civic lineup were the luxury-themed EX-L, sporty Si, and natural-gas-powered GX. All Si models got a 197-hp 2.0-liter four. Also new was the Civic MUGEN Si sedan. MUGEN is a 3rd-party firm that supplies high-performance parts for Hondas. The MUGEN Si featured high-performance tires, specific suspension tuning, and unique trim. The GX ran on compressed natural gas and was initially only sold in California, New York, and to fleets.
2009 Civic
The 2009 Honda Civic got slightly freshened exterior styling, a few new features, and some new trim levels. New for 2009 were DX-VP and LX-S sedans. The limited-edition MUGEN Si was discontinued. New for 2009 was an available wireless cell phone link for EX, EX-L, Si, and Hybrid. Leather upholstery was newly available on the Hybrid.
2010 Civic
The 2010 Civic lineup saw no major changes.
2011 Civic
The 2011 Honda Civic lineup sees no major changes.