Premium midsize car; Built in Japan
longitudinal front-engine/rear- or all-wheel drive
Good condition price range: $17,500 – $46,500*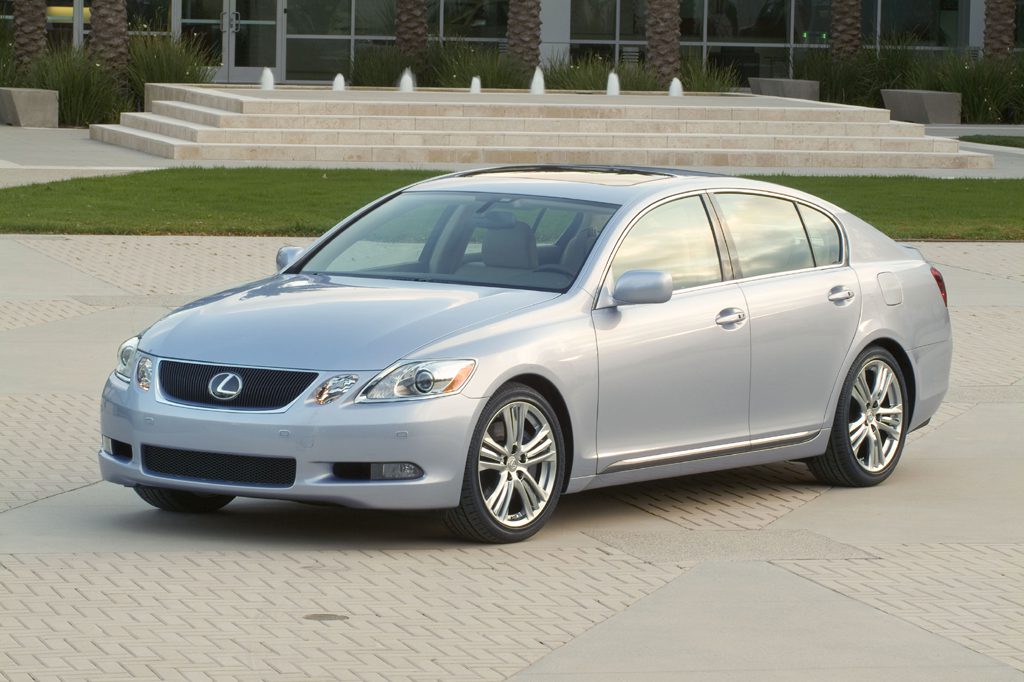 2007 Lexus GS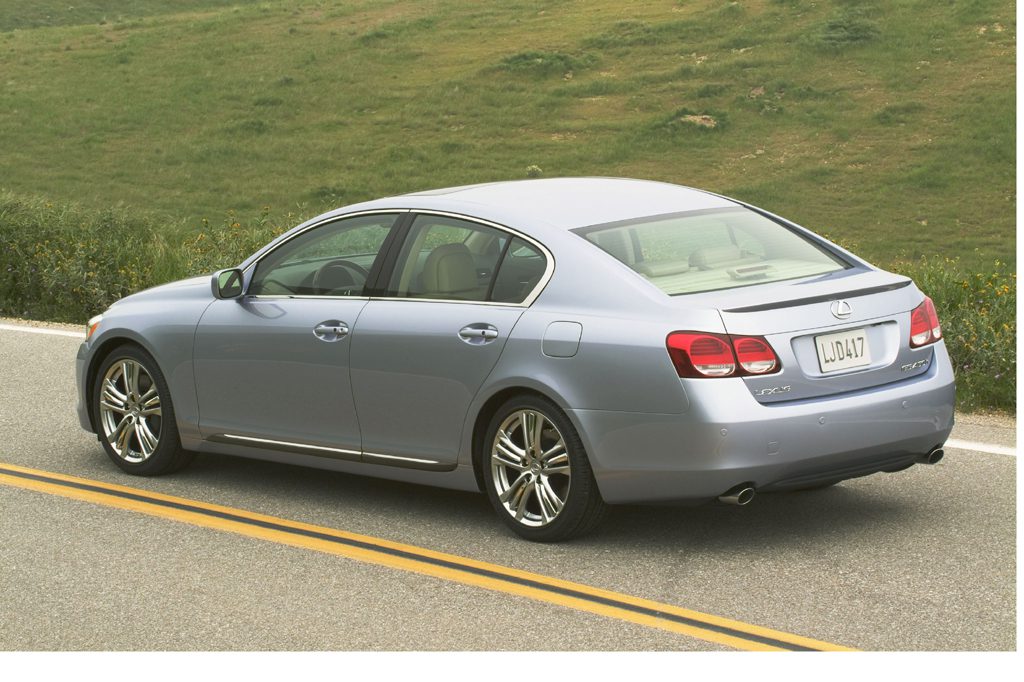 2007 Lexus GS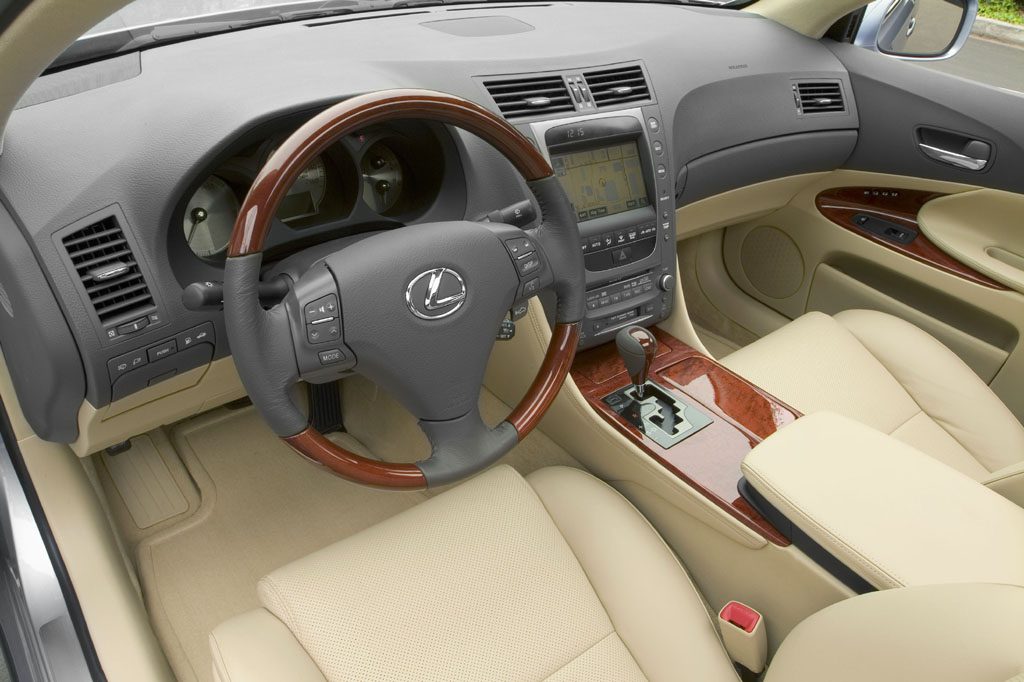 2007 Lexus GS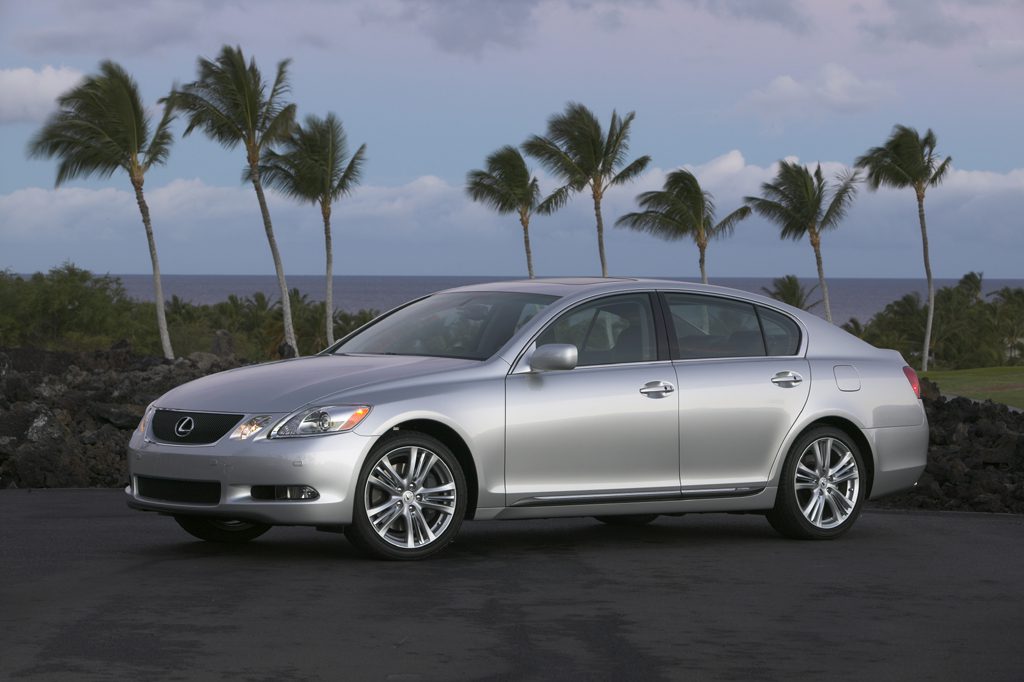 2007 Lexus GS
Pros:

Acceleration
Quietness
Ride
Steering/handling

Cons:

Cargo room
Control layout
Brake-pedal feel
Ride quality over sharp bumps is disappointing, and hiding secondary controls in a drop-down dashboard pod is counterproductive. Otherwise, each GS is comfortable, cultured, and competent. Top-notch customer care and traditionally strong Lexus resale values appeal greatly, though the latter translates to heftier used-car valuations. Overall, six-cylinder models are the smart GS buys, giving up little to the costlier V8 version.
Overview
Lexus redesigned its midsize sedans for 2006 with more power, fresh styling, and new features–including available all-wheel drive. Compared to the 2001-2005 version, the GS gained 2 inches of wheelbase and measured an inch longer overall.
The rear-wheel-drive GS 300 and the all-wheel-drive GS 300 AWD had a 245-horsepower V6 engine. The rear-drive GS 430 held a 300-horsepower V8. All models used a six-speed automatic transmission with manual shift gate.
Antiskid/traction control and antilock four-wheel disc brakes were standard. The GS 430 added driver-adjustable shock absorbers with three firmness settings. GS 300s rode on 17-inch wheels; the GS 430 used 18-inchers. Run-flat tires were standard with AWD, optional otherwise.
All models had front knee airbags, front torso side airbags, and head-protecting curtain side airbags. Also standard: a keyless-entry/engine-start system, hands-free wireless cell phone connection, leather upholstery, and heated power front seats. An information touch screen displayed an available voice-activated navigation system, rearview TV camera, and with the transmission in Park, DVD video.
Other options included cooled front seats, front/rear-obstacle detection, and steering-linked headlamps. Also available was Lexus' Pre-Collision System, designed to automatically cinch seatbelts and apply brakes if an unavoidable crash was detected. With its GS sport sedan, Lexus competed against the BMW 5-Series, Infiniti M, and Mercedes-Benz E-Class.
A gas-electric hybrid version, called the GS 450h, went on sale in early 2006. It teamed a gasoline V6 engine with an electric motor to produce a total of 339 horsepower. Like other Lexus and Toyota hybrids, the GS 450h could run on either gasoline or electric power, or both sources, depending on conditions. No plug-in charging was required. A continuously variable transmission (CVT) worked with the GS 450h.
Yearly Updates
2007 GS
Base models got a new engine for 2007, triggering a model-name change to GS 350. Horsepower output from the V6 now beat the V8 (now rated at 290 hp), though the latter generated substantially more torque. The lineup now consisted of a GS 350, GS 430, and the hybrid-powertrain GS 450h. A new Power Active Vehicle Stabilizer system became available for the GS 430 and GS 450h, intended to counteract body sway and improve cornering.
2008 GS
The 2008 Lexus GS got slightly revised styling and a new V8 engine. New for 2008 was the GS 460. It had a 342-horsepower 4.6-liter V8 and an 8-speed automatic. GS 460 was rear drive only.
2009 GS
The 2009 Lexus GS was largely unchanged.
2010 GS
The 2010 Lexus GS was largely unchanged.
2011 GS
The 2011 Lexus GS sees no major changes.