Compact SUV; Built in Japan
transverse front-engine/front- or all-wheel drive
Good condition price range: $4,300 – $23,700*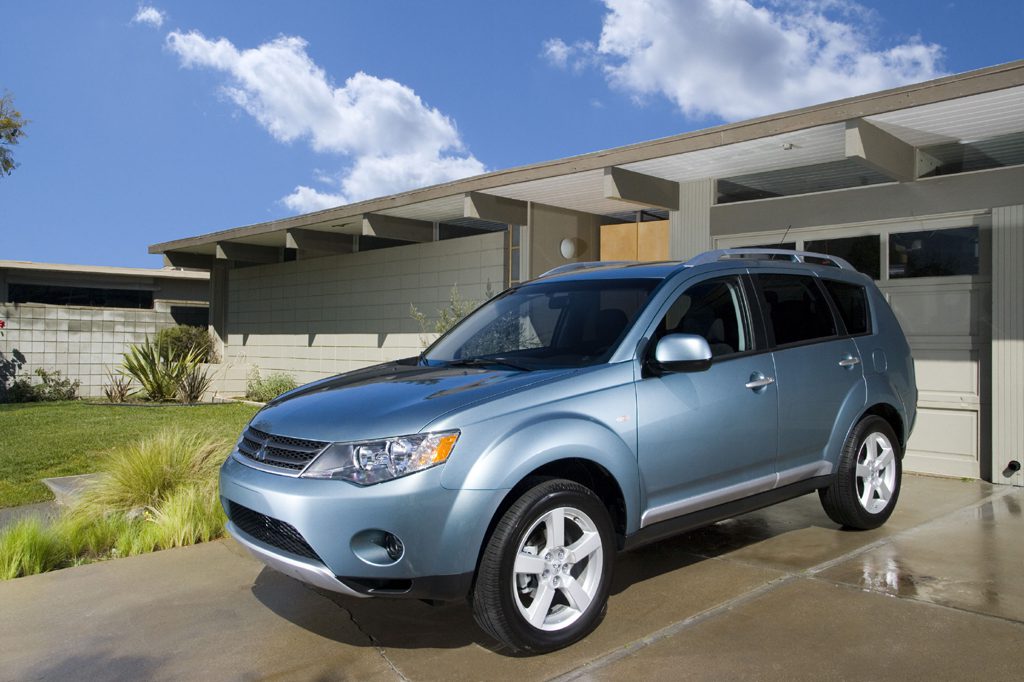 2008 Mitsubishi Outlander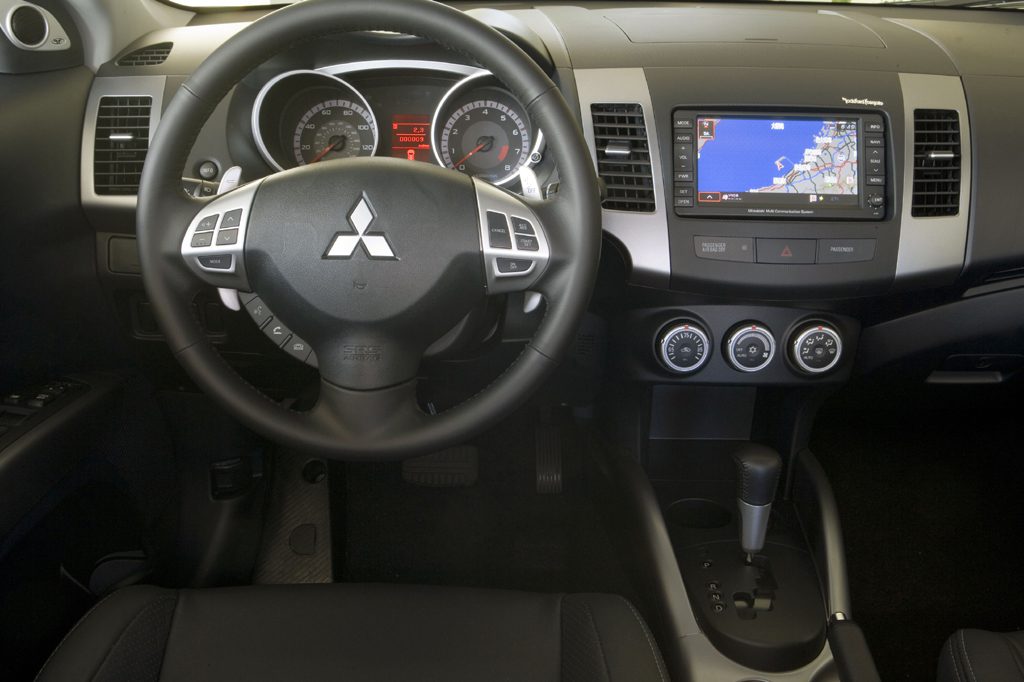 2008 Mitsubishi Outlander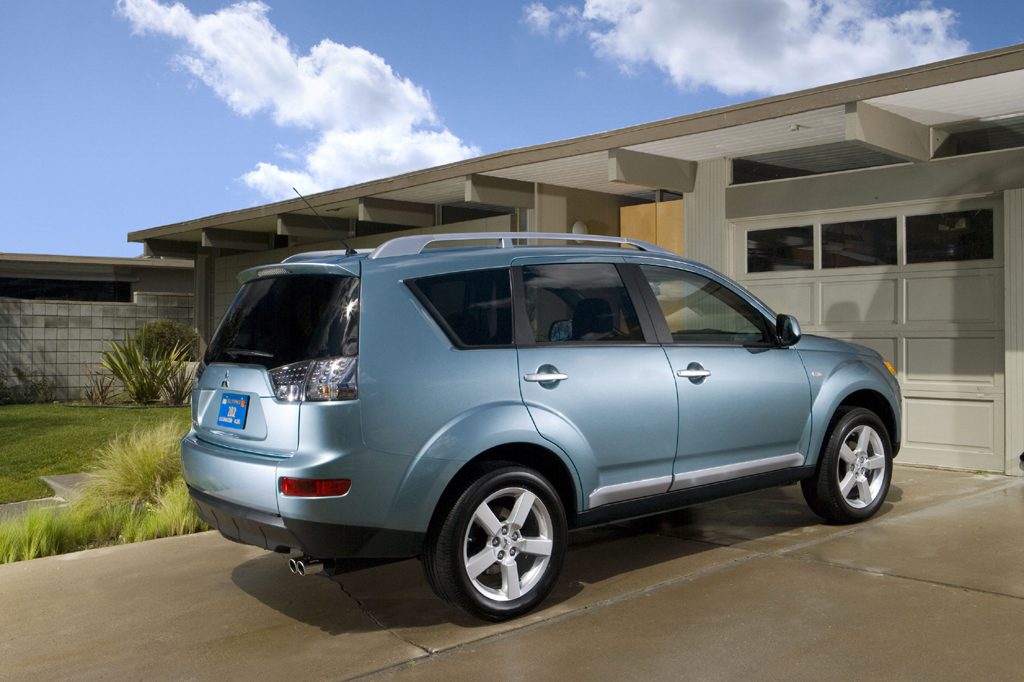 2008 Mitsubishi Outlander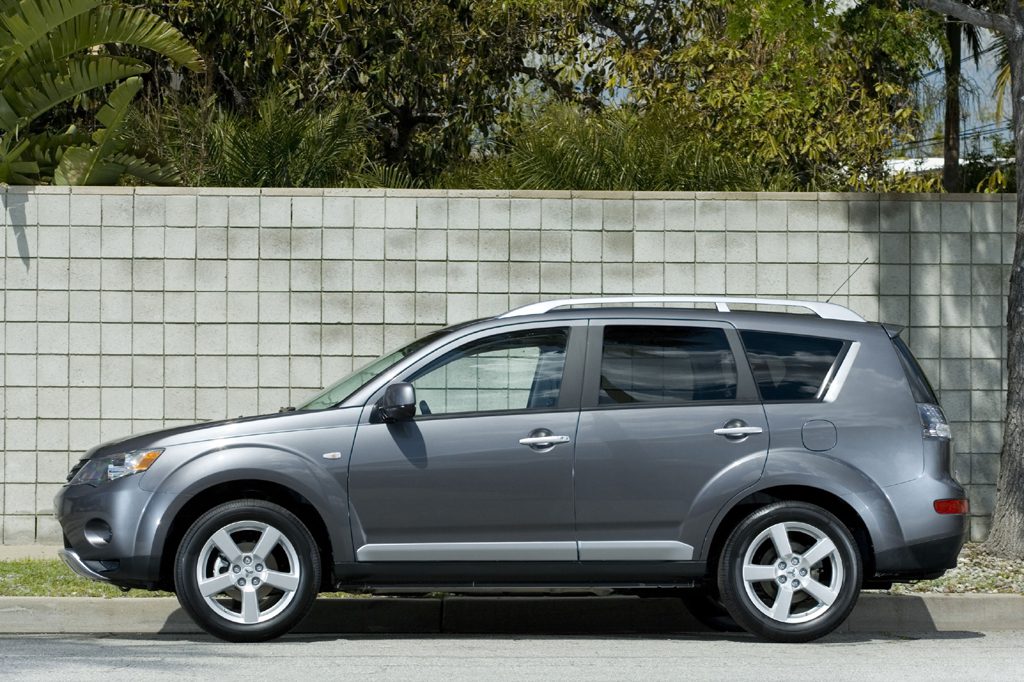 2008 Mitsubishi Outlander
Pros:

transmission operation
Cargo room
Seat comfort (front)
Steering feel

Cons:

Engine noise
Fuel economy (V6)
Seat comfort (third row)
In its redesigned form, Mitsubishi's compact SUV is worth a look, but be sure to consider the competition as well. Outlander's virtues include a responsive transmission and flexible cargo accommodations. Among its demerits are a raucous engine and subpar interior materials. Mitsubishi's record of weak resale values could be a benefit for the used Outlander buyer.
Overview
Mitsubishi redesigned its compact sport-utility vehicle for 2007, giving it fresh styling, a V6 engine, and an available third-row seat for seven-passenger capacity. In its 2003-2006 form, the first-generation Outlander had been a five-seater with four-cylinder power. Outlander remained a car-type four-door wagon, but gained 2 inches in wheelbase and 3 inches in overall length. ES, LS, and XLS trim levels were offered. Each was available with front-wheel drive. LX and XLS models could have all-wheel drive, which lacked low-range gearing but could be set for front-drive only, AWD, or for a locked-in 50/50 front/rear power split.
All Outlanders now had a 220-horsepower V6 engine, replacing a 160-hp four-cylinder. Sole transmission was a six-speed automatic with a manual shift gate. XLS models added steering-wheel shift paddles. Antilock braking and traction/antiskid control were standard. So were front side airbags and curtain side airbags. ES and LS models seated five, but the XLS held seven via a third-row bench that folded into a well in the cargo floor when not in use. In all models, the second-row seatback reclined and the seat could slide fore and aft to maximize either passenger or cargo space. XLS models had standard automatic climate control and a wireless cell phone link. Leather upholstery with heated front seats was available for the XLS. So was a navigation system with a hard drive for storing up to six gigabytes of MP3 music files. Outlander competitors included a Honda CR-V, Hyundai Tucson, and Toyota RAV4. According to Mitsubishi, Outlander was the first PZEV (Partial Zero Emissions Vehicle) SUV offered in the U.S. market.
Yearly Updates
2008 Outlander
A four-cylinder engine became available for 2008. Rated at 168 horsepower, the 2.4-liter four-cylinder, with a continuously variable transmission (CVT) went into the Outlander ES model, which could no longer have V6 power. The four-cylinder also went into a new SE (Special Edition) Outlander, which borrowed some upscale features from the top-end XLS. Four models were offered this year: ES, LS, SE, and XLS. All could have a navigation system with a 30-gigabyte hard drive and wireless cell phone link. ES and LS models dropped the sliding second-row seat.
2009 Outlander
The 2009 Mitsubishi Outlander lineup received few changes, though the LS version was dropped.
2010 Outlander
The 2010 Mitsubishi Outlander got freshened styling and a new sporty model. New for 2010 was the sport-themed GT, which was AWD only. It used the 230-horsepower 3.0-liter V6 and a 6-speed automatic.
2011 Outlander
The 2011 Mitsubishi Outlander had a revised model and feature lineup. The AWD versions of the ES and XLS were discontinued.
2012 Outlander
The XLS trim level was dropped, but there were no other changes of note to the 2012 Mitsubishi Outlander.
2013 Outlander
Outlander saw no significant changes for 2013.