Premium midsize car; Built in Japan
2-door convertible
2-door coupe
4-door sedan
longitudinal front-engine/rear- or all-wheel drive
Good condition price range: $8,800 – $40,900*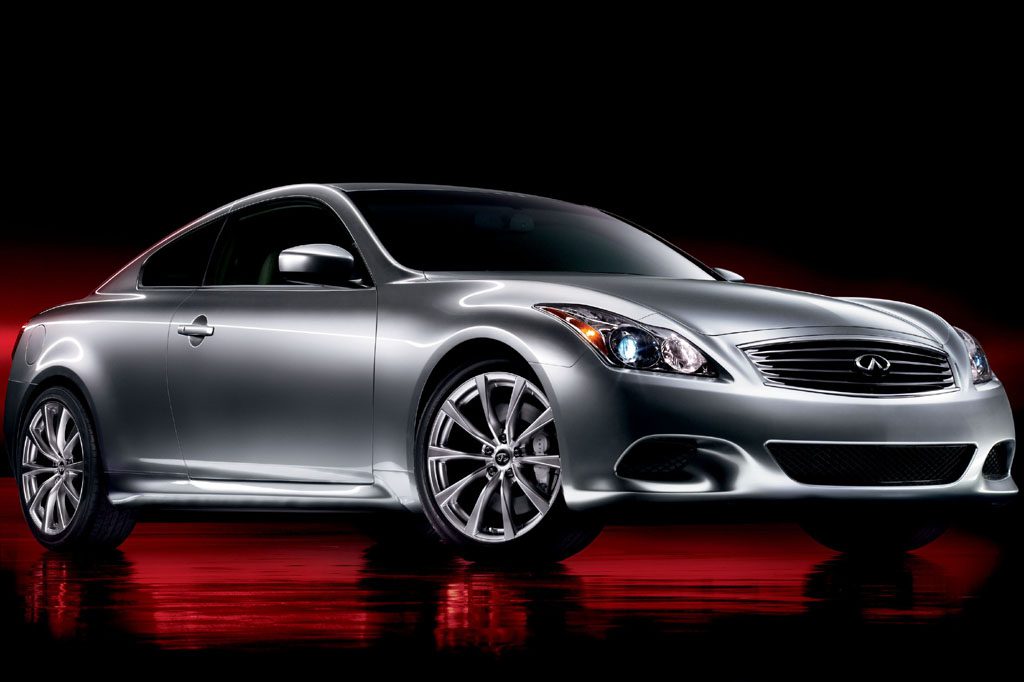 2008 Infiniti G37 coupe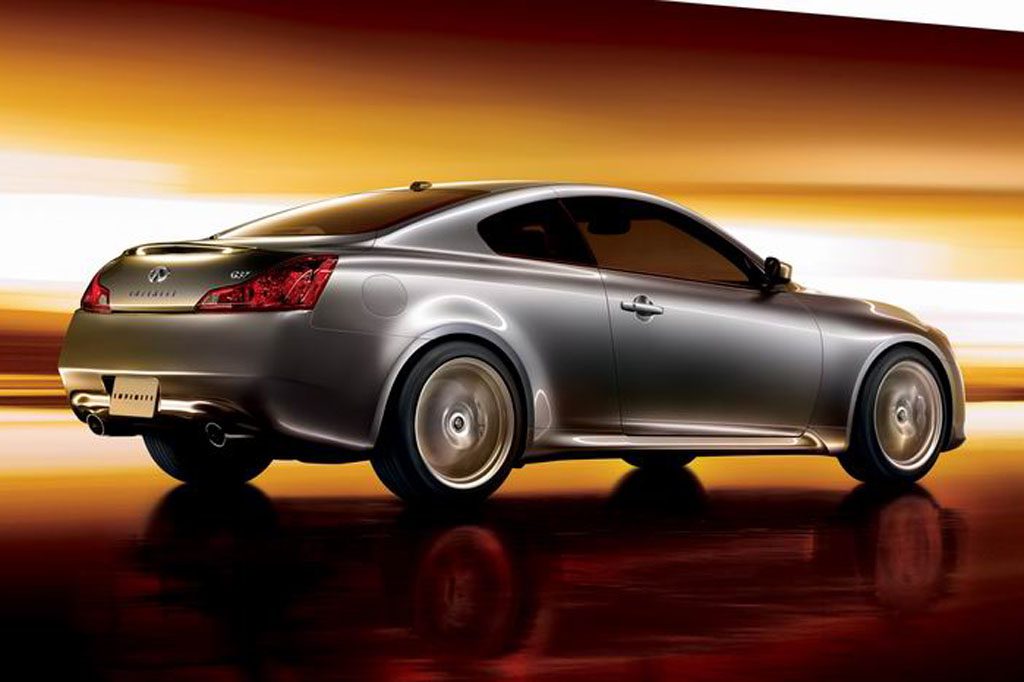 2008 Infiniti G37 coupe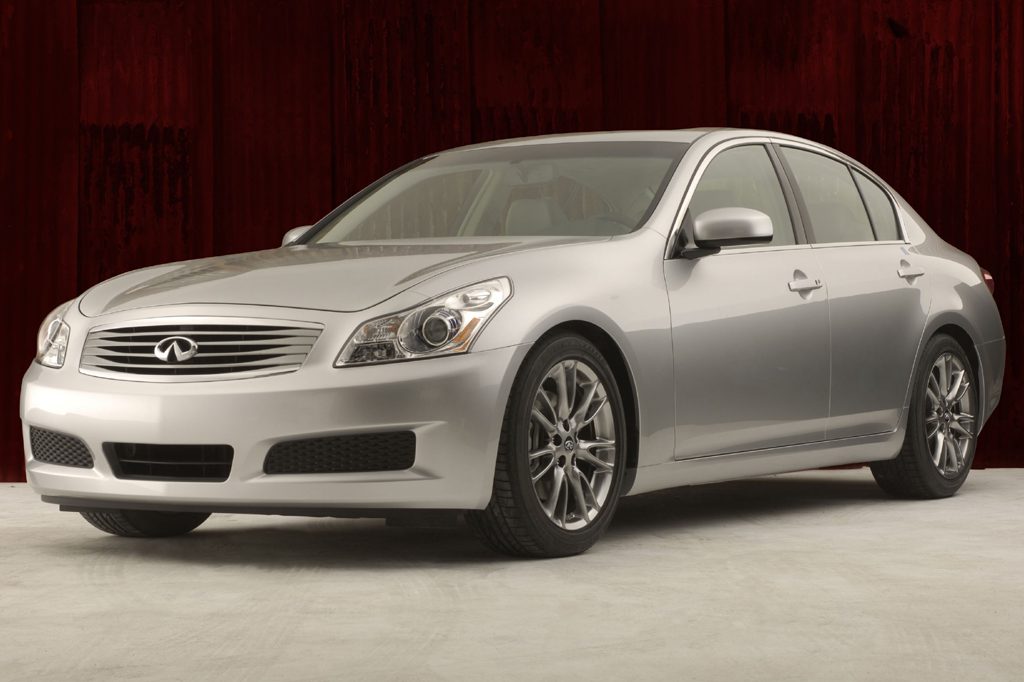 2008 Infiniti G35 sedan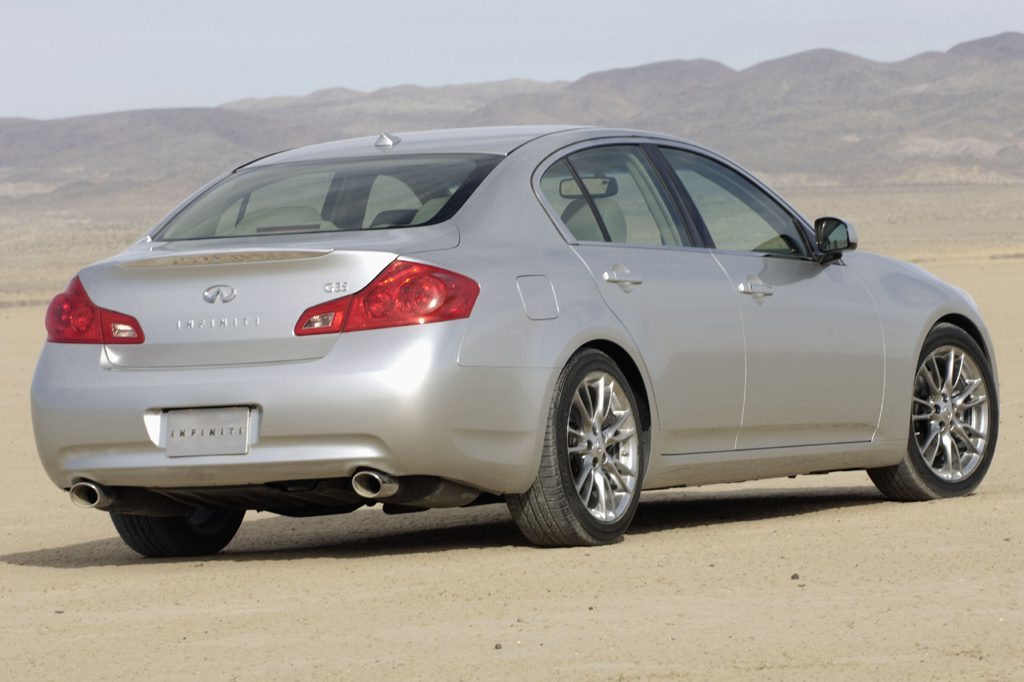 2008 Infiniti G35 sedan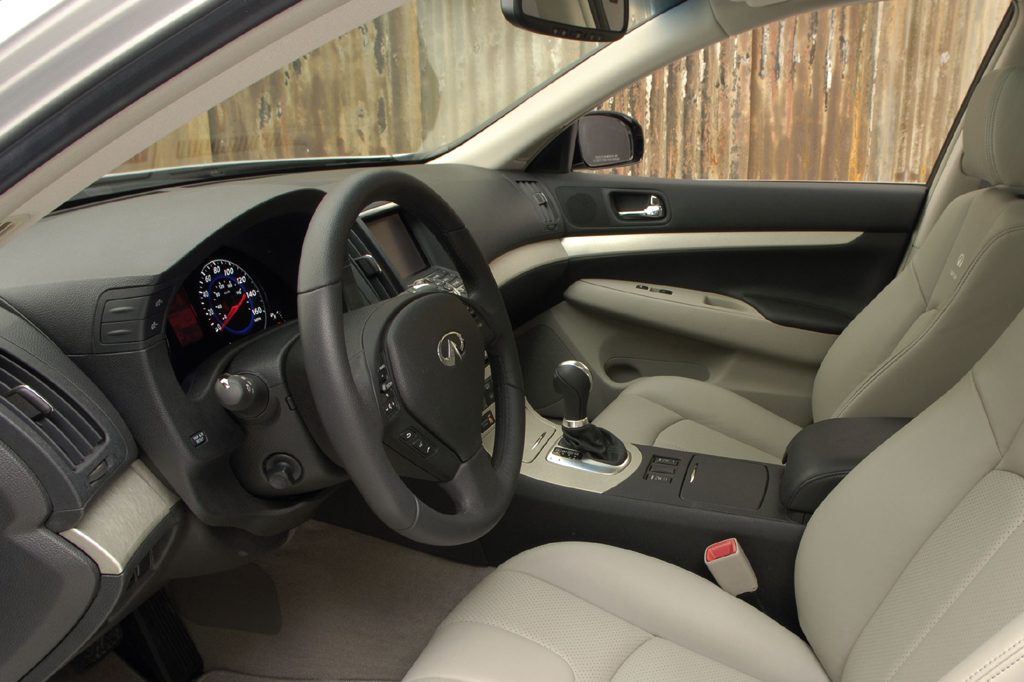 2008 Infiniti G35 sedan interior
Pros:

Acceleration
Climate controls
Interior materials
Seat comfort (front)
Steering/handling

Cons:

Cargo room (G37)
Fuel economy
Rear-seat comfort (G37)
Ride (G37)
Visibility (G37)
These Infinitis lack the brand prestige of rivals from Audi, BMW, Lexus, and Mercedes-Benz. They don't quite match them for quietness or refinement, either. But their performance, space, and available all-wheel drive makes them excellent alternatives. These virtues, teamed with new-car prices that undercut those rivals, earn the G35/G37 Recommended status (2008) and Best Buy (2009-12).
Overview
Infiniti reworked its lowest-priced sedan for 2007, giving it more power and new styling, inside and out. The coupe version of the midsize G35 continued in its 2003-2006 form for 2007. Both the G35 sedan and the coupe had rear-wheel drive, but the sedan also was available as the all-wheel-drive G35x. In 2014, Infiniti revamped its model names. All Infiniti cars carried a Q prefix. The G37 sedan (formerly G35) became Q50. (Q50 was a new design for 2014 and is not included in this report). The G37 coupe and convertible were renamed Q60, but were not significantly changed.
All models used a 3.5-liter V6 and a five-speed automatic transmission, or a six-speed manual gearbox. Sedans had a 306-horsepower V6, up from a top of 298 in the 2006 season. Coupe engines had 298 horsepower with manual shift, 280 with automatic. The G35x came only with an automatic transmission. Its all-wheel-drive system included a Snow Mode that locked in a 50/50 front/rear power split.
Sedans came in base, Journey, G35x, and Sport models. Coupes came in a single trim level. All had antilock braking, traction/antiskid control, front side airbags, and curtain side airbags; the coupe's curtain bags covered front seats only. Standard features included leather upholstery and bi-xenon headlights. A limited-slip differential and sport suspension were included with Sport sedans and manual-transmission coupes; those items were optional for automatic-transmission coupes.
Sport sedans and coupes with sport suspension offered versions of Infiniti's "active steer" system, designed to improve handling. The sedan's Navigation Package had a navigation system, voice recognition, and a 9.5 gigabyte hard drive for storing music files. Navigation was a stand-alone coupe option. Keyless entry/starting was standard on all but manual-transmission coupes. Rivals to the G35 included the Acura TL, BMW 3-Series, and Cadillac CTS.
Yearly Updates
2008 G
Nissan's luxury division launched a new G37 coupe with a 3.7-liter engine while the G35 sedan continued with little change. Coupes came only with rear-wheel drive and either a manual or automatic transmission. The coupe's 3.7-liter V6 generated 330 horsepower. Sedans retained the 306-hp 3.5-liter V6. Coupes were offered in base, Journey, and Sport 6MT trim. The latter included a sport suspension and specific wheels with high-performance tires. New G37 coupe options included "Four Wheel Active Steer," which moved the rear wheels slightly when turning.
2009 G
G37 became the name for all versions of Infiniti's best-selling vehicle. The G37 name supplanted G35 on sedan versions of this premium midsize car. Two-door coupe and 4-door sedan versions were joined later in the model year by a 2-door convertible with a power-retractable hard top. All had a 3.7-liter V6 engine that produced 330 hp in the coupe, 328 in the sedan, and 325 in the convertible. This represented an increase of 22 hp over the 2008 G35 sedan. Also new for all G37 models was a 7-speed automatic transmission, which replaces a 5-speed automatic. All body styles also offered a 6-speed manual. Coupes and sedans were offered with all-wheel drive, which was a new feature for coupes.
2010 G
The 2010 Infiniti G37 received slightly freshened exterior and interior styling. Newly offered on the 2010 G37 was a USB port and a 2-gigabyte hard drive for storing music files on models not equipped with the navigation system.
2011 G
Sedans added a lower-cost G25 model, coupes added a high-performance IPL trim level, and convertibles added a top-line Limited Edition.
2012 G
There were no changes of note to any version of the 2012 Infiniti G.
2013 G
With its successor due for 2014, the G37 Sedan was predictably little changed for 2013. The only news, in fact, was a slimmed-down model menu with reapportioned standard and optional features. Gone were the price-leader 2.5-liter G25 versions and the G37's base, Sport Appearance Edition, and Limited trim levels. The G37 Coupe also dropped the base-trim model for 2013, but was otherwise a rerun for a second straight season. The main change for 2013 G37 convertible was the addition of a IPL performance model.
2014 Q60
In 2014, Infiniti revamped its model names. All Infiniti cars carried a Q prefix. The G37 sedan became Q50 and was a new design for 2014 (see separate report). The G37 coupe and convertible were renamed Q60, but were not significantly changed.