Compact car; Built in Japan
4-door hatchback
4-door sedan
longitudinal front-engine/all-wheel drive
Good condition price range: $10,500 – $35,000*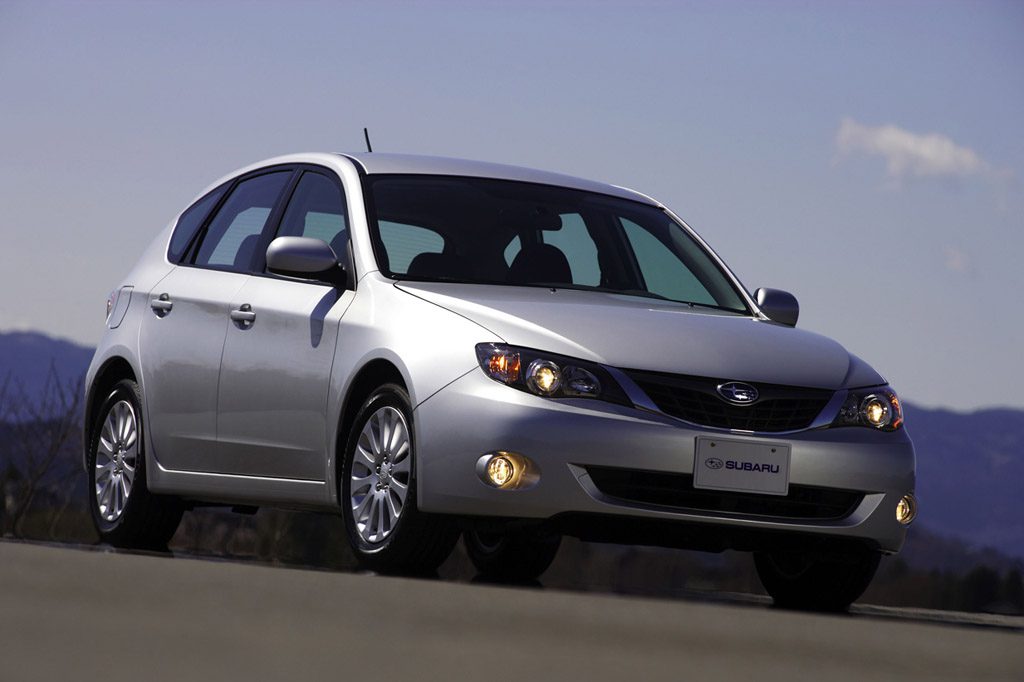 2008 Subaru Impreza Front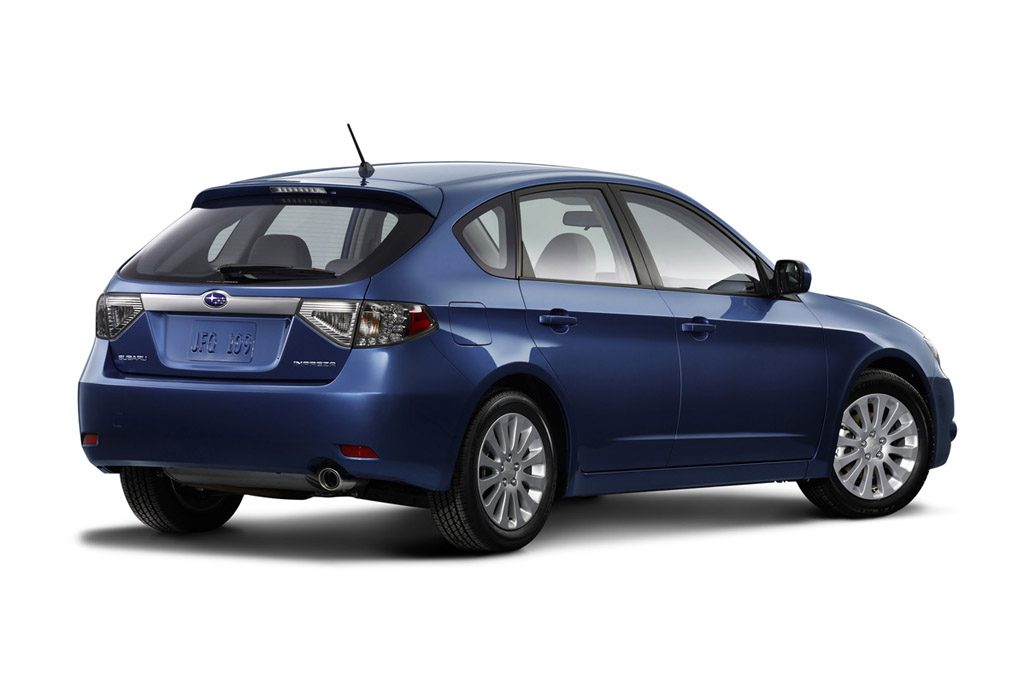 2008 Subaru Impreza Rear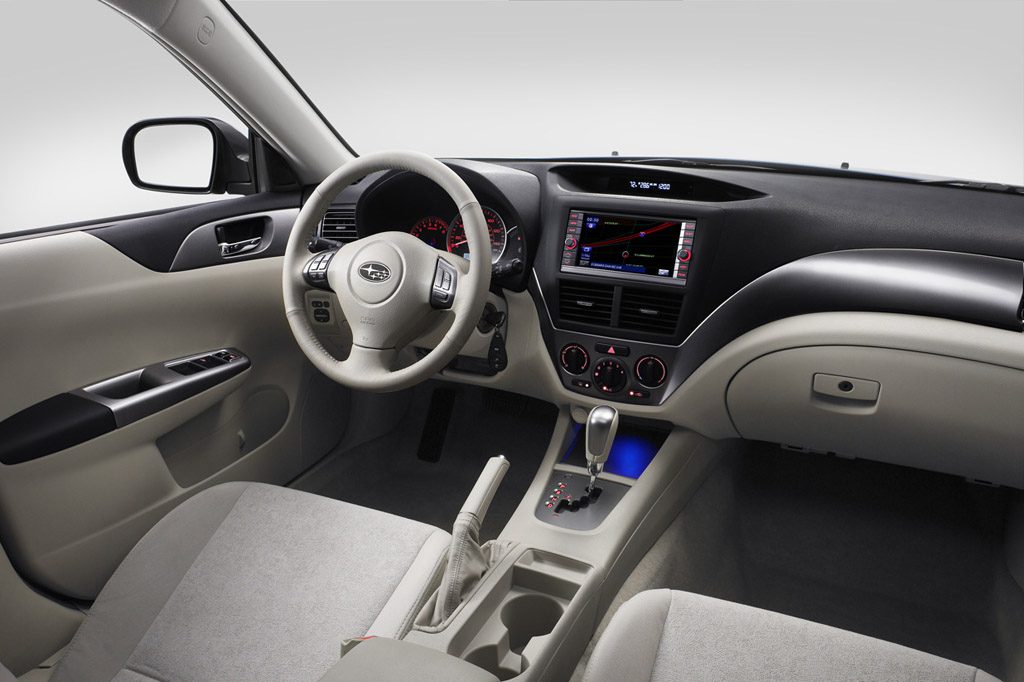 2008 Subaru Impreza Interior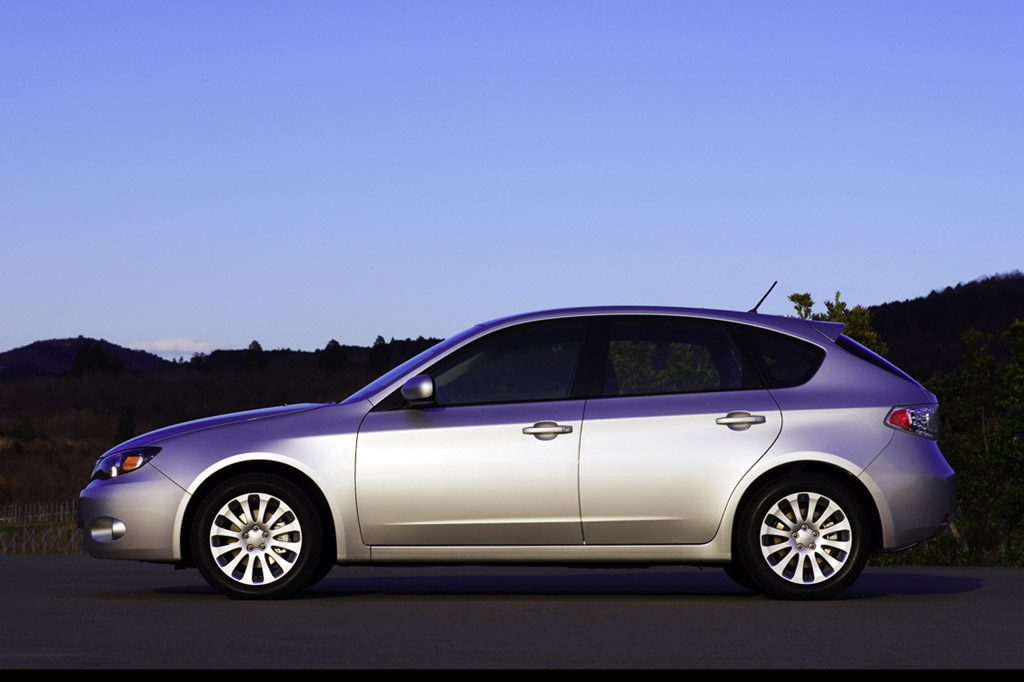 2008 Subaru Impreza Profile
Pros:

Acceleration (2.5 GT, WRX, STi)
All-wheel drive
Handling

Cons:

Engine noise
Fuel economy
Interior materials
Turbocharged Impreza models offer quick acceleration and solid handling, abetted by their standard all-wheel drive. The WRX STi is faster still, but its raucous nature makes it appealing only to serious driving enthusiasts. While turbo hatchbacks are quite practical, they suffer from copious road and wind noise, middling interior materials, and steep pricing-at least when new. Though at a significant power disadvantage, the non-turbo Impreza 2.5i is the best value in this lineup.
Overview
The entire 2008 Subaru Impreza lineup, which included the base 2.5i, the SUV-flavored Outback Sport, and the performance-oriented WRX and hotter-yet WRX STi, was redesigned with fresh styling inside and out, along with some additional safety features. Two compact body styles were offered: four-door sedan and six-inch-shorter four-door hatchback, both built on a wheelbase nearly four inches longer than before. The 2.5i and the WRX were offered in both body styles; the Outback Sport and the WRX STi came only as hatchbacks.
Each model had all-wheel drive and a 2.5-liter horizontally-opposed four-cylinder engine. It made 170 horsepower in the 2.5i and Outback Sport, 224 horsepower in the turbocharged WRX, and 305 hp in the turbocharged STi. A manual transmission was standard and available with a hill-holder clutch. A four-speed automatic transmission with manual-shifting capability was optional on all but the STi.
Safety features on all Imprezas included antilock brakes, front side airbags, and, new for 2008, curtain side airbags. An antiskid system with traction control-also new for 2008-was standard on the Outback Sport and WRX, and optional on the 2.5i. The Outback Sport had a raised suspension and 17-inch wheels versus 16s on the 2.5i. The WRX got a sport suspension, 17-inch wheels, hood scoop, and automatic climate control. A navigation system and remote engine start were optional. Heated seats were optional only on the WRX. Subaru's Impreza competed against the Honda Civic, Mazda 3, and Volkswagen GTI, but none of those had all-wheel drive.
Yearly Updates
2009 Impreza
Subaru revised its Impreza lineup for 2009 and gave the WRX model 41 additional horsepower. The lineup included a new base 2.5i model, the SUV-flavored Outback Sport, 2.5GT, and performance-oriented WRX and WRX STi. The 2.5i, 2.5GT, and WRX came in both body styles. Outback Sport and WRX STi models were hatchback-only. Subaru's 224-horsepower engine went into the 2.5GT; the WRX held a 265-hp turbo; and the STi had a 305-hp turbo. A manual transmission was standard on most models and fitted with a hill-holder clutch feature. An automatic transmission with manual-shift capability was standard on the 2.5GT and optional for the 2.5i and Outback sport. The 2.5GT and WRX had sport suspension, a hood scoop, and automatic climate control. STi hatchbacks were identified by unique trim and included a performance suspension.
2010 Impreza
The 2010 Subaru Impreza received slightly freshened styling and some new features. The navigation systems on the 2.5i Premium and STI received a new wireless cell-phone link. A new Special Edition package for the 2.5i Premium included heated front seats and a sunroof.
2011 Impreza
The 2011 Subaru Impreza saw only minor trim changes, but the Subaru Impreza WRX STI roster expanded to include a new sedan body style. Further, all versions of this high-performance car got revised styling.