Compact car; Built in Japan
transverse front-engine/front-wheel drive
Good condition price range: $4,900 – $17,200*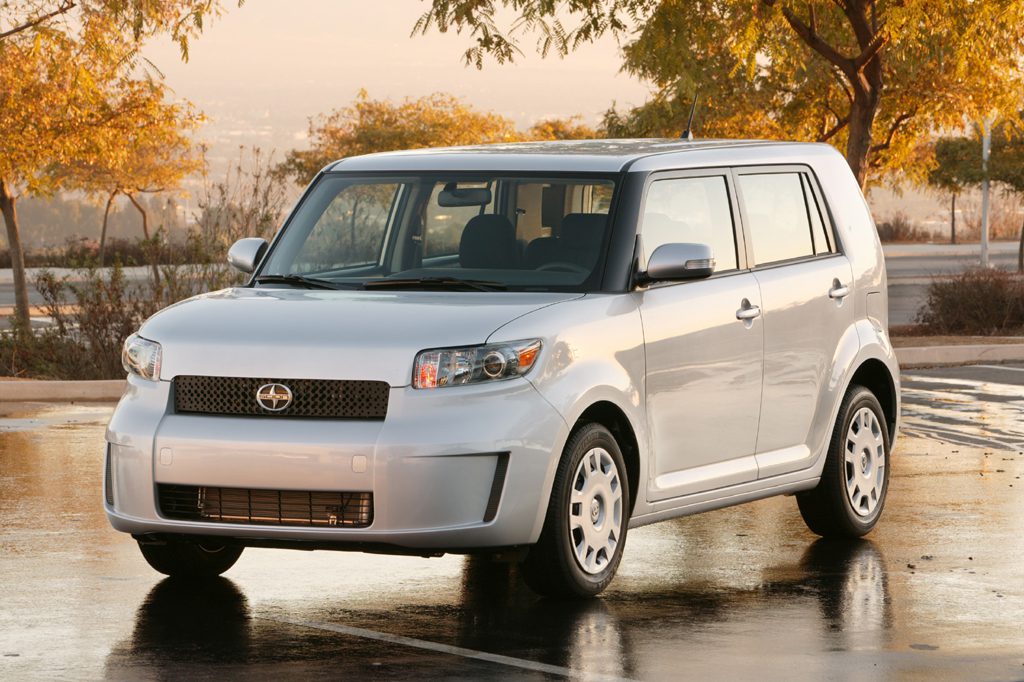 2008 Scion xB Front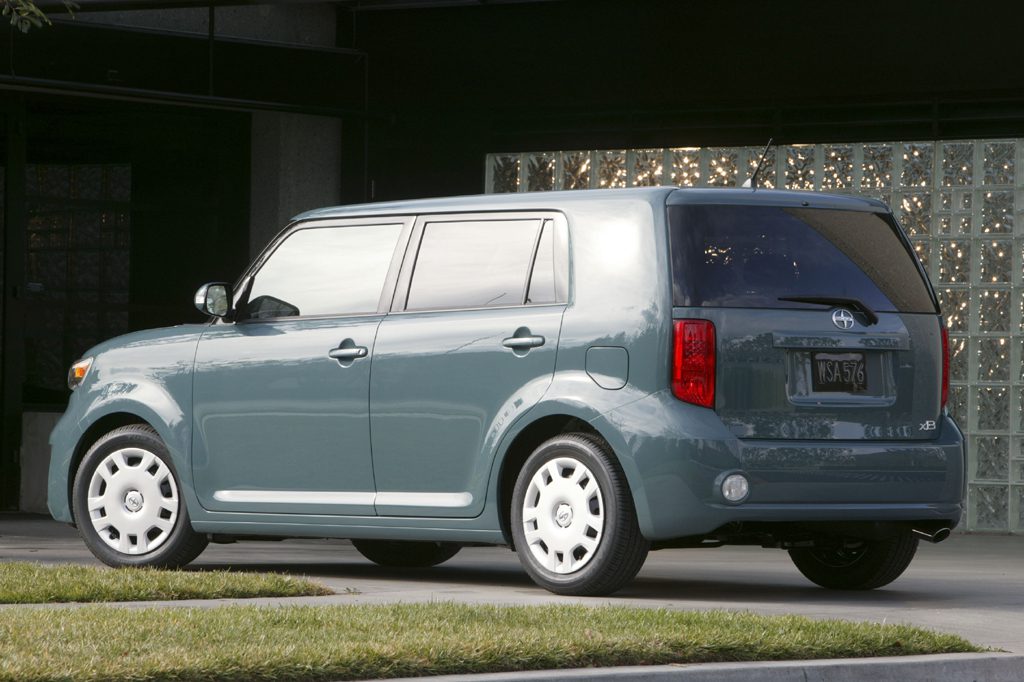 2008 Scion xB Rear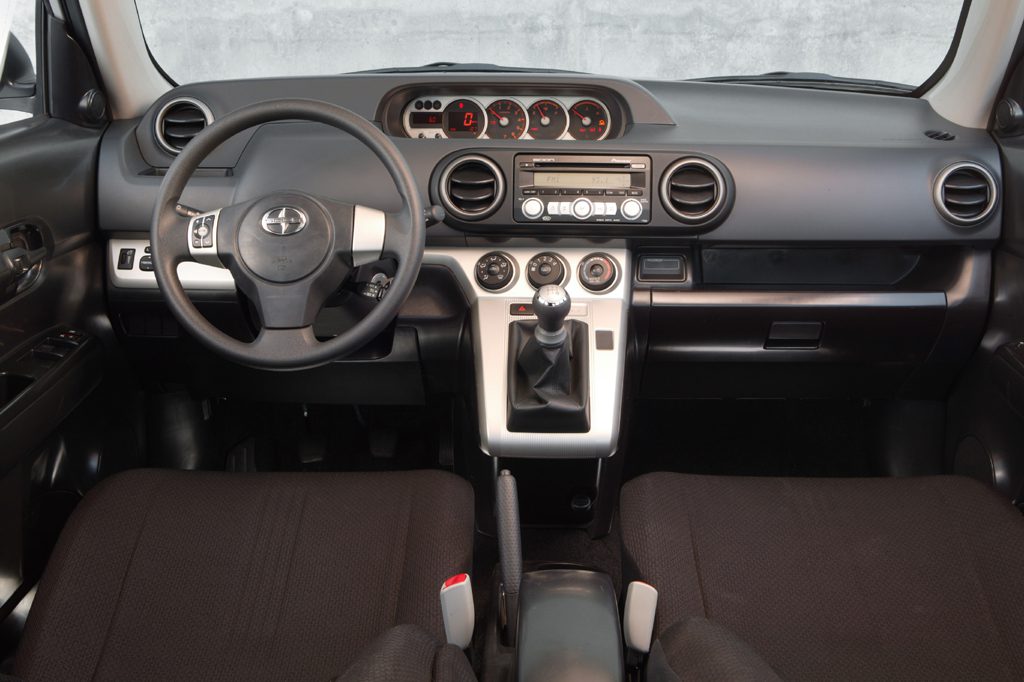 2008 Scion xB Interior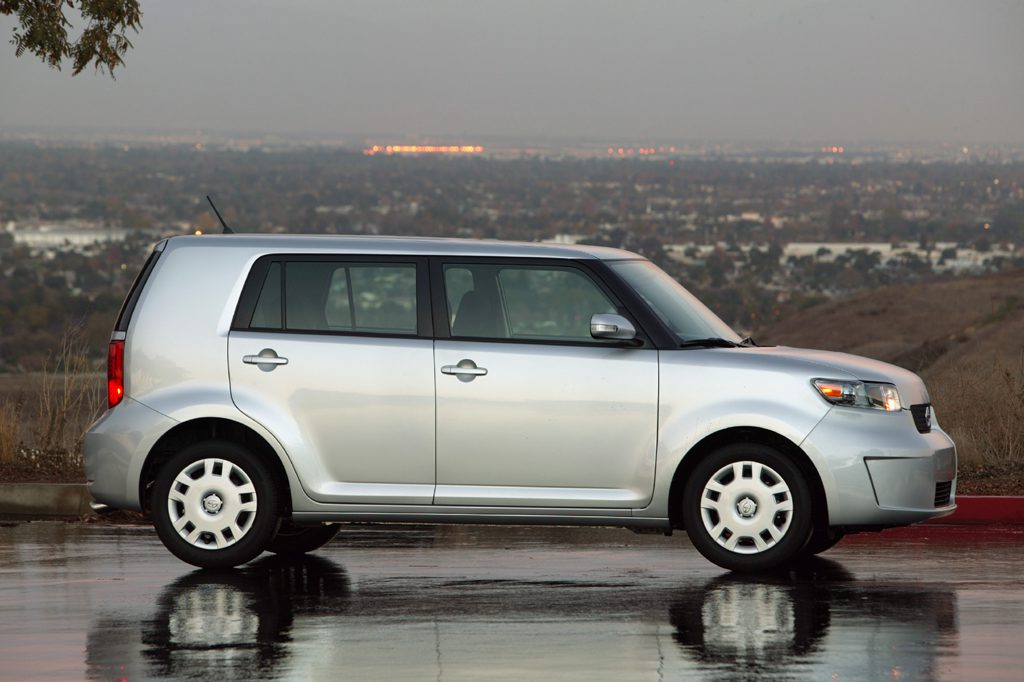 2008 Scion xB Profile
Pros:

Entry/exit
Maneuverability
Passenger and cargo room
Ride

Cons:

Fuel economy
Rear visibility
Scion's iconic "box" grew from subcompact to compact dimensions, gaining cargo room, power, and weight along the way. In addition to producing a more curvaceous shape, this expansion also included a healthy dose of additional refinement, but the redesigned xB is not the fuel-sipper it once was. Some of its former quirkiness was lost in the transformation, but it remains a practical, rather "edgy" alternative to more-traditional small cars and SUVs. New competitors from Kia and Nissan are poised to steal attention away from Scion's wagon, but few will be available secondhand for a while.
Overview
Toyota's youth-oriented division briefly dropped its boxy little xB wagon after the 2006 model year, skipping the 2007 season while awaiting a total redesign. That reworked Scion xB debuted as a 2008 model. Compared to the 2004-2006 series, the new xB was longer, wider, and heavier. It retained a front-drive layout, five-passenger capacity, and vanlike body (though less squared-off this time), with a one-piece rear liftgate. Steel wheels held 16-inch tires versus 15s on the prior xB. Inside, the 60/40 split rear seats folded flat.
The only engine was a 158-horsepower 2.4-liter four-cylinder. Either a five-speed manual or a four-speed automatic transmission could be installed. Standard safety equipment included all-disc antilock brakes, traction control, an antiskid system, curtain side airbags, and front side airbags. The standard Pioneer 160-watt audio system included iPod compatibility and a mini-jack port. Scions are sold through Toyota dealers. There were no factory options, but dealers carried a number of factory-approved dress-up accessories, plus functional items including a navigation system and alloy wheels to replace the xB's standard steel wheels. DVD entertainment was available, along with an iPod adapter and remote engine start. Chevrolet's retro-styled HHR wagon was the xB's closest competitor, possibly along with the Honda Fit and Kia Spectra5.
A limited-production Release Series 5.0 version of the xB, fitted with a moonroof, appeared during the 2008 model year.
Yearly Updates
2009 xB
No major changes were evident for the 2009 xB in 2009, but Scion faced two new competitors in the smaller-wagon league: the 2009 Nissan Cube and 2010 Kia Soul, both issued early in 2009. A limited-production Release Series 6.0 debuted in February 2009, painted in Absolutely Red with a unique black-finished grille.
2010 xB
The 2010 Scion xB received a new optional audio system but was otherwise unchanged.
2011 xB
The 2011 Scion xB got slightly refreshed exterior styling and a revised interior.
2012 xB
There were no changes of note to the 2012 Scion xB.
2013 xB
The 2013 Scion xB added the brand's Bespoke audio system as an option. iPhone owners were able to download an Apple app and pair their phones with this system to get access to Facebook, Twitter, Yelp, point of interest search, friend locator, internet radio, and map routing.
2014 xB
The 2014 Scion xB added a standard touchscreen audio system. The optional premium audio system now included Aha-based smartphone integration and navigation functionality.