Subcompact car; Built in Japan
transverse front-engine/front-wheel drive
Good condition price range: $4,300 – $14,700*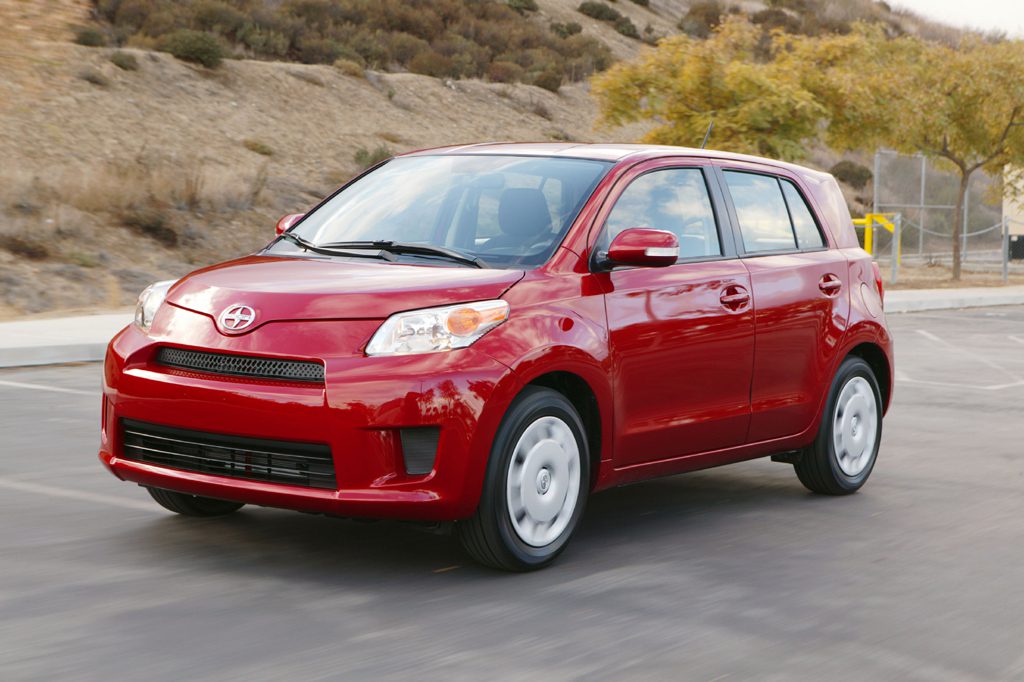 2008 Scion xD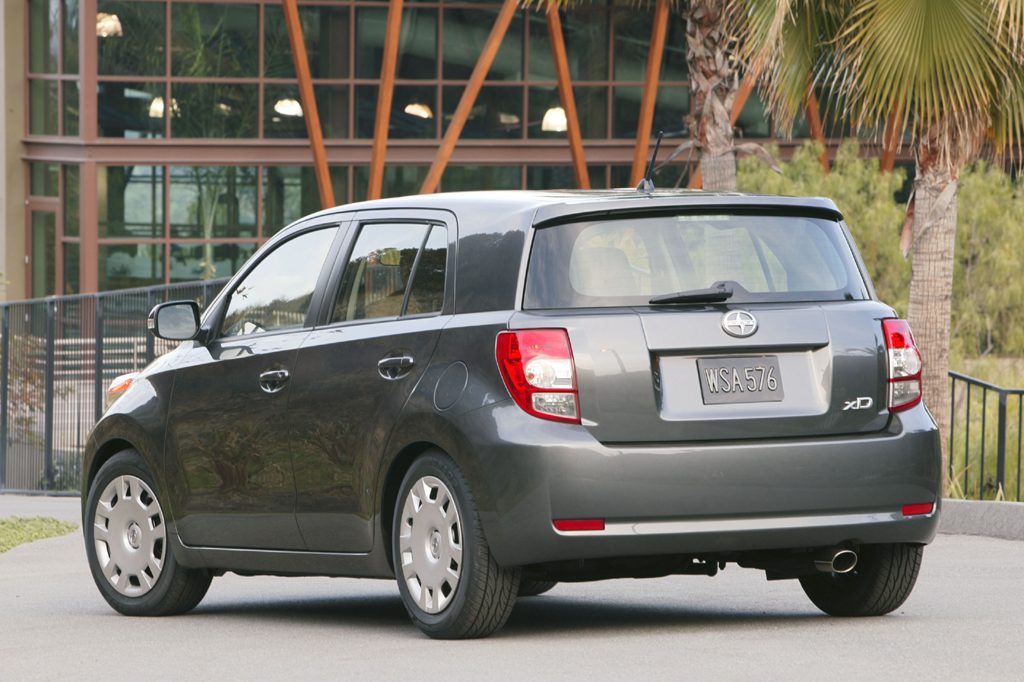 2008 Scion xD Rear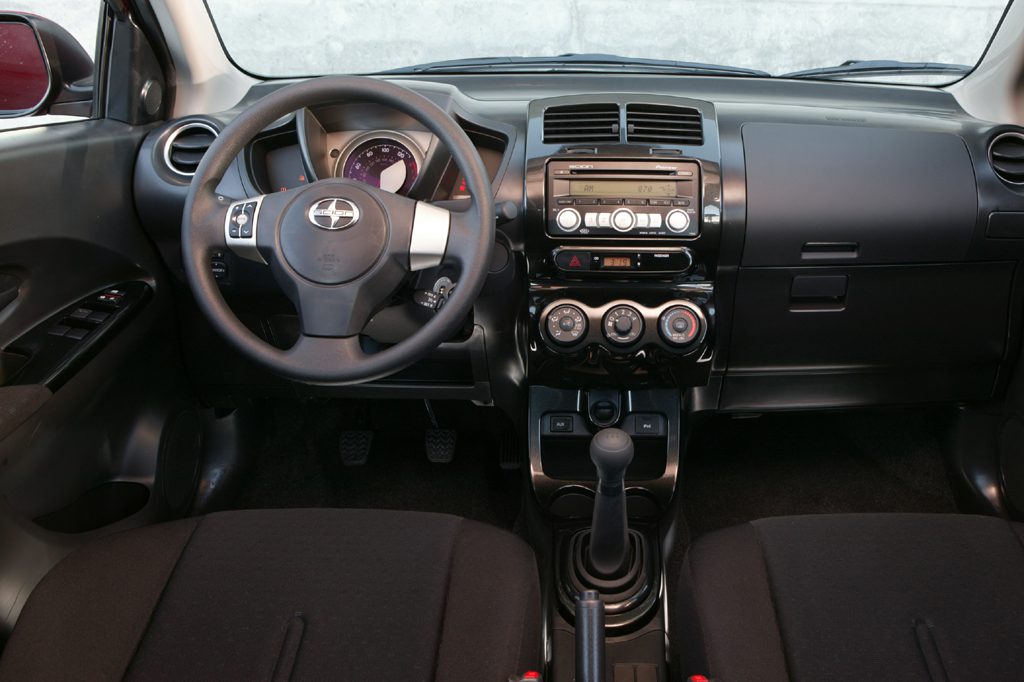 2008 Scion xD Interior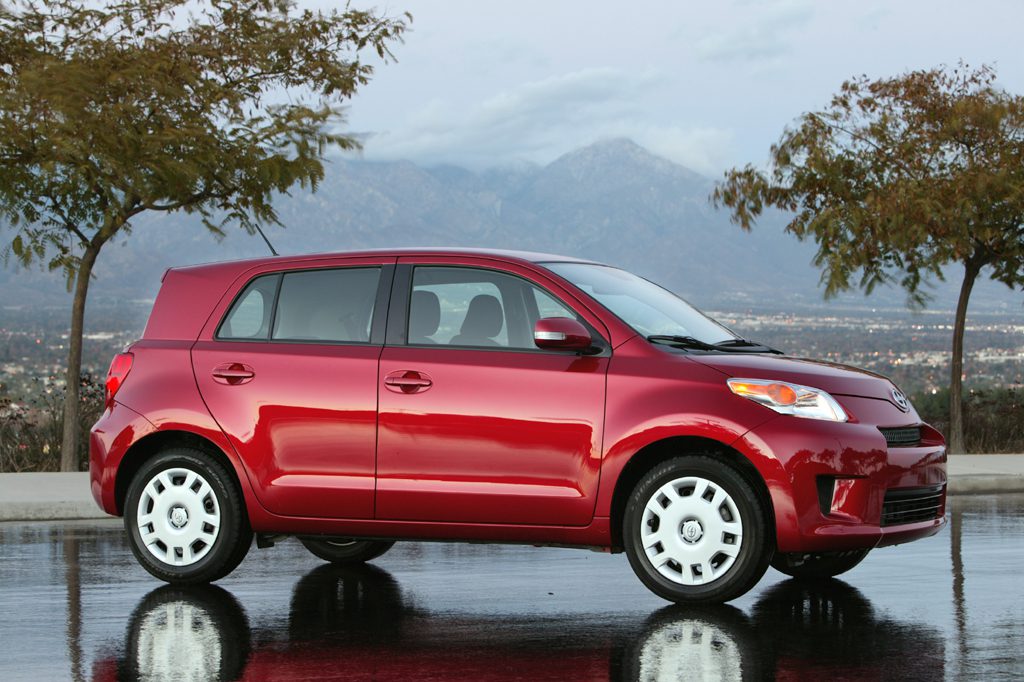 2008 Scion xD Profile
Pros:

Fuel economy
Instruments/controls
Maneuverability

Cons:

Acceleration
Rear-seat room
Visibility
Scion's entry-level subcompact offers a host of safety features and standard amenities. The xD shares the practical, utilitarian nature of its xA predecessor and xB sibling, but with more-conventional styling and layout that give it broader appeal.
Overview
New for 2008, the Scion xD replaced the company's subcompact xA, last sold as a 2006 model. Although the xD cast nearly the same-size shadow as its predecessor, it rode on a roughly 4-inch longer wheelbase. The xD also got more power than the departed xA along with additional standard safety and convenience features. Subcompact competitors included the Honda Fit, Kia Rio, and Suzuki SX4. Like other Scion products, the xD was sold at Toyota dealerships.
Each little front-wheel-drive xD wagon came with a 128-horsepower 1.8-liter four-cylinder engine and a five-speed manual or four-speed automatic transmission. Standard safety features included antilock brakes, curtain side airbags, and front side airbags. An antiskid system, coupled with traction control, was an option. Each xD included 16-inch tires, air conditioning, power windows/locks/mirrors, remote keyless entry, a tilt steering wheel with audio controls, and a 60/40 split folding rear seat that slid fore/aft to benefit either passenger or cargo room. The standard 160-watt Pioneer CD player has a digital media player connection. Options included an iPod adapter and remote engine start, along with a navigation system.
A Release Series 1.0 limited-edition xD debuted during the 2008 season equipped with a lowered suspension.
Yearly Updates
2009 xD
The xD saw little change for the 2009 model year. A new Special Edition package included a lowered suspension and unique trim, led by body cladding and a rear spoiler.
2010 xD
The 2010 Scion xD was largely unchanged.
2011 xD
The 2011 Scion xD gets slightly revised interior trim but is otherwise largely unchanged.
2012 xD
The 2012 Scion xD lineup added the Release Series 4.0 model with unique trim, but there were no other changes.
2013 xD
New features available on the 2013 Scion xD included the brand's Bespoke audio system that paired with iPhones to provide a connection to Facebook, Twitter, Yelp, point of interest search, friend locator, internet radio, and map routing–all through an Apple app. The gauge face color was also changed, and the xD now came standard with seat-mounted front side airbags.
2014 xD
For 2014, Scion now included a standard touchscreen audio system on the xD. The available premium audio system now included Aha-based smartphone integration and navigation functionality.