Compact pickup truck; Built in USA
crew cab long bed
crew cab short bed
ext. cab short bed
longitudinal front-engine/rear- or 4-wheel drive
Good condition price range: $11,000 – $22,500*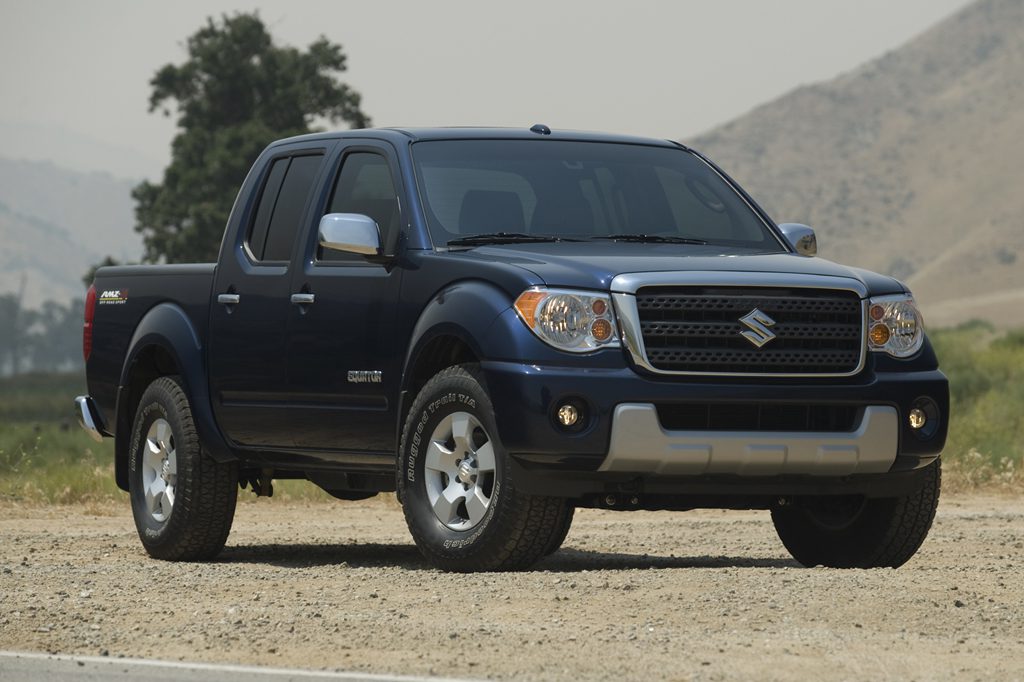 2009 Suzuki Equator Front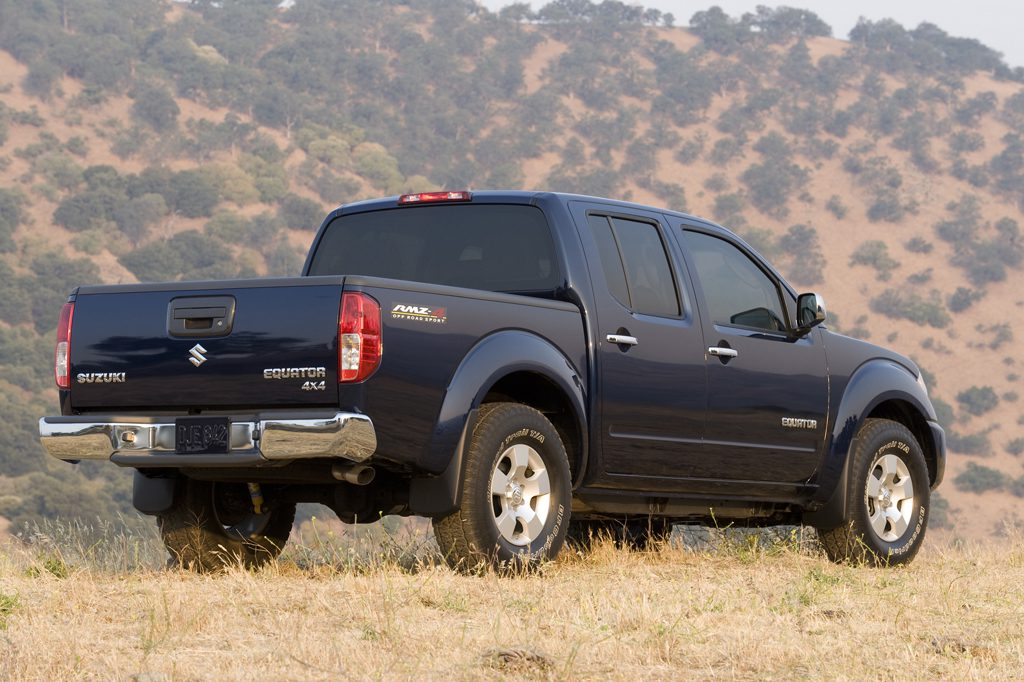 2009 Suzuki Equator Rear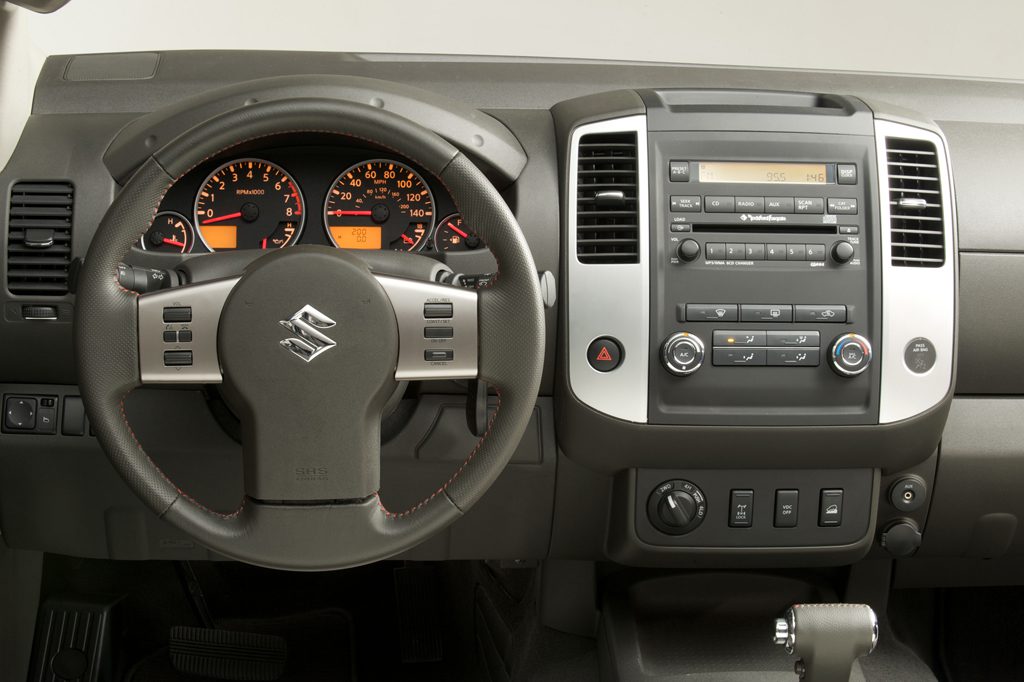 2009 Suzuki Equator Interior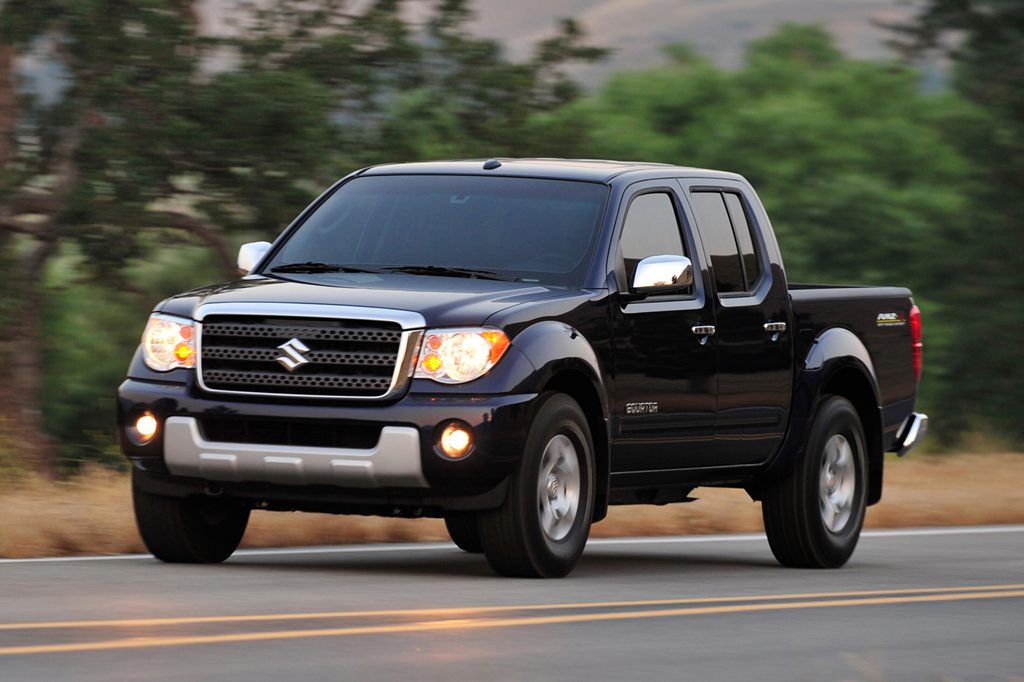 2009 Suzuki Equator Front-2
Pros:

Acceleration (V6)
Passenger and cargo room (Crew Cab)

Cons:

Interior materials
Maneuverability (RM-Z)
Rear-seat room (Extended Cab)
Like the Nissan Frontier on which it's based, the Suzuki Equator is a credible compact-pickup contender with the option of a powerful V6 engine, middle-of-the-pack size, and new-vehicle options that appeal to off-road enthusiasts. Ride and handling are decent for the class, but interior disappoint with too much tacky plastic and subpar rear-seat room.
Overview
The 2009 Suzuki Equator was a brand-new compact pickup truck from this Japanese automaker, best known for SUVs and subcompact passenger cars. Available with rear-drive or four-wheel drive, the Equator was essentially a retrimmed Nissan Frontier, sharing that pickup's drivetrains and general dimensions. Extended Cab and Crew Cab body styles were available, each with four doors. The Extended Cab's rear-hinged back doors did not open independently of the fronts, but Crew Cab models had four full-size doors. Extended Cabs had flip-up rear seats and a 6.1-foot cargo bed. Crew Cab trucks had a rear bench seat and could have either a 5- or 6.1-foot cargo bed. Extended Cabs came in Base, Comfort, Premium, and Sport trim levels.
Extended Cabs held a 152-horsepower 2.5-liter four-cylinder engine with a five-speed manual or five-speed automatic transmission; the Sport edition could have a 261-horsepower 4.0-liter V6 with a five-speed automatic. Crew Cabs came only with the V6 in Base, Sport, and off-road-oriented RMZ-4 trim levels. Both body styles might have either rear-wheel drive or part-time 4WD that included a low-range gear for off-roading. Four-wheel drive, which should not be left engaged on dry pavement, was offered only on Sport and RMZ-4 editions. Standard safety features included antilock brakes and curtain side airbags. An antiskid system was included in a Sport package for the RMZ-4 model. A sunroof and wireless cell-phone link were among the available features on top models. Maximum towing capacity was 6500 pounds. With the Equator, Suzuki competed against the Dodge Dakota, Honda Ridgeline, and Toyota Tacoma, as well as Nissan's Frontier.
Yearly Updates
2010 Equator
Little changed for the Equator's second season on the market, except for newly standard stability control on V6 models. Suzuki now offered an integrated Garmin navigation system as an Equator option. All models except for the RMZ-4 and RMZ-4 Sport had rear-wheel drive. Available on the Sport and standard on RMZ-4 and RMZ-4 Sport was part-time four-wheel drive. Base, Comfort, and Premium models used a 152-horsepower 2.4-liter four-cylinder engine. Others held a 261-horsepower 4.0-liter V6. A five-speed manual gearbox was standard on rear-drive base extended-cab models; all others had a five-speed automatic transmission. A navigation system was available on the RMZ-4 and RMZ-4 Sport. The latter also included a sunroof, CD changer, and wireless cell-phone link. Hill-ascent/descent control was standard on 4WD trucks.
2011 Equator
The 2011 Suzuki Equator saw no major changes.
2012 Equator
Only minor trim changes marked the 2012 Suzuki Equator.