Compact SUV; Built in Japan
longitudinal front-engine/all-wheel drive
Good condition price range: $7,200 – $26,000*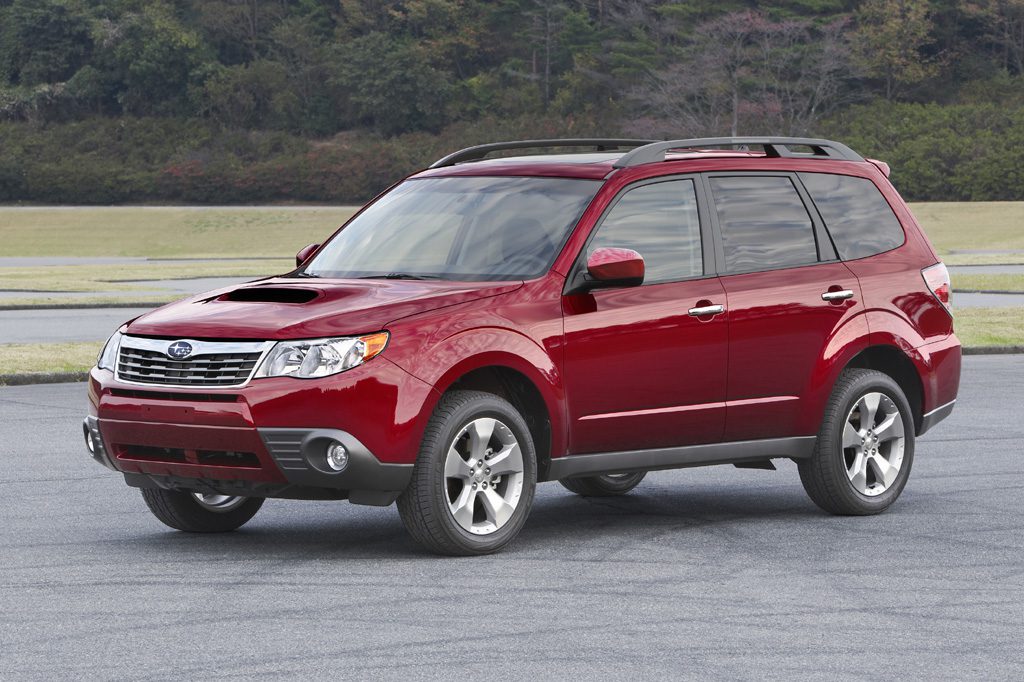 2009 Subaru Forester Front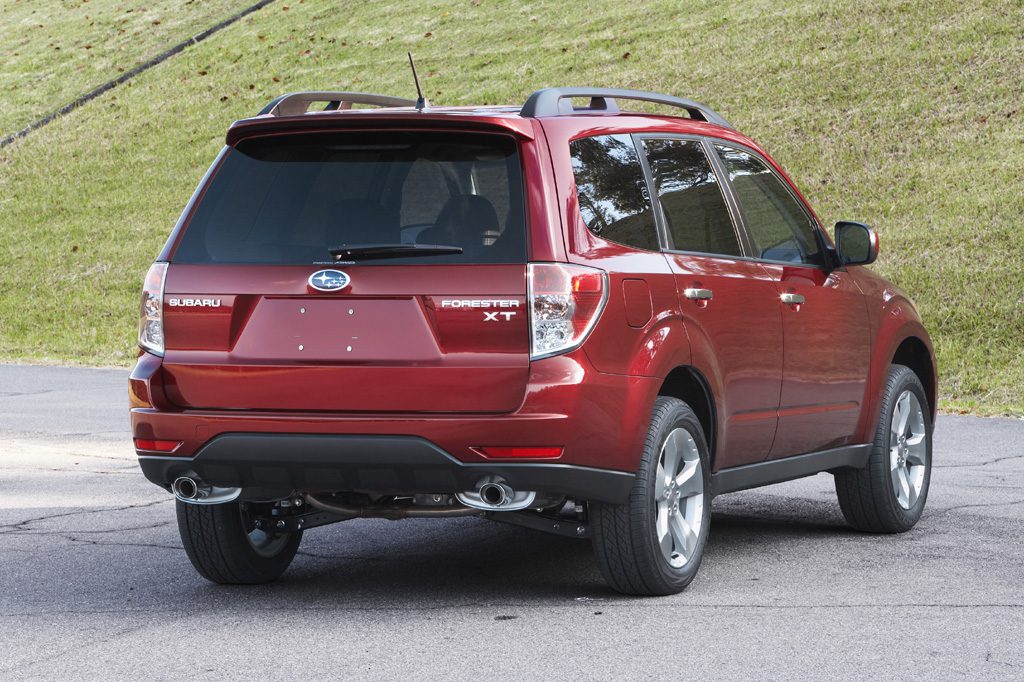 2009 Subaru Forester Rear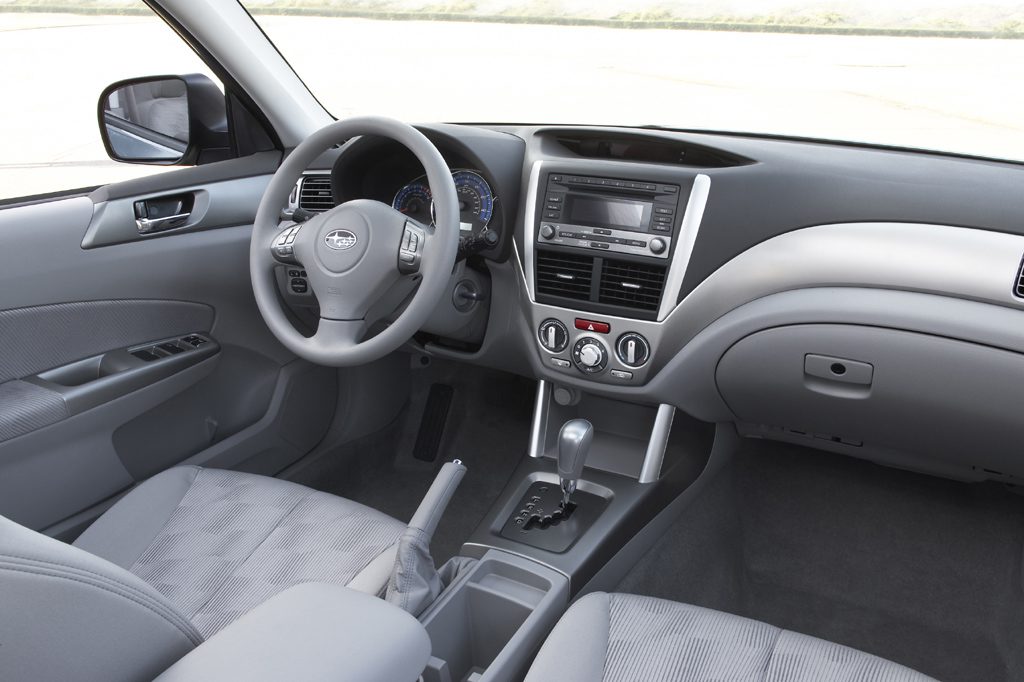 2009 Subaru Forester Interior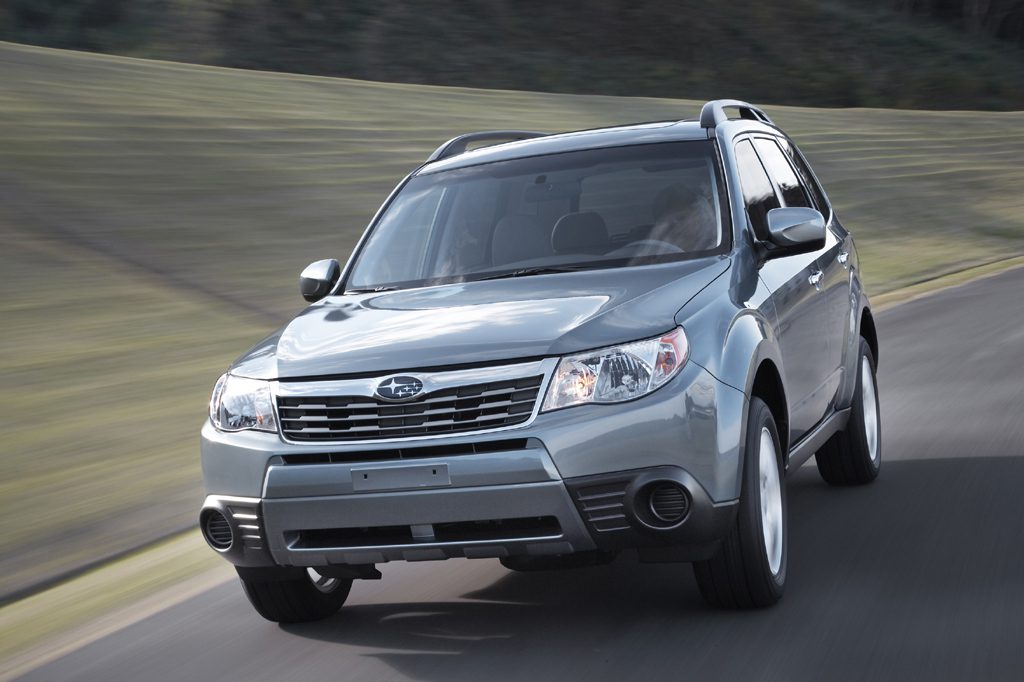 2009 Subaru Forester Front-2
Pros:

Cargo room
Climate and audio controls
Carlike handling
Passenger space/comfort

Cons:

Interior materials
Road noise
Subaru fans may lament the loss of Forester's quirkiness in this generation. Truckier styling and larger dimensions make it easier for Forester to compete with the likes of Honda CR-V and Toyota RAV4, but they also erase its "truck alternative" micro-ute charms. Foresters are noisier and less refined than those rivals, and interior ambiance is a step behind that of other recently-redesigned crossover wagons. The latest-generation model has cost less than its predecessor at new-vehicle dealerships, but those savings came largely at the expense of interior materials quality-which went from near-premium in the outgoing model to just class average in this version. Still, this Recommended pick offers good fuel economy and plenty of features. 2.5 X and 2.5 X Premium models may have offered the most value when new, but they tend to hold their worth well, so used-car prices tend to be on the high side.
Overview
Subaru's compact crossover was redesigned for 2009, receiving more SUV-like styling and an increase in size. As before, this compact wagon had standard all-wheel drive (without low-range gearing). Five trim levels were offered: 2.5 X, 2.5 X Premium, 2.5 X L.L. Bean, 2.5 XT, and 2.5 XT Limited. All models used a horizontally-opposed 2.5-liter four-cylinder engine. Dubbed a "boxer" engine, it produced 170 horsepower in all but the turbocharged XT models, where it made 224 horsepower. A five-speed manual transmission was standard on naturally-aspirated (non-turbo) Foresters. Four-speed automatic was optional on naturally-aspirated models and standard on the 2.5 X L.L. Bean edition and all 2.5 XT versions. Standard safety features on all Foresters included antilock all-disc brakes, traction control, an antiskid system, front side airbags, and curtain side airbags with rollover deployment. Other available features included automatic climate control, heated front seats, leather upholstery, and a navigation system. Hill-hold assist was standard on manual-transmission models. Rivals included the Honda CR-V, Toyota RAV4, and Suzuki Grand Vitara.
Yearly Updates
2010 Forester
Apart from a revised instrument cluster, little changed for the 2010 model year. A five-speed manual transmission was standard (four-speed automatic optional) on the 2.5 X, 2.5 X Premium, and 2.5 Limited models. Four-speed automatic was standard on the turbocharged 2.5 XT Premium and 2.5 XT Limited. Leather upholstery was standard on Limited models. Heated front seats were standard on the Limited and optional for the 2.5 X Premium. The available navigation system for Limited models now included Bluetooth wireless cell-phone capability.
2011 Forester
The 2011 Subaru Forester saw a few changes including new trim levels and wider feature availability. New for 2011 were the 2.5X Touring and 2.5XT Touring, with the latter replacing the 2.5XT Limited as the top Forester trim.
2012 Forester
There were no noteworthy changes to the 2012 Subaru Forester.
2013 Forester
With a new Forester on the horizon for 2014, it wasn't too surprising that the 2013 model didn't see any dramatic changes. Still, there were a few tweaks. A Bluetooth wireless cellphone link and audio streaming were now standard on the base 2.5X model. The 2.5X Premium with manual transmission now was standard with the All-Weather Package that included heated front seats, heated exterior mirrors, and a windshield wiper de-icer. An optional Plus Package for 2.5X Premium added fog lights and an upgraded audio system. Finally, the 2.5X Premium with automatic transmission became available with a new All-Weather Plus Package that included all the items listed in the All-Weather Package and Plus Package for the 2.5X Premium with manual transmission.