Minivan; Built in Turkey
transverse front-engine/front-wheel drive
Good condition price range: $8,300 – $18,700*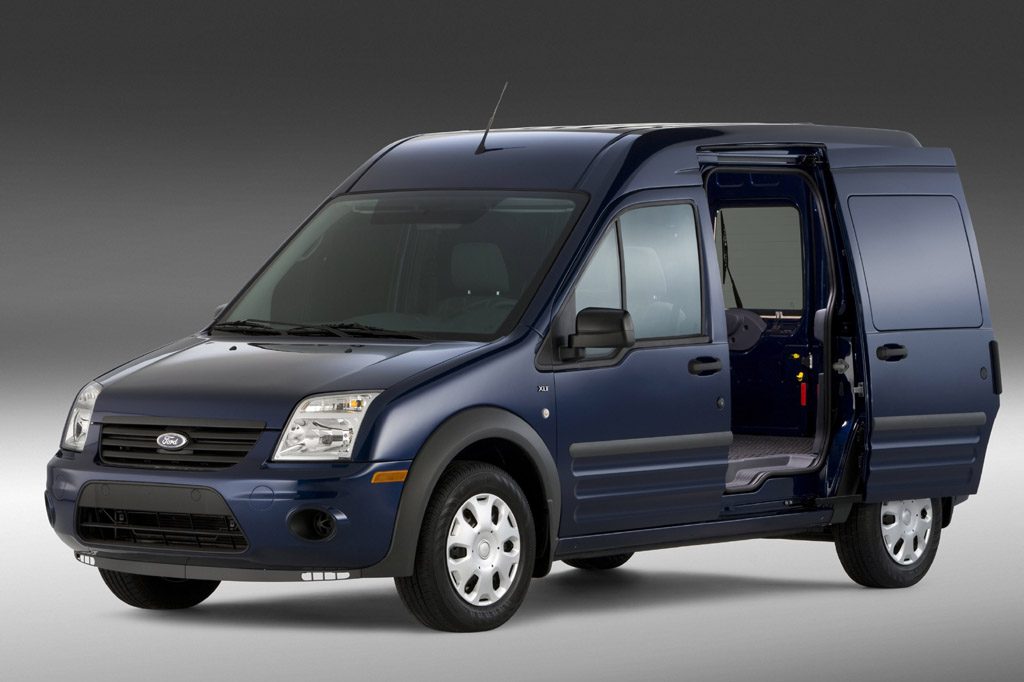 2010 Ford Transit Connect front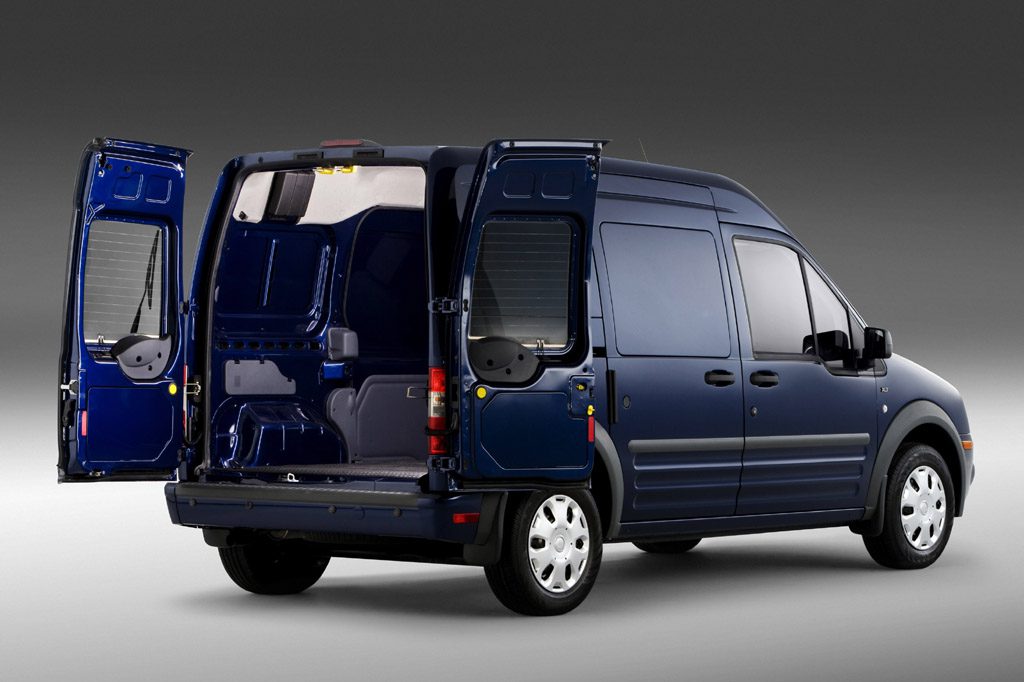 2010 Ford Transit Connect rear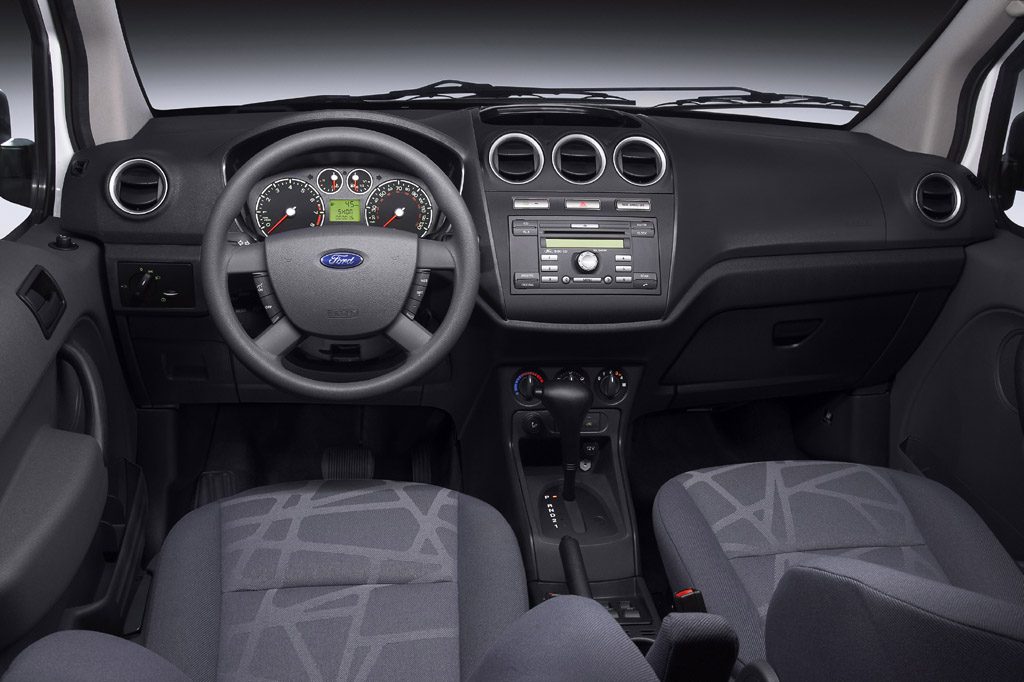 2010 Ford Transit Connect interior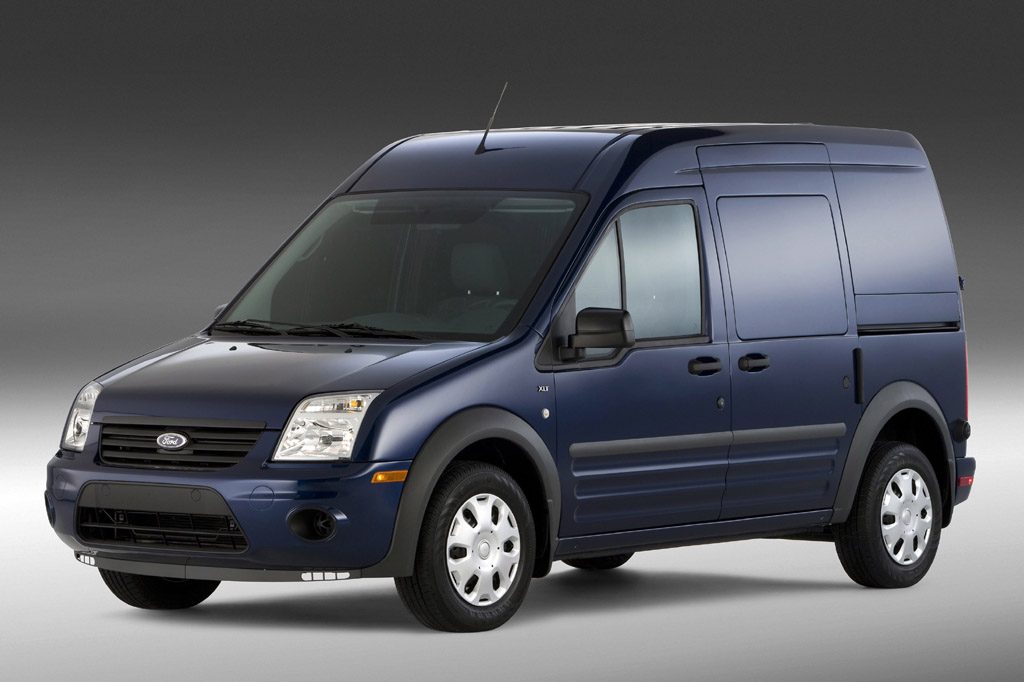 2010 Ford Transit Connect
Pros:

Entry/exit
Passenger and cargo room

Cons:

Acceleration
Interior materials
Quietness
Transit Connect neatly fills a size gap between the compact Chevrolet HHR Panel and enormous Dodge/Mercedes-Benz Sprinter as well as the big and boxy full-size vans. Though noisy and underpowered, it delivers excellent utility, unexpected connectivity, and surprising fuel economy. Transit Connect is a worthwhile choice for business owners or folks who simply want or need to carry a whole lot of stuff.
Overview
Popular for some years in Europe, the Ford Transit Connect van made its North American debut as a 2010 model. Based on a design sold in many worldwide markets, Transit Connect could seat two up front in its Cargo form and either four or five passengers when fitted as a Passenger wagon with rear seating. Significantly smaller than a full-size van, it had minivan-like sliding rear-side doors and two rear side-hinged doors similar to a commercial van. Those rear doors could open to 180 degrees (or, as an option, 225 degrees). Built with front-wheel drive, the Transit Connect came in XL and XLT trim levels. The sole powertrain teamed a 136-horsepower 2.0-liter four-cylinder engine with a four-speed automatic transmission. Standard safety features included antilock braking and front-side airbags. Passenger-carrying Transit Connects also had traction control and an antiskid system with rollover sensing. Some of the commercial-friendly features on the Transit Connect included an in-dash computer with Internet access and available printer, a tool-inventory system, and a vehicle-tracking device for fleet users. A reverse-sensing system was optional for XLT models. With 135 cubic feet of cargo space, Ford's Transit Connect ranked between the compact Chevrolet HHR Panel van and the larger Mercedes-Benz Sprinter. It also competed against full-size vans from Ford and General Motors.
Yearly Updates
2011 Transit Connect
The lineup expanded with a new trim level as well as versions that were capable of running on batteries, compressed natural gas (CNG), or liquid petroleum gas (LPG). Configurable for either two occupants as a cargo van or five passengers as a wagon, Transit Connect again came in XL or XLT form, along with a new-for-2011 XLT Premium trim level. Conventional Transit Connects again had a 136-horsepower 2.0-liter four-cylinder engine and a four-speed automatic transmission. Transit Connect Battery Electric Vehicle (BEV) versions were powered by a 74-horsepower electric motor and a 28-kilowatt-hour battery pack. Ford claimed a range of 80 miles, a top speed of 75 mph, and a charge time of six to eight hours on a 240-volt circuit. Transit Connect models powered by CNG and LPG were available only to fleet customers. During 2011, a new competitor was being prepared for sale: the Nissan NV200.
2012 Transit Connect
The federally mandated antiskid system was added to the 2012 Ford Transit Connect, but it saw few other changes.
2013 Transit Connect
2013 was the last year of the Transit Connect first generation design. As such, it saw no major changes. Redesigned passenger and cargo models were in the works, with assembly to take place both in the U.S. and Spain.