Sporty/performance car; Built in Canada
2-door convertible
2-door coupe
longitudinal front-engine/rear-wheel drive
Good condition price range: $9,700 – $47,900*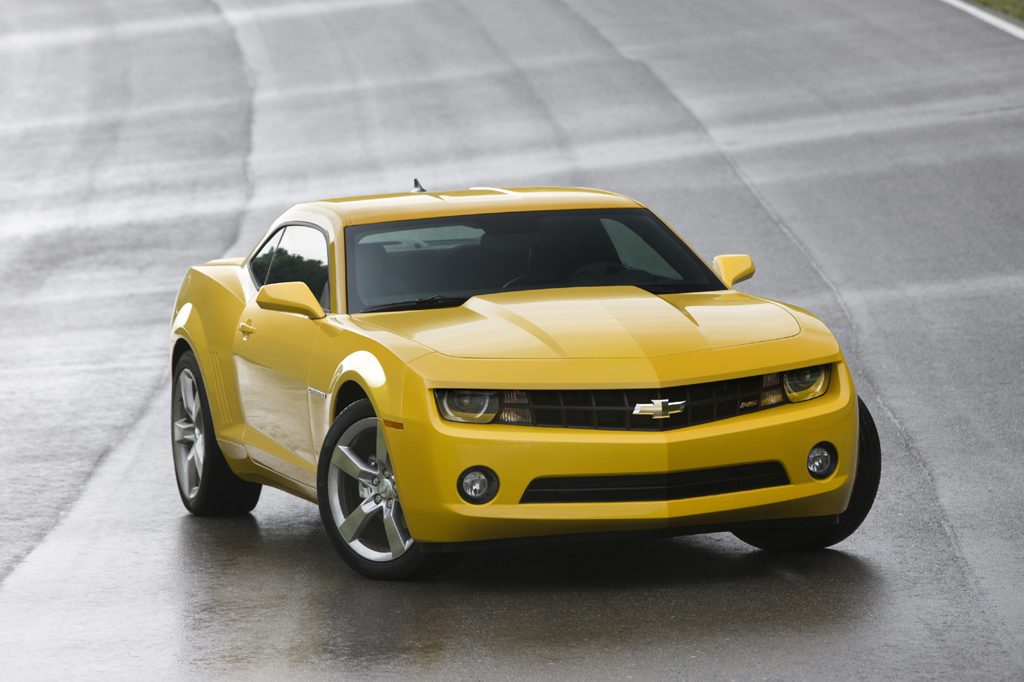 2010 Chevrolet Camaro front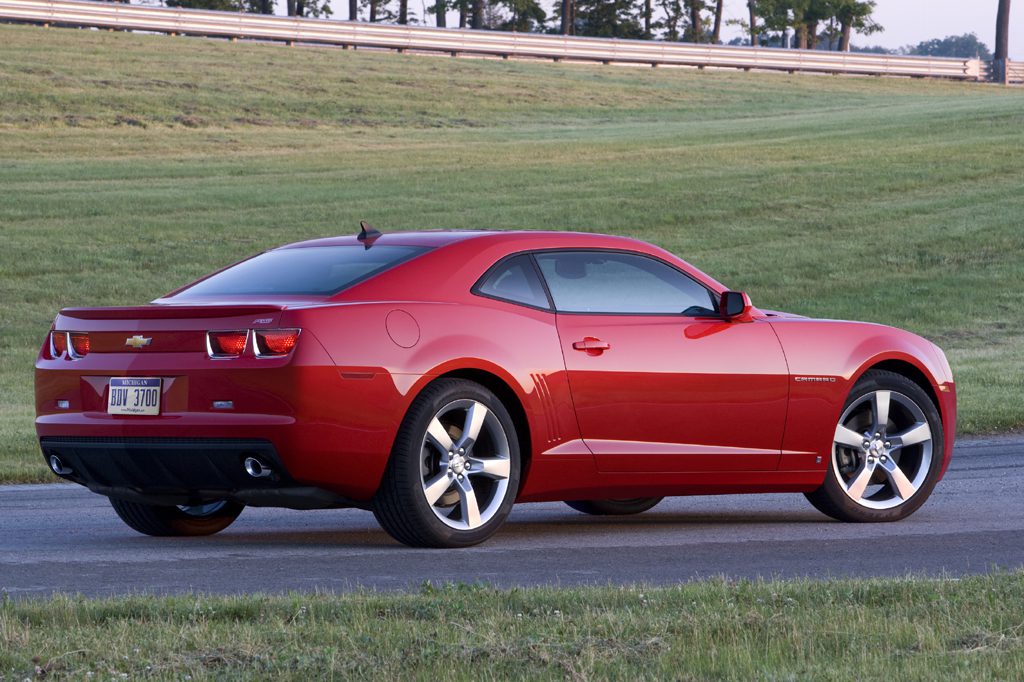 2010 Chevrolet Camaro rear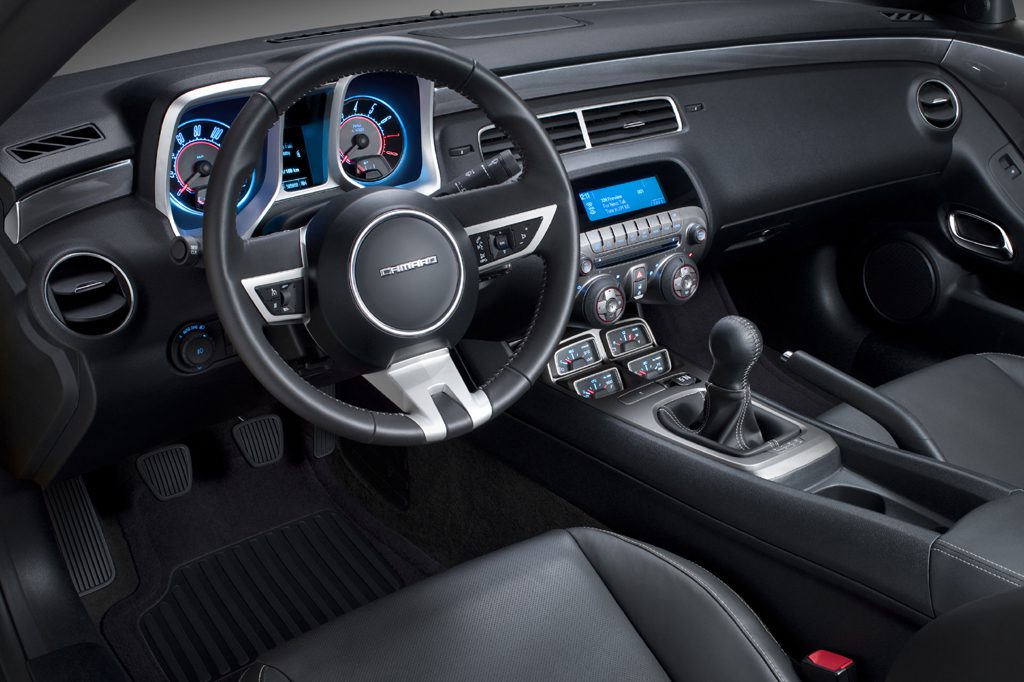 2010 Chevrolet Camaro interior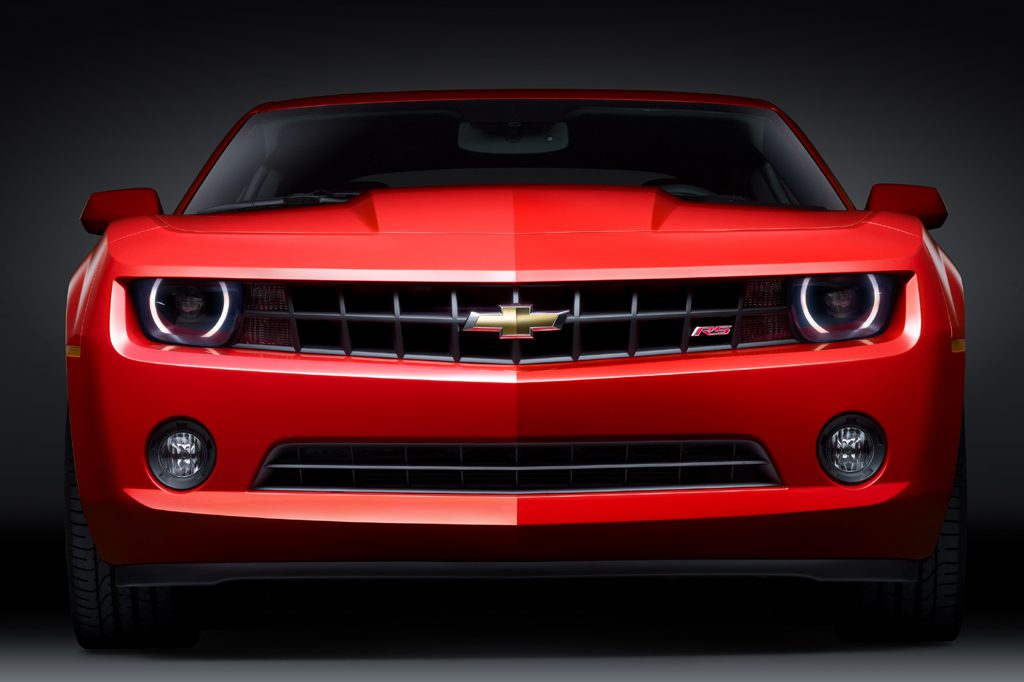 2010 Chevrolet Camaro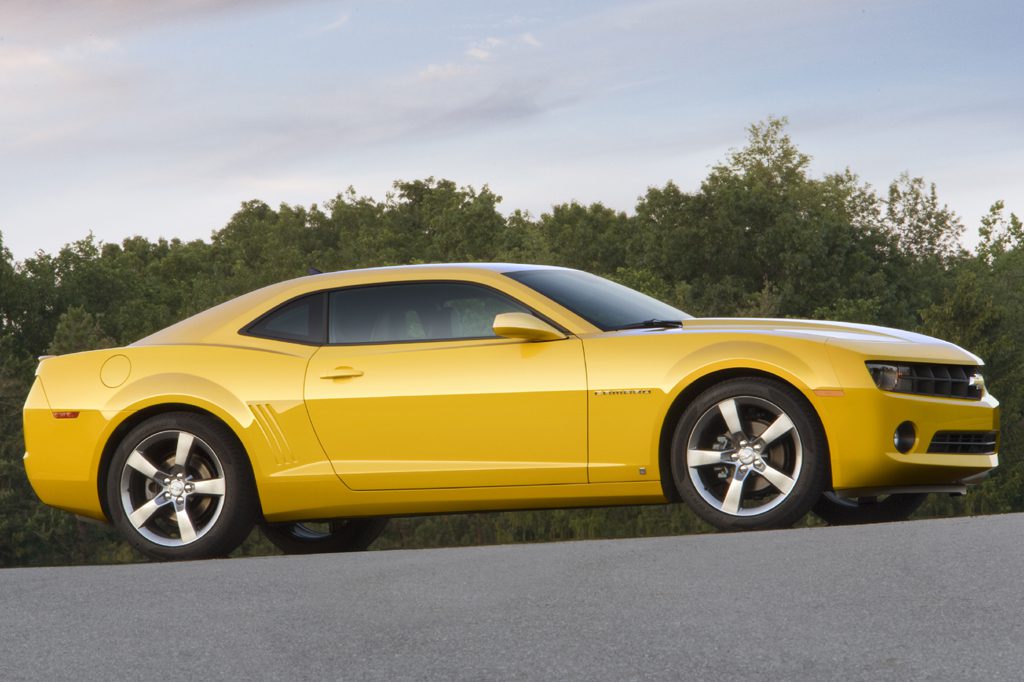 2010 Chevrolet Camaro
Pros:

Acceleration
Ride (V6 w/19-inch wheels)
Steering/handling

Cons:

Cargo room
Interior materials
Rear-seat room
Camaro suffers from the usual sporty car vices of poor visibility and a claustrophobic interior. It balances those defects with strong power and generally civilized road manners. In fact, the impressively tight feel of the convertible might make it the leader among sporty soft tops. V6 versions are surprisingly refined, while the V8 successfully draws upon the spirit of its late-1960s ancestor. Though not significantly better than any of its rivals (retro-flavored or otherwise), Camaros are still worth considering.
Overview
Introduced for 2010, Chevrolet's Camaro marked the return of this iconic "pony car." The last earlier-generation Camaro disappeared after the 2002 model year. The modern-day Camaro bowed as a two-door coupe. A two-door convertible version joined it in early calendar 2011. Surprisingly, the 2010 Camaro shared some of its basic design with the soon-discontinued Pontiac G8 large sedan. Body styling was inspired by the 1969 Camaro.
Five trim levels were offered: LS, 1LT, 2LT, 1SS, and 2SS. Two engines were available: a V6 and a V8. Available in LS and LT models, mating with either a manual or automatic transmission, the V6 was a 3.6-liter unit that produced 304 horsepower in 2010 and 312 thereafter. SS Camaros with a manual transmission got a 426-horsepower 6.2-liter V8. Automatic-equipped SS models also got a 6.2-liter V8, but that one made 400 horsepower and featured GM's Active Fuel Management cylinder deactivation. A high-performance ZL1 with a supercharged 6.2-liter V8 producing 580 horsepower was added for 2012.
Standard safety features included antilock braking, traction control, an antiskid system, front-side airbags, and curtain-side airbags. An RS Package for LT and SS models included bi-xenon headlights and specific trim. LT versions with that package got 20-inch wheels. All Camaros were available with 21-inch wheels. Rear-obstacle detection was standard on the 2LT and 2SS and optional on the 1LT. Other available features included a wireless cell-phone link, USB port, satellite radio, and remote engine start. An optional Transformers Special Edition package, inspired by the movie Transformers, included specific trim. Like other sporty/performance cars, Camaro emphasized affordable performance. Rivals included the Dodge Challenger, Ford Mustang, and Hyundai Genesis Coupe.
Yearly Updates
2011 Camaro
The Camaro got more V6 power and a new convertible body style with an acoustical headliner and enhanced body structure. LS, 1LT, 2LT, 1SS, and 2SS trim levels returned, though the convertible was not offered as an LS. Available in LS and LT Camaros, the 3.6-liter V6 now produced 312 horsepower–an increase of eight. The SS V8 saw no major changes. A head-up instrument display became standard for 2LT and 2SS packages. During 2011, Chevrolet announced a limited-production Camaro ZL1, commemorating an early model with that designation and packing a supercharged 550-hp V8, but it will be a 2012 model.
2012 Camaro
The Chevrolet Camaro received some rather significant changes for 2012. Added to the lineup was the high-performance ZL1 with a supercharged 6.2-liter V8 producing 580 horsepower. Meanwhile, the base V6 gained 11 horsepower to 323, a rearview camera was newly available, and a specially trimmed 45th Anniversary model was offered.
2013 Camaro
Chevrolet continued to add features and models to the Camaro lineup. A convertible version of the ultra-high-performance ZL1 came online for 2013. The sporty SS was available with a new "1LE" performance package, which included revised transmission gearing, a performance suspension with strut brace, and a few engine bits from the ZL1.
Most models newly included Chevrolet's MyLink infotainment system.
2014 Camaro
Chevrolet's "pony car" got a facelift and a racetrack-ready Z/28 high-performance model for 2014.
2015 Camaro
After receiving a facelift and a racetrack-ready Z/28 high-performance model for 2014, Chevrolet's "pony car" saw no changes of note for 2015. A redesigned Camaro arrived for 2016.