Sporty/performance car; Built in
2-door convertible
2-door coupe
transverse front-engine/front-wheel drive
Good condition price range: $9,300 – $33,100*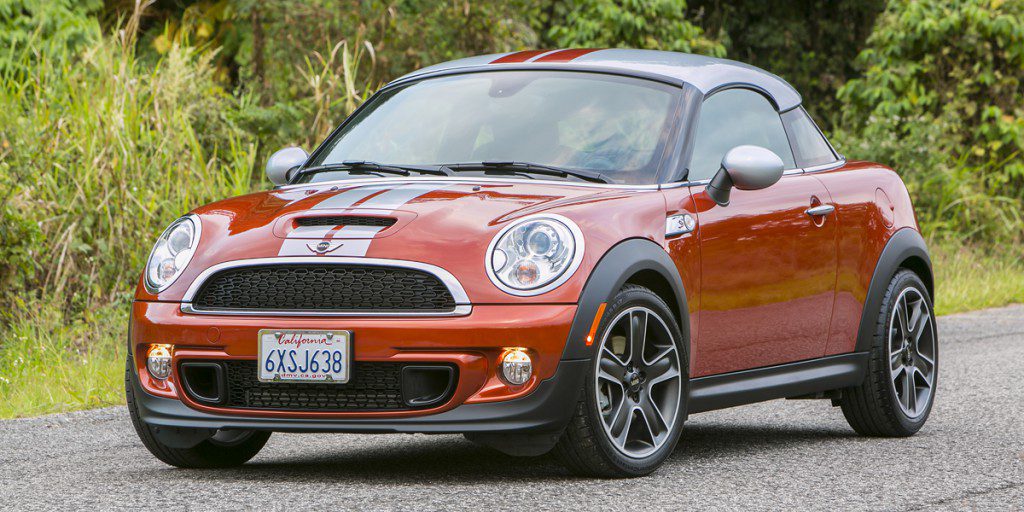 2014 Mini Cooper Coupe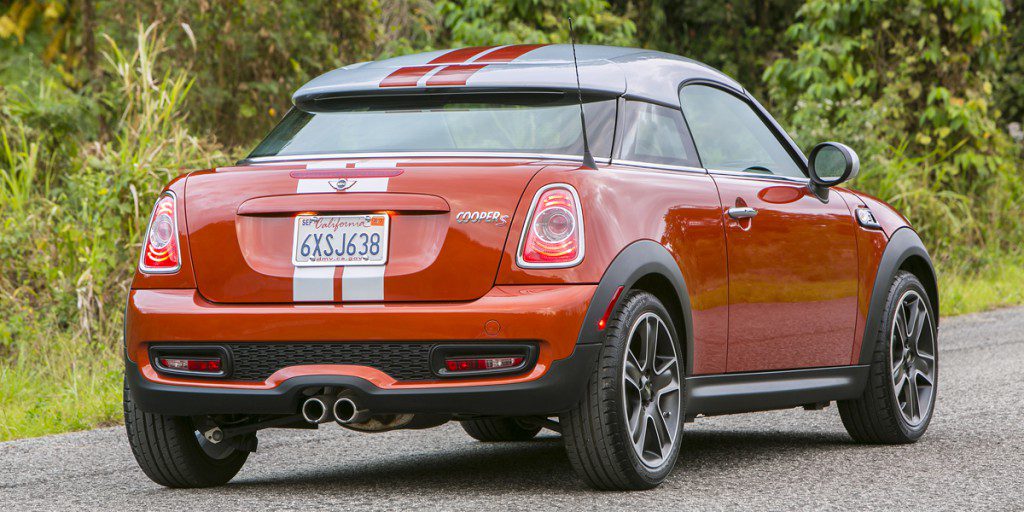 2014 Mini Cooper Coupe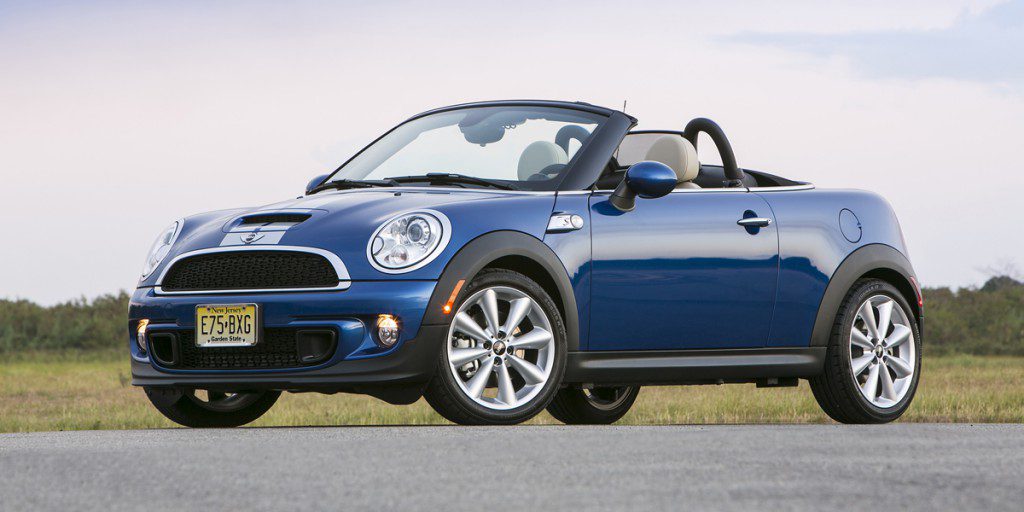 2014 Mini Cooper Roadster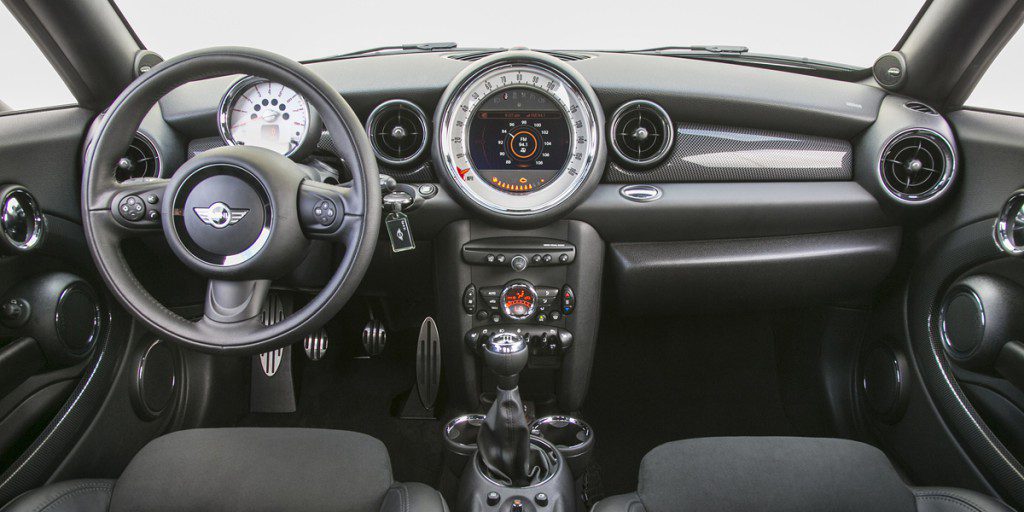 2014 Mini Cooper Coupe
Pros:

Acceleration (S, John Cooper Works)
Fuel economy
Steering/handling

Cons:

Acceleration (Base with automatic transmission)
Instruments/controls
Rear visibility
Ride
Cooper Coupes and Roadsters share virtues and vices with equivalent Mini Hardtops and Convertibles, but sacrifice back-seat utility for sportier styling and handling. That strikes us a questionable tradeoff given the price surcharges when new. Our test 2012 JCW Coupe, for example, stickered at a not-so-Mini $38,350 (including $700 destination). So unless you're simply mad about the Coupe or Roadster's looks and 2-seat format, a 4-passenger base or S Hardtop offers better value–and arguably more of an "authentic Mini" experience.
Overview
The Mini Cooper Coupe bowed for 2012 as the iconic British brand's first 2-seat body style. A companion soft-top Roadster arrived in U.S. showrooms a few months later.
The Coupe shared many design elements with the boxy 2007-2013 Cooper Hardtop (Mini's 4-seat hatchback model), including front-end appearance, powertrains, chassis components, and most features. It even had the same footprint, but stood about an inch lower overall and looked more rakish. Styling alterations involved a more steeply raked windshield, round-top door windows, and a so-called "helmet" roofline inspired by baseball caps worn backwards (honest). A long liftgate terminated in a vestigial rear deck and incorporated a wraparound window beneath the roof's trailing-edge overhang. The hatch also housed an "active" rear spoiler that powered up and down to enhance stability at higher speeds.
The Roadster shared many of the Coupe's styling cues, but compared to Mini's 4-seat Convertible it had a shorter-length folding top with an arched instead of square profile; and a conventional lift-up trunklid instead of the Convertible's swing-down "tailgate." Like the Coupe, the Roadster came with an "active" rear spoiler that automatically powered up from the deck to enhance aerodynamic stability above 50 mph, then retracted when speed dropped to 30 mph or so.
Inside, the normal back seat was replaced by an open storage area and a stylized partition. The latter incorporated a narrow package shelf, radio-speaker mounts, and a 14-by-8-inch center pass-through panel that could be locked to secure the trunk behind. The partition improved structural rigidity with this hatchback configuration and was deemed necessary to achieve credible handling in what was billed as a full-fledged sports car. Driver and passenger accommodations were similar to those of 4-seat Minis, but the seats were set lower to maintain headroom beneath the "chopped" roof. For the same reason, the Coupe's headliner is molded with an oval scallop above each seat.
In the Roadster, the partition contributed to structural rigidity in the absence of a permanent metal top and also mounted a pair of rollover-protection bars with the same height as the windshield frame, which was specially reinforced.
Mini Coupes and Roadsters were built in Oxford, England, in the same modern plant that turned out the firm's other models except the Countryman and Paceman, which were sourced from Austria. All these cars were engineered largely by BMW and employed some of the same technology as BMW's own vehicles.
Despite a "more minimal" nature, when new Coupes carried an approximate $1,450-$1,750 base-price premium over Hardtops. (Roadsters, interestingly enough, started about $400 above comparable 4-seat Convertibles.) With three models that spanned a broad price range before options, the Coupes competed with a variety of sporty/performance 2-doors, but were arguably closest in concept to the Si version of the Honda Civic Coupe, the 3-door Hyundai Veloster, and the Scion FR-S and Subaru BRZ siblings.
The Roadster's closest rival in concept and price was the Mazda MX-5 Miata, though it was a rear-driver with an available power hard top. However, buyers who favor "classic" design may have also weighed the Roadster against two similarly retro front-drive 4-seaters: the Fiat 500C, basically a 2-door sedan with a large rollback fabric sunroof, and the Volkswagen Beetle Convertible, which had a full-size cloth top. Depending on model and options, all three alternatives rivaled the Mini Roadster for acceleration, fuel economy, day-to-day practicality, and top-down appeal.
The Mini Coupe and Roadster were sold in Cooper, Cooper S, and driver-oriented John Cooper Works (JCW) versions. Base-model interior features included height-adjustable vinyl bucket seats, a tilt/telescopic leather-rim steering wheel with audio and cruise controls, remote power door locks, tachometer, trip computer, a cooled glovebox, trunk pass-through, and AM/FM/CD stereo with HD tuner, and media-player plug-in. The Coupe came standard with 15-inch alloy wheels, but the Roadster came with 16-inch alloys.
The Cooper S Coupe added 16-inch wheels with run-flat tires, plus both body styles received fog lights and bolstered sports seats. The John Cooper Works versions added a tuned sport suspension, uprated brakes, 17-inch run-flat tires, aerodynamic body skirts, and special trim.
Like other Minis, Cooper Coupe and Roadsters offered numerous options, with some key features available both individually and in packages. The Premium Package, for example, included automatic climate control, keyless access/engine-start, rain-sensing wipers, and auto-off headlights, all of which could be ordered separately. The same applied to the base- and S-model Sport Packages, each of which included body stripes, white turn-signal lenses, and "sport" traction control that could be fully disabled at the driver's discretion. The base-model group also delivered sport front seats along with 16-inch run-flat tires for the Coupe; the S version included 17-inch tires. The base and S could also be ordered with an alternative John Cooper Works Package. This, too, included the sport traction control, plus specific 17-inch wheels, body cladding, and special trim.
Available for all models was a Cold Weather Package comprised of heated seats, heated washer jets, and heated power-fold door mirrors; again, all these were also sold separately. A Technology Package combined rear-obstacle detection with premium harmon/kardon audio, USB port, and a voice-controlled information screen (located within Mini's trademark center speedometer).
Headlining major standalone options was a navigation system with Mini Connected. Also available separately, Mini Connected was an infotainment controller that allowed changing various vehicle settings via the dashboard screen. It could also be used with data plan-enabled smartphones and downloadable applications to access streaming Internet radio, RSS news feeds, Facebook, and Twitter.
Additional a la carte options included xenon and steering-linked headlamps; cloth, cloth/leather, and full-leather upholstery; larger-than-standard tires; and alternative wheel designs. In addition, the Coupe and Roadster mimiced other Minis by offering a dizzying array of "personal" trim and color options, including eye-catching body graphics like Union Jack- and checkered-flag motifs for the roof, door handles and door mirrors. Mini customers could even design their own artwork on a special-order basis.
Also per Mini practice, all Cooper Coupes and Roadsters used 1.6-liter 4-cylinder engines with direct fuel injection and model-specific tuning. The base version had 121 horsepower, while the S and JCW added turbocharging to achieve 181 and 208 horsepower, respectively. Drive was to the front wheels. All versions came standard with a 6-speed manual transmission. A 6-speed automatic was optional on base and S models. The two turbo engines included an "overboost" feature that provided a brief burst of extra power under certain operating conditions.
The EPA rated the base 2012 Mini Cooper Coupe at 29 mpg city and 37 mpg highway with manual transmission and 28/36 with automatic. The Cooper S came in at 26/35 with manual transmission and 26/34 with automatic. Estimates for the John Cooper Works were 25/33 with the manual.
For 2012, the base Cooper Roadster was EPA-rated at 27 mpg city and 35 highway with either available transmission. The S earned ratings of 26/35 with manual transmission and 26/34 with automatic. The JCW convertible had estimates of 25/33 with the 6-speed manual.
Like other Minis, the Cooper Coupes and Roadsters included expected and federally required safety features such as antilock brakes (ABS), stability system, and traction control. Curtain side airbags were not available, but standard seat-mounted side airbags were designed to provide both head and torso protection. The Roadster also came equipped with rollover-protection bars that were designed to prevent or minimize injury in concert with a reinforced, same-height windshield frame. The run-flat tires and available rear-obstacle detection could be regarded as safety-related pluses. So could the manual transmission's hill-holder clutch.
Yearly Updates
2012 Mini Cooper Coupe/Roadster
The Mini Cooper Coupe and Roadster saw few changes for 2013. A Bluetooth wireless cell-phone link was now standard instead of optional, satellite radio was now optional instead of standard, and automatic transmission was newly available for the top-line John Cooper Works model. In addition the Roadster's standard equipment expanded to include power top operation and a cockpit wind deflector, both of which had previously been optional.
2013 Mini Cooper Coupe/Roadster
There were no significant changes for 2014.