Premium sporty/performance car; Built in
2-door convertible
2-door convertible
2-door coupe
2-door coupe
2-door coupe
longitudinal rear-engine/rear- or all-wheel drive
Good condition price range: $46,300 – $155,300*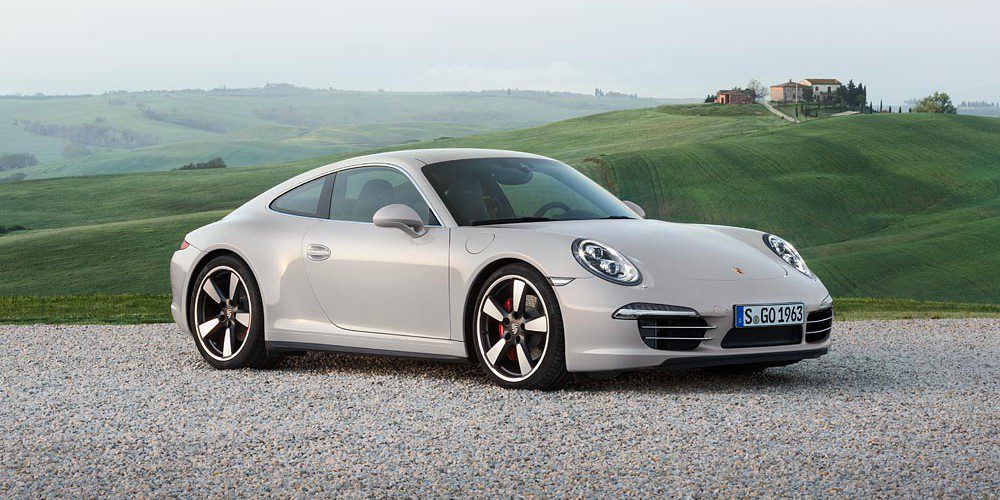 2014 Porsche 911 50th Anniversary Edition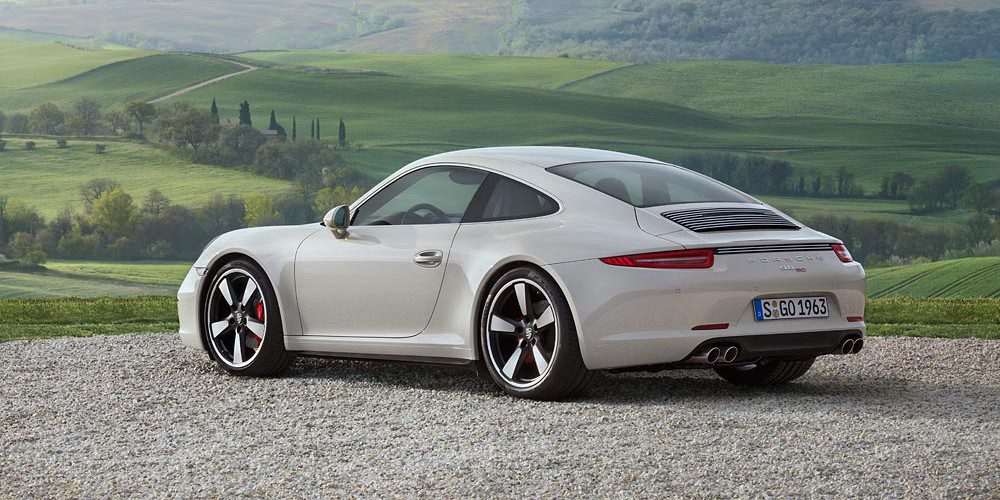 2014 Porsche 911 50th Anniversary Edition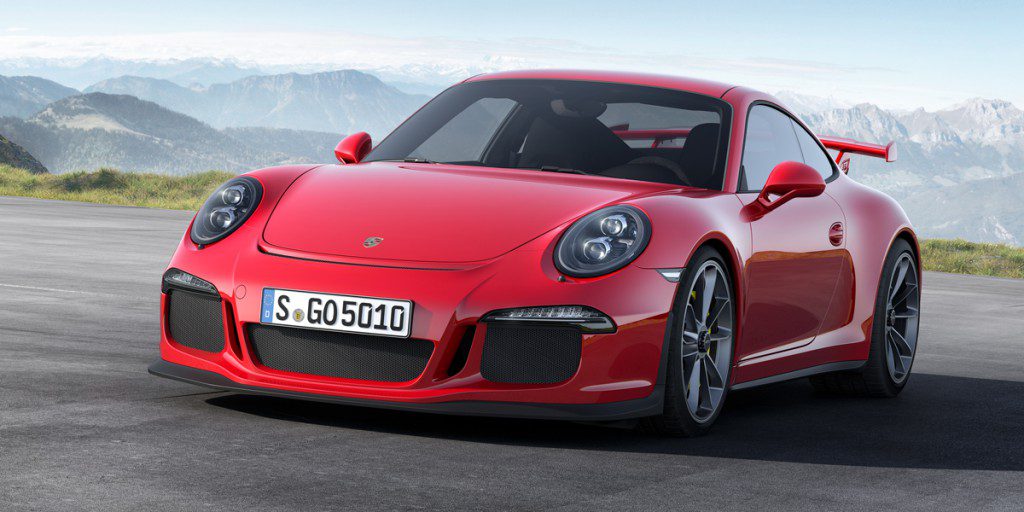 2014 Porsche 911 GT3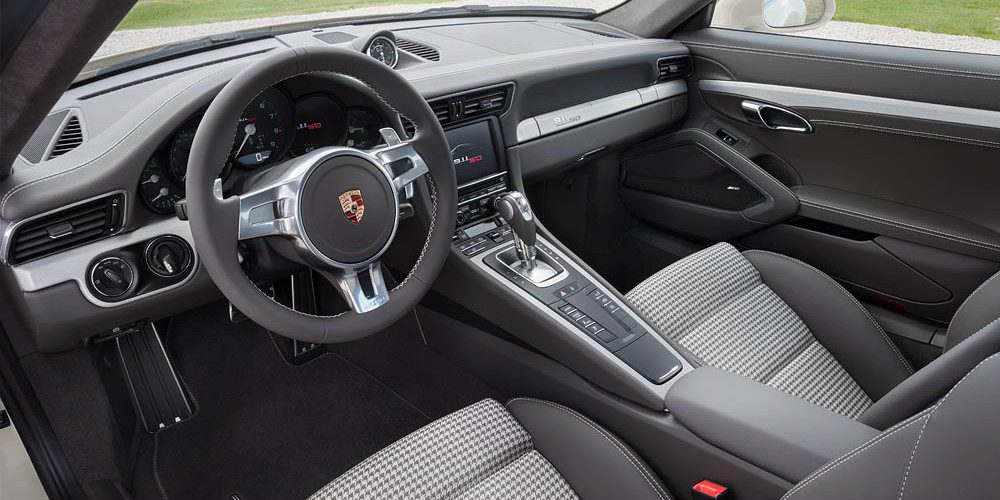 2014 Porsche 911 50th Anniversary Edition
Pros:

Acceleration
Build quality
Steering/handling

Cons:

Price
Rear-seat room and comfort
The Porsche 911 is an absolutely thrilling car to drive. Precise handling, exceptional craftsmanship, and an intoxicating engine are all hallmarks. Unfortunately, so are stratospheric prices. Few automobiles of any stripe, though, can blend daily-driver livability and supercar handling the way the 911 can.
Overview
Something old, something new. Model-year 2012 marked the debut of a redesigned 911 Carrera coupe and Cabriolet. These new 911s became known to enthusiasts as the "991" generation cars, using the three-digit code the company assigned to the car's all-new chassis. Though the new 911s didn't look much different than their predecessors, these sports cars came with more power and the promise of increased fuel efficiency. These 911s were also the world's first cars to come with a 7-speed manual transmission.
In 2012, these updates only applied to the rear-wheel drive 911 Carrera and Carrera S coupe and Cabriolet. All other 911s for 2012 continued on the previous-generation "997" platform with only minor trim changes. Porsche continued a gradual rollout of more redesigned 911 variants throughout calendar 2012 and 2013.
As mentioned above, the rear-wheel-drive 911 Carrera coupe and Cabriolet were new. These "base" models were joined for 2012 by the similarly redesigned, but more-powerful Carrera S coupe and Carrera S Cabriolet.
Other rear-drive 2012-model 911s included the Carrera GTS and GT2 RS. Porsche produced many all-wheel drive 911s as well. That lineup consisted of the following: Carrera 4, Carrera 4S, Carrera 4 GTS, Targa 4, Targa 4S, Turbo, and Turbo S. All but the Targa were offered as either a coupe or Cabriolet. Targas had a panoramic, power-sliding glass roof panel. The 911 GT3 and GT3 RS have been discontinued. Remember though, in 2012 these cars all continued to use the previous-generation "997" designs. Reviews of those models are found in Consumer Guide's report on the 1999-2011 Porsche 911s.
For a high-end sports car, the 911 didn't include a whole lot of standard amenities. There was the usual complement of power windows and locks, remote keyless entry, a Bluetooth wireless cell-phone link, and automatic climate control. Many desirable performance, luxury, and convenience features were optional, either as part of a package or a la carte. Their availability and pricing also depended on the specific model selected.
On the performance side, you could order the Sport Chrono Plus Package, which included a dashboard chonometer, sport button that electronically changed the engine and chassis for high-performance driving, and separate adjustments for the lighting, air conditioning, windshield wipers, and door locks. Some versions of this package also included special engine mounts and launch control, which adjusted the various electronic systems for maximum acceleration. A sport exhaust made the engine breathe easier and sound meaner. Porsche Torque Vectoring automatically distributed driving force between the rear wheels (this feature is not offered on AWD models). Carbon-ceramic-composite disc brakes were designed to offer greater stopping power and control.
Optional luxuries included full leather upholstery, power front seats, heated front seats, ventilated front seats, heated steering wheel, adaptive sport seats, navigation system, and voice recognition.
Convenience items you would expect to be standard but actually cost extra included a 6-disc CD changer, satellite radio, and steering-wheel radio controls.
All 911s used horizontally opposed 6-cylinder engines. The redesigned rear-drive Carrera and Carrera S had brand-new engines. The former used a 350-horsepower 3.4-liter unit while the latter received a 400-horsepower 3.8. Both came standard with an industry-first 7-speed manual transmission. Optional was a 7-speed "PDK" dual-clutch automated manual that behaved just like an automatic; it included steering-wheel paddles for manual gear changes.
EPA estimated fuel economy for the new 911 Carrera is 20 mpg city/28 mpg highway with the 7-speed manual transmission and 19 city/27 highway with the automated manual. Both figures apply to the coupe and convertible. The new Carrera S coupe scores 20 city/27 highway with the 7-speed manual and 19 city/27 highway with the automated manual. Convertibles are 19/27 regardless of transmission. Premium-grade gasoline was required.
Yearly Updates
2012 911
For 2013, Porsche introduced all-wheel drive Carrera 4 and 4S versions of the redesigned 911. All the carryover "997" models including the Turbo and Targa variants were discontinued.
2013 911
The 911 lineup expanded considerably for 2014. The Turbo and Turbo S models were back, as was the Targa. All Turbo and Targa variants came with standard all-wheel drive. Enthusiasts also rejoiced when the track-ready GT3 reappeared, even if the expected manual transmission was nowhere to be found. There was also a new limited-production, specially trimmed 50th Anniversary model to help celebrate the model's 50th birthday.