Premium sporty/performance car; Built in
longitudinal mid-engine/rear-wheel drive
Good condition price range: $34,300 – $61,800*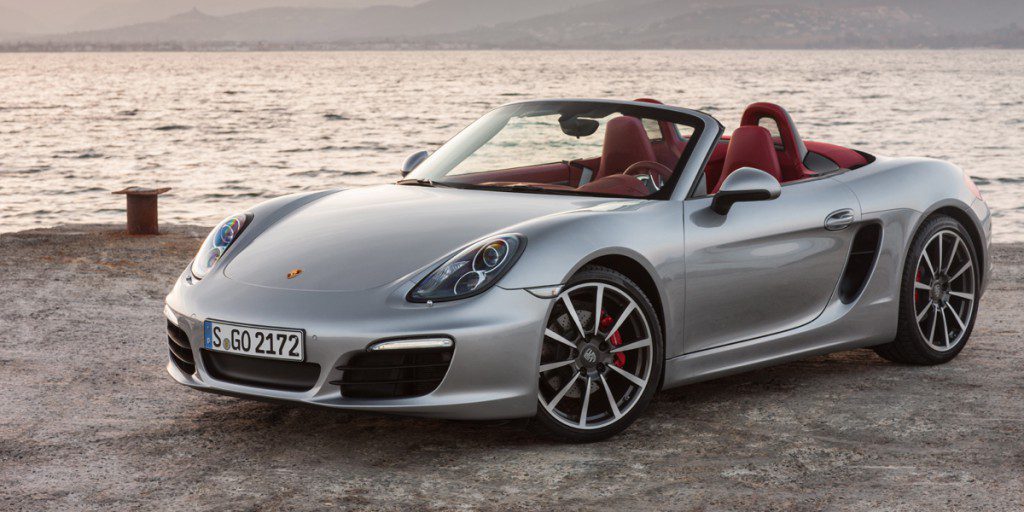 2014 Porsche Boxster S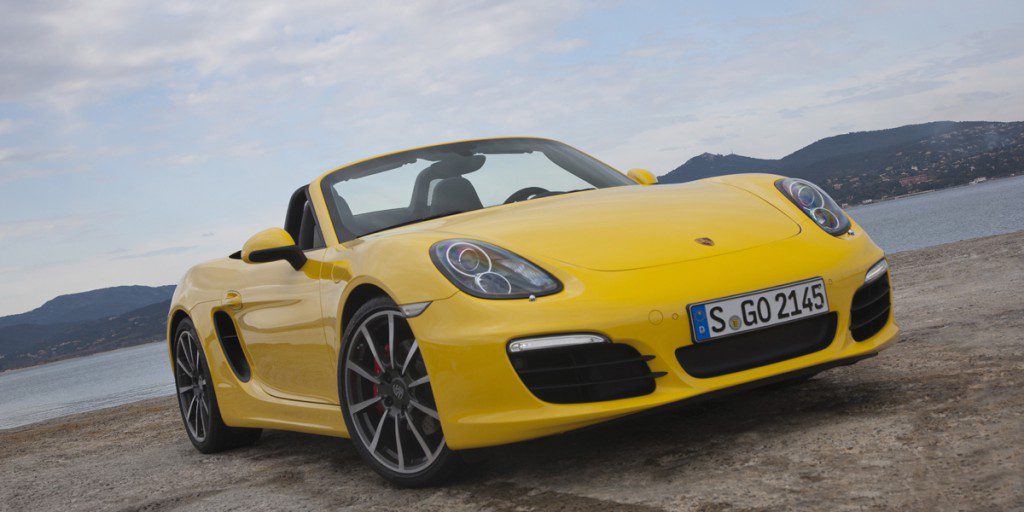 2014 Porsche Boxster S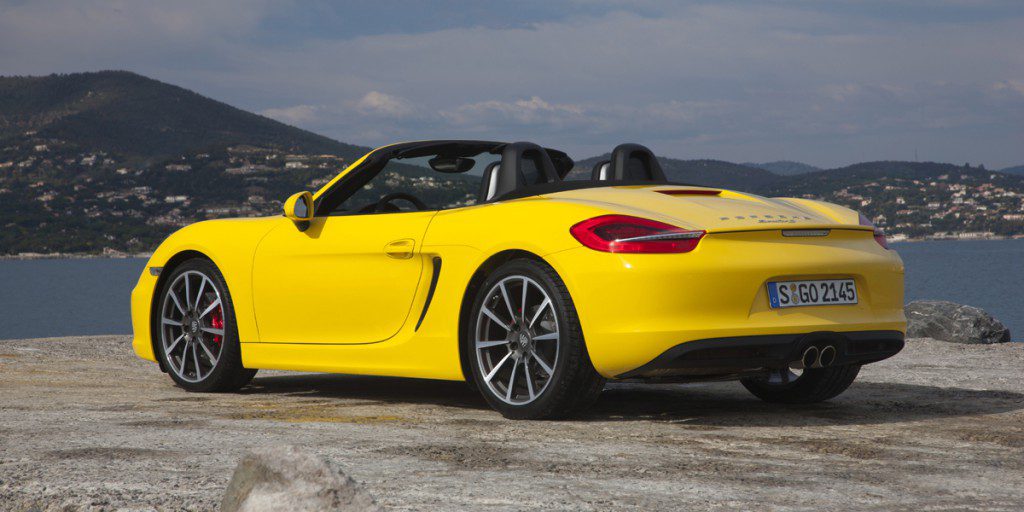 2014 Porsche Boxster S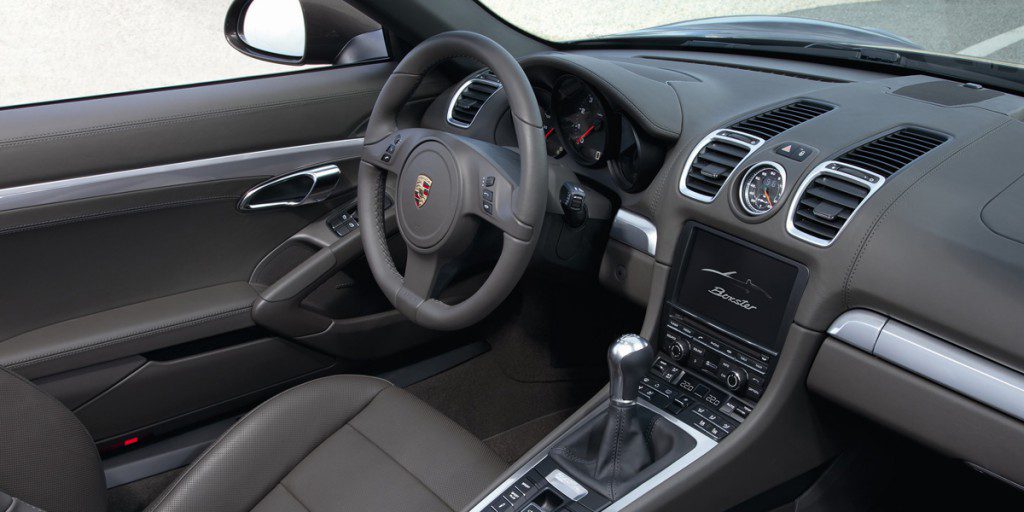 2014 Porsche Boxster S
Overview
Porsche's Boxster, a two-seat cloth-top convertible, premiered back in 1997 as the new entry-level model from the maker of the legendary 911 sports cars. An evolutionary second-generation Boxster arrived for 2005 and was joined two years later by a companion coupe called Cayman.
The name Boxster was said to be a blend of "roadster" and "boxer." The latter refers to a so-called "flat" engine with horizontally opposed cylinders that appear to "box" with each other in back-and-forth motions. Porsche has used this engine layout for over 60 years in road and racing cars. Other automakers have too, but only Subaru has made it a brand signature like Porsche.
The 2013 Porsche Boxster was fully redesigned. Designated 981, the third-generation model was a somewhat larger and lighter rendition of the previous 987-series car with fresh styling, revised powertrains, and several first-time features. Development efforts gave top priority to improved handling and fuel-efficiency.
Key engineering changes began with a 2.4-inch longer wheelbase and a 1.3-inch gain in overall length. Width and height remained essentially the same. Base curb weight, however, was trimmed by 55-75 pounds through greater use of lightweight materials and new-tech structural engineering that increased claimed torsional rigidity (resistance to twisting forces) by 40 percent.
The suspension remained a 4-wheel struts-and-multilink setup, but geometry was tweaked and components lightened and/or strengthened, all for more-precise handling. The 4-wheel antilock disc brakes received stiffer calipers, larger pads and, for the uplevel S model, larger front rotors from the 911 Carrera. Standard wheels switched from 17- to 18-inch on the Base model and from 18s to 19s on the S. In addition, the 2013 Porsche Boxster rolled on newly developed reduced-friction tires that enhanced fuel economy with no handling compromises, or so Porsche said. Other chassis changes included electric steering assist, which replaced hydraulic, and an electronic parking-brake switch instead of a pull-up lever.
Styling for the 2013 Porsche Boxster was similarly "the same but different." Though the basic shape and proportions carried over, the nose was more voluptuous, the wheels were pushed out flush with the body, the windshield was more laid-back and further forward, the bodyside indentations and air intakes were more prominent, and a horizontal blade now linked the taillamps while integrating a standard "active" spoiler, backup lamps, and foglight. A reshaped power soft top adopted the so-called Z-fold linkage that stowed the roof with its front outer surface exposed, thus eliminating the previous top cover. As before, the roof could be raised and lowered on the move at up to 31 mph.
The cockpit was predictably modernized too. New seats and door panels complemented a redesigned dashboard with a larger infotainment touchscreen that flowed to a down-sloped center console like those found in other contemporary Porsches. Useable interior space was little changed, though the longer wheelbase increased claimed legroom by one inch. Cargo volume remained at 9.9 cubic feet, divided between a 5.3-cubic-foot front trunk and a 4.6-cubic-foot rear hold behind the engine.
The 2013 redesign returned the Boxster line to its traditional Base and S duo. Both offered essentially the same standard and optional features, apart from the S-model's larger, more-powerful 6-cylinder engine and larger wheels and tires.
Standard equipment was adequate by premium-class standards, as Porsche marketed even its entry-level car with a heavy push on profit-boosting options. Still, both Boxsters came with the above-mentioned power top and power rear spoiler, plus alloy wheels, keyless power locks, heated power door mirrors, automatic headlights, front/rear fog lights, heated windshield-washer jets, and rollover protection bars behind the headrests. No-cost interior amenities included air conditioning, cloth upholstery, bucket seats with manual height-adjustment and power recliners, manual tilt/telescope steering wheel, trip computer, and a CD/MP3 stereo with a 7-inch touchscreen.
Like other Porsches, many Boxster options were available separately and in packages. New items to the list for 2013 included steering-linked bi-xenon headlamps, power-fold door mirrors, front- and front/rear-obstacle detection, 2-zone automatic climate control, and a Park Assist feature that displayed an overhead-view position graphic on the dashboard screen.
Among notable returning extras was the Porsche Communication Management (PCM) touchscreen navigation system that included a USB port and "universal" digital-media plug-in. A wireless phone connection, CD changer, satellite radio, and a TV tuner were all sold separately. So were a 7-speaker base-audio upgrade and a premium 10-speaker Bose Surround Sound system.
Buyers were also able to opt for bolstered manual sports seats, 14-way power sports seats, or 18-way adaptive seats. Heating or heating/ventilation could be added to all seat styles, and selecting either multi-adjustable type allowed ordering a power tilt/telescopic steering wheel with driver's-side position memory. Assorted trim packages offered full- and part-leather upholstery, plus hide covers for the dashboard and other interior surfaces. A cockpit wind deflector remained available too.
On the functional side, both Boxsters reprised optional lightweight carbon-ceramic disc brakes, Power Steering Plus with speed-variable assist, and a Sport Chrono package. The last included a dashboard stopwatch/lap timer and a Sport Plus button that modified powertrain and suspension responses for normal and track-style driving. Porsche Active Suspension Management (PASM) remained optional as well, and like before was basically special "magnetic" shock absorbers that changed firmness through normal and sport modes, also selected via the Sport Plus button. For 2013, PASM could be supplemented with optional Porsche Torque Vectoring (PTV), which apportioned power between the rear wheels as needed for improved cornering response and stability. Last but not least were available 20-inch wheels in three styles and a tuned sport exhaust system.
Both 2013 Porsche Boxster variants used revised versions of an existing "flat" 6-cylinder engine with all-aluminum construction, variable valve timing, and direct fuel injection. The base-model unit reverted to 2.7 liters, a size last offered for 2006, but packed 10 more horsepower than the 2.9 it replaced, for 265 in all. The Boxster S retained a 3.4-liter version that was re-tuned for 315 horsepower, an increase of 5. Both engines now included an automatic idle-stop feature, similar to that found on many gas/electric hybrids. Also new was a "coasting" function that, when activated, decoupled the transmission and cut the engine to idle speed, which allowed the car to "sail" for longer distances. A final new fuel-saver was an energy recuperation system. This converted kinetic energy to electricity for running accessories and charging the battery, thus reducing the amount of fuel-sapping drag from the engine-driven alternator.
As before, Boxster engines mounted in "rear/mid" position, just aft of the cockpit, and drove the rear wheels through a 6-speed manual transmission or optional 7-speed Porsche PDK dual-clutch gearbox. The latter could be set to shift like a conventional automatic or manually operated via the gear lever or steering-wheel paddles. A standard Sport button altered engine parameters to favor fuel economy or power delivery. On cars with the PDK transmission, the Sport Plus button could be used to deactivate the idle-stop and coasting features and to select a more-aggressive "racing track" shift program.
The base 2013 Porsche Boxster earned EPA city/highway fuel economy ratings of 20/30 mpg with manual transmission and 22/32 mpg with PDK. The S model rated 20/28 with manual transmission and 21/30 with PDK. All models required premium-grade gas.
Every 2013 Porsche Boxster came equipped with expected and federally mandated safety features, including antilock brakes (ABS), stability system, traction control, and seat-mounted side airbags providing head and torso protection. The fixed rollover-protection bars could be regarded as a safety-related feature too, along with the available torque-vectoring system.
Yearly Updates
2013 Boxster
The 2014 Boxster received only minor changes including a new optional stereo system and a couple new exterior color choices.