Sporty/performance car; Built in
longitudinal front-engine/rear-wheel drive
Good condition price range: $14,700 – $24,100*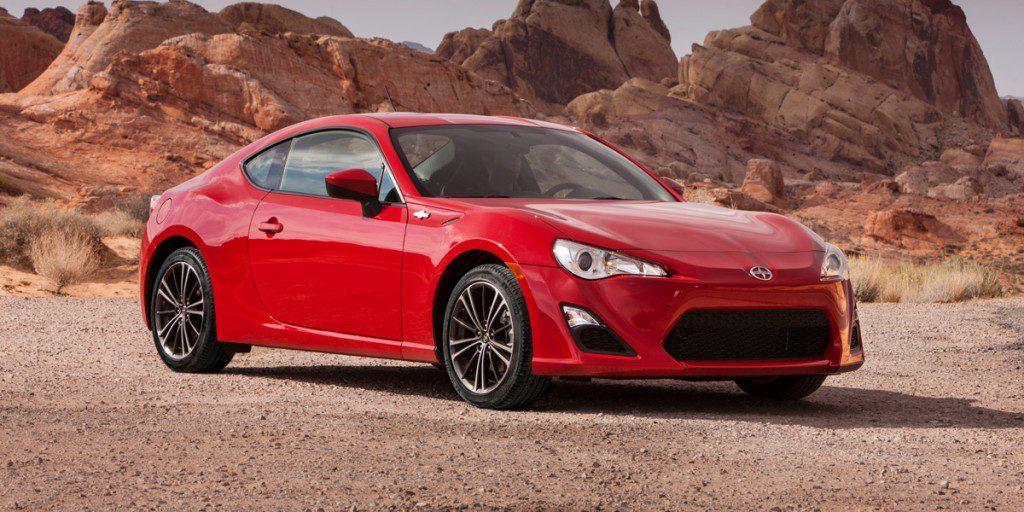 2013 Scion FR-S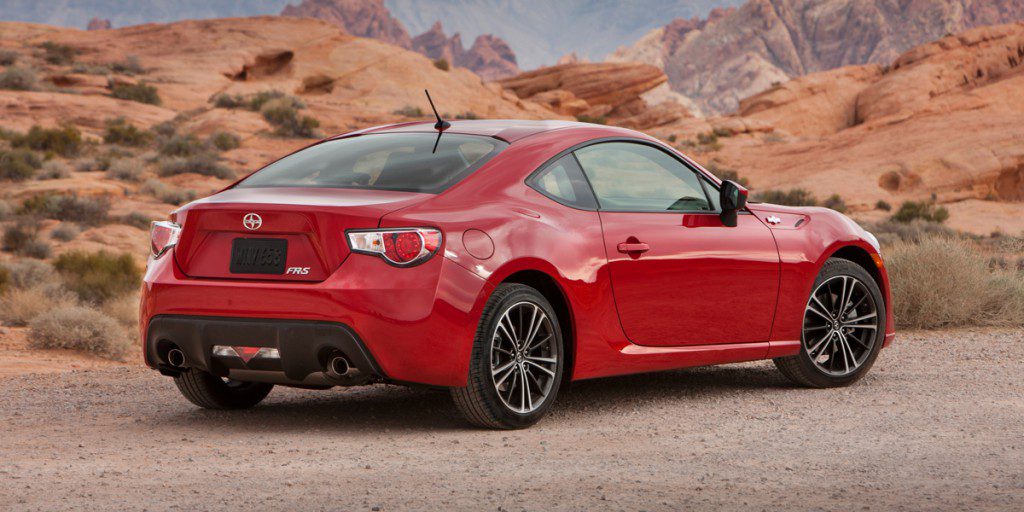 2013 Scion FR-S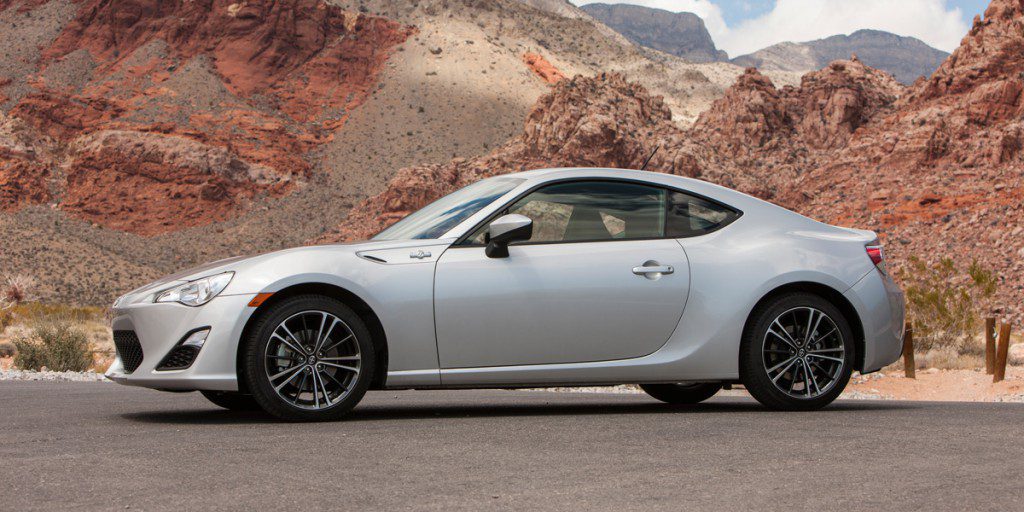 2013 Scion FR-S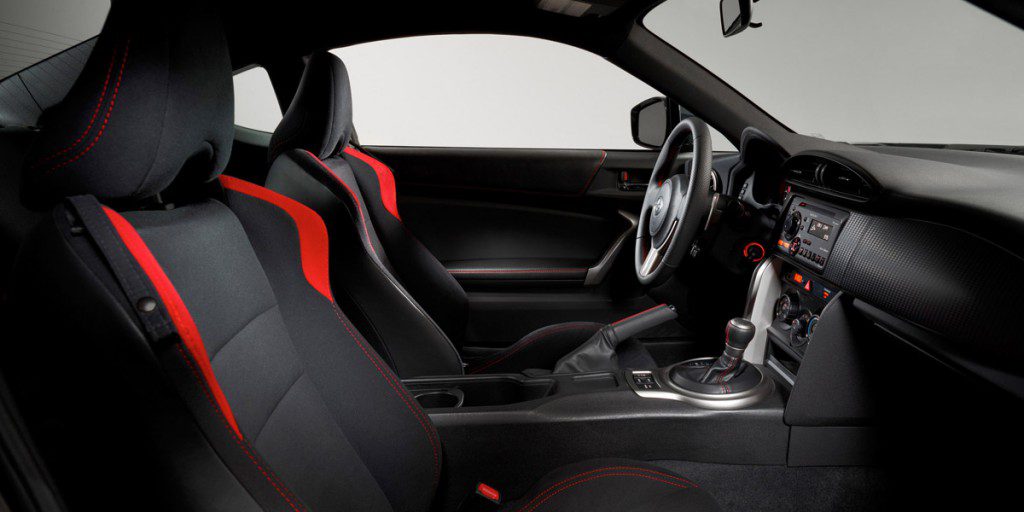 2013 Scion FR-S
Pros:

Acceleration
Handling
Price

Cons:

Entry/exit
Interior storage space
Rear-seat room
The Scion FR-S is almost in a class by itself. It has respectable performance credentials, a fun-to-drive personality, and surprisingly modest pricing. Other relatively affordable 4-cylinder sporty/performance cars include the Mazda MX-5 Miata and Hyundai Genesis Coupe, along with this Scion's near twin, the Subaru BRZ. The Mazda is great fun to drive and it is a convertible body style, but it lacks a back seat and can't match the FR-S' greater practicality. Though the Genesis Coupe base model cost less when new than the FR-S, it weighs more and lacks the FR-S' level of standard equipment. Also, neither of those cars offer an array of stand-alone accessories and certain features can be found only in option packages or higher trim levels. Enthusiasts in the market should take a hard look at the FR-S. Besides the standard sports-car vices of a somewhat firm ride, barely habitable back seats, and somewhat poor rear-corner visibility, the FR-S makes up for those demerits with lively performance, good projected fuel economy, and unusual-for-the-class levels of comfort and daily drivability.
Overview
The 2013 FR-S was Scion's first rear-wheel-drive sports car. It was also parent company Toyota's first front-engine, rear-wheel-drive sports car since the Supra ended production in 1998. FR-S stood for "Front engine, Rear-wheel drive, Sport." The FR-S had seating for four passengers.
The Scion FR-S was a new model for 2013. This vehicle was co-developed with Subaru. That company's vehicle, the BRZ, shared the majority of its design and powertrain with the Scion FR-S.
The FR-S was sold in a single trim level, but, in keeping with the Scion brand's owner-personalization aesthetic, many dealer-installed options were available. The Scion FR-S came standard with LED tail lights, dual exhaust, limited-slip differential, power windows/locks/mirrors, aluminum pedals, a digital and an analog speedometer, leather-wrapped steering wheel, cruise control, wireless cell-phone link, wireless music-streaming capability, digital-music player connection, auxiliary audio jack, and USB port.
Also standard was a tachometer with programmable shift indicator that could be set above 2,000 rpm at 100-rpm increments. It illuminated a light on the tachometer and sounded a chime to tell the driver to shift to the next gear when the preprogrammed engine speed was reached.
All options were offered as stand-alone items, rather than grouped into packages. Options included an upgraded audio system, fog lights, rear spoiler, cold air intake, sport exhaust system, lowered suspension, a strut tower brace, sway bar, larger brakes, and 18-inch wheels.
The 2013 Scion FR-S was powered by a 200-horsepower 2.0-liter horizontally opposed 4-cylinder engine. The company touted its "boxer" cylinder layout and its inherent lowered center of gravity as an aid to sporty handling. The engine used both direct gasoline injection and conventional port injection as needed to balance horsepower and fuel economy. It was paired with a 6-speed manual transmission or a 6-speed automatic. The FR-S was rear-wheel-drive.
The FR-S' traction control and antiskid system could be configured in different modes. Meant for enthusiastic driving on a racetrack, each of the four modes progressively bumped up the thresholds of electronic intervention, allowing more wheel slip and lateral sliding to benefit performance and handling. The automatic transmission also had "sport" and "snow" modes that used different shift-pattern programming depending on driving conditions.
Estimated fuel economy for the Scion FR-S was 22 mpg city/30 mpg highway with manual transmission, 25/34 with automatic. FR-S required premium-grade gas.
The Scion FR-S was furnished with many expected safety features. Among them ABS, traction control, antiskid system, front-side airbags, and curtain-side airbags.
This evaluation is based on preview test drives.
Yearly Updates
2013 FR-S
The 2014 Scion FR-S received modest changes for its second model year. These included a standard touchscreen stereo system and the addition of knee pads on the door panels and center console to help improve occupant comfort. Finally, the available premium stereo system now included Aha-based smartphone integration and navigation functionality.