Premium midsize car; Built in
2-door convertible
2-door coupe
4-door sedan
4-door wagon
longitudinal front-engine/front- or all-wheel drive
Good condition price range: $30,800 – $83,900*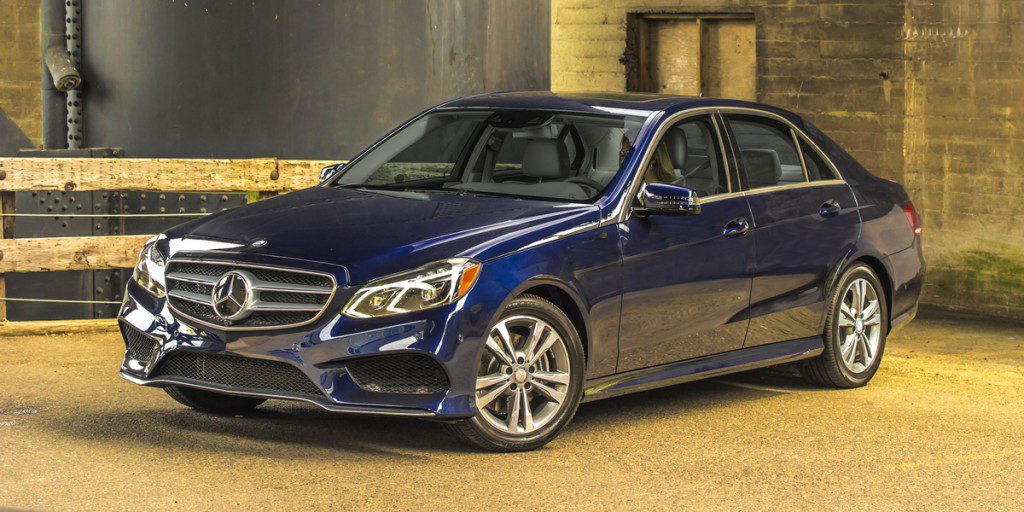 2014 Mercedes-Benz E400 Hybrid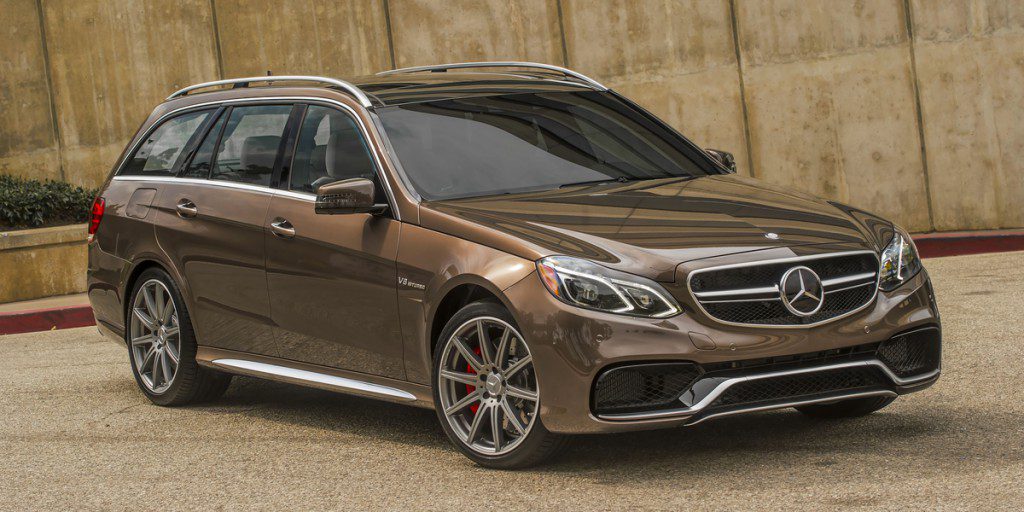 2014 Mercedes-Benz E63 AMG Wagon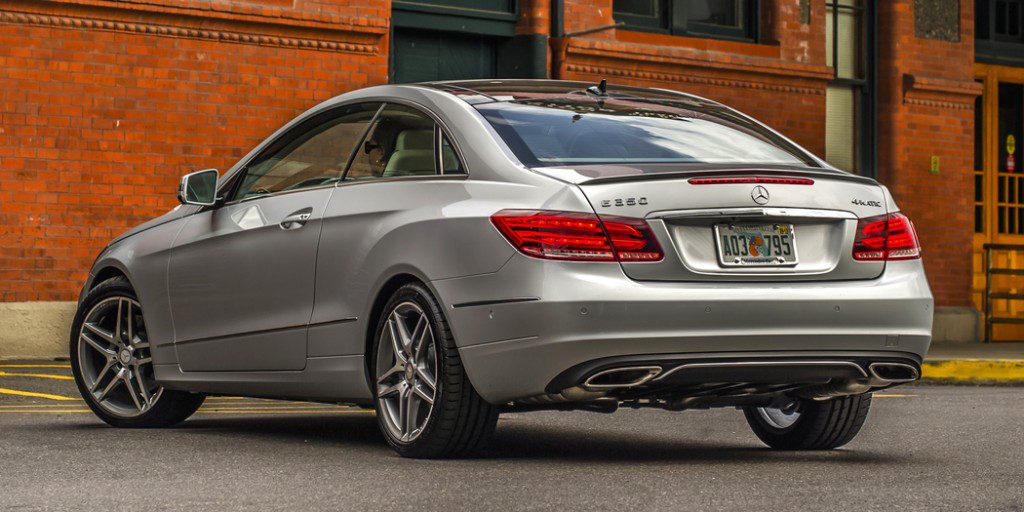 2014 Mercedes-Benz E350 4MATIC Coupe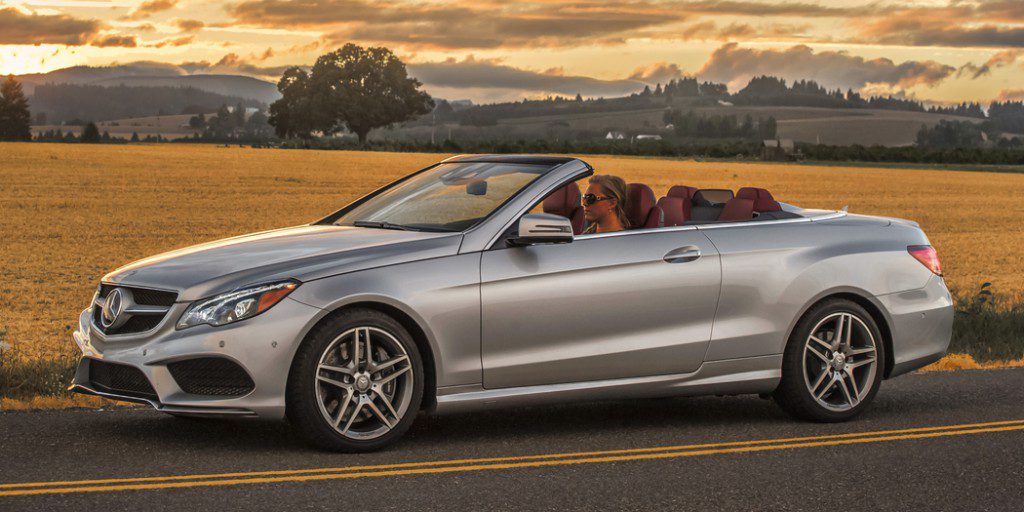 2014 Mercedes-Benz E550 Cabriolet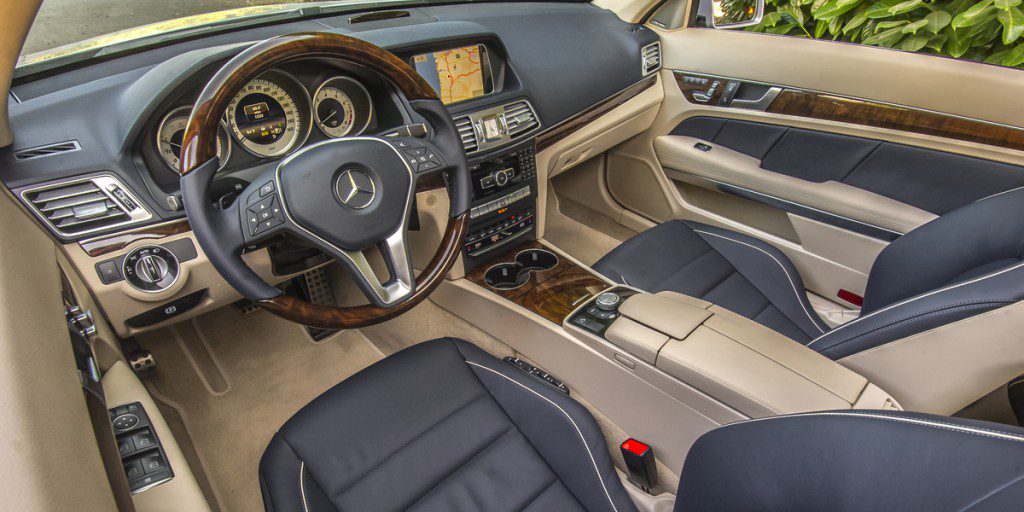 2014 Mercedes-Benz E350 4MATIC Coupe
Pros:

Acceleration
Build quality
Ride

Cons:

Cargo room (coupes and convertibles)
Rear-seat room and comfort (coupes and convertibles)
While not as overtly sporty in popular trim levels as midsize offerings from Audi or BMW, the E-Class is rewarding to drive, and rivals larger premium sedans for highway composure. Prices are high, but few vehicles in any class can match the E-Class' enviable blend of performance, mechanical refinement, and luxury appointments.
Overview
The 2014 Mercedes-Benz E-Class was a midsize luxury car that slotted between the compact C-Class and large S-Class in the Mercedes-Benz lineup. The 2014 E-Class launched in sedan and wagon body styles, while the coupe and cabriolet followed soon after. Sedans and coupes were offered with the choice of rear or all-wheel drive, while cabriolets were all rear drive and wagons were all-wheel drive only.
The E-Class was most commonly compared with the Audi A6 and BMW 5 Series. Also similar in price and mission were the Cadillac CTS models, Infiniti Q70 (formerly M37), and Lexus GS 350.
Last redesigned for 2010, E-Class underwent a substantial freshening for 2014. Mercedes stylists revised the front, rear, and cabin of the car, while a number of new safety features were added as well. New to the lineup was the diesel-powered E250 BlueTEC sedan, which featured a 4-cylinder engine, and replaced the 6-cylinder E350 BlueTEC.
For 2014 E-Class sedans were offered in E350, E550, E250 BlueTEC, E400 Hybrid, and high-performance E63 AMG and E63 AMG S-Model trim levels. Wagons were offered only in E350 and E63 AMG S-Model guises. Coupes and cabriolets were sold in E350 and E550 versions. Mercedes' 4Matic AWD system was available on E350 and E550 sedans and E350 coupes, and standard on the E350 wagon and all E63 AMG variants. A Sport Package was available at no cost on all E350 and E550 sedan and wagon models, and included a more aggressive front fascia treatment, special 18-inch wheels, and a sport suspension. Per Mercedes, more than 80 percent of vehicles on which it was available were delivered with the Sport Package.
Standard features on all E350, E250, and E400 models included Mercedes' mbrace2 digital-interface system, dual-zone automatic climate control, power tilt/telescoping steering wheel, 14-way power-adjustable front seats, Bluetooth connectivity, automatic day/night rearview mirror, universal garage door opener, and sunroof. The wagon added a third-row folding rear-facing seat.
Additionally standard on the E550 were heated seats and 18-inch wheels and tires. Leather upholstery was also standard on E550 models, and available on E350s.
Six engines were available for the E-Class for 2014. E350 models came with a 302-horsepower 3.5-liter V6. E550 models had a 402-horsepower 4.7-liter V8. Also available was a E400 Hybrid sedan with a 3.5-liter V6 supplemented by electric motors for a combined 329 horsepower. The E250 BlueTEC used a 195-horsepower 2.1-liter 4-cylinder diesel. The E63 AMG had a turbocharged 5.5-liter V8 rated at 550 horsepower, and the E63 AMG S-Model had a version of the same engine with 577 horsepower. All E-Class models had a 7-speed automatic transmission.
EPA estimated fuel economy ratings for the 2014 Mercedes-Benz E-Class were as follows (city/highway):
E350 sedan: 21 mpg city/30 mpg highway
E350 coupe: 20/28
E350 cabriolet: 19/28
E350 4Matic sedan: 21/29
E350 4matic wagon 20/27
E350 4Matic coupe: 20/28
E550 4Matic sedan: 17/26
E550 coupe: 18/26
E550 cabriolet: 17/26
E400 Hybrid sedan: 24/30
E250 BlueTEC sedan: 28/42
E250 BlueTEC 4Matic sedan: 27/38
E63 AMG 4Matic sedan: 16/23
E63 AMG S-Model 4Matic sedan: 15/22
E63 AMG S-Model 4Matic wagon: 15/21
The E-Class came with all the usual safety features, plus a driver's knee airbag, active front head restraints, brake assist, Mercedes' Attention Assist that monitored drivers and warned them when it sensed they had become drowsy, and Mercedes' PRE-SAFE (now Pre-Safe Plus) system. When PRE-SAFE detected an impending crash, it tightened the seat belts, closed the windows and sunroof, and moved the driver's seat to a better position.
A Driver Assistance Package added blind-spot alert, lane-departure prevention, adaptive cruise control, and PRE-SAFE Brake that warned drivers with audible tones, then applied partial braking and finally full braking as the car approached a possible crash. For 2014 the Pre-Safe suite of safety functions added pedestrian recognition as well as rear-collision detection, which operated in a similar fashion to the front-impact detection system. Also new was a cross-traffic alert system that detected side approaching traffic at intersections.
Other safety options included a night-vision camera, front- and rear-obstacle detection, and rear side airbags.