Pros: Impressive power; sporty handling; off-road capability; luxury feel; long battery range; copious lockable storage space
Cons: Startup company with no established track record or service infrastructure; steep sticker prices; long-range battery is expensive
CG Says: The new-for-2022 R1T electric pickup truck is the first product of startup electric-vehicle automaker Rivian, which has invested more than a decade developing resources, facilities, and vehicle designs for large-scale mass production. The R1T will initially be sold directly to consumers through Rivian, but the company plans to open actual stores and services centers at some point.
The R1T is offered only as a five-passenger crew-cab. It has unibody construction similar to the Honda Ridgeline and Hyundai Santa Cruz, instead of the separate body-on-frame, bed-and-cab configuration of most pickups. The R1T's 215-inch overall length essentially puts it in-between the compact- and large-pickup categories. The R1T shares much of its design and specifications with the Rivian R1S, a seven-passenger SUV that will be introduced later.
Rivian plans to offer three versions of the R1T: Explore, Launch, and Adventure, each with its own level of performance and equipment. Initially, only the 800-horsepower Launch edition will be available.
All R1T models will have all-wheel drive, with a separate electric motor powering each wheel. However, a driver-switchable mode can change the vehicle to front-wheel drive thus lessening the draw on the battery and improving driving range. The R1T's multi-motor configuration also allows unique off-road "Tank-Turn" maneuvering, in which the vehicle pivots around its vertical axis, like a tank or other tracked vehicle.
Payload capacity is 1760 pounds, with a maximum towing capacity over 11,000 pounds. Total estimated driving range is EPA-rated at 314 miles, or around 400 miles with an optional long-range battery pack, according to Rivian.
The interior of the R1T aims for a modern luxury vibe, with leather and wood materials. Standard on all R1Ts are lockable storage compartments beneath the hood, behind the cab, and in the bed. The instrument panel is a 12.3-inch digital gauge display; climate controls, infotainment, and navigation are operated from a large 15.6-inch touchscreen. A "Driver+" semi-autonomous driver-assistance system is standard.
As a startup company with no established history of manufacturing products or serving customers, Rivian is somewhat of a question mark — there's simply no telling how well it will handle sales, repair, warranties, and other issues. But, taken on its own merits, the R1T promises to be a stunningly capable truck, with copious power, sporty handling, impressive off-road capability, and a luxury feel that rivals established high-end brands. Prices are steep, but not way out of line in the context of other vehicles with similar finish and capability.
The Facts
| | |
| --- | --- |
| Class | Large Pickup Truck |
| Body Style(s) | Crew Cab |
| Passenger Count | 5 |
| Drive Wheels | all-wheel drive |
| Manufacturer | Rivian |
| Nation of Manufacture | USA |
| Base Prices | NA |
Base Engine
four electric motors
Horsepower
800
Std. Transmission
single speed
Avail. Transmission
NA
EPA City Range (mpg)
NA
EPA Hwy Range (mpg)
NA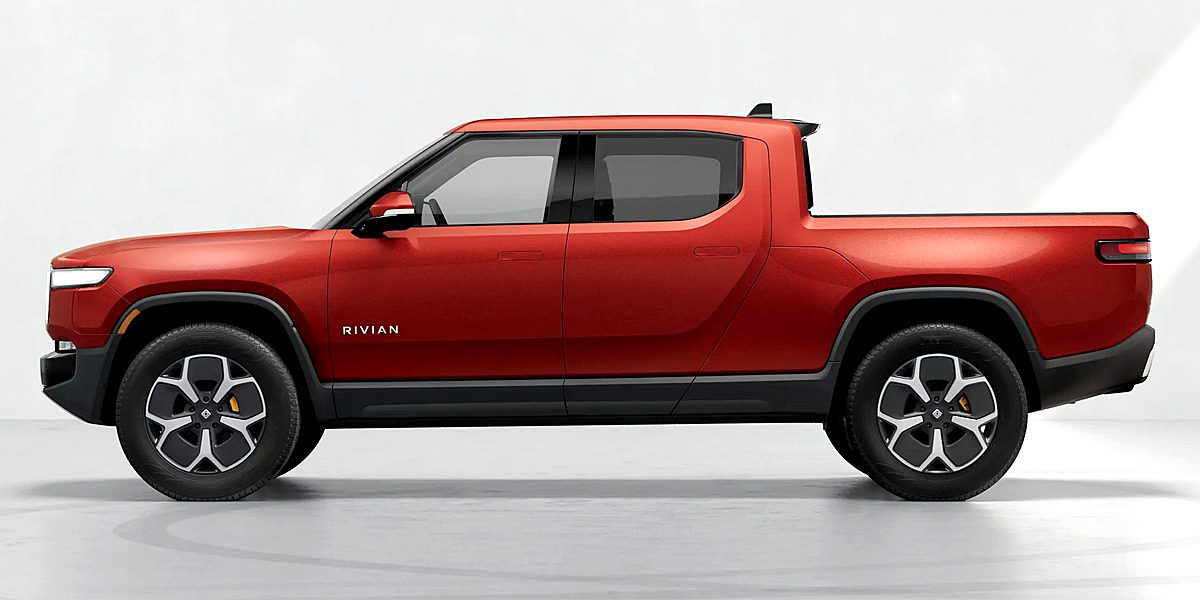 Road Tests and Additional Info