Premium midsize car; Built in USA
transverse front-engine/front-wheel drive
Good condition price range: $1,200 – $2,500*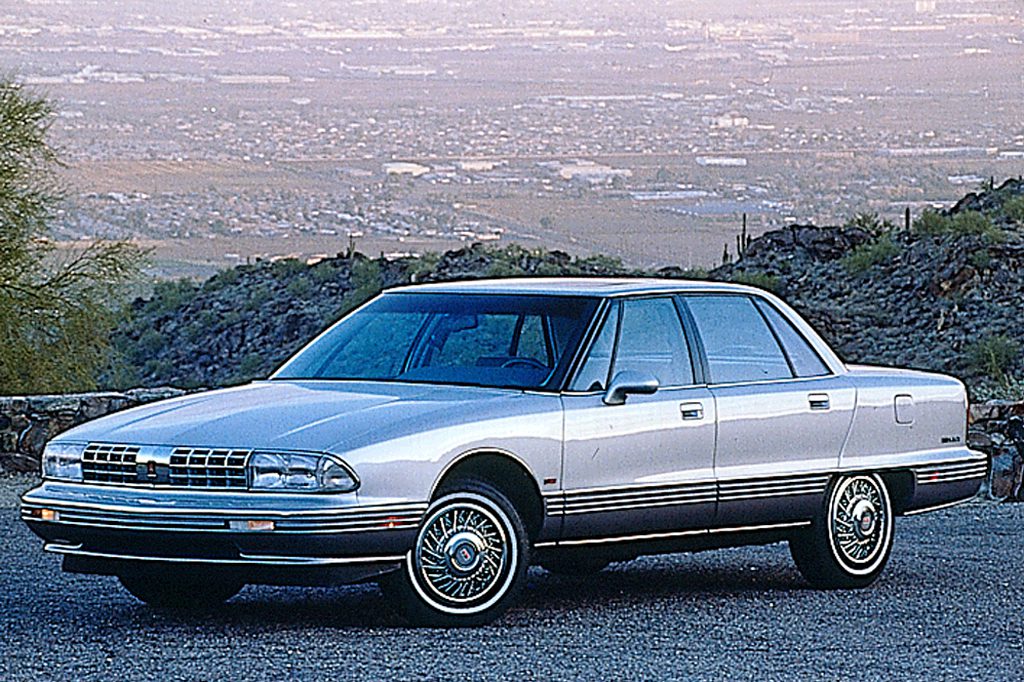 1991 Oldsmobile Ninety Eight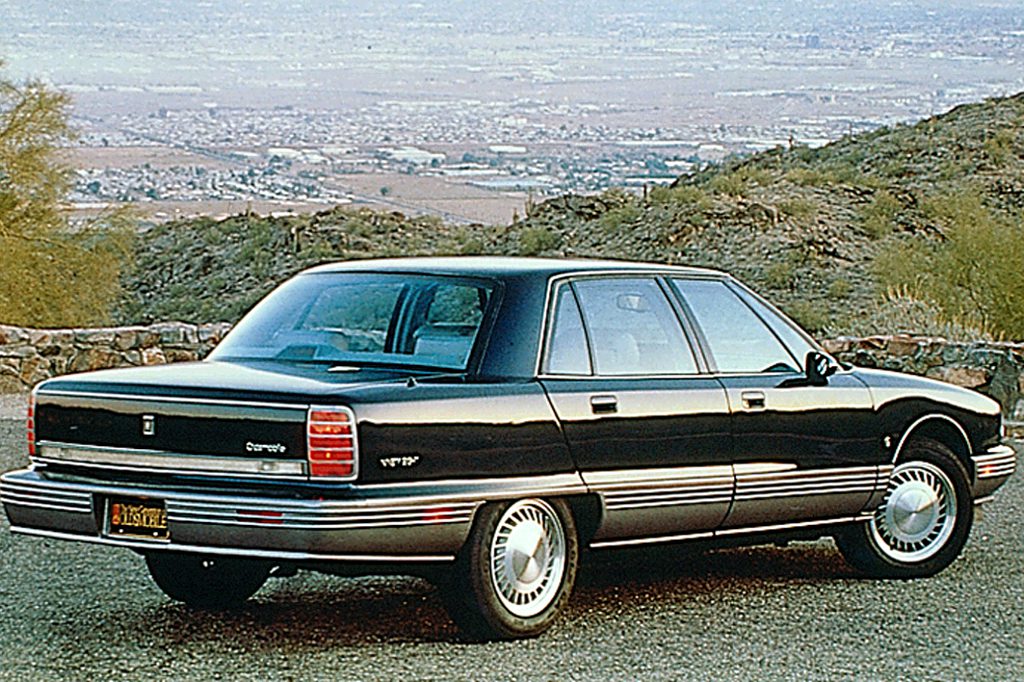 1991 Oldsmobile Ninety Eight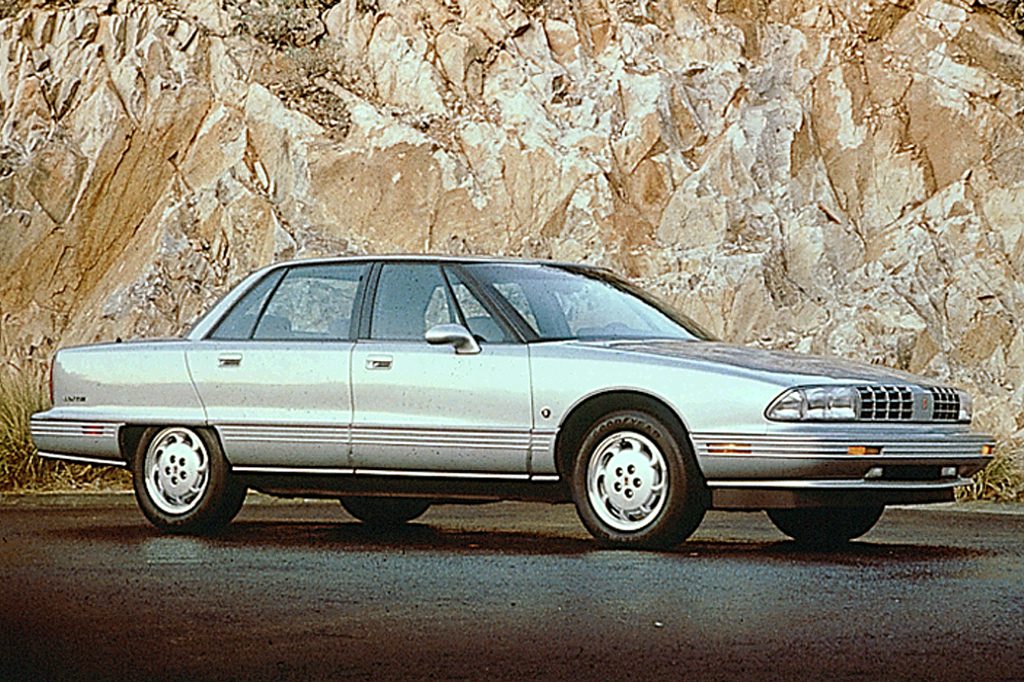 1992 Oldsmobile Ninety Eight Touring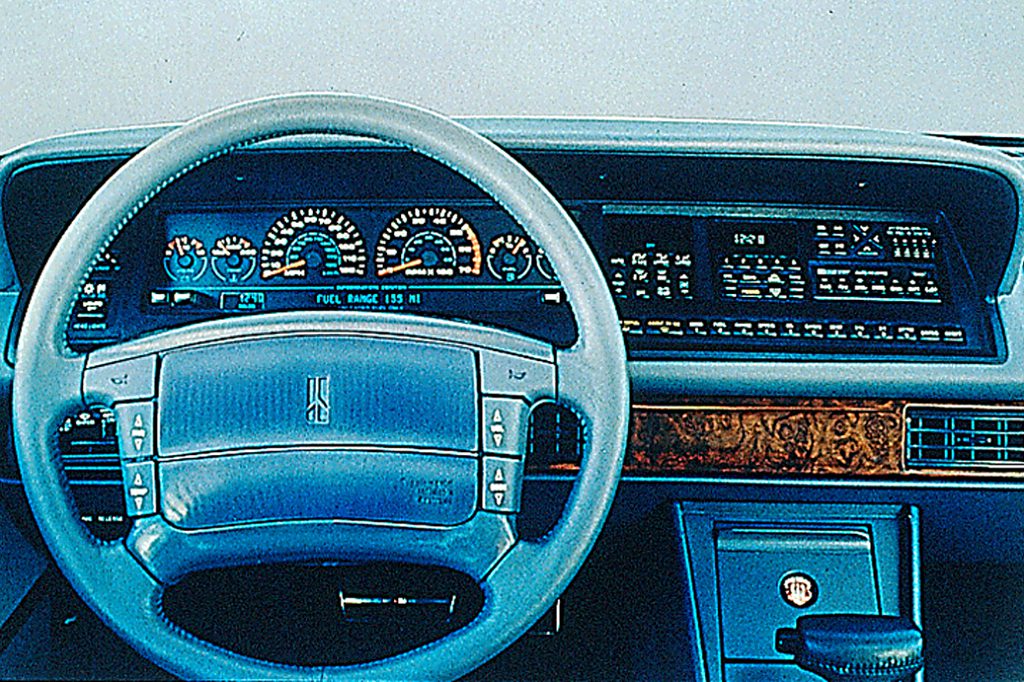 1991 Oldsmobile Ninety Eight interior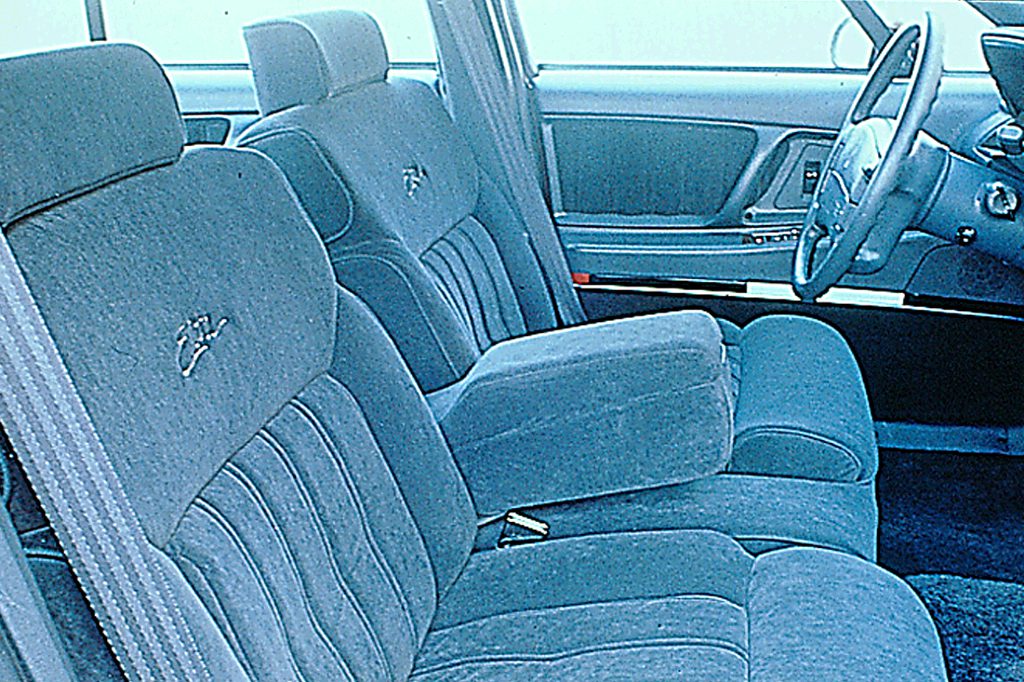 1992 Oldsmobile Ninety Eight Regency Elite interior
Pros:

Acceleration
Antilock brakes (optional)
Automatic transmission performance
Passenger and cargo room

Cons:
The Ninety Eight's conservative styling has clearly begun to limit its appeal, but it's a less-expensive alternative to V8 luxury sedans such as the Cadillac Fleetwood and Lincoln Town Car.
Overview
Oldsmobile rolled out a redesigned Ninety Eight for 1991. This new edition, redesigned along with its Buick Park Avenue rival, rode on the same front-drive chassis as the 1985-90 models, but had a more-rounded look, plus an additional 9.5 inches of overall length. Ninety Eights came as a 6-passenger 4-door sedan in either luxurious Regency Elite trim or sportier Touring Sedan guise. The powertrain consisted of GM's 3.8-liter V6 engine. Revised for the 1991 model year, it provided 170 horsepower and 220 pound-feet of torque. Standard on both models were antilock brakes, a driver-side airbag, and automatic load-leveling suspension.
Yearly Updates
1992 Ninety Eight
For 1992, the Ninety Eight gains a new base-model Regency, followed by the Regency Elite and deluxe Touring Sedan. Optional for the Touring Sedan now is a new 205-horsepower supercharged version of GM's 3.8-liter engine. Traction control is an available option on all three models.
1993 Ninety Eight
Torque on the standard 3.8-liter V6 engine rises slightly to 225 pound-feet at 3200 rpm. Also, the grille and headlamp bezels on the Touring Sedan are now body-colored, with exterior moldings changing from gray to black. The Regency Elite gains an overhead storage console.
1994 Ninety Eight
The Ninety Eight returns for 1994 with a redesigned instrument panel that includes a new passenger-side airbag. The supercharged 3.8-liter V6 gains 20 horsepower and 15 pound-feet of torque as a result of improvements to the supercharger and the induction system and becomes available on all models. Other changes include a new grille and headlamps, an additional inch of front seat travel, and standard automatic power door locks.
1995 Ninety Eight
Last year the Touring Sedan bit the dust; this year the base Regency model goes away. The remaining Regency Elite is provided with very few stand-alone options. On the plus side, Oldsmobile makes major improvements under the hood. The new Series II 3800 V6, with its 205 horsepower and 230 pound-feet of torque now becomes the new base engine.
1996 Ninety Eight
Preceding the Ninety Eight into retirement was the supercharged 3800 V6, which is no longer an option for the Ninety Eight. Olds incorporated nearly all of the car's features and options into its 1997 Eighty Eight "Regency" model.