Premium midsize car; Built in USA
transverse front-engine/front-wheel drive
Good condition price range: $1,400 – $5,600*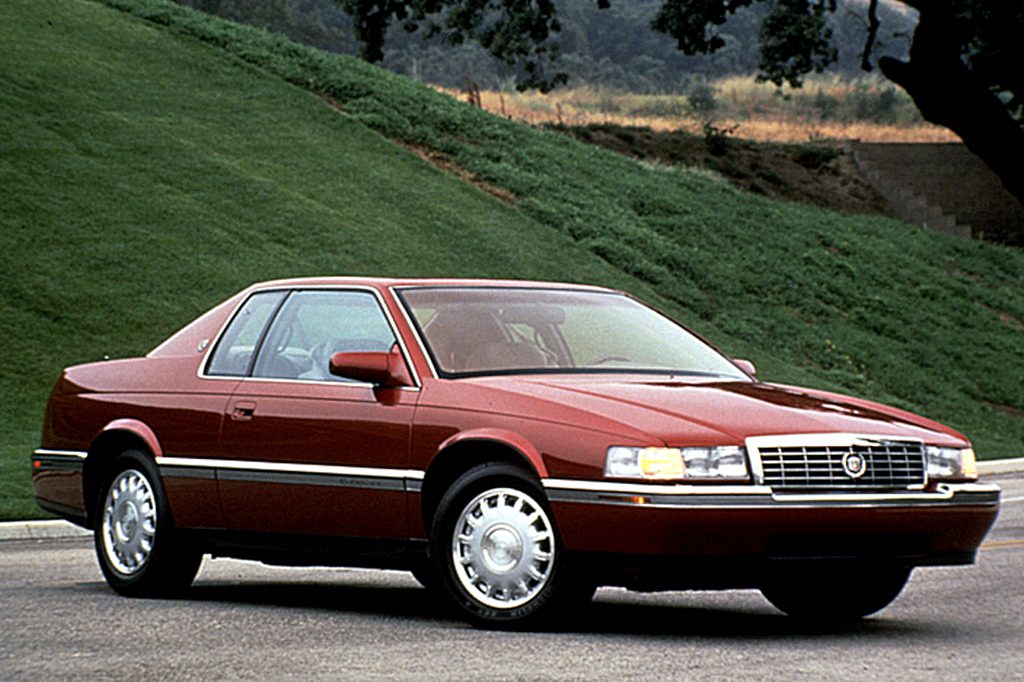 1993 Cadillac Eldorado Sport Coupe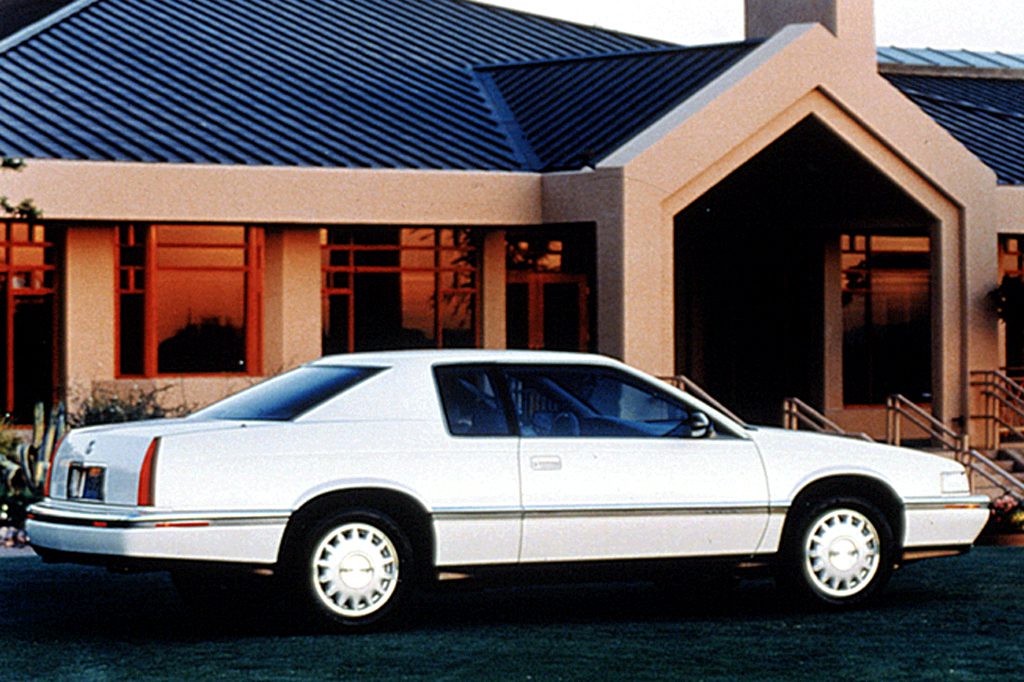 1992 Cadillac Eldorado Touring Coupe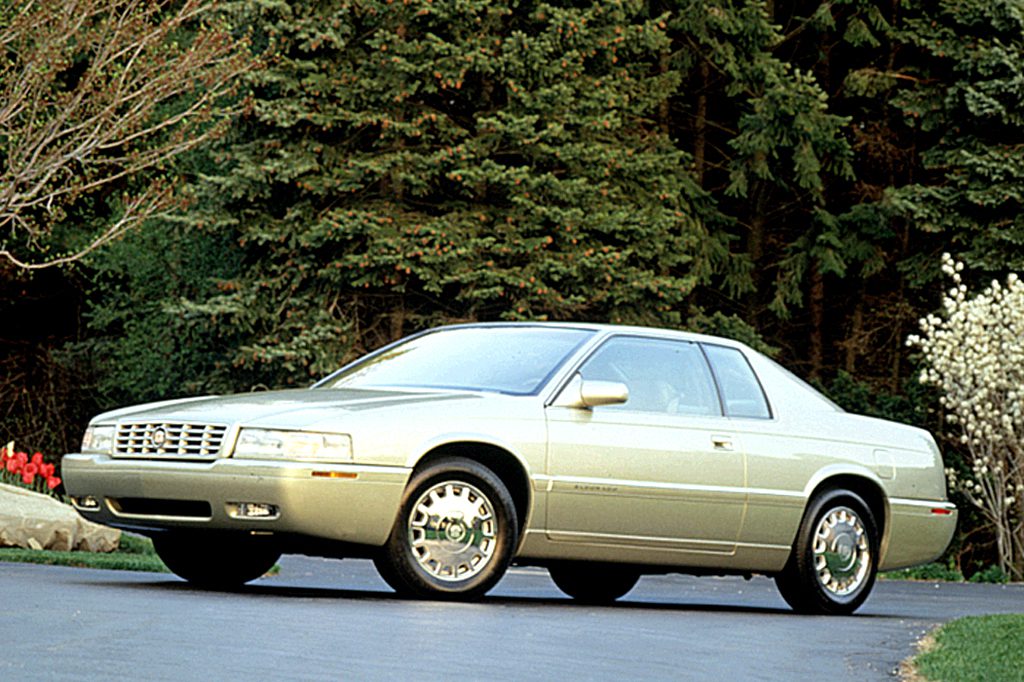 1996 Cadillac Eldorado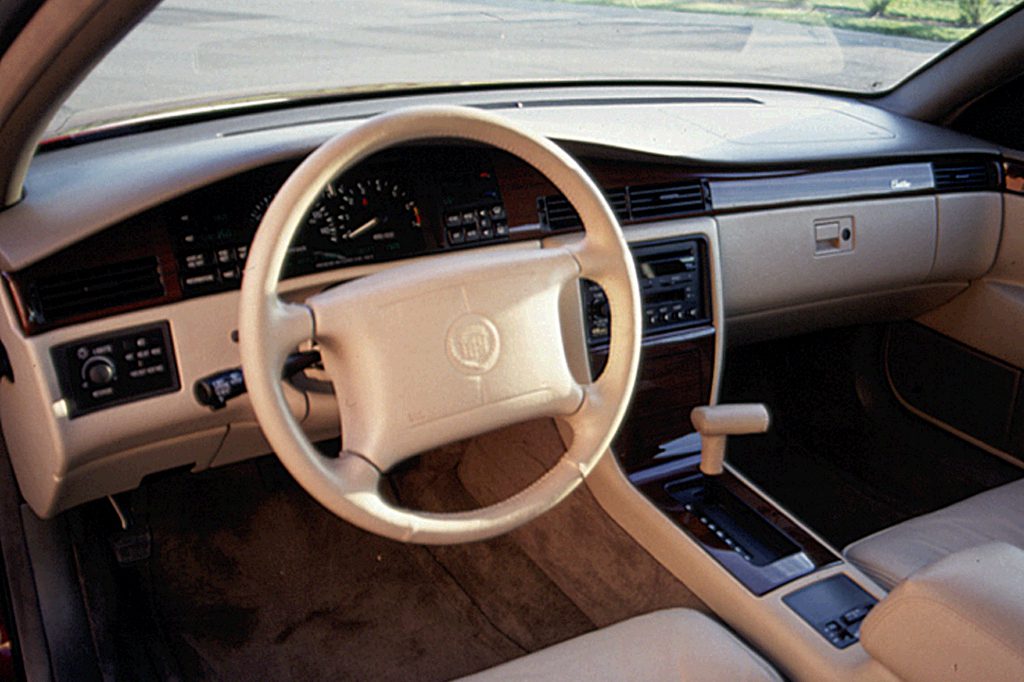 1994 Cadillac Eldorado Touring Coupe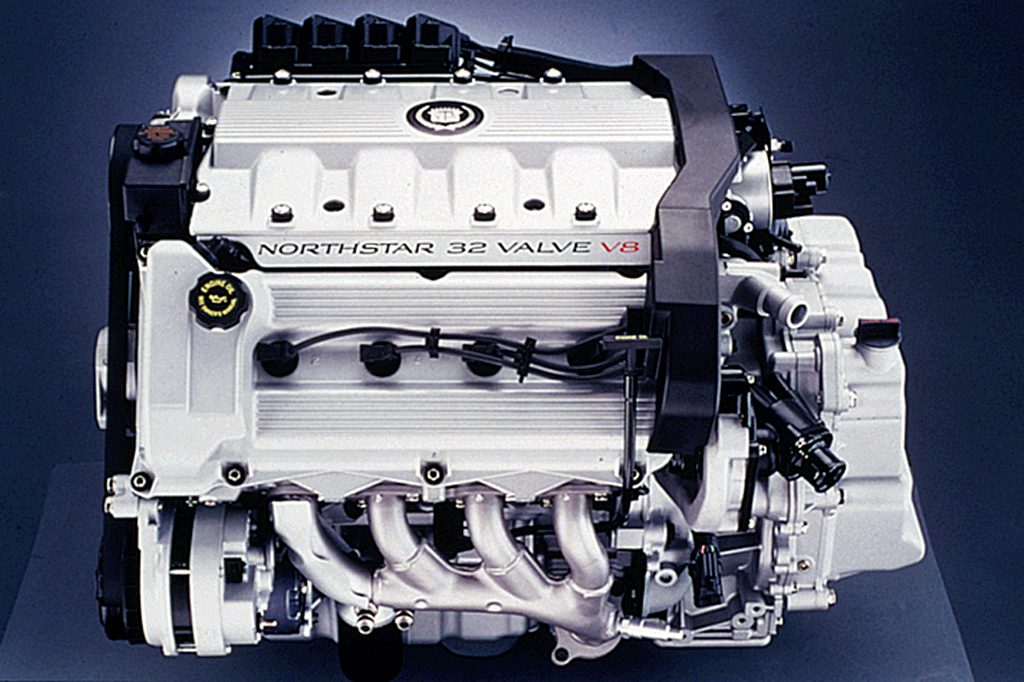 1994 Cadillac Eldorado Northstar engine
Pros:

Acceleration
Standard antilock brakes
Traction control (later models)
Steering/handling

Cons:

Climate controls (early models)
Fuel economy
Rear visibility
In any guise, these are Cadillac's best premium coupes in a long while–excellent, expertly assembled, domestically built rivals to such imports as the Lexus SC 300/400, and competitive with Lincoln's Mark VIII. A solid structure completes this excellent package, giving the sizable coupe a unified feel, worthy of its price and status.
Overview
Despite similarities in their powertrain and structure, the latest Eldorado coupe's identity leans away from that of the Seville sedan. Eldorados turned to traditional elegance in this generation, whereas Seville adopted a European flair. The two cars share no body panels. Eldos measured nearly 11 inches longer than their predecessors, but that growth yielded only a modest rise in interior space. Antilock braking and a driver's airbag were standard. Formerly on the glitzy side, the cabin of this version is understated and functional. Rounded dashboard forms are highlighted by Zebrano wood inserts that extend midway into the doors. A new sport interior option could replace the standard digital instrumentation with analog gauges. Touring Coupes sported monochrome paint, with a firmer suspension and an exclusive interior featuring extra wood.
Yearly Updates
1993 Eldorado
Dual airbags went into Eldorados, but the biggest '93 news was the 32-valve, 4.6-liter Northstar V8 engine, rated 295 horsepower in the Touring Coupe. A 270-horse version went into the new Sport Coupe, while basic Eldorados stuck with the original 4.9-liter engine. Speed-sensitive steering entered both models, and rear suspensions were redesigned. A new automatic transmission programmed its shifts electronically, according to the driver's style. Touring Coupes also gained revised traction control, which held back engine power as well as applying the brakes. A new Road Sensing Suspension used computer-monitored sensors to
adjust ride firmness. Base models got a speed-sensitive suspension instead.
1994 Eldorado
The 270-horsepower Northstar V8 that debuted a year earlier now served as the base engine. All models now had traction control and a Road Sensing Suspension, though that suspension had softer settings in base models.
1995 Eldorado
Both engines gained five horsepower for '95. Cadillac launched its Integrated Chassis Control System for improved handling/braking. Electronic controls for the Road Sensing Suspension were revised to consider steering angle. Eldos wore new grilles.
1996 Eldorado
Touring Coupes got a new dashboard with bigger analog gauges, plus new climate and stereo controls placed higher on the center console. Base Eldos kept the former dashboard.
1997 Eldorado
New standard features on the 1997 Eldorados included Cadillac's Stabilitrack emergency traction system and Rainsense automatic wiper system.
1998 Eldorado
Other than new audio systems on base models, Eldorado sees no changes.
1999 Eldorado
Standard on ETC models and optional on the base was Cadillac's Road Sensing Suspension with the StabiliTrak antiskid system. Also new were optional massaging front seats on the ETC.
2000 Eldorado
GM's OnStar communications system is made standard on all Eldos. Other changes include standard leather trim on the ESC and the deletion of massaging front seats from the ETC option list.
2001 Eldorado
The only significant change for 2001 was the addition of a rear-seat trunk pass-through on base Eldorados.
2002 Eldorado
Production of this slow-selling V8 luxury coupe ended in April 2002, with retail supplies exhausted by late May. Cadillac marked the occasion with a commemorative Collector Series (ECS) model with special emblems, plus colors and exhaust note intended to mimic those of the original 1953 Eldorado. It had 275 hp and a 4-speed automatic transmission, along with a standard antiskid system.