Premium sporty/performance car; Built in USA
2-door convertible
2-door coupe
longitudinal front-engine/rear-wheel drive
Good condition price range: $9,000 – $28,000*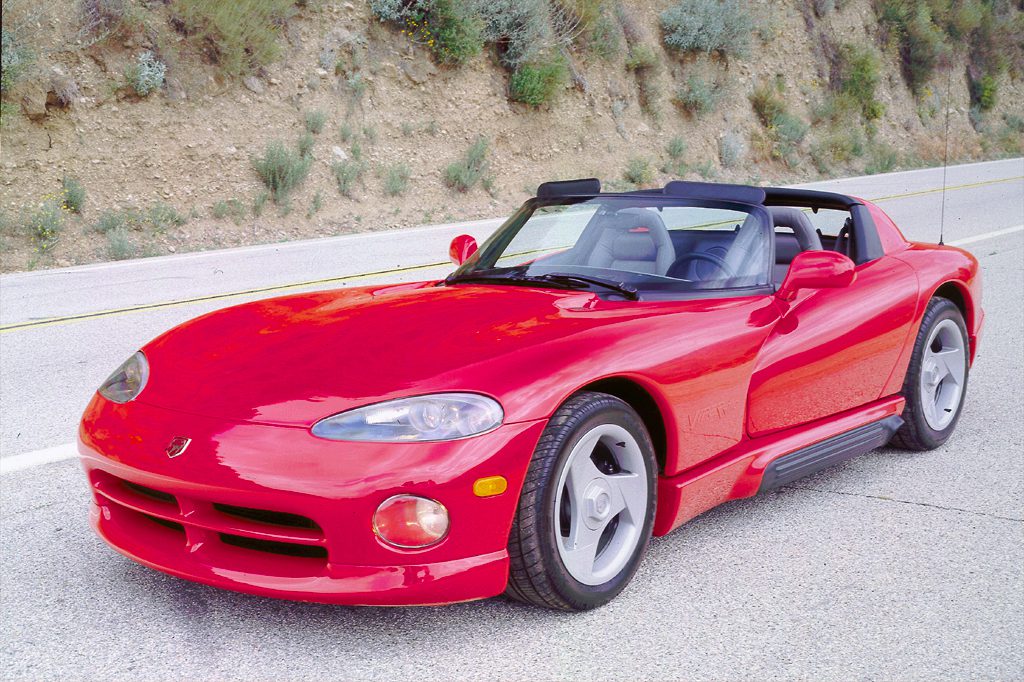 1992 Dodge Viper RT/10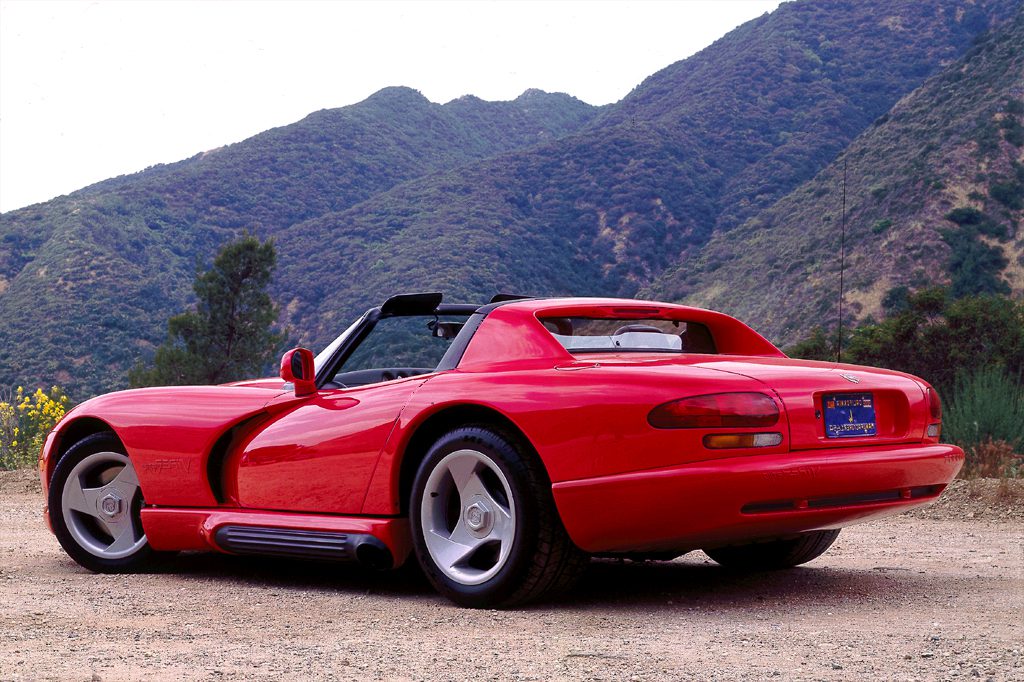 1992 Dodge Viper RT/10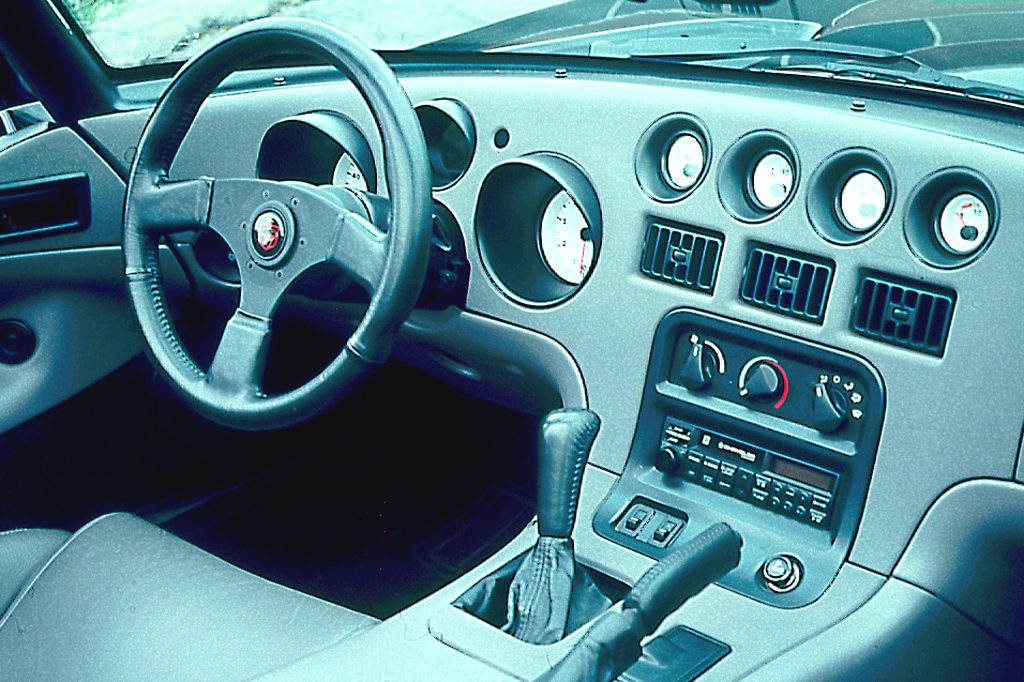 1993 Dodge Viper RT/10 interior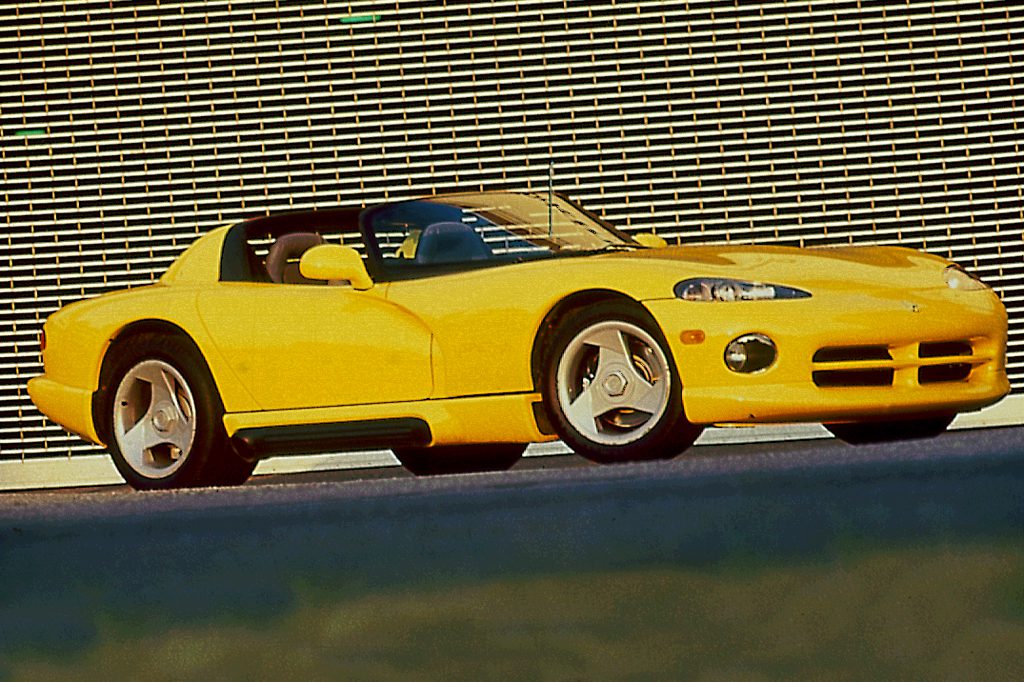 1995 Dodge Viper RT/10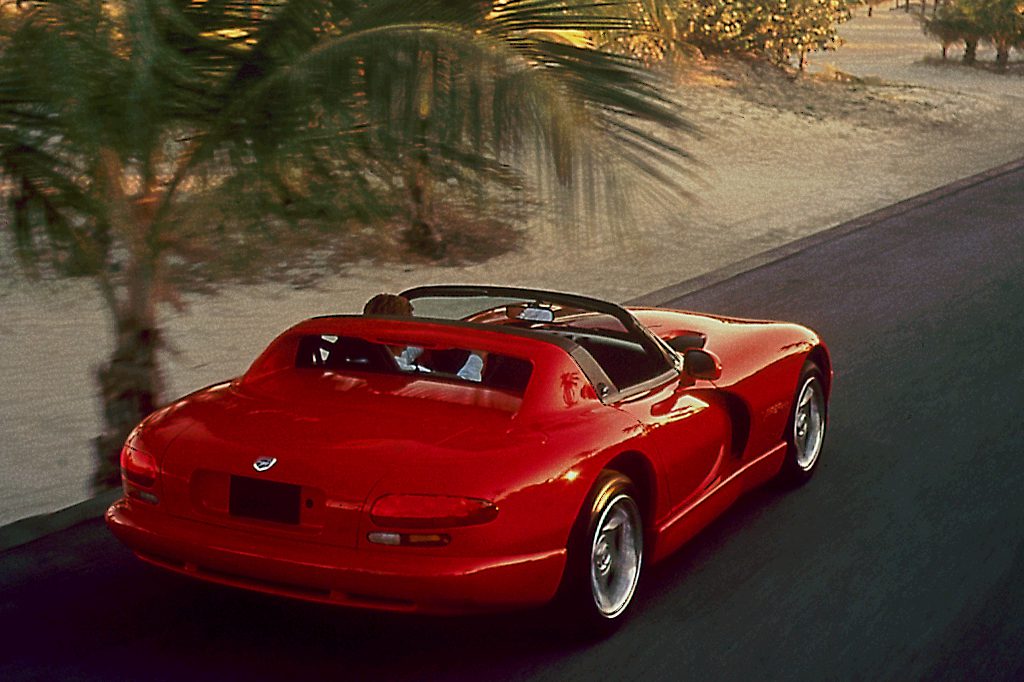 1998 Dodge Viper RT/10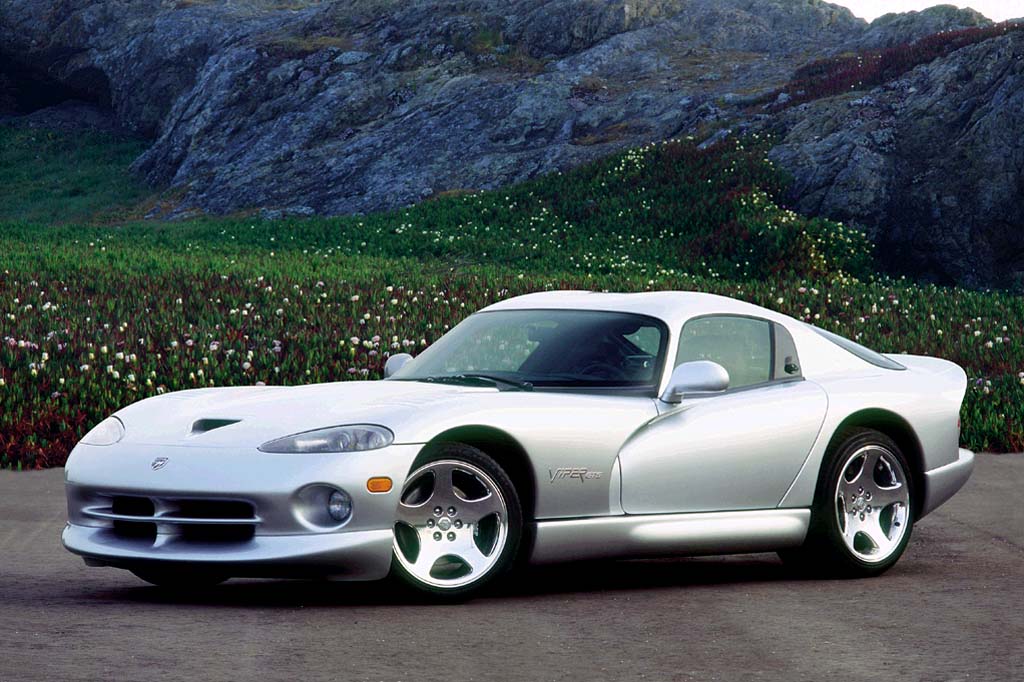 1999 Dodge Viper GTS
Pros:

Acceleration
Steering/handling

Cons:

Lack of antilock brakes
Lack of airbag (early models)
Fuel economy
Noise
Each year, Dodge has built just enough Vipers to keep demand ahead of supply, selling them with little discounting. Some of the early crudities were improved over the years, but Viper remains a back-to-basics, less-than-civilized machine. If you're a likely prospect for a secondhand model, you probably know it already. Better make sure that checkbook is full, though, as Vipers have held their value pretty well over the years.
Overview
After appearing at auto shows as a concept vehicle, Dodge's rear-drive roadster hit dealer showrooms early in the summer of 1991. Only 200 cars were available in that short season, and some sold at far above the $50,000 sticker price. Choices were few in this high-performance rear-drive two-seat sports car, powered by an 8.0-liter V10 engine–America's biggest and most powerful production engine, delivering 400 horsepower. Only a 6-speed manual gearbox could be installed, and it incorporated a forced first-to-fourth gear shift when starting off at light throttle. Exposed exhaust pipes ran along the rocker panels, adding to the Viper's no-holds-barred appearance. Body panels were made of fiberglass-like composite materials, bonded and bolted to a tubular steel frame. Antilock braking and a driver-side airbag were unavailable. Red was the only available body color at first, and Vipers did not even have exterior door handles or roll-up windows. Standard equipment included an FM/AM stereo with cassette player and leather upholstery. Viper met the requirement for passive restraints with door-mounted seatbelts that could be left buckled. Nothing was really like a Viper, but rivals have included the Acura NSX, Chevrolet Corvette, Mitsubishi 3000 GT, and Porsche 911.
Yearly Updates
1993 Viper
Vipers were supposed to come in several new colors in 1993, but only black actually appeared. Otherwise, no changes were evident. Chrysler Corporation planned to build 3000 Vipers this season, but quality problems with the hood slowed production to about half that total.
1994 Viper
Air conditioning with CFC-free refrigerant could be factory-installed this year. Previously, air was a dealer-installed option only. A new electronic mechanism for the transmission prevented shifting into reverse gear when the car was moving forward. The shift pattern put reverse just to the right of fifth gear. Emerald green and yellow joined the body-color selection, and a new black-and-tan interior could be ordered (with emerald green exterior).
1995 Viper
No changes were evident for 1995. Air conditioning remained the only factory option.
1996 Viper
Viper's previously exposed exhaust pipes now were enclosed. Routed through a single muffler at the rear, the exhaust system used two central tail pipes. Dodge claimed this reduced back pressure, boosting horsepower to 415 and torque to 488 pound-feet. Three color schemes were available this year, and only 500 roadsters were to be built before production moved to a new plant. A removable hardtop was a new option. Vipers also got new side curtains with sliding glass windows to replace the former zippered plastic curtain. Restyled wheels wore Michelin MXX3 tires. In spring of 1996, a GTS coupe joined the original RT/10 roadster. The GTS was equipped with dual airbags, new seats with integrated safety belts, power windows, electronic door latching with an anti-theft system, adjustable pedals, 6-speaker CD system–and a new powerful (450-horsepower) engine.
1997 Viper
Production of the new GTS coupe continued, and the roadster reemerged after a short delay, incorporating most of the coupe's new features. Those included dual airbags and the 450-horsepower engine.
1998 Viper
A cutoff switch was added for the passenger-side airbag this year, and the exhaust system now was constructed of lighter-weight materials. Metallic silver was a new exterior color.
1999 Viper
New standard equipment included 18-inch wheels (formerly 17-inch), power mirrors, aluminum-finished interior accents, and a new gearshift knob. The GTS coupe got a remote hatch release, and Connolly leather was a new option. Black was a new body-color choice for the GTS.
2000 Viper
Except for silver as a new body color, nothing was new for 2000.
2001 Viper
Viper got standard antilock brakes and added two new exterior colors for 2001.
2002 Viper
An optional Final Edition Group was added midyear, shortly after the previously optional lift-off hardtop became standard on the RT/10 convertible; otherwise, available graphite metallic paint was the only change of note as Dodge's high-performance 2-seater entered its final model year in its current design.