Large SUV; Built in Japan
2-door wagon
4-door wagon
longitudinal front-engine/rear- or 4-wheel drive
Good condition price range: $1,100 – $4,500*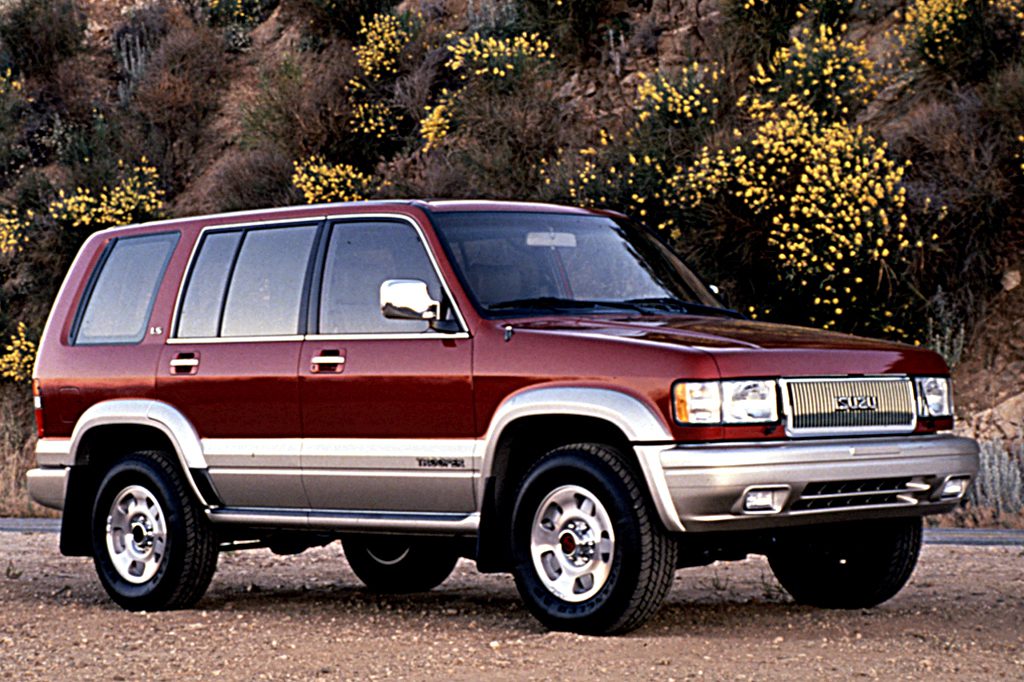 1995 Isuzu Trooper 4-door wagon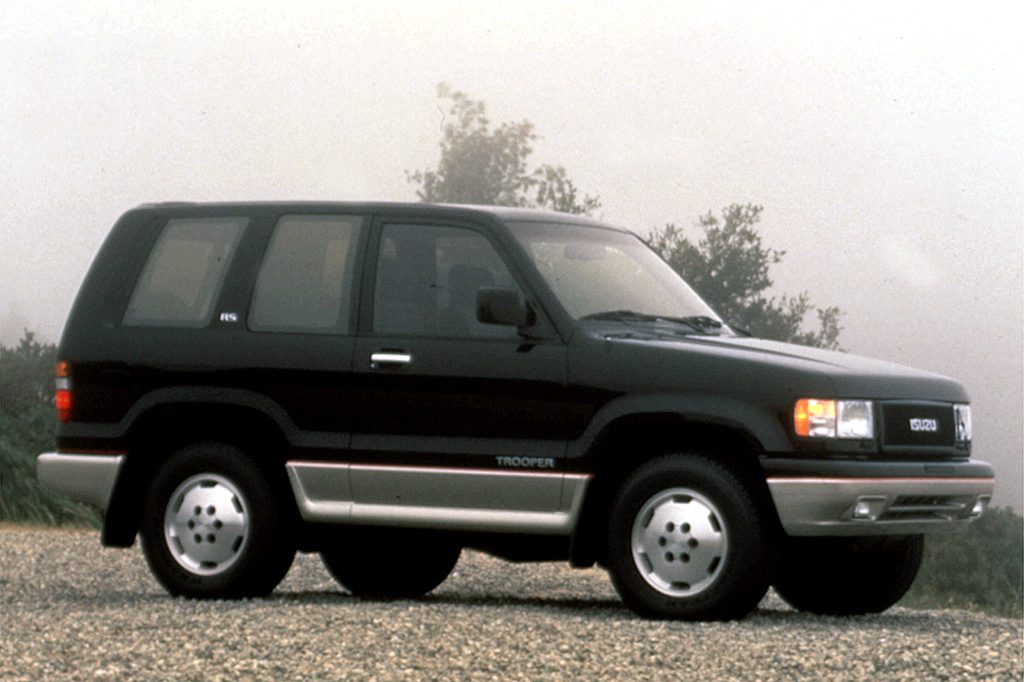 1992 Isuzu Trooper RS 2-door wagon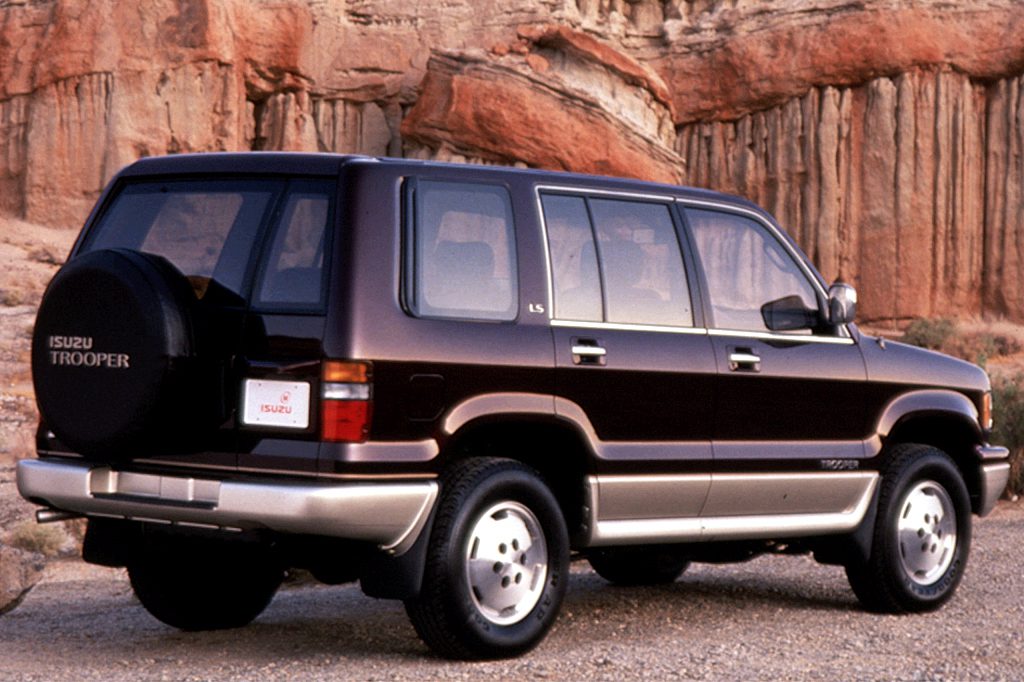 1992 Isuzu Trooper 4-door wagon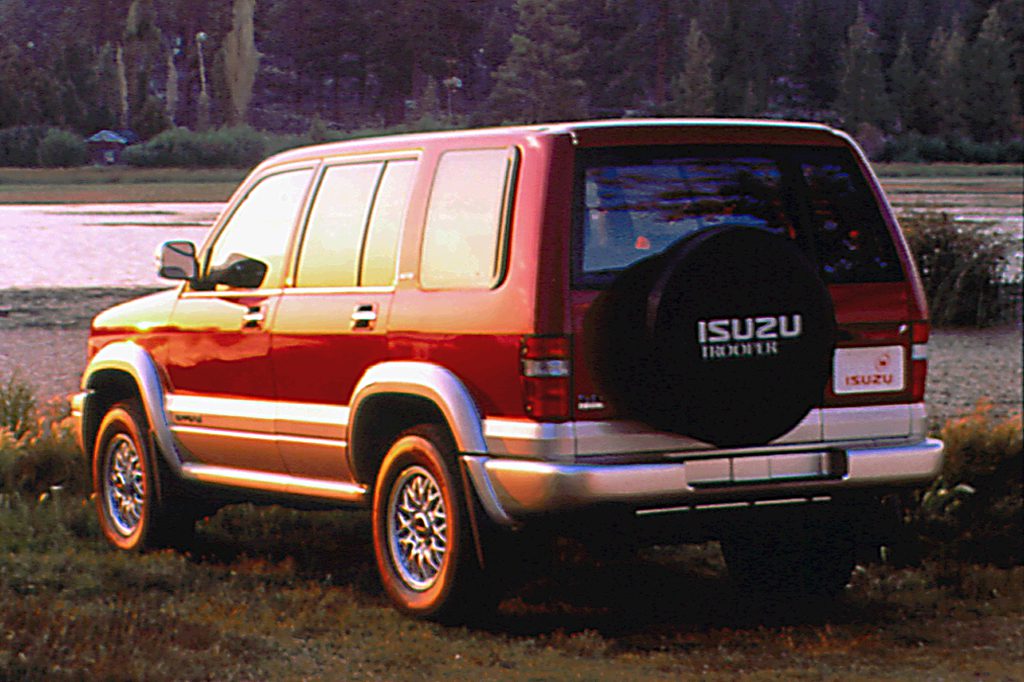 1997 Isuzu Trooper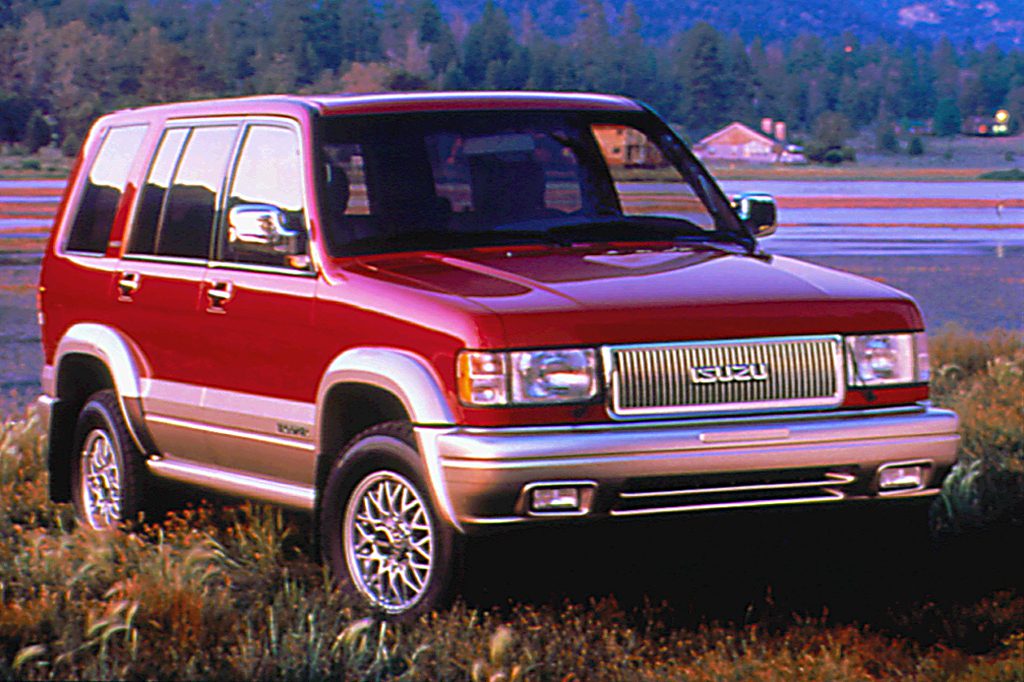 1997 Isuzu Trooper
Pros:

Antilock brakes
4WD traction
Passenger and cargo room

Cons:

Entry/exit
Fuel economy
Lack of shift-on-the-fly (pre '96)
Rating high on our list of upscale 4x4s, early Troopers trail such rivals as the Ford Explorer and Jeep Grand Cherokee mainly in their omission of shift-on-the-fly 4WD (on 1992-95 models) and an airbag (1992-94 models).
Overview
Larger and plusher than its predecessor, the second-generation 4-door sport-utility wagon debuted in March 1991 in base S and luxury LS trim. Base models got a 175-horsepower, single-cam 3.2-liter V6 engine. The LS earned a twin-cam version that made 190 horsepower. Antilock rear braking was standard; 4-wheel ABS optional, but only on the LS. A 5-speed manual gearbox was standard; electronic 4-speed automatic optional. Part-time 4-wheel drive included a floor-mounted transfer case lever and automatic-locking hubs, and was not intended for use on dry pavement.
Yearly Updates
1993 Trooper
A 2-door RS wagon joined for 1993 on a wheelbase 17 inches shorter and measuring a foot shorter overall. Trim and equipment for the RS were similar to that of the 4-door LS.
1994 Trooper
Four-wheel antilock braking became available on S and RS models this year, and standard on the top-of-the-line LS. Rear-wheel ABS remained standard on the lower-priced models.
1995 Trooper
Trooper added dual airbags for 1995, as the 2-door wagon disappeared. All models now had four doors and Isuzu's unique 70/30 split rear doors. The new instrument panel featured stalk controls for headlights and wipers.
1996 Trooper
For 1996, Troopers finally got a new 4WD system for shifting in and out of 4WD High while on the move. All models now had a single-cam V6 engine, but rated at 190 horsepower instead of 175.
1997 Trooper
Four-wheel antilock braking was standard on all Troopers for '97.
1998 Trooper
Isuzu made two important changes to the Trooper for 1998. First, they added a bigger and more-powerful V6 engine. Displacing 3.5 liters, the new V6 made 25 more horsepower and 42 more pound-feet of torque than last year's 3.2-liter. Second, they made standard a new full-time 4WD system. Called Torque-On-Demand, the system normally operated in rear-wheel drive, but automatically sent power to the front wheels when wheel slip was detected.
1999 Trooper
Changes were few this year. A first-aid kit became standard and the Performance Package added fog lamps and available gold trim. This would be the last year for Acura's Trooper-clone, the SLX.
2000 Trooper
Rear-wheel-drive models became available, as part of an expanded lineup. Previously, Troopers had been 4WD only. S, LS, and Limited models replaced the lone S model of '99. Troopers gained a new grille and taillights, and automatic climate control became standard. Automatic transmissions were revised in an attempt to minimize gear changes on inclines. Isuzu stretched its powertrain warranty to 10 years/120,000 miles.
2001 Trooper
An Anniversary Edition was added in celebration of Isuzu's 85th year.
2002 Trooper
Trooper closed out its run unchanged, to be replaced for 2003 by the Chevrolet TrailBlazer-based Ascender.