Large car; Built in Canada
longitudinal front-engine/rear-wheel drive
Good condition price range: $1,100 – $12,500*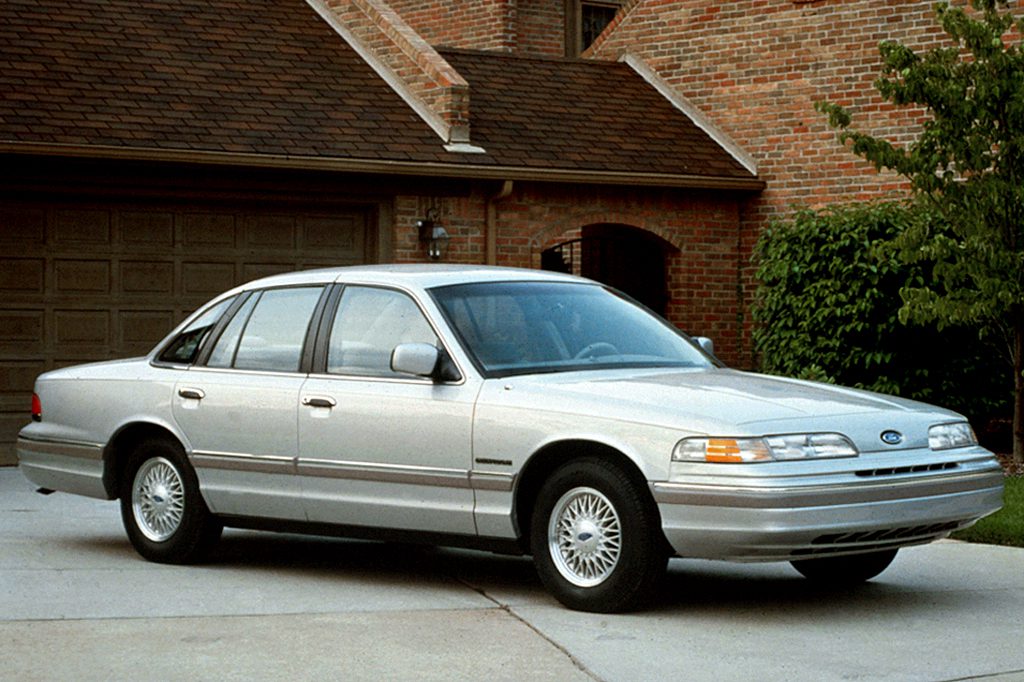 1992 Ford Crown Victoria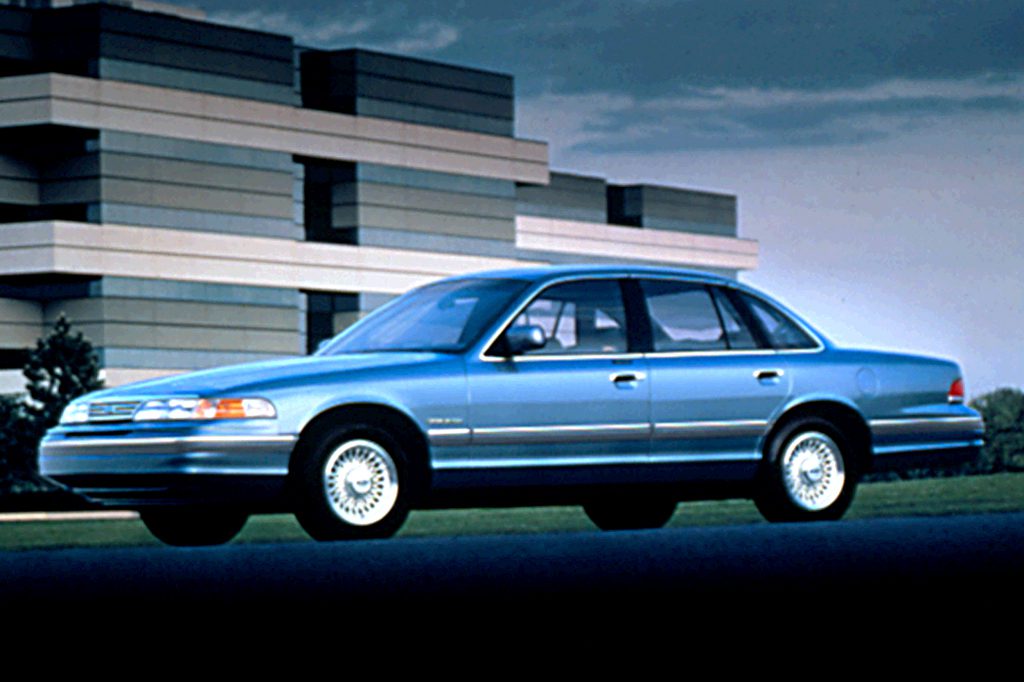 1994 Ford Crown Victoria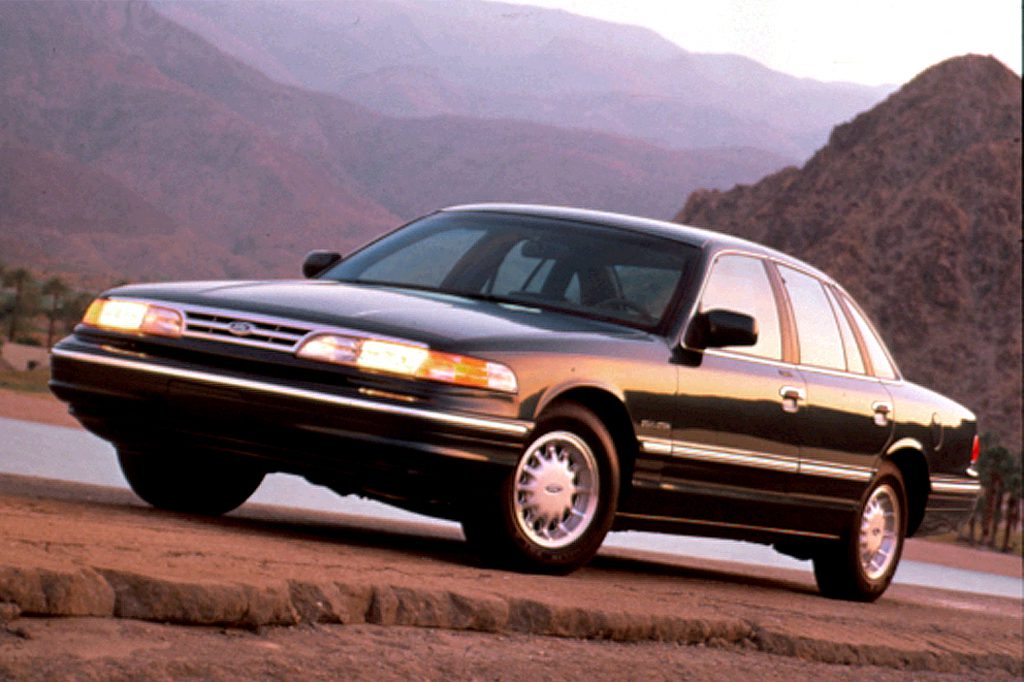 1996 Ford Crown Victoria LX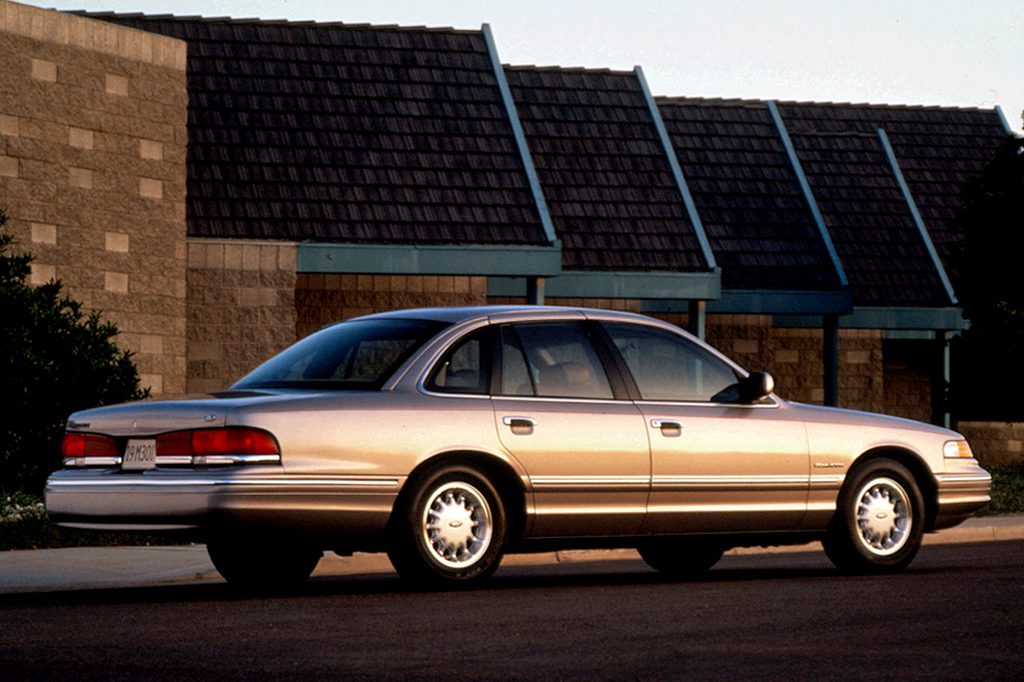 1995 Ford Crown Victoria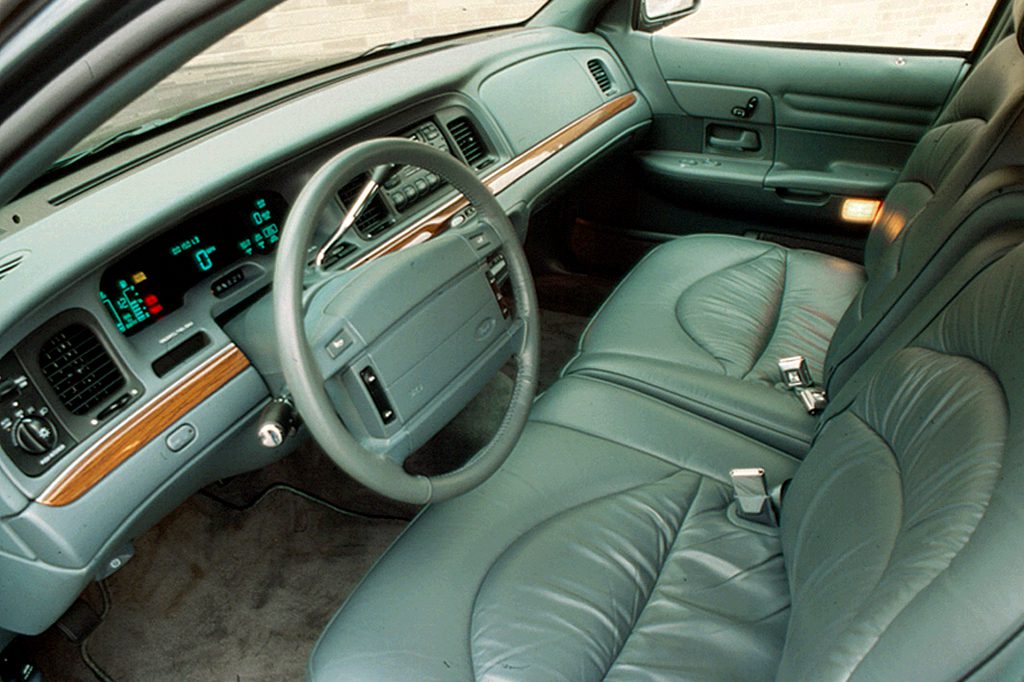 1995 Ford Crown Victoria LX
Pros:

Acceleration
Optional antilock brakes
Passenger and cargo room
Trailer-towing capability

Cons:

Fuel economy
Radio controls (early models)
Steering feel
Vastly more impressive than the prior generation, this Crown Vic mixes traditional values with contemporary virtues–a good choice if you like rear drive in a body-on-frame vehicle. Crown Vic and Mercury's Grand Marquis are the last of their kind.
Overview
Still rear-wheel drive with its body mounted on a separate frame, the latest Crown Victoria debuted in March 1991. Only a 4-door sedan was offered, in base or LX trim. Mercury's Grand Marquis is similar. Four-wheel disc brakes and a driver-side airbag were standard; antilock braking and a passenger airbag optional. A new 4.6-liter overhead cam V8 made 190 horsepower (210 with dual exhausts). As the full model year opened, Ford added a Touring Sedan with handling/performance package and traction control.
Yearly Updates
1993 Crown Victoria
Crown Vic got a new grille. The Touring Sedan departed, but the handling/performance package remained an option. Sedans wore a new applique between taillamps, and cupholders now were built into the dashboard.
1994 Crown Victoria
Dual airbags became standard for '94.
1995 Crown Victoria
Quite a few revisions were evident, led by a revised grille and taillamps, new bumper fascias, new trunk (with wider, lower opening), and color-keyed bodyside moldings. Dashboards wore new woodgrain trim and displayed outside temperature and "gallons to empty," door switches gained backlighting, and the front seat got more rearward travel.
1996 Crown Victoria
A new color-keyed steering wheel had a central horn pad, instead of the former spoke-mounted buttons. Standard variable-assist power steering was revised to deliver more feel.
1997 Crown Victoria
To improve handling, the power steering system was revised to provide more precision and on-center feel.
1998 Crown Victoria
Crown Vic again gets new front and rear styling and a revised rear suspension. Also, horsepower is up by ten on the base engine; five with dual exhausts.
1999 Crown Victoria
After the 1998 redesign, Crown Vic was a virtual rerun for '99.
2000 Crown Victoria
Several safety features were installed for 2000, including an emergency trunk lid release inside the trunk, three child seat upper anchorages for the rear seat, and a chime that sounds to indicate an unbuckled seatbelt. Torque output on both engines increased by 10 pound-feet.
2001 Crown Victoria
Changes for 2001 included adjustable pedals, front airbags that adjust deployment based on crash severity, and headlights that turn on automatically with the wipers. The 4.6-liter V8 engine also gained 20 horsepower this year.
2002 Crown Victoria
New standard features included a power driver seat and heated mirrors on base models, and automatic climate control and power-adjustable brake and accelerator pedals for LX and LX Sport.
2003 Crown Victoria
Revamped underpinnings and optional front side airbags highlighted the mid-2002 introduction of the 2003 Crown Victoria. Frame and suspension were redesigned to improve handling and ride and steering changed from recirculating-ball to rack-and-pinion.
2004 Crown Victoria
No significant changes were made in 2004.
2005 Crown Victoria
Crown Vic carried over into 2005 with no significant changes.
2006 Crown Victoria
New for '06 is an in-glass radio antenna to replace an exterior mast-type.
2007 Crown Victoria
Crown Victoria is virtually unchanged for 2007.