Large car; Built in Canada
longitudinal front-engine/rear-wheel drive
Good condition price range: $1,300 – $17,000*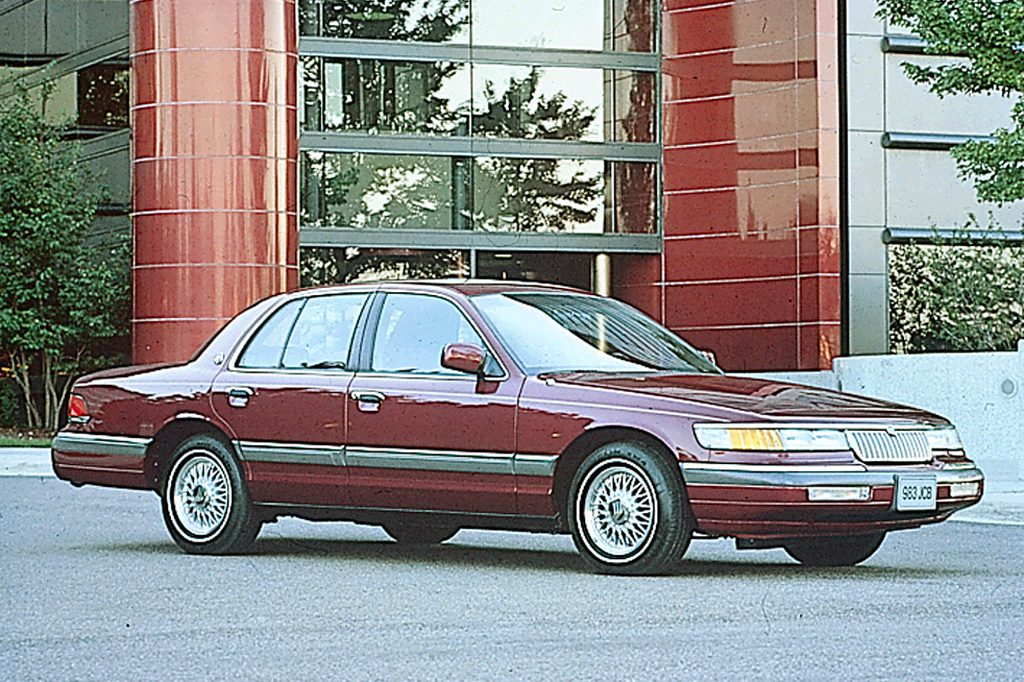 1992 Mercury Grand Marquis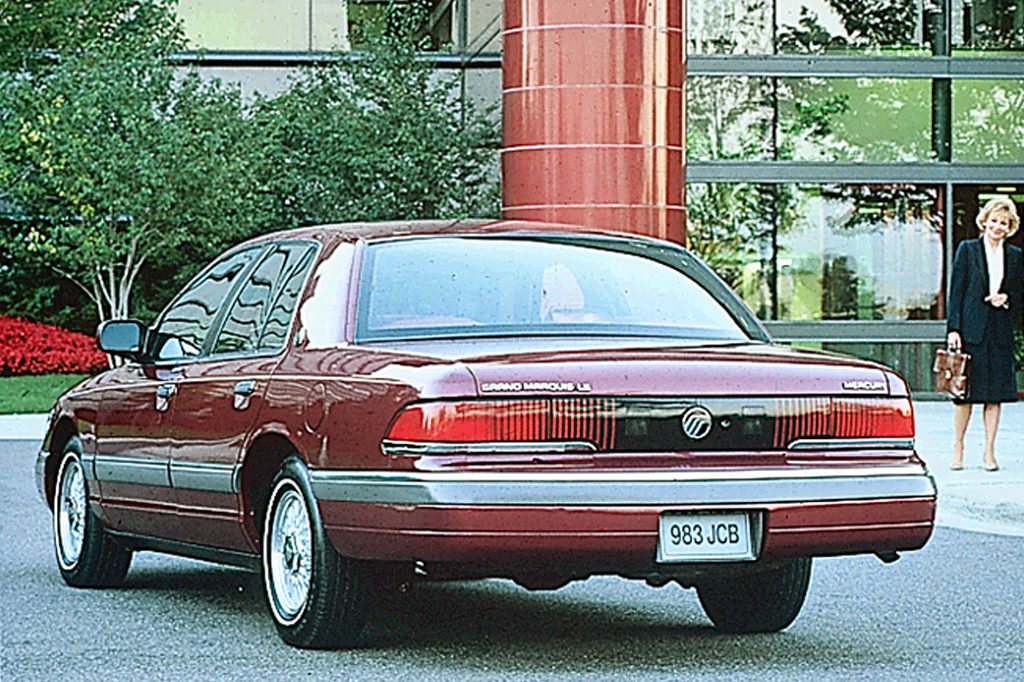 1992 Mercury Grand Marquis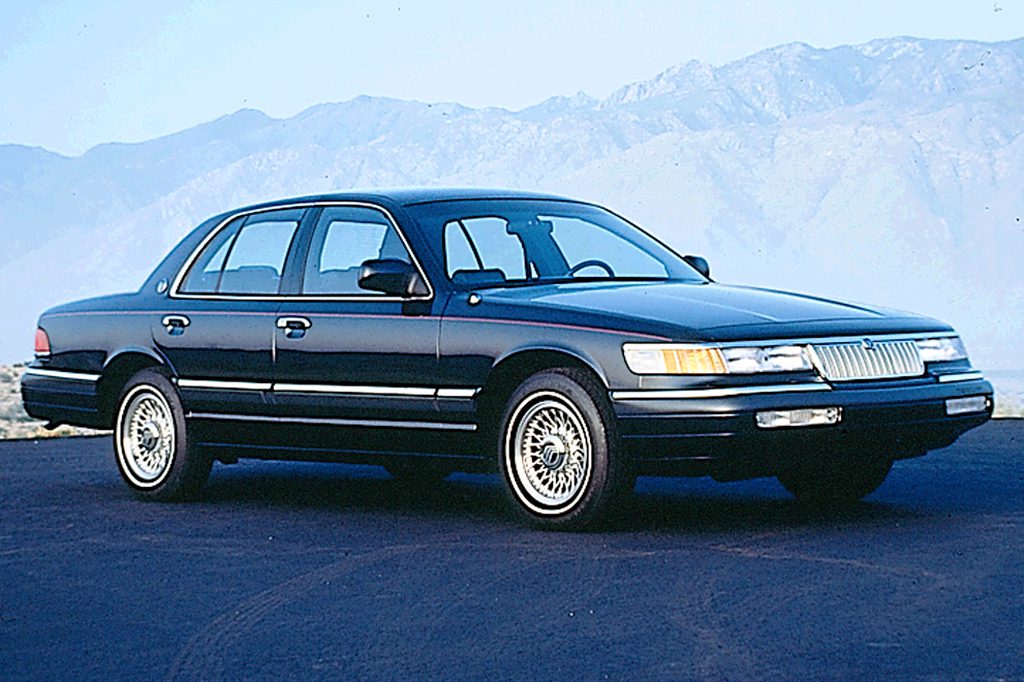 1993 Mercury Grand Marquis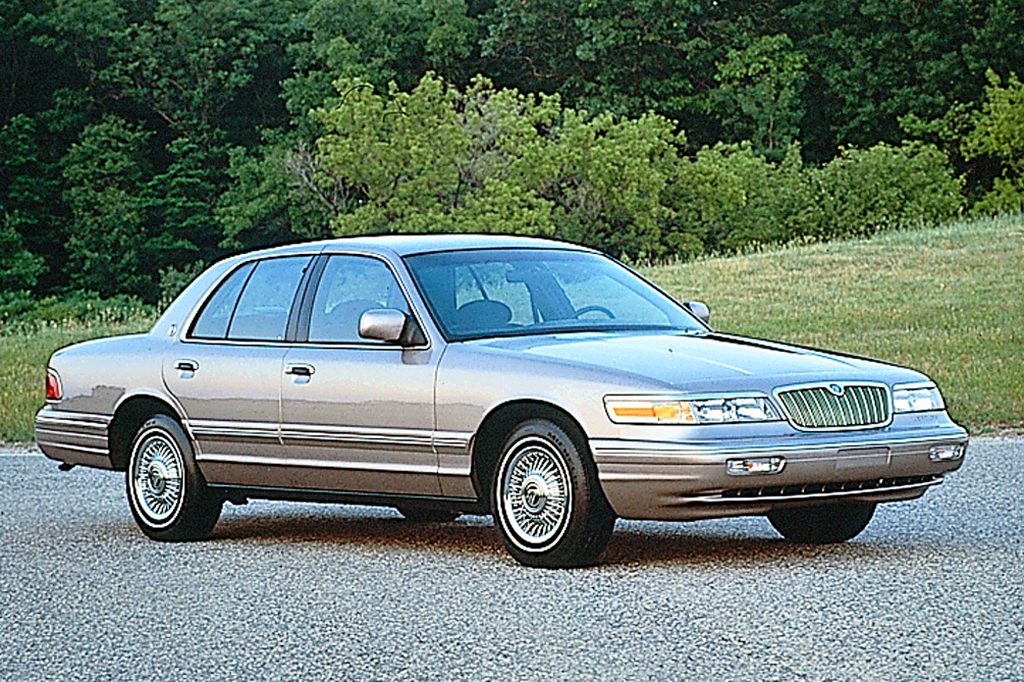 1995 Mercury Grand Marquis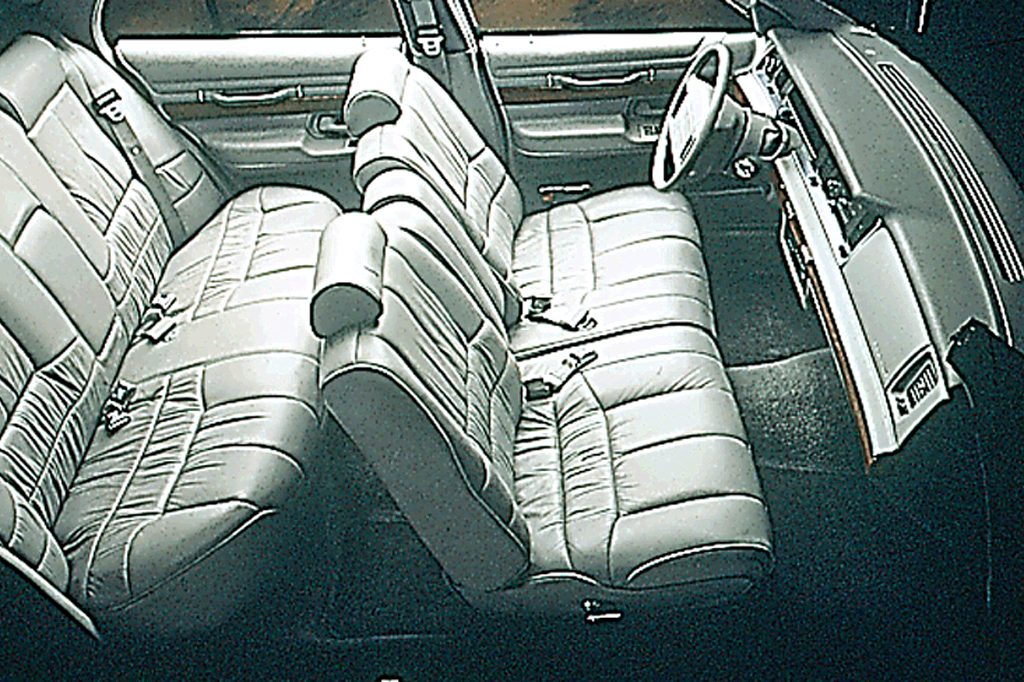 1993 Mercury Grand Marquis interior
Pros:

Acceleration
Antilock brakes (optional)
Passenger and cargo room

Cons:

Climate controls
Fuel economy
Radio controls (early models)
Steering feel
The Grand Marquis stacks up just fine against its rivals from GM: the Buick Roadmaster and Chevrolet Caprice, both of which were eliminated in 1997. Overall, however, we recommend some of the more efficient front-drive full-size sedans, such as the Buick LeSabre, Pontiac Bonneville SSE, Chrysler LHS, and Dodge Intrepid.
Overview
Ford Motor Company's roomy rear-drive family sedans, the Mercury Grand Marquis and Ford Crown Victoria, were curvaceously reshaped for the 1992 model year. In addition to getting new skin, the Grand Marquis was now powered by Ford's 4.6-liter overhead-cam V8. It provided 190 horsepower, pumped to 210 with the optional dual-exhaust system. The only transmission was an electronic 4-speed automatic. Antilock brakes and traction control were optional. An optional passenger-side airbag joined the standard driver-side unit provided at introduction.
Yearly Updates
1993 Grand Marquis
A passenger-side airbag moved from the option list to the standard-equipment roster as part of the changes to this full-size rear-drive sedan. Also added was an overdrive lock-out button on the end of the shift lever.
1994 Grand Marquis
Only minor detail changes were added to the Grand Marquis for 1994. Additional side-impact protection allowed the big Mercury to meet new 1997 federal standards.
1995 Grand Marquis
Major freshening was applied to the Mercury Grand Marquis. Noticeable styling changes were made to both the front and rear of the car. The Grand Marquis received a new grille, clear-lens reflector headlights, and a revised bumper fascia. In back, there was a new aluminum trunklid with a lower liftover and new taillights. Both models also gained color-keyed bodyside moldings. Functionally, the Grand Marquis added a battery-saver feature and the mast antenna was replaced by one mounted in the rear window. Minor revisions were also made to the interior, including new seats and a redesigned instrument panel, which now featured a woodgrain trim and a new 12-volt power outlet for accessories.
1996 Grand Marquis
Making headlines was a new composite intake manifold for the car's 4.6-liter V8, designed to reduce engine noise. In addition, the shift quality of the 4-speed automatic was improved making for smoother, less-annoying downshifts.
1997 Grand Marquis
The Grand Marquis received an upgraded power-steering system designed to improve driving feel and precision, but lost some standard and optional features.
1998 Grand Marquis
Grand Marquis got revised front and rear styling, a new suspension, larger brakes, and a standard antitheft system for '98.
1999 Grand Marquis
Standard equipment and option shuffling were the only changes after the 1998 freshening.
2000 Grand Marquis
Rear child-seat anchors were new. So was an emergency manual release for persons trapped in the trunk. A new BeltMinder chime and warning light was meant to encourage buckling up.
2001 Grand Marquis
Adjustable pedals and 20 more horsepower were the 2001 updates to the Grand Marquis.
2002 Grand Marquis
Grand Marquis added heated door mirrors, ABS, and traction control to the standard features list and treated option groups as separate models for 2002. The lineup consisted of GS, GS Convenience, LS Premium, LS Ultimate, and top-line LSE editions.
2003 Grand Marquis, Marauder
A revamped frame and suspension and a performance model highlighted the changes for '03. Reviving a name from the past Mercury added the high-performance Marauader model for '03. It featured a 302-horsepower V8, sport suspension, and exclusive trim. All models got chassis and suspension improvements designed to improve ride and handling. Rack-and-pinion steering replaced recirculating-ball as well. Front side airbags were a new option.
2004 Grand Marquis
No major changes were made this year.
2005 Grand Marquis
Added midyear was a sporty LSE model that included the Handling Package, leather upholstery, and unique interior and exterior trim.
2006 Grand Marquis
For 2006, Grand Marquis got a new grille, front fascia, headlights, and updated interior trim.
2007 Grand Marquis
Grand Marquis carried over unchanged.
2008 Grand Marquis
The 2008 Mercury Grand Marquis carried forward with few changes.
2009 Grand Marquis
Load-leveling suspension, leather upholstery, and traction control were newly standard on the Grand Marquis for 2009. Note that the similar Ford Crown Victoria was no longer available at retail, being sold only to fleet customers.
2010 Grand Marquis
The 2010 Mercury Grand Marquis saw no major changes.
2011 Grand Marquis
The 2011 Mercury Grand Marquis was virtually unchanged for its final model year.